Last Updated on 31/07/2022 by Alfred
Are you looking for a place to taste Asian life in Qatar? Your search ends here! Several best Asian restaurants in Doha, Qatar, are mentioned in the article.
It will transport you straight to the best Asian countries while you are eating in an eatery there. There is nothing ordinary about these eateries.
Besides, these restaurants will take your dining experience to the next level with alluring interiors and cozy settings.
Let's get started then, shall we? So, take a look at the culinary world of Asia. 10 Best Asian Restaurants in Doha:
Where to eat Asian Food in Doha? 10 Best Asian Restaurants In Doha
1. Zengo Doha Restaurant
Where to eat Asian Food in Doha? If you're looking for something unique in an afternoon atmosphere, Zengo Doha Restaurant is the place you need. Despite its vast size, the site is charming due to its simplicity.
You see origami birds perched on tables and hung from the rafters. You can watch the birds flying over your head while eating lunch, and people usually see this.
Besides the beautiful location and decor, the establishment also has a rustic elegant feel. Tables, woodwork, birds, and a medium-comfort black and gold chair can be found in the seating area.
Moreover, the spiral staircase also leads upstairs. Their guests can enjoy a more private seating area. There will be people spawned by a bird confined to a vast cage.
The flatware, the napkins, and even the stirrers in the bar is exceptional. The nooks and crannies of the eatery are pure bliss. This superb restaurant in Qatar is a must-visit for people with a keen sense of detail. Zengo Doha is one of the best restaurants to eat Asian food in Doha.
2. Teatro Restaurant
Where to try Asian Food in Doha? This award-winning restaurant offers a variety of international cuisines. It is also praised for its innovative cooking techniques.
It's a leading restaurant among other restaurants in Doha. Teatro blends western cuisine with eastern cooking methods to create a perfect harmony of tastes.
This restaurant organizes special events during the week to keep diners entertained. Also, provide delicious dining experiences.
Teatro is one of the best places for culinary adventures today in Qatar. It offers its customers a fixed menu for lunch on three special weekdays.
Besides starters and main courses, diners have various choices. In the same way, customers can choose from an excellent selection of wines, and there is a live kitchen scene that is not to be missed. It's the perfect place to witness live cooking.
Are you familiar with Teatro's most prominent feature? The restaurant is renowned for serving traditional Indian delicacies in Doha. It makes it one of the most popular Indian restaurants in the city.
Also, the menu at Teatro offers a wide variety of food, from butter naan bread to salads and Indian dishes.
So, what are you waiting for? Experiencing Indian, Japanese, Chinese, and Thai cuisines at Teatro is a must. Teatro is a great place to satisfy your craving for Asian food.
3. Isaan Thai Restaurant
Are you looking for authentic Thai delicacies in Qatar? If you are a foodie, Isaan is a no-brainer. Authentic Thai cuisine is served at this restaurant, which is well worth the price.
However, it is an excellent place to visit. Visitors can expect wonderful hospitality when they arrive.
Among the dishes, you'll find here are pandan chicken, pad thai, tom yum, veggies, fried rice, and more.
Besides the outstanding food, Isaan is also a place where you can experience genuine hospitality and enjoy fantastic food.
Moreover, various amenities are available at the restaurant. It includes outdoor seating, a smoking area, valet parking, indoor seating, live music, and an internet connection.
What's holding you back? Visit Isaan in Qatar, a Thai cuisine lover's paradise if you're looking for authentic Thai cuisine. The Isaan Thai restaurant is a vibrant place to try Asian cuisine to another level.
4. Saffron Indian cuisine lounge
Where to go to Asian Food in Doha? Saffron Restaurant Doha offers a one-of-a-kind experience with Indian cuisine, hospitality, and ambiance. It is located on the waterfront at Katara Cultural Village.
It is possible to choose from a variety of teas from around the world at a restaurant in Qatar. The Tea Lounge is a unique setting in the restaurant.
Business deals are being made, new ideas are being developed, and connections are being cultivated over tea to bring back the good old days.
Also, an ideal way to create the ultimate eating experience is to enjoy the magnificent surroundings and sea view.
With a spectacular sea view during the day and a brightly lit cobblestone facade at night. The Doha restaurant offers traditional Indian cuisine with exotic flavors.
Besides the classic wooden artwork, there are chandeliers and calming smells all around the room. People will likely keep returning to taste the mouthwatering meals.
Menu items in the saffron lounge are tailored to different events. The restaurant can accommodate many people, whether it's a business lunch, a birthday celebration, or a celebration meal. Saffron Indian cuisine lounge is one of Doha's top-rated Asian food restaurants.
5. Nozomi Restaurant
How about enjoying fine meals and entertainment at the same time? If so, then this eatery is the one for you.
Nozomi offers its customers a fine dining experience as one of the top restaurants. It provides its customers with a never-ending entertainment experience.
Additionally, the restaurant has an endless collection of top-of-the-line musical entertainment. You will be able to relieve your inhibitions while surrounded by an exclusive and premium ambiance.
Since its opening in September 2015, Nozomi has won over the hearts of all who have stepped through its doors.
This restaurant is the best in the area regarding contemporary Japanese cuisine. Marsa Malaz Kempinski in Doha is one of the most luxurious hotels in the city.
What's the best thing about this restaurant? One of the best things about this restaurant is its location. It has been tucked away in one of the most picturesque spots, Pearl Qatar. So, it offers tourists an unforgettable view of the Arabian Gulf.
In Qatar, Nozomi aims to change dining patterns around the country. With its release in 2005, Nozomi spread to several nations. It also become one of the world's best-known eateries. Nozomi Restaurant is a great place to try Asian gastronomy in Doha.
6. Hakkasan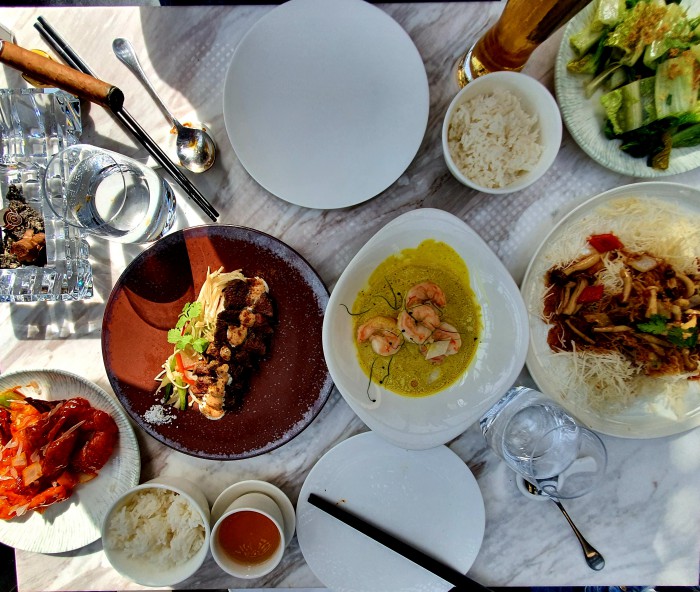 Are you looking for a delicious meal? You can find everything you need at Hakkasan Restaurant. The restaurant serves delectable cuisine to its patrons and is one of Doha's most expensive.
In 2001, Hakkasan Doha was established to provide its guests with the highest level of comfort and luxury.
Besides serving Chinese cuisine, the menu also incorporates traditional Chinese cooking skills.
It's one of the best places in Doha to savor authentic Chinese food. Besides the menu, the interior design of the restaurant is equally spectacular.
On a beautifully designed tray, the food is prepared by world-class chefs.
Besides this, there is no doubt that eating at this beautiful international restaurant is one of the best things to do in Doha.
There is also an evident influence of Chinese art in the design of the interiors.
Additionally, plenty of other amenities are available at the restaurant. It includes delicious cuisine, beverages, and professional staff. They are available to assist you with anything you may need.
It is a top fine dining restaurant and an excellent international restaurant. It is one of the best Asian restaurants in Doha.
7. Ruby Wu's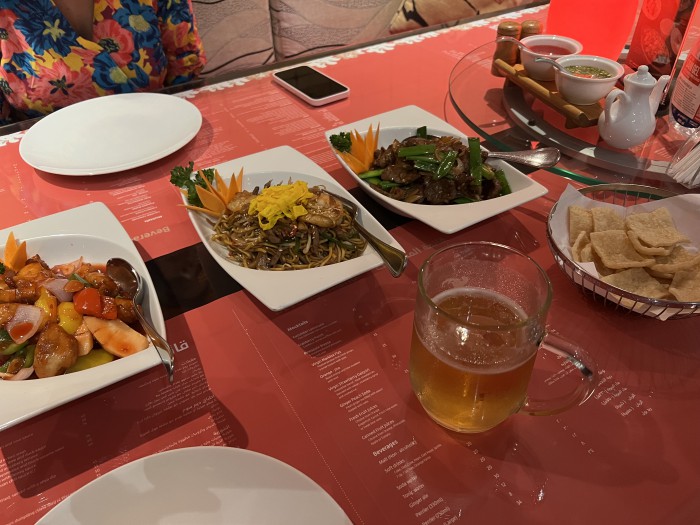 Which is the best place to go for Asian food in Doha? Ruby Wu's is another fine dining restaurant in Qatar located in Radisson Blu Hotel Doha.
What's the best thing about it? With sizzling meat, moreish dumplings, and spicy snapper, it delivers all the flavors you're looking for.
Isn't that mouthwatering? The restaurant also provides a variety of other wonderful foods.
A quiet and peaceful evening can be enjoyed at Ruby Wu's before you move on to a loud and raucous night out. Near Ramada Bars, this eatery is also known as the little Chinatown.
Besides its delicious Chinese cuisines, the restaurant also offers cosmopolitan flavors and blends.
Also, there is pretty good food quality here. The atmosphere is excellent, the setting is tranquil, and the service is friendly.
Is there anything here that you don't like? In recent years, this one-stop location has gained significant popularity. Also, it has been ranked among Qatar's top restaurants.
Furthermore, the restaurant is conveniently located near the nightlife paradise of Doha. Going there is one of Qatar's best things to do at night.
Besides the food, there is also the opportunity to have a little round of liquor here at the legal bar. Don't forget to visit this best Asian restaurant in Doha.
8. Megu Japanese Restaurant
Where to try the best Asian gastronomy in Doha? Most foodies and all who have set foot here think that Megu is one of the best Asian restaurants in Doha. It provides fine cuisine not only in Qatar but throughout the globe.
It is located in Porto Arabia, The Pearl. It offers you almost everything in a hearty meal your heart desires.
Similarly has a balcony overlooking the lake, along with indoor and outdoor seating.
This restaurant is unique and considered one of the best in Qatar. Despite its ambiance and cuisine, the Toto toilet may be the most impressive aspect of the restaurant.
Undoubtedly, it is just as well-known worldwide as this restaurant. Perhaps you're wondering why the toilet is so famous.
Following this, it makes sense that Megu's restroom would be famous when it's as luxurious and engaging. So that's all about the toilet.
Let's talk about the food and ambiance now. Everything mentioned is less because of the delectable pleasures and warm atmosphere it offers.
Even though all of this sounds amazing, it is also quite expensive. So prepare to dig a little deeper into your pocket.
The restaurant's signature dishes are Crispy Asparagus, Yellowtail Carpaccio, Salmon Tartare, and Wagyu Kobe Chateaubriand. Try all these delicious dishes at Doha, one of the best Asian restaurants.
9. Morimoto Doha
Which is the perfect place to try Asian food in Doha? It's a true highlight for travelers to sample international cuisines in Doha, even though many Asian restaurants in the city serve excellent food and provide exceptional service.
Unlike other fine dining restaurants in Doha, Morimoto serves a range of cuisines, including Japanese cuisine.
Restaurants like this became increasingly popular with tourists over time. A pleasant experience is what you can expect from Morimoto.
A Japanese artist, Hiroshi Senju, created beautiful artwork for both adjoining (private) dining rooms.
Look at these outstanding works of art while enjoying one of Qatar's finest cuisines, Japanese specialties.
Besides being outstanding, Qatari restaurants have a relaxed atmosphere. Also, a great interior design will convince you to spend as much time there as possible.
Aside from delectable food, Morimoto also has conference rooms where clients can close deals in a quiet setting.
Among the restaurant's best dishes are the lobster sushi rice risotto and the flavorful Wagyu fillets.
Likewise, Morimoto offers incredible delicacies and a wonderful ambiance that you must experience. Morimoto Doha is a great Asian restaurant that will fulfill your hunger with amazing Asian foods.
10. Spice Market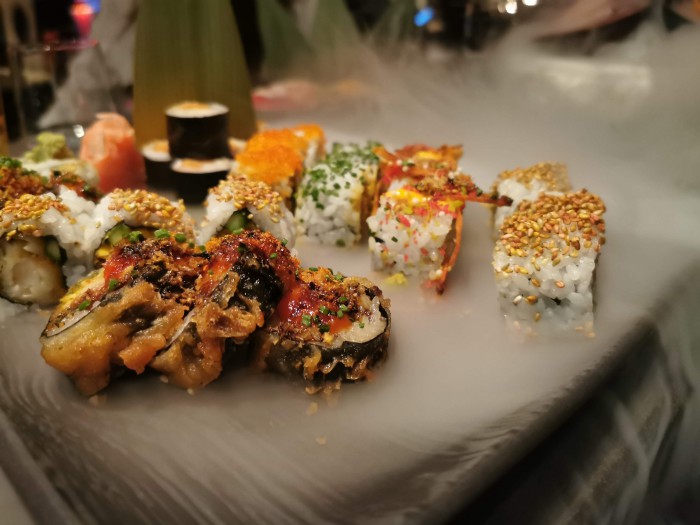 Still wondering where to go to try Asian food in Doha? One more exquisite dining establishment is located in Doha. Visitors of Spice Market will find a welcoming atmosphere as it specializes in Southeast Asian cuisines. It is one of the best Asian restaurants in Doha, Qatar.
Located in the W Doha Hotel, this Asian restaurant in Qatar sells high-quality products.
Among the Asian specialties are sushi rolls, Mongolian lamb, Thai noodles, and salmon tartare.
The exquisite and delectable flavors of Southeast Asia are brought to life here by Jean Georges Vongerichten.
Doha's Spice Market is known for its delectable meals, intimate atmosphere, friendly service, and pleasant environment. All these make it one of the best fine dining restaurants in the city.
Besides a regular breakfast menu and themed nights, the restaurant offers special event menus. While in the city, be sure to attend one of these events.
It is a pleasure for any foodie; even the rest will become foodies after tasting the delicious delicacies.
When people arrive at Spice Market, they are stunned by the beauty of the restaurant's environment. The menu offers a lot to discover.
Thus, you can enjoy a delicious dinner at this magnificent restaurant.
If you were to choose a restaurant, what would you look for?
With their stunning interiors, mouthwatering cuisine, and best-in-class hospitality, these Asian restaurants in Doha will brighten up your day.
At the restaurants mentioned above, you will find everything you need in a restaurant. What are you thinking? Do not miss out on trying these charming restaurants while you are visiting Qatar.
FAQ on Best Asian Restaurants In Doha