As an island that is majority Hindu, when visiting Bali, you will easily find tourist attractions in the form of temples. There are various kinds of temple tours in Bali that you can visit. One of them is Besakih Temple.
An important temple owned by the island of Bali, Besakih Temple is known as one of the largest temples in Bali. This temple is also believed to be the beginning of the spread of Hinduism in Bali.
It is believed that Hyang Rsi Markendya received God's revelation for the first time in this place. Therefore, this temple becomes a very sacred temple. 
Well, for those of you who want to visit Besakih Temple and want to know what the review looks like, you can check out the full review about Besakih Temple below!
A Stunning Temple in Bali – Besakih Temple Review
Address: Jl. Gunung Mas No. Ds, Besakih, Rendang, Karangasem Regency, Bali 
Map : Click here
Opening hours: Open at 08:00 – 17:00 WITA for the general public and open 24 hours for Hindus who want to pray
The price of admission: Rp 15,000 (1.05$) per person does not include parking tickets.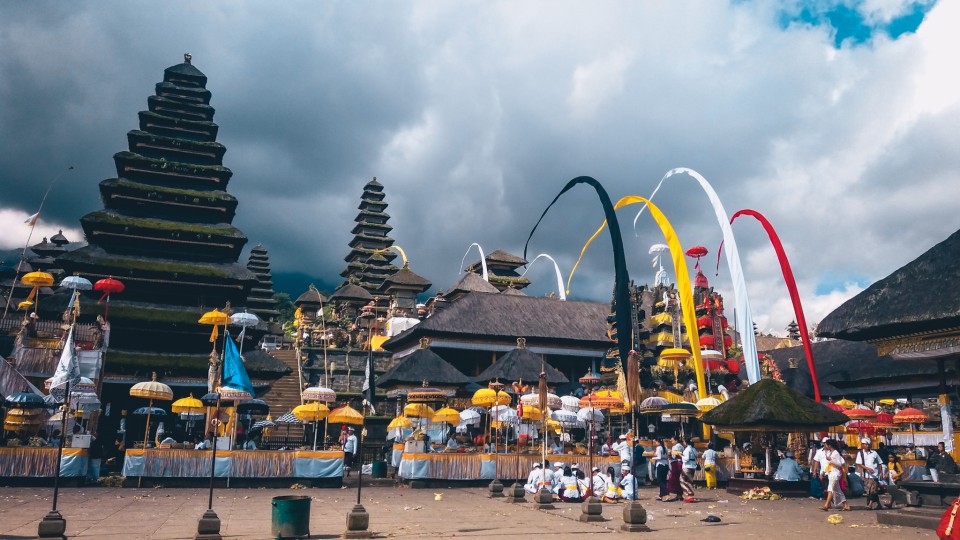 Photo Credit – Teja Story

There are at least 70 festivals in the Besakih Temple complex in a single year. It is also an event that is always lively, especially when there is a full moon. 
The event is known as the odalan celebration, which is famous and never left behind by Balinese people.
Besakih Temple is a very large and magnificent temple since its size is so large and magnificent that you can find many temples within the complex of Besakih Temple. There are approximately 23 temples in the Besakih temple area.
The temple tourism complex in Bali itself is present on several levels. It was approximately built as many as 6 levels in this temple. 
Regarding the history of this temple, it is a pity that we do not know the exact date when it was built.
When it comes to the structure of the temple building, you'll find something interesting. The rock used as the foundation for the temple is a foundation stone that has similarities to the temple that originated from the megalithic era in the era 2000 years ago.
Photo Credit – Tiomarni Purba

But the researchers who examined the structure of the Besakih temple building confirmed that it is a Hindu temple used as a place of worship since the year 1284.
At that time, the Indonesian government was attacking the island of Bali. Later in the 15th century, the history of this temple became a temple used by the Gelgel Dynasty. 
Because of its historical value and virtues, this temple was eventually included in the list of proposals for UNESCO world heritage sites until now.
You do not need to have difficulty accessing one of the temple tours in Bali. You can travel from Kuta. Traveling from Kuta takes approximately 2 hours. 
Photo Credit – Naomi Steiner

You just have to go eastwards through the Sanur area. In the middle of the trip, you can see the signpost to Besakih. Meanwhile, from Klungkung's direction, public transportation can be used and will serve Besakih transportation route towards Klungkung.
The distance itself is not too far. The distance is approximately 20 km, and the transportation you will use is found much traffic in the morning. With such conditions, tourists can visit the place very easily.
You can also choose to use a private vehicle or public transportation. You can also rent a vehicle when you are on holiday in Bali. Therefore, you can be sure that there is a wide selection of vehicles that you can use.
Feeling hungry after the temple tour in Bali's Besakih Temple? Bali is also home to many interesting culinary attractions. 
Fun Spots Around Besakih Temple
For those of you who are vacationing at Besakih Temple, after the streets around Besakih Temple, you can also walk to other tourist spots in Bali. 
The following are some fun tours in Bali that are suitable for a vacation after visiting Besakih Temple:
Tirta Gangga Water Park
Photo Credit – Tirta Gangga

The first fun spot you can visit if you are traveling in Besakih Temple is Tirta Gangga Water Park. This water park is a waterpark legacy of the Karangasem kingdom, Bali. It is located approximately 5 km from the center of Karangasem.
The building itself is almost similar to the concept of the Taman sari water palace building in Yogyakarta. It's just that the size is smaller or about 1.2 hectares compared to Taman sari water palace in Yogyakarta.
Penglipuran Village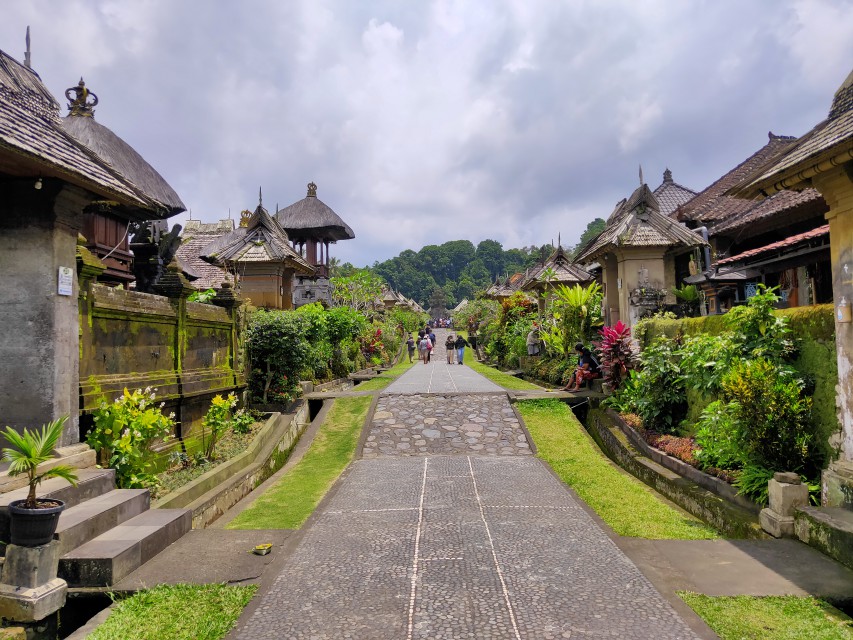 Photo Credit – Bang Ramdhani

Penglipuran Village is a traditional village on the island of Bali, which is very iconic. However, the indigenous people are still very firm and maintain the culture, traditions, and local wisdom for generations.
You will find the architectural side of the Panglipuran traditional house style equipped with Penjor that decorates the gate of the house. The village is a relic of the Kingdom of Bangli, known for its cleanliness and beauty.
You should visit Penglipuran Village and the Besakih Temple if you want to discover Bali in the past.
Tirta Empul Temple
Photo Credit – Tim Worthinghon

In the Besakih temple area, there is another temple not far from the Besakih temple tourist spot. It is Tirta Empul Temple. 
This temple is a sacred temple for Hindus located in Manukaya Village, Tampaksiring, Gianyar regency, Bali.
Temples like this one are famous for their sacred waterpark, sourced from mountain springs and used to clean up. So etymologically, Tirta Empul is a temple with the meaning of water that spouts out of the ground.
Tirta Empul Temple One of the temple tourism in Bali is estimated to stand in 960 AD or stand at the time of the reign of King Chandra Bhayasingha, who came from the Warmadewa Dynasty.
Amed Beach Tourism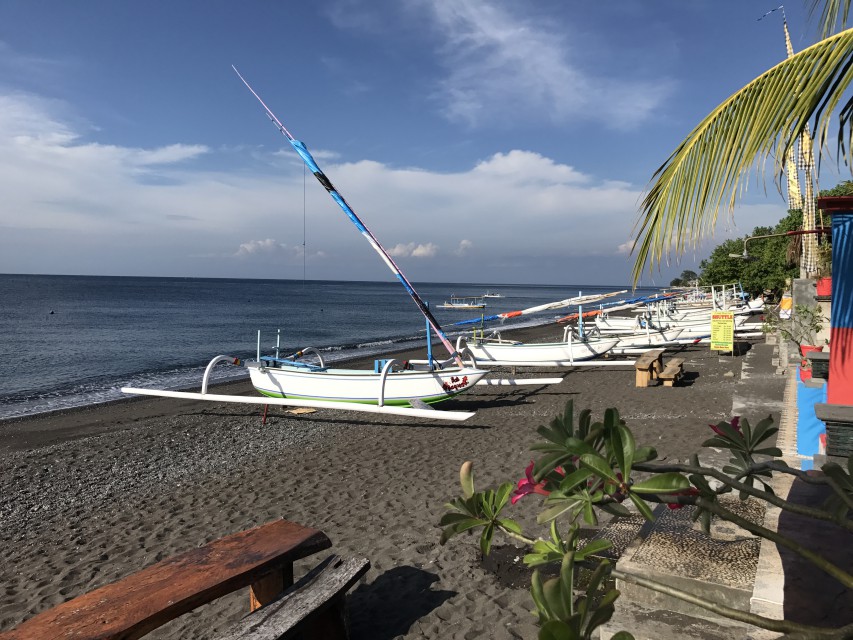 Photo Credit – Nicolas Bouguereau

In addition to temple tourism in Bali, around Besakih Temple, there is also a tourist spot called Amed Beach. So those who wish to travel in beach tourism can come to Amed Beach, which is not far from the tourist location of Besakih Temple.
Amed Beach is a very exotic beach and is located in the Amed village area, Abang subdistrict, Karangasem regency, Bali. The distance is approximately 78 km from the city center of Denpasar, or it takes approximately 2 hours by road.
This beach tour is famous for its beautiful sunrise panorama and very charming underwater biota life. So those who love the beautiful scenery of the sea can come to this beach.
Amed Beach is ideal for those who want to snorkel, scuba dive, or do other beach tourism activities. The coastline is also long enough so that you can capture every luxurious and memorable moment in Amed Beach. 
In addition to the above tours, Bali still has many other attractions that are worth visiting. 
Those are some temple tours in Bali that are never quiet from tourists. So come to Besakih Temple and enjoy all the charms of tourism second to none there, either at Besakih Temple itself or in some attractions near Besakih Temple.