Do you want to recharge your batteries and breathe fresh air? Prepare your backpack and follow our guide for a 100% nature trip to one of the 10 national parks to visit in France.
The great adventure of the national parks of France began in 1963. This date corresponds to the creation of the Vanoise. Since then, nine others have emerged in France and overseas, and an eleventh is planned between Champagne and Burgundy. 
Each national park is different from the Pyrenees to Guadeloupe, via the Cévennes and Reunion. Nevertheless, they all have a common goal: to protect the biodiversity and heritage of these natural areas.
National parks are an integral part of our beautiful country's cultural identity. It is easy to compare them to historical monuments, gourmet cuisine, archaeological remains, parks, and flower gardens. 
They are arranged so that you can practice your favorite activities in a preserved setting with breathtaking landscapes. You can enjoy hiking, fishing, winter sports, swimming, diving, or paragliding. 
Take the opportunity to escape to the heart of nature and discover the 10 national parks to visit in France.
The 10 Best National Parks To Visit in France
1. Vanoise National Park (Savoie)
The oldest of the 10 national parks to see in France, Vanoise is undoubtedly a hiker's paradise! 
Whether you are on foot, skiing, cycling, or snowshoeing, the trails and paths that wind for 400 kilometers through the Maurienne and Tarentaise valleys are for you.
The Savoyard landscapes form a natural mosaic: bluish lakes, ivory glaciers, green forests, golden mountains, multicolored meadows… 
The fauna is varied and very protected! You can see many ibex, marmots, hares, and red foxes frolicking quietly on the 529 square kilometers covered by the National Park of La Vanoise. 
If you are curious, go to the Photographic Observatory of the Landscapes of Vanoise. A unique place, you can observe the evolution of these splendid panoramas from the end of the nineteenth century to the present day.
You can also read about 'best amusement parks in France'.
2. Reunion Island National Park
Rocked by the turquoise waters of the Indian Ocean, off the east coast of Madagascar, Reunion island is a paradise island. It is home to one of the 10 national parks in France to visit. 
Covering 40% of the island, extreme geology has shaped the park over time. Its beauty reflects eruptions, collapses, and natural erosion of the environment.
It is made up of sites and must-see places, such as the Piton de la Fournaise volcano, the Mafate circus or the Hauts de l'Ouest. Both of them provide a sensation of relief as incredible as it is vertiginous. 
Since its creation in 2007, Reunion Island National Park has invested in multiple projects to protect its endemic fauna, fight against poaching, and plant local floral species.
3. Calanques National Park (Bouches-du-Rhône)
At the gates of the Phocaean city, land and sea meet in the heart of the Calanques National Park. 
The first peri-urban park in Europe is an atypical mix between underwater canyons, caves, prehistoric arches, deserted islets, and coves carved into the limestone rock. 
In this natural setting, park officials have put measures to reconcile tourism and cultural traditions. The aim is to preserve the exceptional fauna and flora of the site.
In La Ciotat, Marseille or Cassis, you can take advantage of various activities: swimming, hiking, diving, climbing, kayaking, cycling, fishing… 
You will find your happiness in a successful excursion to the Calanques National Park.
4. Ecrins National Park (Hautes-Alpes, Isère)
By all accounts, amateurs and professionals alike, the Ecrins National Park is the best place in Europe if you are passionate about high mountains. 
With its peaks culminating at more than 3,000 meters above sea level and its 730 kilometers of marked paths spread over nearly 100,000 hectares, it is the largest of the 10 national parks to see in France. 
You will see sumptuous and authentic landscapes shared between glaciers, lakes, and valleys.
A true natural crossroads of colors and fragrances, the Parc des Écrins draws a blue-white-green border between the northern and southern Alps. Keep an eye out, and you may come across chamois, marmots, golden eagles, or lynx.
5. Pyrenees National Park (Hautes-Pyrénées, Pyrénées-Atlantiques)
With 85 villages spread over 7 valleys, the Pyrenees National Park is a magnificent example of cohabitation between man and nature. Its peaks, waterfalls, valleys, cirques, and lakes delight many fishers and hikers every year.
From the Pic du Midi observatory, you have a breathtaking view of the Pyrenees and the Spanish lands beyond the border. 
Created in 1967, it has an exceptional endemic flora, considered the most original in Europe: poppies, irises, blue thistles, hook pines, rhododendrons… 
Also, know that the Pyrenees National Park is the only one to see brown bears, animals now emblematic of the region.
6. Guadeloupe National Park
Far from the landscapes of the national parks of the metropolis, those of Guadeloupe form a colorful ensemble. Tropical forests, mangroves, coral reefs, and volcanoes are married here. 
Like the Calanques, the Guadeloupe National Park is full of terrestrial and marine biodiversity. Raccoons, turtles, hummingbirds, frogs, dolphins, and many other animals have been living together in perfect harmony since 1989.
Its half-humid, half-forest environment allows hundreds of plant and marine species to develop and preserve. 
You can hike near the Soufriere volcano, go boating through the islets, cross the Basse-Terre massif, or dive off the park's west coast in the middle of the Caribbean Sea.
7. Mercantour National Park (Alpes-Maritimes, Alpes-de-Haute-Provence)
Created in 1979, the Mercantour National Park stretches from the Alps to the Mediterranean in a succession of valleys, massifs, gorges, and ridges with enchanting colors. 
In the heart of this mosaic of natural landscapes, you will find the most varied vegetation in France: more than 2000 species – some of which are endemic – of plants, trees, and other bushes are listed.
The Mercantour is particularly famous for its splendid Valley of Wonders, where you can admire cave paintings (about 40,000) that date back to 3000 years before our era. 
With its alpine pastures and forests, it is also a very popular habitat for wolves; do not hesitate to visit the animal park and Alpha educational center in Saint-Martin-Vésubie to meet them safely.
8. Port-Cros National Park (Var)
The first maritime park founded in Europe, Port-Cros brings together several islands, islets, and rocks off the Var coast of Hyères. 
Its fauna, mainly composed of underwater and ornithological species, is incredibly varied. If you love animals, you will not be disappointed: dolphins, owls, lizards, groupers, falcons, sunfish, hedgehogs, shearwaters, turtles… 
On land, in the air, or underwater, you will make encounters as surprising as unforgettable.
To protect the biodiversity of Port-Cros Park while raising awareness among tourists, several animation programs, both original and educational, have been set up. 
During your visit, do not miss the Sentier des Plantes, the Emmanuel Lopez Botanical Garden, the military battery of the Giens peninsula, and the wreck of the ship Lequin.
9. Amazonian Park of Guyana
The Amazonian Park of Guyana is an incredible universe where cultural heritage, traditional way of life, and natural environment meet to form the uniqueness of this territory. 
Created in 2007, it covers 3 million hectares in the country's south and is home to more than 5,000 animal and plant species. 
You will see landscapes and sites as varied as they are magnificent: tropical flora, volcanic rocks, Amerindian villages, inselbergs, mountain ranges, canopy…
At the heart of these lands, intangible heritage (songs, dances, gastronomy, dialects, rituals, fishing and hunting techniques, etc.) is as important as the biodiversity in which it is cultivated. 
Unlike the metropolis's national parks, Guyana's main mission is to develop its ecosystems sustainably and responsibly while protecting the communities (nearly 20,000 inhabitants) that live in the region.
10. Cévennes National Park (Lozère, Gard, Ardèche)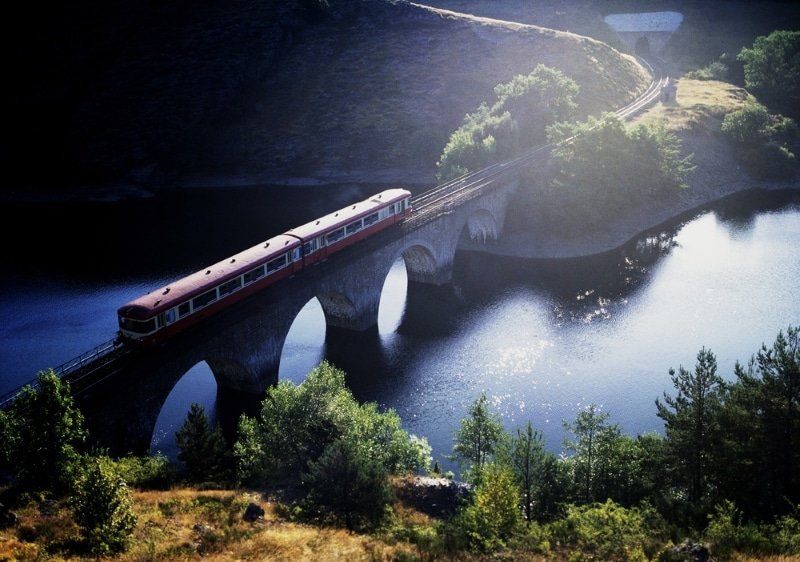 In the Cévennes National Park, the panoramas are combined in the plural: gray stone farms, bluish ponds, chestnut groves, pine forests, green pastures, rocky torrents, flowery moors, vegetation in floors, mountain ranges, karst caves… 
No wonder, then, that it is listed as a UNESCO World Heritage Site as a "cultural landscape of Mediterranean agro-pastoralism." Thanks to this variety of reliefs, you can observe more than 2400 animal species in the Cévennes: otters, mouflons, peregrine falcons, dragonflies, deer, crayfish, griffon vultures, beavers…
This territory of 3,720 square kilometers, a must among the 10 national parks to visit in France, makes many happy among walkers and fishers: between the gorges of the Tarn, the Grande Randonnée 70 trail, the Barrandon pond, and the mountain bike circuits of the Aigoual, you are spoilt for choice to explore the Cévennes park and fully appreciate all its treasures.