Take a breath of fresh air in the mountains and discover the best outdoor activities in Les Saisies in summer and winter!
This year, it's decided, the holidays will take place in the mountains! Family ski resort par excellence, Les Saisies, lend you their magnificent setting near Mont Blanc when you come.
But which season will have your preference? Summer with its flowery slopes or winter with its snow-capped passes? Choose your favorite season and prepare your suitcases.
And to fully appreciate your destination, a host of leisure activities are available all year round for young and old. Skiing, grooming, horseback riding, or via Ferrata compete for your attention.
More: 

Best Ourdoor Activities to do in Meribel

Best Outdoor Activities to do in Val Cenis

Best Outdoor Activities to do in Saint Francois Longchamp

Best Outdoor Activities to do in Chatel

Aevergne Rhone Alpes Toursit Attractions


With our list of best outdoor activities in Les Saisies, you won't be bored for a moment!
Best Outdoor Activities to do in Les Saisies in Summer and Winter
Best Things to do in Les Saisies in Winter
White flakes, covered slopes, and fresh air… winter has given you an appointment in Savoy. How to occupy your days between fondues and evenings by the fire? Our outdoor activities to do at Les Saisies will give you some clues.
Flights by plane and helicopter ULM
Inaugurate your stay with a flight by plane or helicopter microlight. You will have an incomparable overview of the snowy resort by gaining height. See the Mer de Glace, Mont Blanc, glaciers, and ski slopes.
A whole world unfolds before your feet and before your eyes. Flights can also be booked in summer.
Biathlon
The outdoor activities to do at Les Saisies sometimes require a little concentration. One example is biathlon. This discipline combines ski racing and rifle shooting.
As a result, moments of attention and cardio follow one another at a frantic pace. A real delight for Nordic sports lovers!
Sled dogs
If you want immersion in the heart of the Savoyard landscapes, sit in a sleigh. The pack of dogs will pull you for about an hour's ride. You will see panoramas wrapped in snow.
Isn't this one of the best outdoor activities to do in Les Saisies? Bundle up nicely and give the top start to your musher, the pilot of your sled.
The Groomer
The groomer makes it possible to work the snow on the slopes. Once these groomers have passed, the quality of the powder is optimal for skiers. At Les Saisies, it is possible to register for a groomer's baptism!
This unusual hobby will delight lovers of big machines. And if driving itches you, driving lessons are organized.
Hiking
Are you looking for other outdoor activities to do in Les Saisies? Try hiking! On foot, snowshoes, or skis, this practice has many enthusiasts.
You can venture on the paths traced in search of the most beautiful views. In the same spirit, Nordic walking suits dynamic people, trained or not.
Skiing and snowboarding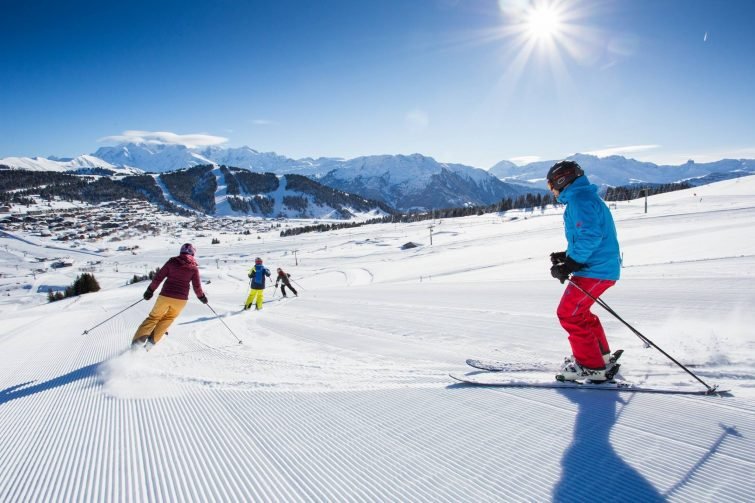 The most practiced sport of the resort is undoubtedly skiing and its cousin, snowboarding. The resort has 77 km of slopes open to skiers.
To think even bigger, note that the Domain of Seizures is part of an even larger domain called Espace Diamant. This one totals 192 km of slopes! Your playground then seems limitless.
Snowmobiling
Hop on your snowmobile when the slopes close and ride the 25 km circuit. The instructor adapts to your level, whether you are a novice or an expert.
Therefore, you are guaranteed to live a unique moment in the middle of the frosted forests. Children will also be able to participate in a baptismal trip.
Paragliding
You will not need to keep your feet on the ground for all the outdoor activities to do in Les Saisies. As proof, paragliding invites you to hover in the air.
You can opt for a simple flight or a course a few hundred meters above the station. In winter, the landscape is breathtaking.
Ski joëring
Fun and playful, ski joëring can be practiced from four (provided you have your first star). The principle is simple: standing on the skis, let yourself be pulled by the horse in front of you. It is one of the best things to do in Les Saibies in winter.
Enjoy this one-on-one walk with your equine buddy.
Best Things to do in Les Saisies in Summer
Smell the sweet scent of nature caressed by the summer sun. The beautiful season is ideal for oxygenating the lungs during outdoor activities in Les Saisies. If you no longer hold in place, read our selection of leisure activities.
Hiking
Quiet or Nordic walking allows you to visit the resort and its surroundings. Nestled between the Val d'Arly and Beaufortain, Les Saisies is perfectly located if you want to walk.
The marked trails take you through the forests, at the foot of the lakes, and to the summits. Some require only a few hours of walking, while others require several days.
This is why you will find refuges at altitude to spend the night in the mountains without turning back.
Orientation courses and escape games
Young and old players will love without hesitation the outdoor activities to do in Les Saisies. Escape games combining sporting challenges, puzzles, and orientation will appeal to your group spirit.
If you have a talent for orientation, courses are dedicated to summer and winter. Find solutions quickly before sunset!
Tree climbing
Cross the river and the canyon, walk through the forest perched in the trees… A multitude of obstacles stands in front of you. Select your level, and therefore your circuit, to reconcile fun and challenge.
Thanks to your equipment and the professional team, you will be able to embark on this adventure confidently. Tree climbing is one of the best things to do in Les Saisies in summer.
Paragliding
Do not leave the resort without having tried one outdoor activity in Les Saisies, paragliding. Your two-seater baptism could not have a more beautiful setting. The slopes lined with lush nature offer an incomparable and even divine spectacle.
The mountain twister
This original hobby should amuse many of you. Installed in a sled on the rail, you have only one thing to do: live intensely on this descent of 800 meters! A little fright? Brakes allow you to control the speed if it is too important for your taste.
Change of scenery, the mountain twister can be practiced in summer and winter. It is one of the best things to do in Les Saisies.
Mountainboarding
An unusual machine arrives in the Savoyard resort. It is neither a skateboard nor a snowboard. The mountainboard is a board fixed on four wheels to survey any terrain.
Venture on the stony or grassy paths of Les Saisies! A braking system helps control your new mount.
The via Ferrata
Some outdoor activities in Les Saisies are ideal for feeling strong sensations. We are thinking, for example, of the via Ferrata.
A qualified supervisor accompanies you and helps you during the session. You will be in good hands to evolve along the wall.
Whitewater sports
The mountain in summer can be refreshing and… Moisturizing. You can see this with canyoning, rafting, or hydrospeed session. Les Saisies show another face that will appeal to water sports enthusiasts.
Brave the currents and rocks of the rivers to reach your final destination. It's going to stir!
Mountain biking
In Les Saisies, an entire area is dedicated to mountain biking! Hop on your bike and hit the thirteen downhill trails. Some are more accessible so that the whole family participates in the outing.
Experienced mountain bikers will also find their account on formidable trails.
Horse riding
Among the outdoor activities to do in Les Saisies a little softer, horse riding is a good option. A short horseback ride or a route of several days is on the map of the centers.
Criss-cross the resort quietly to the sound of hooves. If you come with children, offer them a pony baptism. They will leave with a smile.
Climbing
Indoor climbing is good, but in a natural environment, it's even better! With a specialized instructor, climb the rock walls. The resort is perfectly suitable for beginners.
Grips and supports, you will learn the essential movements to apprehend the support independently. The key is magnificent views of the mountains.
So, which are the best outdoor activities in Les Saisies, in your opinion?