So, are you looking for the best outdoor activities to do in Avoriaz? Here they are, carefully chosen by our team. Ready to have a blast?
Let's start by saying that Avoriaz is pronounced: "Avoria." Yes, in Savoy, the rule is that we do not pronounce the Z at the end of the word!
This ski resort is located at an altitude of 1,800 m on the territory of the commune of Morzine in Haute-Savoie. The resort is unique in that it also extends over the Valais, one of the most beautiful Swiss cantons.
It also stands out for the prohibition of cars: you can only travel on foot, by tracked shuttle, or by sleigh!
Designed very intelligently, you can move around the whole resort by skiing or snowboarding. Easily accessible, Avoriaz offers its many visitors a dream stay.
More: 

Best Outdoor Activities at Les 7 Laux

Best Outdoor Activities in Peisey-Vallandry

Best Outdoor Activities in Mont-Dore

Best Outdoor Activities in Les Menuires

Best Outdoor Activities in La Toussuire

At Generation Voyage, we wanted to present you with the best outdoor activities to do in Avoriaz. You will be able to decide to go there and choose the season best suited to your desires. Go!
15 Best Outdoor Activities to do in Avoriaz in Summer & Winter
Best things to do in Avoriaz in Summer
1. Orienteering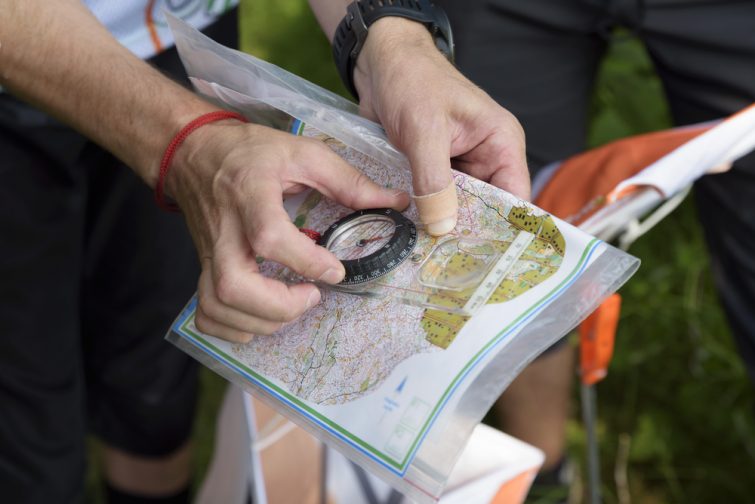 Orienteering consists of evolving in a team and the middle of nature by following a timed route. You will need to access beacons, marking the route in a precise order and as soon as possible. This is an outdoor activity to do in Avoriaz with friends or family during the summer.
If you feel like it, head to the Dérêches trail: the park of the same name is a great playground for this sport combining reflection, skill, and good physical condition.
2. Paragliding
Paragliding is one of the most formidable inventions of human beings. And for a good reason: it allows you to fly without an engine!
This outdoor activity in Avoriaz guarantees you extraordinary sensations in complete safety. Of course, you can take classes, but the easiest way is to hire an instructor for a tandem flight.
Once caught in the updrafts, you will go up, up… What a view! It is the whole chain of the Alps and, in particular, the Swiss Valais that is offered to you. A souvenir video can even be provided after landing: so, do you like it?
3. Canyoning
Welcome to the Nyon Canyon for one of the best outdoor activities to do in Avoriaz. Canyoning consists of descending a stream by chaining jumps, rappels, and slides on natural slides.
Thanks to their guide, participants will be completely safe, dressed in a neoprene jumpsuit.
To make this unique excursion in the Alps, head to the mountain activities office in the heart of the resort. Sensations are guaranteed!
4. Mountaineering
Taking yourself for the best climbers is perfectly possible in Avoriaz. Indeed, several classic routes are proposed from the resort. Mountaineering is one of the most fascinating outdoor activities to do in Avoriaz.
Crampons, ice axes, and harnesses will equip each member of your rope.
A high mountain guide will frame this small world to the top. You can enjoy the splendid landscapes that make up the Portes du Soleil sector from up there.
5. Climbing
Wall climbing can be considered a variant of the original mountaineering. More vertical and technical, this outdoor activity done in Avoriaz is one of the most fun in summer. The spot is located below the Hauts Forts, a peak in the region. Routes from 6a to 7c are available.
The supervision is carried out by competent instructors who will give you essential tips and tricks. Impeccable to spend a sunny afternoon in Avoriaz, climbing will seduce you with its natural side.
6. Quad
Are you looking for an outdoor activity to do in Avoriaz that is neither physical nor complicated? Opt for the quad! These four-wheeled motorcycles allow you to walk on trails provided for this purpose.
You will cross forests, alpine pastures, and aerial ridges for an hour or half a day.
Accompanied or named by a guide, it is popular leisure in the area and allows you to free yourself from the muscular fatigue of a hike, for example. There is no harm in resting a little from time to time!
7. ATV
The little queen is also at altitude. Whether you are a fan of cross-country, downhill, bivouac hikes, or simply road cycling, there is something for everyone in this pretty mountain resort. Fourteen downhill slopes through alpine pastures and forests await you.
Mountain biking is one of the best outdoor activities to do in Avoriaz. The ideal is to take advantage of electric bikes to make your efforts much less painful. It can quickly climb and burn the thighs by bike or mountain trails!
Best things to do in Avoriaz in Winter
1. Sliding sports
Avoriaz is an exceptional mountain resort renowned throughout Europe. And for a good reason: its ski area includes 600 kilometers of slopes, 197 ski lifts, and occupies 400 km². Yes, yes, just that! Whether you prefer skiing or snowboarding, Avoriaz and Morzine will enchant you.
You can also access the Swiss part of the ski area in the blink of an eye. Some cross the border, skis on their feet, several times a day! Skiing is one of the best things to do in Avoriaz in winter.
2. Snowshoeing
Winter hiking is a must among the outdoor activities to do in Avoriaz. The advantage is that it does not cost much and is physically easy. From 7 to 77 years old, equipped with their snowshoes, visitors will be able to explore sumptuous landscapes.
Our advice is to make the loop around the resort through the tip of Chavanette. You will have the opportunity to contemplate the High Forts, the highest point of Chablais. On a sunny afternoon, what could be better?
3. Ice cascade
Waterfall climbing is a spectacular sport. You will need to bring crampons, ice axes, a harness, and a helmet … as well as warm clothes. The goal? Climb a waterfall frozen by the cold.
Of course, you will benefit from the guidance and experience of professionals to learn the basic techniques of ice climbing. This outdoor activity to do in Avoriaz is undoubtedly one of the most emblematic when you go to the resort.
4. Winter mountaineering
Mountaineering in winter consists, in Avoriaz, of climbing the surrounding peaks from December to April. The cold is much more biting, and thick snow hinders the movements!
The Chablais mountains are particularly suitable for discovering this practice worthy of the Nepalese Sherpas. Aimed at an informed clientele, this outdoor activity in Avoriaz is one of the most intense and physical!
5. Fatbike on snow
This outdoor activity to do in Avoriaz is clearly a must. The Fatbike is a mountain bike equipped with enlarged tires. It allows you to ride on a snowpack in which, with a classic mountain bike, you would sink. Some are even equipped with an electric motor to make travel even easier.
The ideal is to rent one and go to the Col de la Joux Verte or walk the ridges of Zorres. Otherwise, you will only have to take advantage of the countless hiking trails located on the heights!
6. Snowmobile
Snowmobiling is a tourist must in a ski resort. For a hundred euros per hour, you will have the opportunity to get on your machine in the ski area.
Your instructor will give you some brief instructions before framing your outing. The route is about fifteen kilometers long and is done at the closing of the ski slopes.
You will have the privilege of admiring the lights of the resort flicker once night falls! This outdoor activity to do in Avoriaz provides unforgettable sensations of speed. For us, it is an excursion to try urgently in the company of your friends.
7. Sled dogs
Sled dogs are endearing, caring, and courageous plush toys. They are adapted to cold climates and are able to provide long and intense efforts. Towing a human being for several tens of kilometers, for example!
Go to the Col de la Joux verte in Avoriaz to meet the musher. This "pilot" who graduated with the canine educator certificate will guide you throughout the route.
Achievable from mid-December to mid-April, let your family enjoy it for a pure moment of silent gliding, depending on the snow conditions.
8. Ski joëring
Ski joëring combines skiing and equestrian carriage. You will only have to let yourself slide on skis if you are weighted to a pony or a draft horse, depending on your weight!
Go to the Baron ski lift car park to meet your teammate. Then, the initiation begins in the heart of the Portes du Soleil, in a grandiose setting and on groomed tracks.
This outdoor activity to do in Avoriaz changes from what we are used to doing in a ski resort. Playful, it allows you to spend a pleasant moment and become one with your four-legged friend.
So, which outdoor activities are you going to do in Avoriaz?