For your stay in Haute-Savoie, discover the best outdoor activities to do in Flaine! Located between 1,600 and 2,500 meters above sea level, the Flaine ski area offers visitors a total disconnection.
As in summer, the resort offers a thousand things to do in winter. As soon as the snow falls, the 64 slopes and 24 ski lifts open their doors for winter sports enthusiasts.
More: 

Best Outdoor Activities in Valmeinier

Best Outdoor Activities in Tignes

Best Outdoor Activities in Megeve

Best Outdoor Activities in Lioran

Best Outdoor Activities in La Clusaz
On the arrival of sunny days, you can enjoy a mountain environment to go hiking or paragliding. Whatever the season, Travelvibe has put together a guide to the best outdoor activities to do in Flaine.
The 15 Best Outdoor Activities to do in Flaine in Summer and Winter
Best things to do in Flaine in Winter
Alpine skiing
There is alpine skiing among the outdoor activities to do in Flaine. This must-see winter sport allows you to descend the slopes of the mountains of Haute-Savoie. You overcome obstacles by slaloming, using your sticks to advance faster.
The many ski lifts present in Flaine allow you to access the peaks of the mountains with ease. Whether a beginner or a professional, the Flaine area has green, blue, red, or black slopes. You can have fun in these large snowy spaces depending on your level.
If you want to learn alongside a professional, it is possible to take ski lessons for 40 €.
Cross-country skiing
Unlike alpine skiing, your boots are not securely attached to the skate to allow greater movement freedom. On the other hand, the objective of cross-country skiing remains the same, namely to take the descents and turns of the different slopes.
Among the best beginner tracks to practice this outdoor activity in Flaine, we recommend the following sites:
Urbanz: This green track is perfect for children. With a series of facilities, your toddlers will be able to face the descents safely;
Tourmaline: this is a blue track with many modules and jumps.
Ski touring
If you want to switch from downhill skiing, try ski touring. As the name suggests, it's all about hiking while skiing. Here, no fast descent or 90-degree turn.
You walk quietly in the mountains of Haute-Savoie, contemplating the natural scenery that surrounds you. Far from the slopes, you evolve on ungroomed trails.
Even if this activity is less sporty than alpine skiing, it is necessary to have a good physical condition to take the climbs and descents.
In Flaine, we recommend that you follow the "over the water" route, which is signposted and perfectly secured. On the other hand, you can treat yourself to a ski touring excursion for 110 €.
Snowboard
Snowboarding allows you to approach the mountain in another way. Your two feet are fixed on the same board to facilitate gliding.
If you regularly practice this outdoor activity, try your hand at freestyle and do some acrobatics to impress your friends. And if you want to try off-piste, the descents of Lindars or Véret promise you to fill up on sensations.
On the other hand, if you have never tried snowboarding, do not venture on the slopes until you have taken lessons, either in particular or in a group.
The instructors will teach you to put your board well, position yourself correctly, and take turns like a pro. You can take courses for 55€.
Heliski
Looking for an outdoor activity in Flaine that goes off the beaten track? Have you ever tried heliskiing? This sport combines helicopter and skiing to allow you to access paths inaccessible on foot or with motorized vehicles. There is no need for a snow lift; the helicopter transports you directly to the top.
And rest assured, you won't need to jump from the helicopter. It puts you on the ground to guarantee your safety.
In addition to taking you to inaccessible places, heliskiing allows you to ski where the snow is virgin. You can offer this unforgettable experience to your loved ones for 860€.
Snowmobile
The snowmobile is a motorized vehicle that travels on snow. If you do not want to get too tired, this outdoor activity in Flaine is for you.
Comfortably seated in your machine, you can drive or let yourself be guided while admiring the landscape. In the background, you can observe Mont Blanc, the Aravis massif, or the Jura.
You have to wait until the evening to snowmobile once all the tracks are closed. At this time, calm reigns in the mountains of Haute-Savoie. Snowmobiling is one of the best things to do in Flaine in winter.
Quad bike
Try a new outdoor activity in Flaine if you want to try the quad on ice. Here you are not on a dirt road but on an icy surface.
The estate offers a circuit of 700 meters in length to guarantee you a moment of pure pleasure. At 1,600 meters above sea level, you ride a quad bike on the ice.
To allow everyone to participate, the Domaine de Flaine offers quads of different sizes and powers. Thus, even the youngest (from 15 years old) can drive this machine. You can treat yourself to this unique experience for 50€.
Sled dogs
Do you like animals? This is good because the Domain of Flaine offers its visitors dog rides and sledding. This unique experience allows you to share a special moment with huskies while enjoying the exceptional landscapes available to you.
This outdoor activity in Flaine is perfect for families on holiday in the region. You can drive the hitch yourself or stay comfortably seated and let yourself be guided.
Sled
Young and old, come and test the toboggan and spend a pleasant time with the family. Located at the Flaine Forum, the toboggan runs are divided according to the levels.
Children between 6 and 12 can try the red zone, and those over 12 can go directly to the black slopes. To guarantee everyone's safety, wearing a helmet is mandatory.
Snowshoes
Hiking enthusiast, put on your snowshoes to walk freely on the snow. Due to the richness of its landscapes, Haute-Savoie has many trails accessible by snowshoes. There are many beautiful hikes to do in Haute Savoie.
Domaine de l'Arbaron: at more than 1,900 meters above sea level, contemplate the panorama that stands before you;
Domaine de la Combe d'Enverse: enter the forest at 1,747 meters above sea level and escape the time of this snowshoe hike.
Ice rink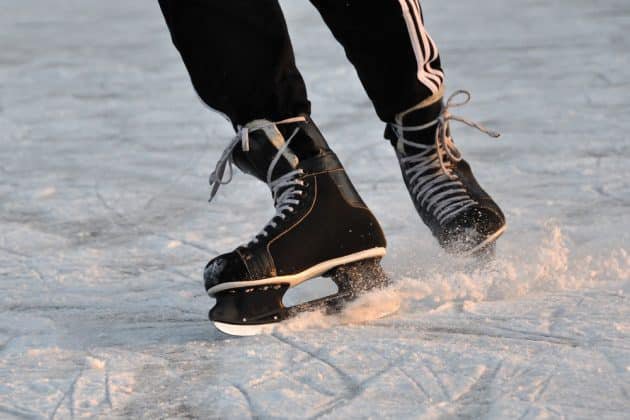 Want an outdoor activity to do in Flaine with the whole family? Why not head to the ice rink. The estate hosts a track where everyone can get together.
If you are a beginner, slide gradually to try not to fall. And if you are already used to practicing this sport, do some pirouettes to impress your loved ones.
Best things to do in Flaine in Summer
Paraglider
Want to do an outdoor activity in Flaine in the air? Fly away during a paragliding session with the mountains of Haute-Savoie as a backdrop. For your paragliding baptism, you fly in tandem with a professional who guides you to the most beautiful sites around Flaine.
Before taking off, he explains the safety instructions and gives you some keys to pilot the paragliding yourself according to the wind. Once in the air, you will feel yourself growing wings.
Paragliding is an activity accessible to all and can be practiced from 6. So if you don't feel dizzy, now is the time to take your whole family on new adventures.
Horse riding
There is nothing better than horseback riding for an outdoor activity in Flaine in communion with nature. Several equestrian centers offer one-hour, two-hour, or full-day excursions. Whether you are a beginner or a seasoned rider, horses transport you to discover the secrets of Haute-Savoie.
If you come with your family, this activity will delight your children, who will be able to ride on ponies. It's time to take care of the horse that accompanied you by feeding and brushing it.
Hiking
If you want to discover Savoy and all its treasures, take good shoes and go for a hike in the Platé Desert. It is the largest lapiaz plateau in Europe. With an area of 1,980 hectares, the site is absolutely exceptional.
In addition to offering you a unique landscape, this plateau hosts a great diversity of fauna and flora. You will feel like you are walking on the Moon during your trek.
Helicopter
If you want to discover Haute-Savoie in another way, Travelvibe recommends taking a helicopter tour. Starting from Flaine, you fly to observe the most beautiful massifs of the region from the air.
On the program; Mont Blanc, Aiguilles Rouges, Argentières glacier, Mont Dolent and many others. To immortalize these magical moments, don't forget your camera.
Was "The 15 Best Outdoor Activities to do in Flaine" helpful to you?