Are you going on holiday to the Alps? Winter and summer, discover the best outdoor activities to do in La Clusaz!
In the heart of the Massif des Aravis in Haute-Savoie, the village of La Clusaz welcomes you in an exceptional environment. The resort is ideal for all sliding activities in winter, from sledding to freestyle skiing.
Come and get some fresh air in summer and discover the hiking and mountain biking trails that run through the mountain. The village nestles in a preserved nature, the opportunity to discover the fauna and flora of the region.
More: 

Best Outdoor Activities in Valmeinier

Best Outdoor Activities in Tignes

Best Outdoor Activities in Megeve

Best Outdoor Activities in Lioran

Best Outdoor Activities in Flaine

Whether traveling with family, friends, or solo, discover the best outdoor activities to do in La Clusaz!
The 15 Best Outdoor Activities to do in La Clusaz
Best things to do in La Clusaz in Winter
Alpine skiing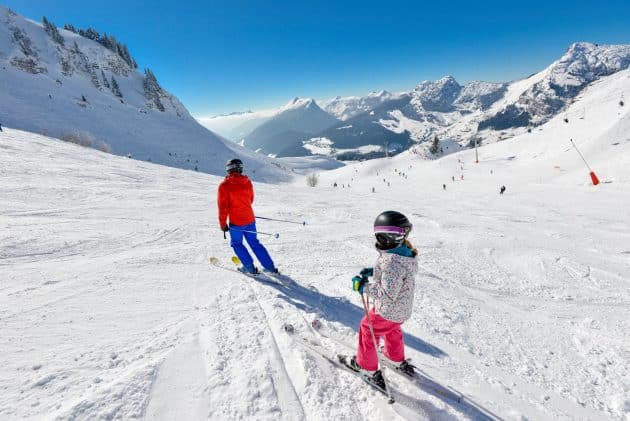 Balme, l'Aiguille, l'Étale, Manigod and Beauregard… These are the 5 massifs that form the huge ski area of La Clusaz. Don't forget to wax the skis, because you'll use them! Between 1,100 and 2,600 meters above sea level, 125 kilometers of slopes allow beginners and professionals to work on their curves.
And if that's not enough, you can always reach the other ski resorts of the Massif des Aravis, Le Grand-Bornand, Saint-Jean-de-Sixt, and Manigod.
Count about 30 € for this service.
Sled
Children will be at the height of joy with this outdoor activity to do in La Clusaz. Three slopes less than three kilometers from the village guarantee them maximum fun. The space is secure to allow them to let go without constraints.
The resort also offers supervised toboggan runs to enjoy the empty slopes of skiers at nightfall. For a toboggan run, count about 30 €. Sled is one of the best things to do in La Clusaz in the summer.
Snowshoes
Thanks to the 95 kilometers of marked trails on the Aravis massif, the wild nature is yours. The trails are freely accessible, and the opportunity to go on a quiet walk with the family on a full day.
Join a mountain hut for a combined snowshoe and raclette! A beautiful hike consists of joining the Plateau de Beauregard with its breathtaking view of Mont Blanc. A moment out of time and magical images that will remain engraved in your memory.
For a snowshoe hike, the prices vary between 20 € and 40 €.
Sled dogs
Are you looking for an outdoor activity to do in La Clusaz that combines nature and discovery? Opt for the sled dog! You will meet the musher who drives the team and gives you all the secrets of his job.
You will get to know the dogs before going for a walk. Well wrapped up under a ton of blankets, you will only have to admire the beauty of the landscape on the road to the pass. Let yourself go and imagine yourself for a moment in the forests of Alaska conquering the far north.
This outdoor activity to do in La Clusaz will suit everyone. Children and adults will leave with a smile, as will lovers looking for a romantic getaway.
Horse riding and ski-joering
Go for a one-hour horse ride before the slopes open or at sunset. Thus, you can enjoy nature in a calm and serene atmosphere. There is no shortage of outdoor activities to do in La Clusaz with horses.
Go for a ride on a sleigh or carriage. Otherwise, try your hand at ski-joering. Wearing skis, you are towed by a horse at pace, trot, or even gallop! The opportunity to discover new sensations of gliding.
Ski touring
Equipped with scaled skis or seal skins, you combine the pleasures of hiking and skiing. Go with a guide to remote locations where you'll be the first to trace the powder.
The possibilities of off-piste in La Clusaz are numerous but require to be accompanied by a professional. He will be able to find you the best ski spots in exceptional landscapes.
Otherwise, two marked routes from the resort allow you to get away from the classic tracks. You evolve freely on slopes virgin of any passage.
A ski tour counts between 100 € and 170 €.
Freestyle and freeride skiing
La Clusaz is a freeskiing paradise and has seen more than ten world champions pass by on its slopes. It is the ideal playground to learn about these two disciplines.
Entertaining areas are set up for beginners as well as experienced riders. The LCZ Family Run area is equipped with a giant mattress to try its most beautiful rotations safely. On the LCZ snowpark, you will test your tricks on many modules.
Big air, rails, and boxes await you for big solo sessions with friends.
Best things to do in La Clusaz in Summer
Ramble
To take a full measure of the region's beauty, hiking is an outdoor activity in La Clusaz. Opt for a stroll around the village or a multi-day walk.
Many routes crisscross the massif towards the Col des Annes, the Tête du Danay or the Lac de Tardevant. So many options to discover the natural beauties of the mountain. You will walk through the flowery pastures in the land of the reblochon, with perhaps the chance to cross the local fauna.
Ibex, chamois, and marmots share the territory under the piercing eye of the vulture, the largest raptor in Europe.
Horse riding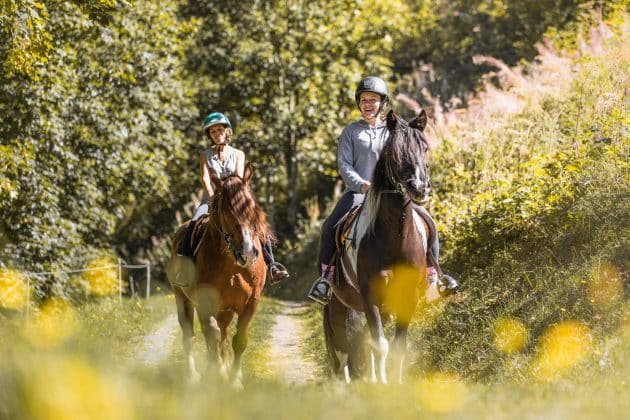 The enchanting setting that surrounds La Clusaz is an invitation to discover. On horseback, pony, or donkey, enjoy the enchanting landscapes of the Aravis effortlessly. Several centers offer services ranging from pony rides to horse rides in the mountains.
Toddlers will be able to climb a pony from 2 years old and come out of this outdoor activity to do in La Clusaz stars full of eyes.
It is also possible to rent a donkey for the day to go for a walk with friends in complete autonomy. Horse riding is one of the best things to do in La Clusaz.
MOUNTAIN BIKE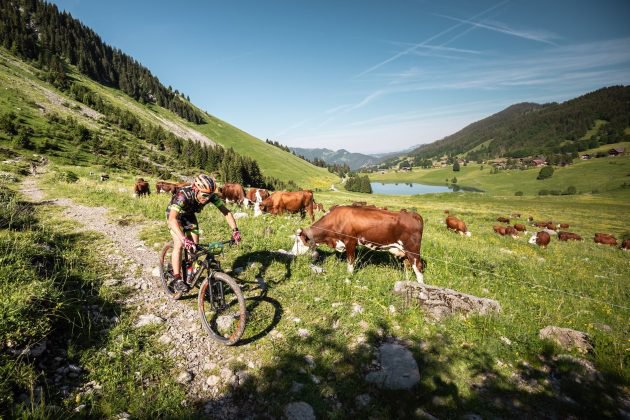 Three ski lifts are open to mountain bikes throughout the summer and give you access to the entire area. Whether you are a fan of enduro, cross-country, or downhill, you will find happiness among the 125 kilometers of trails.
Circuits adapted to electrically-assisted mountain bikes have also been designed for (almost) effortless rides. On technical tracks, difficulties can be circumvented for less experienced cyclists.
But for the pros, it will be a series of raised turns, skidding, and jumping, for a maximum of sensations.
For a mountain bike ride, the prices vary between 60 € and 210 € if you opt for an electric mountain bike ride.
Paraglider
Take off with qualified instructors to see La Clusaz from the sky! You will leave for two-seater flights lasting from 15 minutes to an hour. Plenty to appreciate in the exceptional landscapes that surround you.
The more adventurous will opt for a baptism sensation punctuated by acrobatics of all kinds: adrenaline guaranteed!
If you are already a pilot, a map is available with the rising currents and the directions and forces of the winds. A beautiful outdoor activity to do in La Clusaz for those who are not cold in the eyes!
For baptism in paragliding, count about 70 €.
Summer toboggan
Let's go for an outdoor activity to do in La Clusaz that will delight the whole family! You access the summer toboggan runs after taking the chairlift from the Ice Rink. Two levels await you, initiated and uninitiated.
You slide at full speed through half-tunnels resembling bobsleigh tracks. Children and adults alike have a blast throughout the descent.
You control your speed with a lever for a good moment of fun in complete safety.
Escalation
The Rock of Aravis is a climber paradise not far from La Clusaz on the road to the pass. No less than 81 lanes await you, from difficulty 3b to 8a and from a height of 15 to 80 meters. Thus, beginners, as well as specialists, will take maximum pleasure.
After 15 minutes of approach, you will arrive at the limestone cliffs in the middle of the forest. Once the treetops are passed, you will have a panorama of the valley below. Introductory or advanced courses are offered, and you can also rent equipment for a session in autonomy.
You can learn to climb for about 45€.
Via Ferrata
For an approach to climbing without constraints, turn to the via Ferrata, an outdoor activity to do in La Clusaz with the family. Between hiking and mountaineering, the via Ferrata of La Clusaz runs along the large rock walls of the Aravis for 700 meters.
You'll walk along ledges, cross suspension bridges, and take ladders to reach the upper levels. You evolve in a grandiose landscape with a view of the surrounding mountains, above the void but always safe.
A good time to spend with family or friends to fill up on memories and sensations. Count about 65 € for a Via Ferrata route.
Water sports
Discover the canyons and rivers of Haute-Savoie by choosing an outdoor activity to do in La Clusaz turned towards the aquatic environment. You can follow the riverbed in canyoning thanks to natural slides or waterfall jumps. You can also enjoy some beautiful hikes in Haute-Savoie.
In the canyon of Angon, a descent of 55 meters awaits you for a big rush of adrenaline. Go down the Giffre in rafting piloted by an experienced helmsman in a group. Thrills and bursts of laughter are always at the rendezvous.
Canoraft, airboat, hydrospeed, the guides will be able to offer you the practices most adapted to your desires. Thus, you will fully enjoy your stay in La Clusaz.
For a rafting trip along the Giffre, count between 35 € and 40 €.
So, which of the best things to do in La Clusaz are you going to do on your trip?