No, boredom will not be part of the game during your next stay at altitude. Here are the best outdoor activities to do in Les 2 Alpes.
The resort of Les 2 Alpes is quite special. Created in 1946 on the former alpine pastures of the villages of Mont-de-Lans and Vénosc, it is one of the highest in France. It is the largest glacier estate in Europe: it exceeds 3,600 meters above sea level!
You can even ski there in the summer. Located on a huge plateau, pedestrianized, it is a paradise for thrill-seekers. But not only! People come from all over Europe to enjoy the joys of the mountains. The best outdoor activities to do in Les 2 Alpes are presented below. These can be chosen according to your level, physical fitness, and desires.
From boardercross to hiking, from paragliding to cross-country skiing, mountain biking to rafting, you will find what you are looking for on-site. Come on, come quickly to keep the marmot's company!
Here is the list of best outdoor activities to do in Les 2 Alpes:
The 15 Best Outdoor Activities to do in Les 2 Alpes
Best Outdoor Activities to do in Les 2 Alpes in Summer
Summer skiing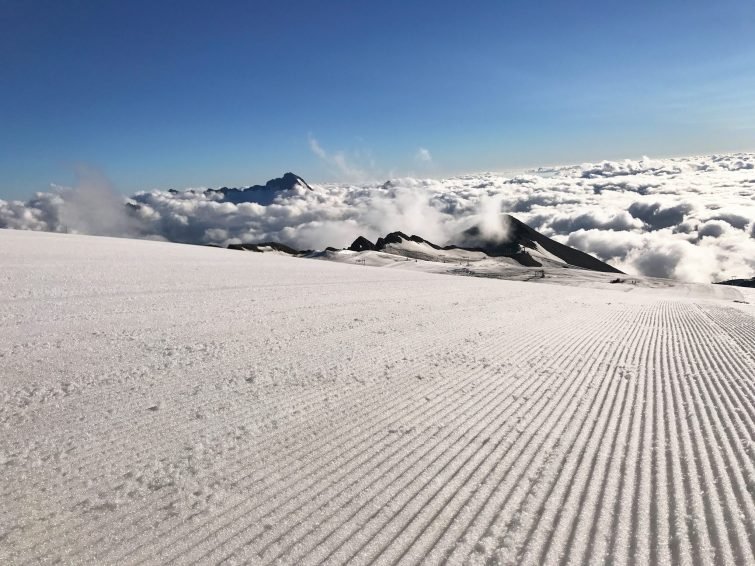 Skiing in August? This is perfectly possible at Les 2 Alpes. The resort has a glacier. The snow is permanent: you can therefore spend a pure moment of gliding, cool but in the middle of summer. Although warming is causing the glacier to retreat, you will be able to enjoy it for many years to come. This is a rare experience in Europe. Enjoy it!
Ramble
In summer, hiking at altitude is a must in the resorts that all offer countless marked trails. If you want to indulge in this refreshing outdoor activity in Les 2 Alpes, you will enjoy exceptional panoramas.
The advantage? Little material, total freedom, and the opportunity to be close to nature. Who else but you will have the chance to approach marmots, ibex, or deer?
Paraglider
Paragliding, what sensations! This outdoor activity to do in Les 2 Alpes is undoubtedly one of the most fascinating. This is probably the best way to contemplate the surrounding mountains.
If you don't know how to fly these wings, don't panic. You can take classes or choose a tandem flight with an instructor. These will ensure you a moment out of time and safely. From 7 to 77 years old, treat yourself to a unique experience and join the golden eagles!
Rafting
Rafting is going down a torrent on an inflatable boat that accommodates ten people. The Veneon, a local torrent, will be the ideal support to try it! Accompanied by a guide, equipped with a helmet, a paddle, and a life jacket, the rafters will have to descend the hectic rapids.
Considered an extreme sport, whitewater rafting remains an outdoor activity to do in the 2 Alps totally safe. Your guide will ensure a safe descent on a carefully chosen route. Rafting is one of the best outdoor activities to do in Les 2 Alpes in Summer. So, when are you embarking?
Via Ferrata
Via Ferrata is an ascent practice close to climbing and mountaineering but more technically accessible. It is a question of carrying out a course arranged in a rock face equipped with metal elements. These act as a catch and facilitate your progress.
The participants, equipped with a helmet and a harness, ensure a lifeline. More or less aerial and physical, this booming sport is a great outdoor activity to do in Les 2 Alpes. The ideal is to come and discover it for yourself. Several levels of difficulty are offered for three hours on average.
Escalation
In Les 2 Alpes, climbing is an institution. There will be something for everyone with no less than forty lanes ranging from 4 to 8c! Welcome to the site of the Aiguilles de Champamé, one of the most varied in the region.
It is possible for you to try this outdoor activity in Les 2 Alpes: does it tempt you? Supervised by instructors, wall climbing techniques will no longer hold any secrets for you. Climbing will seduce you, whether you come alone, with family or friends.
Cani-rando
Cani-hiking, everyone becomes addicted! This outdoor activity to do in Les 2 Alpes is one of the most popular in the region because of its playful simplicity. It aims to make a hike harnessed to a dog … sledding.
The goal? Reduce the hike's difficulty (you no longer feel the difference in altitude, it's striking) and especially have a good time. Dogs are, of course, used to human presence and are real cuddly toys. The negative point is that? Having to part with it once the walk is over…
Best Outdoor Activities to do in Les 2 Alpes in Winter
Sliding sports
Whether you enjoy skiing, snowboarding, or snow-scoot, you've come to the right place in Les 2 Alpes. These outdoor activities to do in Les 2 Alpes take place on some of the longest slopes in Europe.
Moreover, the ski area is one of the highest on the continent. If you go on-site, you can enjoy an extraordinary quality of snow. Mainly sunny, the area is also full of entertainment for wild days on the slopes!
It is possible to take ski lessons supervised by an instructor to learn and progress faster. Prices vary between €312 and €391 for the 6-day package, depending on the options chosen.
Snowshoeing
Hiking in summer is nice, but it's even more exotic in winter. Finally, as long as you are equipped with snowshoes: these will prevent you from sinking, with each step, into the fresh snow.
This outdoor activity to do in Les 2 Alpes is undoubtedly our favorite, given the beauty of the landscapes crossed. Accessible physically, technically, and financially, it will delight young and old mountain lovers.
Ice diving
There, for sure, back from vacation, your colleagues will not come back! Ice diving is an outdoor activity to do in Les 2 Alpes that will leave you with unforgettable memories. Completely secure and supervised by caring instructors, it allows you to discover the mountain… otherwise.
The light under the ice seems unreal of beauty, tinged with bluish or greenish halos, absolutely fascinating. To answer you since you think about it: no, you will not be cold. The thick neoprene suit protects you from water at 0.5°C throughout your descent, don't worry! Ice diving is one of the best outdoor activities to do in Les 2 Alpes in Winter
Winter mountaineering
Close to the Meije and the legendary mountains of the Ecrins massif, the 2 Alps are a destination of choice for lovers of the peaks. In winter, they can discover winter mountaineering in the company of a mountain guide.
The difference between summer? The cold and the thickness of the snowpack are much more important. Adapted outfits will be provided to protect you from temperatures and icy wind. Intended for an informed and motivated public, this activity guarantees unforgettable memories.
Fatbike on snow
Fatbike? It is an ATV equipped with enlarged tires that ensure perfect grip on the snowpack. Some are even electric – we were in 2020… The fatbike is all the pleasure of mountain biking in the middle of winter.
Go to the heart of the resort to enjoy this outdoor activity to do in Les 2 Alpes: an entire park is available for rent once your faithful destrier is on the rope, head for the winding slopes for a pure moment of pleasure.
Snowmobile
Snowmobiling is a must in the Alps. Initially, these machines were used as a convenient means of transportation. But today, they are quite suitable for playful use. This outdoor activity to do in Les 2 Alpes costs a hundred euros per hour. Rates naturally drop if you want a shorter rental.
Once mounted, your mount will take you to the heights of the station. The typical circuit extends over fifteen kilometers in the middle of larch trees and pastures for one hour. Hang!
Sled dogs
Sled dogs are lovely plush toys emblematic of the Far North. Huskys, malamutes, Samoyeds… These breeds all have the peculiarity of their characteristic dense coat and taste for effort. Thanks to them, it is possible to enjoy this outdoor activity to do in Les 2 Alpes.
At night or in Vénosc, a pretty village along the Veneon, it's as you like! Your sleigh will take the cross-country skiing circuits for a smooth getaway.
Ski joëring
Ski joëring, or harness skiing, is a sports discipline that combines skiing and equestrian harnessing. It is practiced with a draft horse or a pony for the youngest. You will only have to put on a pair of ski harnesses and let yourself be towed by your four-legged companion.
This outdoor activity to do in Les 2 Alpes is comparable to canine hiking. You become one with your four-legged partner! Easily accessible, it will delight the little ones and will save you money… before, perhaps, enjoying a fondue with the family in the heart of the resort!