Last Updated on 11/06/2022 by Alfred
Are you looking for adrenaline for your holidays? Go to the mountains and discover all the best outdoor activities to do in Saint-Francois-Longchamp, the resort of Savoie.
Savoy is a hotspot for all nature lovers, both in summer and winter. The resort of Saint-François-Longchamp is nestled between the Tarentaise and Maurienne valleys, just two hours from Lyon and four hours from Paris. Therefore, it is a space quickly accessible from the city to come and breathe and connect with nature.
We also appreciate the range of unusual activities available in the resort. Here, you will find hiking trails for walkers and mountain bikers and more intriguing entertainment, with segway rides, smoky bikes, and paragliding.
Let's go for the list of all the outdoor activities to do in Saint Francois Longchamp in summer and winter!
Best Outdoor Activities to do in Saint-Francois-Longchamp in Summer and Winter
Best Things to do in Saint-Francois-Longchamp in Summer
The mountains in summer have become a must. We appreciate the cool temperatures to enjoy all the activities to do in the open air. Some resorts are the hit full-level activities, which is the case of Saint-François-Longchamp.
Rail sled
Back in childhood, but with some modern improvements, which will delight young and old. It is called the comet, rest assured, more for the figure of speech than for the actual speed of the sled. It is an original attraction that you can practice on 900 meters of rails with turns and pins for thrills.
Treat yourself by hurtling down the mountain even without the snow. An outdoor activity to do in Saint-François-Longchamp with children or just with friends.
Adventure course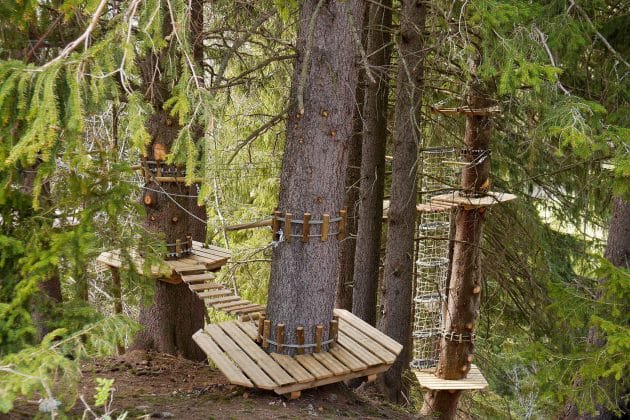 Would you like to take advantage of this mountain stay to get closer to nature? Try your hand at the Cime Parc adventure course. This tree climbing park presents activities for everyone, even the little ones.
The circuit is between 1 meter 10 and 1 meter 30 high. You can go there every day from 10 am to 6 pm during the summer season.
Given the place's popularity, we advise you to book in advance to be sure to have a place on the circuit.
Segway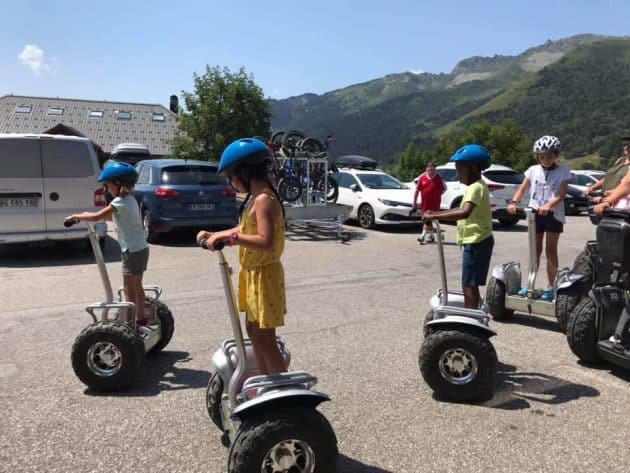 Want to discover a fun activity while visiting the places differently? Try the segway, this funny machine that perfectly combines hiking and sliding. A walk is not too tiring, let's face it, but playful and ecological. Guided walks can be made with the explanations of a guide of the region.
Escalation
Would you like to add a little difficulty to your mountain stay? Climbing is one of the outdoor activities to do in Saint-François-Longchamp.
You can practice on training walls if you are a beginner or in the middle of nature. The activity is possible from the age of five. Several courses depending on your level may be proposed to you.
Smooky bike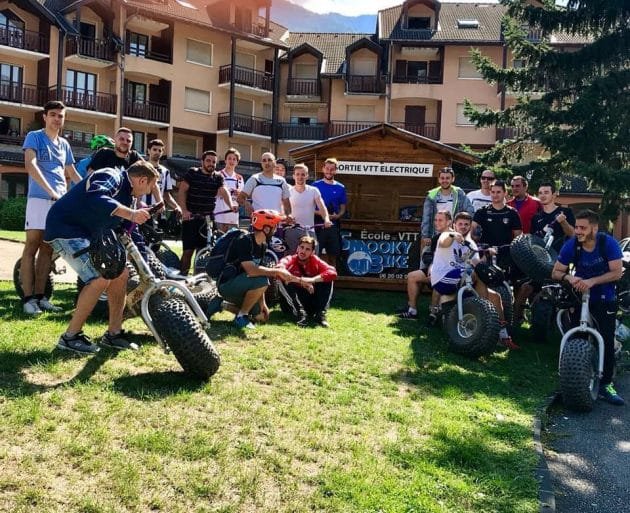 Are you intrigued by the name? It is simply a mountain bike adapted for the mountain. A team of instructors will supervise you to allow you to perfect yourself in this vibrant environment—an ideal activity for all bike lovers with extreme sensations.
Trail running
Give yourself challenges and get out of your comfort zone, even on vacation. This is what you can apply by walking one of the four trail courses of the resort. An outdoor activity to do in Saint-François-Longchamp for all.
The difficulty level is not exceptionally high, and all indications are on your way—a sporty way to discover the different panoramas of the region.
Paragliding baptism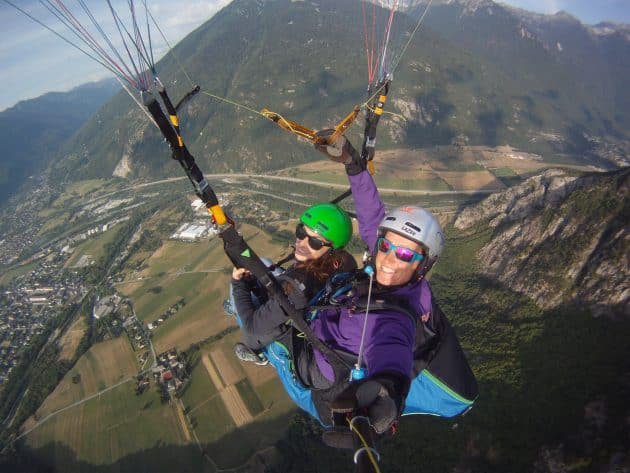 Does an outdoor activity in Saint-François-Longchamp in the air tempt you? Paragliding makes you gain height and allows you to discover the pleasure of flying.
The first flight in paragliding will quickly make you forget the fear of take-off as the beauty of the landscapes is unique—a gentle and somewhat extreme way to explore the region's attractiveness.
Aerojump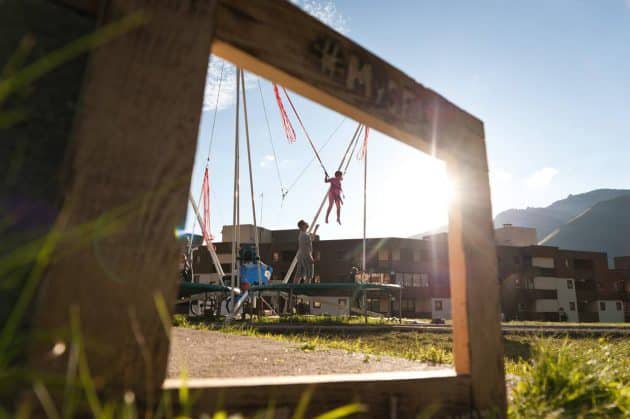 Here is a perfect activity for families—a playful and fun way to do a trampoline, assisted by straps for safety and go higher. You will have sensations, tickles in the belly, and a desire not to stop.
To do this activity, it is necessary to weigh at least 15 kilograms and 90 kilograms at maximum. Let yourself be trained and find childhood sensations with a view of the mountains you are not ready to forget.
Hiking
Visiting Saint-François Longchamp by hiking seems the perfect option. Here you will find trails for hiking in a traditional way or peasant hikes. You can discover the resort with walks with donkeys and milk cows or do some workshops on the farm.
An authentic and traditional way to discover the mountain pastures and the magic of the mountain in summer, when the snow gives way to the green of the valleys and the forest. Hiking is one of the best things to do in Saint-Francois-Longchamp in summer.
Rafting and canyoning
If you have a certain appetite for board sports, make way for water sports like all-mountain lovers in summer. Rafting and canyoning in Saint-François-Longchamp are suitable for young and old. You will fill up on thrills with the descent of the waterfalls in abseiling and the natural slides formed by the river.
You will also sometimes have to climb walls and swim in the water. So many things that will allow you to drain the batteries and enjoy a fantastic night in the mountains.
Best things to do in Saint-Francois-Longchamp in Winter
Winter activities in the mountains allow you to enjoy the magic of the place while giving it a fun way of discovery. Discover here what it is possible to do in Saint-François-Longchamp.
Snowshoes
The resort of Saint-François-Longchamp is particularly suitable for walks. This is an opportunity to test snowshoe rides if you have not already done so.
Perfectly adapted to the winter period, the winter trails will allow you to have beautiful views of the resort and the surrounding places, such as the Belledone massif, the Etendard glacier, and the Lauziere massif.
With snowshoes at your feet, you are equipped to hike in the snow safely. You can treat yourself to a 2-day snowshoeing experience from 225€, with exceptional panoramas of the Belledonne massif! It is one of the best things to do in Saint-Francois-Longchamp in winter.
Snooc
Less known than the segway or the fatbike that mixes hiking and sliding, discover the snooc. A fun way that requires a sense of balance to hurtle down the ski areas of Saint-François-Longchamp.
Wearing a helmet remains mandatory for this activity, which is perfect for skiing, sledding, and snowshoeing. It is a 2-in-1 machine that allows you to discover the mountain in winter.
Don't worry; it's lightweight and very easy to master.
Fatbike on snow
Who said you must choose between mountain biking or skiing in the mountains? Why wouldn't it be possible to do both? This is the fatbike seeks to solve. This bike with huge tires makes a sensation when the slopes open in winter.
It allows you to make a whole new experience of snow. Indeed, the sensations will be very different from skiing or another sliding sport. This outdoor activity to do in Saint-François-Longchamp will give you unforgettable memories.
Balneotheraphia
Visiting Saint François Longchamp also means enjoying a moment of relaxation and well-being. The resort's balneotherapy center will allow you to decompress between two days of outdoor activities.
You can enjoy it after a grueling day on the slopes or in the mountains. There is a fitness area, seven pools, and a spa area for the whole family's happiness.
You can even enjoy a night session on Tuesday for the hydro massage jets or spa pool.
Alpine skiing
Find your happiness, whatever your level, in the resort of Saint-François-Longchamp. Its large ski area is 165 kilometers of slopes, including 103 kilometers for downhill skiing. Green to black slopes in number form the fifth largest estate in Savoy. What are you waiting for to put on your best skis?
Sled dogs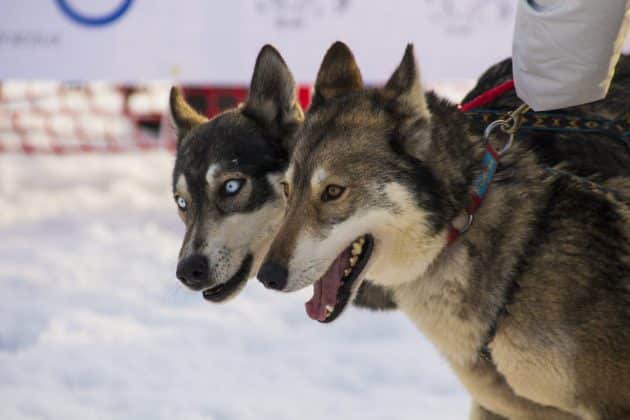 If you want a truly unforgettable experience in the area, we recommend a dog sledding excursion. With a team of Siberian huskies, you will discover Saint-François-Longchamp from another angle. Take with you the most beautiful panoramas of Savoy. This is undoubtedly one of the best outdoor activities to do in Saint-François-Longchamp.