Discover the best outdoor activities to do in Valmeinier, an authentic jewel of the Maurienne!
Welcome to Savoy. It is one of the most mountainous departments in France and certainly one of the most charming! It includes many mythical mountains and legendary ski resorts.
Valmeinier, nestled in the heart of the Maurienne valley at 1,800 meters above sea level, stands out for its simple and warm side.
Dominated by the sumptuous Mount Thabor, it is one of the last resorts created in France. The recent infrastructure, the possibilities of accommodation, and the myriad of activities offered to make it a must.
Whether you go there under the summer sun or during the immaculate winter season, there is no doubt that you will find something to have fun with!
More: 

Best Outdoor Activities in Tignes

Best Outdoor Activities in Megeve

Best Outdoor Activities in Lioran

Best Outdoor Activities in La Clusaz

Best Outdoor Activities in Flaine


Travelvibe invites you to discover the best outdoor activities to do in Valmeinier. The hardest part, in the end… will be to choose from the latter. Come on, top start!
Best Things to do during Valmeinier in Summer and Winter
Best things to do in Valmeinier in Summer
Trail du Galibier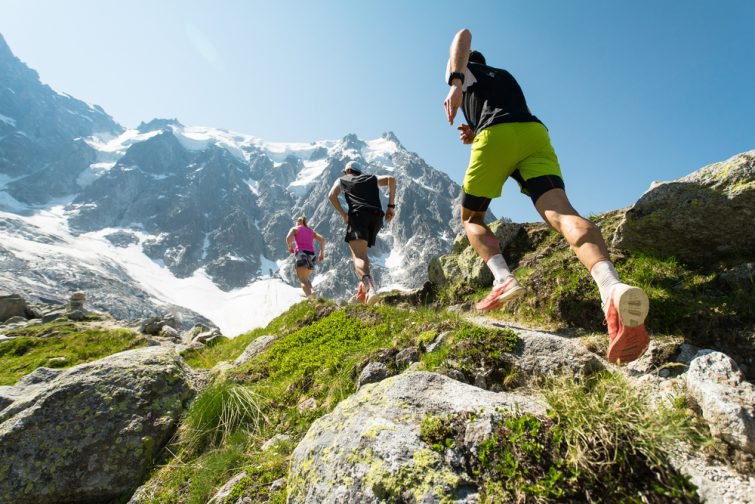 Trail running is an endurance race in a natural environment, especially mountainous. The Galibier-Thabor Trail, for example, takes place between the resorts of Valloire and Valmeinier. To admire the heart of the Maurienne in Savoy is no better!
Of course, if you do not have the level to participate in the race, you can always take the route at your own pace. Portions are suitable for novice audiences and allow you to have a good time with family or friends.
Bring good sneakers, sunscreen, and water for this outdoor activity in Valmeinier. Come on, good luck!
Ramble
One of the best outdoor activities to do in Valmeinier (and, more generally, in the mountains) is hiking.
Our advice: after carefully scrutinizing the weather forecast, start the Thabor tour in 5 days.
Otherwise, the Col des Marches, Lake Bissorte, and Lac Long are other popular targets. The GRP of the Tour du Mont Thabor is a marked trail ideal for you to fill your eyes.
Whatever your destination, there is no doubt that the beauty of the surroundings will seduce you.
Via Ferrata
Looking for the best outdoor activities to do in Valmeinier? Whether you come alone, with family or friends, the via Ferrata is a great way to enjoy the place. Poingt Ravier and Rocher Saint-Pierre are the two emblematic spots in the surrounding area.
You can go without fear in the first case since it is classified as PD+ to AD. On the other hand, the Rocher Saint-Pierre has portions classified TD!
Very aerial, these two via Ferrata allow you to admire a spectacular alpine panorama. You don't have vertigo, at least?
Escalation
More technical than Ferrata, climbing is also one of the best outdoor activities in Valmeinier. On-site, you will find a great artificial wall in the center of the village. It has seven more or less technical and open access routes!
It is recommended that you use a monitor to make sure you progress safely. The equipment (ropes, helmet, harness …) can be rented in the resort center for a low price.
Paraglider
Paragliding is one of the extremes among the best outdoor activities to do in Valmeinier in summer. We simply offer you to fly away: it's not anything, all the same!
Organizing a two-seater flight baptism can be a good way to discover this sport like no other. Your instructor will ensure your safety when you fly over the Maurienne in front of the sumptuous Aiguilles d'Arves.
If you wish, he will even let you take control: enough to arouse a passion, who knows?
Runoff
Runoff consists of walking up small streams. It is a variant of canyoning in more peaceful. The Maurienne valley includes many mountain torrents and precisely allows this practice.
Simply put on your non-slip slippers and enjoy the freshness of the place. The runoff will appeal to young and old and is one of the best outdoor activities to do in Valmeinier. It is also one of the best things to do in Valmeinier in summer.
Beware of slides and splash at leisure during your watercourse. Many splashes and bursts of laughter are guaranteed!
MOUNTAIN BIKE
What could be better than mountain biking, electric or not, to enjoy a refreshing walk in the heart of the Alps? This outdoor activity to do in Valmeinier ensures beautiful sensations. The area offers multiple marked routes, and ski lifts are at your disposal.
Enduro, freeride, downhill… More than 33 kilometers of specially designed slopes await you on site. These circuits will allow you to measure yourself against your loved ones: put on your helmets, let's go!
Best things to do in Valmeinier in Winter
Sliding sports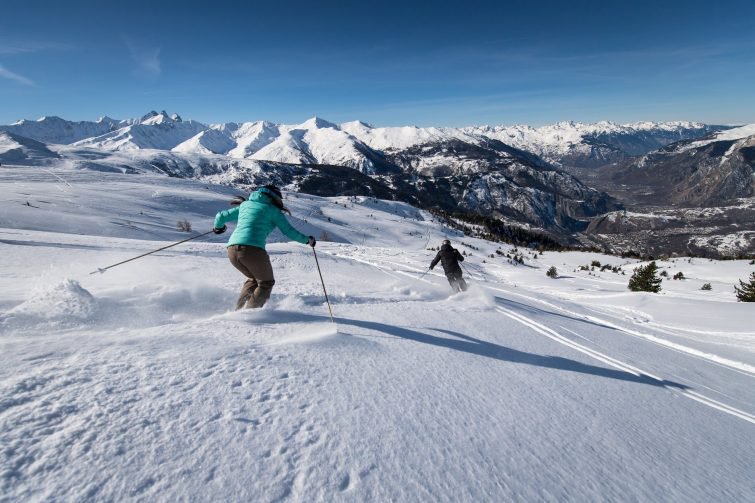 Winter is here! The Maurienne is covered with a lovely white coat, and it's time to put on the skis. With 89 tracks totaling 160 kilometers, the gliding fades will have something to do.
With its sixty hectares, the ski area allows everyone to have fun. The infrastructures are modern: the ski lifts impress with their speed.
This outdoor activity to do in Valmeinier will suit a wide audience, novice or confirmed. So, rather green, blue, red or black track?
Sled dogs
This outdoor activity in Faie in Valmeinier is simply enchanting. Take the time to discover this typical Nordic practice during your stay!
A sleigh ride towed by a dozen dogs will delight young and old. The proposed circuits cross, in turn, alpine pastures and forests.
You will sit comfortably on the sled between the pilot (musher) and his four-legged friends. The latter particularly appreciate caresses, it seems…
Ski paragliding
Ski paragliding is based on the same principle as classic paragliding, except that the take-off is ski-to-door. This outdoor activity in Valmeinier offers a remarkable perspective on Savoy or even the entire Alps chain!
Mont Blanc, the Meije, and some of the most beautiful peaks of the mountain range are revealed. The snow-capped cliffs stretch as far as the eye can see as you twirl through the air.
Your pilot can let you take the controls if you wish. Ah, by the way: the landing is very close to an altitude restaurant offering succulent regional dishes. If you're feeling peckish, who knows…
Scooter on snow
That's a lot of fun! The snow scooter has been offered in the ski area for a few years. This is one of the best things to do in Valmeinier in winter because of its originality and pleasant side!
Specially dedicated tracks are easily accessible. It is even possible to consider the jump with the fallout on a giant airbag for the more adventurous. Fun and thrills guaranteed!
Snake slidess
The slopes have just closed, and you are still looking for an outdoor activity to do in Valmeinier? Put on your après-skis and come and try your hand at snake gliss, a great way to end the day in style.
It is a question of hurtling down a slope on a long-articulated sled piloted by a guide who will not hesitate to zigzag. Fun at will, this activity is just as suitable for the little ones as for their parents.
Helmet mandatory, but you will be offered one if you do not have one. Come and try quickly; it keeps its promises.
Fatbike
The fatbike is one of the best outdoor activities to do in Valmeinier. A fatbike is an imposing mountain bike with two huge tires. They make it possible not to sink into the snow and thus pedal on the powder without difficulty.
Electrically assisted fat bikes are certainly the major innovation of the last five years in the resort.
For example, this original sports practice has for her to change the eternal ski descents for an afternoon.
Snowtubing
Does bobsleigh speak to you? Imagine that we replace this streamlined machine with a large comfortable buoy and ask you to go down the track: it's possible in Valmeinier!
A specially dedicated course with steep bends and slopes is available to the bravest. The buoy is particularly uncontrollable, increasing the " pilot's sensations."
After a frantic descent, a springboard will eject you and make you land in a giant airbag. Sensitive souls, abstain…
Snowshoes
What outdoor activity to do in Valmeinier when you just want to indulge in the contemplation of pure nature? A snowshoe hike, of course. These devices prevent sinking into the snow and allow a walk where you would not usually be able to go.
Any ideas for courses? Well, we suggest you walk along the torrent of the Neuvache to the woods of the Chenalette, for example. Deer and rabbits are sometimes in the game.
Otherwise, head to the sublime forest of Méraloup. An exceptional panorama of the Vanoise and the Maurienne valley can be admired.
Regarding safety, don't forget to charge your phones, bring a plan, and let someone know about your getaway. If you get lost, know that the nights are freezing…
So, which outdoor activities in Valmeinier do you think would be best?