For aquatic adventures, this is where it happens with a selection of the 10 best places to go canyoning in Auvergne Rhone Alpes!
It is armed with wetsuits, helmets, and harnesses that you will launch yourself to the assault of the Auvergne canyons. As a reminder never hurts; here is one on canyoning for those who have a doubt.
This sport consists of following the course of torrents and rivers, often in gorges dug by the force of water.
Depending on the level of the courses, you have waterfalls to cross, boulders to climb, jumps in the water, and rappels. For safety reasons, this activity must be supervised by specialized guides.
Thanks to its geology and many torrents, the Massif Central is conducive to this practice.
It is an opportunity to mix fun sport and discovery of nature. You know everything, and all you have to do is choose from this selection of the 10 best places to go canyoning in Auvergne.
People Also Read: 

The 11 Most Beautiful Hikes in Auvergne (Hiking Trails)
The 10 Best Ski Resorts in Auvergne (For Everyone)
Auvergne Rhone Alpes Tourist Attractions [Tourism]
The 16 Most Beautiful Villages in Auvergne Rhone-Alpes
The 16 Best Places to Visit in Auvergne
Tourist Spots and Things to do in Auvergne

The 10 Best Places to go Canyoning in Auvergne Rhone Alpes
1. Jordanne Waterfalls
Photo credit: Wikipedia – Traaf
The start of this canyoning spot in Auvergne is in the town of Saint-Cirgues-de-Jordanne in Cantal. The route is halfway between water hiking and canyoning, which is ideal to start while experiencing some sensations.
In case of hesitation, all obstacles can be bypassed. Slides cross some waterfalls, and several of them also have a possibility of recall. For those who like to swim, the advantage of these gorges is to offer many passages in the water and not hiking. The spot also provides many jumps to lovers of verticality.
Do not panic for others, and they can also be avoided.
2. Canyon of Haut-Alagnon
Welcome to the Cirque glaciaire du Font d'Alagnon for this canyoning session in Auvergne. The start is at the Lioran ski resort.
If this spot is classified in the discovery level, it still offers some sensations with vertical passages to the rope. You can also enjoy the many best outdoor activities in Lioran.
The gorges of Haut-Alagnon are deep and encased with large impressive walls. The path that progresses within them is playful.
You are entitled to beautiful slides and some easy climbing passages during your evolution among the rocks. There are also quite a few slides and jumps of a maximum of 3 meters high.
But the good news for those who don't feel it is they can be avoided. It is also necessary to mention 3 passages to cross as a reminder, but they are not long.
3. The Espinasse Canyon
Better not to be dizzy for this canyoning spot in Auvergne! Being comfortable with abseiling progressions is also essential.
Indeed, in its shortest version, one half-day all the same, there are several reminders, including one of 45 meters that crosses a circus. In its long version, you will have to cross 12!
As you will have understood, it is essential to have already done canyoning before and be in good physical condition. Because in addition, there are, of course, jumps and slides, the largest of which is 6 meters.
A few welcome basins are perfect for letting yourself be carried by the current. The sensations are guaranteed on this course which is considered the most complete in the region. But the game is worth it because the geology of the ravines is superb.
It is undoubtedly one of the most beautiful canyons in the region.
4. The Cornillou
This course is not very long, but it is no less interesting for a beautiful canyoning outing in Auvergne. There are some reminders on the program in this steep canyon, but small ones, and a lovely descent of 25 meters by zip line.
There are also 3 large basins where to swim, but you have to jump to get there. The maximum jump height is 8 meters, but it is possible to bypass them. Finally, there are slides including a small siphon.
It is a very playful canyon, perfect for beginners who still want to experience sensations.
5. Argence
For this canyoning course in Auvergne, you have the choice between two options. The first, which is the most common, is to go down only the lower part of the canyon.
The longest, the second, consists of the gorges' complete descent. Even if the courses are fun and accessible to all, you need a good physical condition. The obstacles are varied.
You alternate between slides, jumps in beautiful basins, and 2 large abseiling passages. You have to be comfortable with verticality because the heights go up to 8 meters for a slide.
There are also aerial passages with a spider wire reminder, that is to say, that you do not descend along a wall but directly into the void.
If you do not like adrenaline, it is better to abstain.
6. Bromme Canyon
Obstacle bypasses are difficult or impossible in this canyon, which is reputed to be wild. In other words, you have to be well informed and sure of yourself before you start.
The most athletic will undoubtedly have a great time in this canyoning course in Auvergne. It begins with a most unusual passage, the crossing of an arch dug in an old dam.
Throughout the day, you climb the rocky chaos and enjoy many basins. Who says sports course necessarily says jumps and reminders from different heights and many slides in slides.
Sleep guaranteed in the evening!
7. La Haute-Borne
Small useful precision before launching, the water is reputed to be cold. This route is located in the Ardèche in the Tanargue massif. Although they are not mandatory, it is strongly recommended to enjoy the jumps. The highest is 10 meters high.
This canyon is very aquatic, with many passages where you swim in emerald-colored basins. Between a few waterfalls to abseil, you will appreciate the beautiful vegetation of the gorges.
Finally, a long zip line of 40 meters awaits you to finish in style.
8. Ricou La Peyre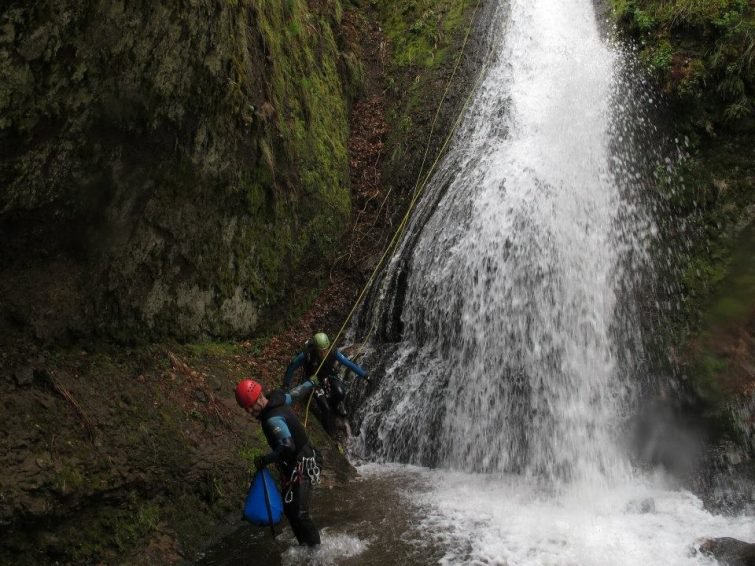 Lovers of rappels and waterfalls, it is here that you have to go canyoning in Auvergne. The Ricou La Peyre is one of the emblematic canyons of Cantalou. From the start, you dominate the Valley of Claux. The program of this course is quite easily summarized.
It's the waterfall, waterfall, and more waterfall. They follow one another at heights of 4 meters to 45 meters for the last. And in all, there are no less than 11.
You are warned that the ropes will be your allies with a beautiful aerial reminder in spider thread towards the end.
9. The Sagnarade
This small canyon is worth a visit for its environment. It is very steep but very vegetal with many tree trunks on which you can experience some slides.
There are no large basins of water nor slides; they are mainly waterfalls, some of which are among the boulders. There are, therefore, a lot of abseiling descents, but the heights are not vertiginous despite the verticality of the site.
10. The canyon of Besse
This is the last one for the road with this canyoning spot in Auvergne, which is perfect for slides. After the course with 100% waterfalls and reminders, the course is dominated by slides. But if it were only that, he would not be classified as the intermediate level.
Therefore, adding a little adrenaline with superb waterfalls of 15 and 20 meters is necessary. Of course, their descents are abseiling, and you will be well watered.
So, which one do you think is the best place to go canyoning in Auvergne Rhone Alpes?