Are you in the vicinity of Grenoble looking for sports activity in the middle of nature? Discover the 8 best places to go canyoning in Isere!
Located straddling the Alps and the Rhone plain, Isère is a department with a vibrant natural heritage, to be discovered both in winter, under the snow, and in summer, under a radiant sun. It is here that the Chartreuse and Vercors massifs are located.
These two mountain ranges offer innumerable sports activities, which will delight nature lovers searching for outdoor recreation.
Among these activities, there is one to discover absolutely: canyoning. Isère is famous for its many canyons, easily accessible and varied, allowing everyone to practice this sensational activity!
Here is our selection of sites where to do canyoning in Isère, in the heart of the two magnificent mountain ranges of the department.
The 8 Best Places to go Canyoning in Isere
Best Places to go Canyoning in Isere in the Vercors massif
Are you looking for where to do canyoning in Isère? The Vercors karst massif has many exceptional canyons, making it an exceptional place to discover this activity.
Discover the 5 canyons of the Vercors massif that will make you happy if you are looking for where to do canyoning in Isère.
1. Furon Canyon
The Canyon du Furon is undoubtedly the must-see spot in the region for canyoning in Isère. It is composed of two parts: the upper and lower parts.
Here, forgets the fear of a possible sudden rise in water because of variations in inflow. Indeed, the Engins dam, just above, makes it possible to regulate it for optimal safety of canyoners!
The canyon of the furon upper part is suitable for all levels, ideal for a day with family or friends. This course will have alternate jumps of up to 9 meters, slides, a natural cave, rappels, and a zip line.
Different entrances and exits are possible in this canyon, allowing to adapt the course to each level.
The more seasoned may prefer the lower part of the Furon canyon. A hair shorter, the obstacles are, on the other hand, more impressive. Here, a 20-meter rappel in the Tuf waterfall awaits you and jumps up to 12 meters.
Finally, if you are looking for a total day of sensation, you can chain the 2 canyons on the same day and thus realize the Integral Furon.
2. Canyon des Écouges
Here, same as for the previous canyon. It consists of an upper part (also called Écouges 1) and a lower part (Écouges 2), with the possibility of chaining the 2 in the day to make the descent of the integral écouges.
Famous in the region for its collection and commitment, it is a long and difficult canyon reserved for insiders! The upper part consists of a succession of exceptional rappels, the last of which is a waterfall, 70 meters long!
Then comes the lower part, which offers different alternatives, depending on whether you prefer rappels or a longer aquatic part.
One thing is for sure, and if you are experienced and looking for a sensational place to the canyon in Isère, you will not be disappointed with this canyon!
3. Pissarde Canyon
Are you a novice and curious, looking for a place to do canyoning in Isère? The Pissarde canyon is ideal for a first experience. It is easy to access and not very frequented, and it is composed of many waterfalls to learn about the recall.
This canyon will delight adults, quite accessible for children from 8 years old. Here you will learn to appreciate the freshness of the water in a sporting and unforgettable moment, in the heart of a green setting!
4. Versoud Canyon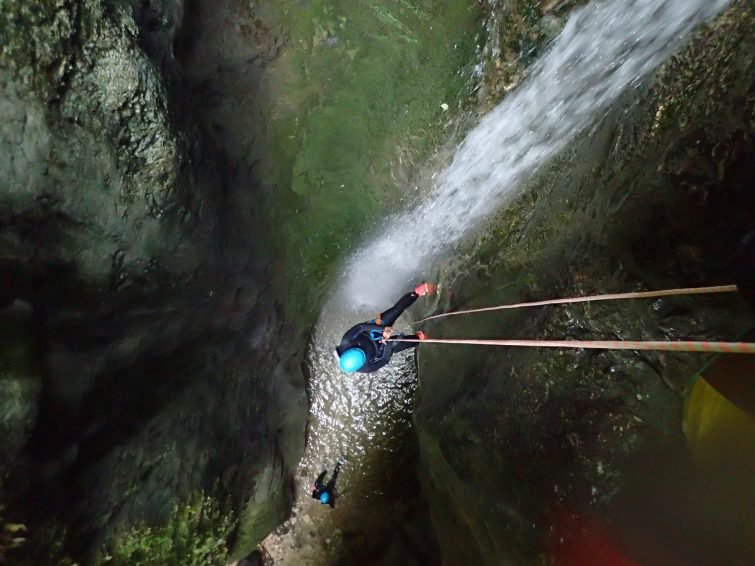 Discover the Versoud canyon, one of the best canyoning courses in Isère to discover this activity. Located in a gorge accessible in less than 10 minutes walk, it offers its visitors a succession of obstacles that follow each other very quickly along the water.
Waterfalls, suspended basins, rappels, jumps, and other slides will delight thrill-seekers while remaining very accessible.
5. Canyon des Moules Marinières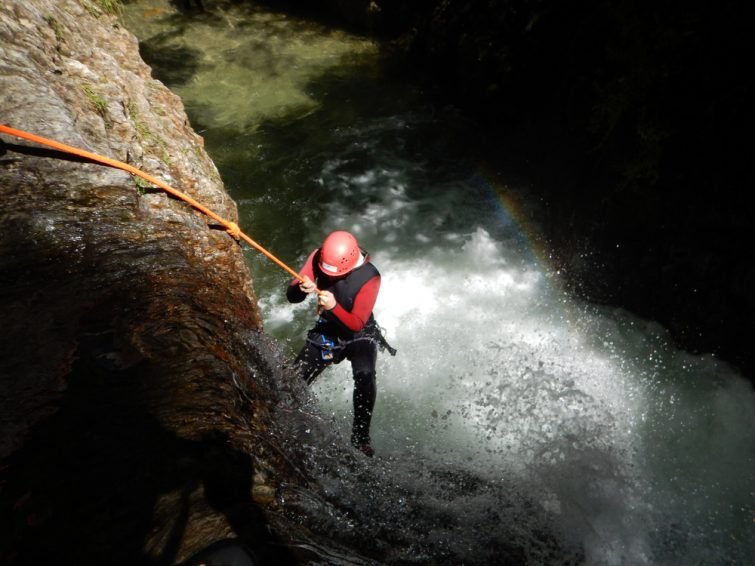 This canyon with a funny name is ideal if you are with your family and looking for where to canyon in Isère. 1,500 meters long, it reveals throughout its descent delightful varied scenery, but especially obstacles of all kinds. Ideal for a first experience!
The course is composed of a first part quite playful, alternating walking, slides, and small reminders. The second part is a little more technical and more impressive because of its narrow passages, important cashing, and its jumps of 7 meters.
But the show is magical, and the finale on the giant slide of the Isère is memorable!
Best Places to go Canyoning in Isere in the Chartreuse massif
Located between the Dauphiné and Savoy, the Chartreuse is also a karst massif renowned for its large waterfalls. Some exceed a hundred meters, making it an exceptional playground for seasoned practitioners looking for spots to canyon in Isère!
Below are the 3 best places to go canyoning in Isère, in the Chartreuse massif.
6. Canyon de l'Infernet
Let's go for 3 hours of unforgettable descent to the heart of the Gorges de l'Infernet! Here is a collection of nearly 100 meters that awaits you.
Once at the bottom, it's time for rappels, impressive jumps, and super-fast slides. Reserved for initiates only, in search of thrills!
Are you looking for where to do canyoning in Isère, far from crowded places? It's here!
7. Grenant Canyon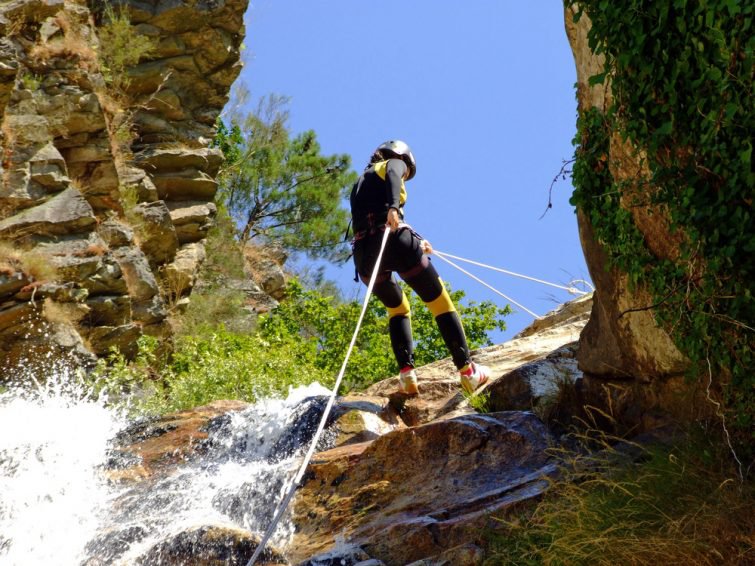 Here is a canyon for all audiences, which will delight young and old looking for an aquatic and sports day. Located next to Lake Aiguebelette, the Grenant canyon offers a magnificent setting, punctuated by several waterfalls, where the jumps only need to be redone several times.
As for the many slides on the course, they guarantee you moments of frank fun! If you want to go canyoning in Isère, do not hesitate to try the Grenant canyon. Grenant Canyon is one of the best places to canyoning in Isere.
8. Canyon waterfalls of alloix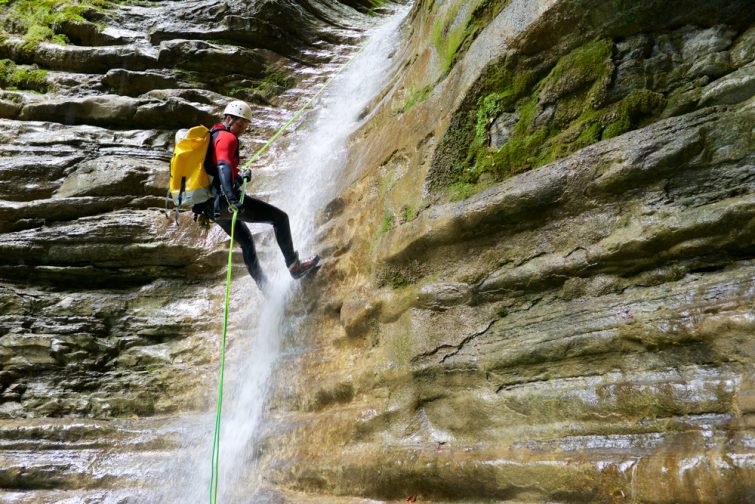 This last canyon allows us to finish our list in style! Indeed, the canyon of the Alloix waterfall is one of the must-sees of the Grésivaudan Valley. Its waterfalls are visible from the valley, letting you imagine the incredible abseiling descents available to you!
Nice jumps and other slides await you on this rather technical and vertiginous course, reserved for sporty and experienced people.
Rates and practical information
Rates
Do you want to go canyoning to Isère? Here is an idea of the rates charged:
Classic half-day course (between 2h and 4h): between 40€ and 55€ per person;
Canyoning day (between 4 am and 6 am): from €75 to €110 per person;
Outing with a private guide (half day): from 300 € the group of 1 to 3 people;
Outing with a private guide (day): from 400 € the group of 1 to 3 people.
Practical information
Reservation: you can easily book the activity on the internet, directly on the sites of canyoning centers in Isère, or go through booking sites specializing in outdoor activities;
Accessibility: anyone can practice canyoning. The guides and guides will choose routes adapted to your level. You should still know that it is a physical sports activity and that jumps are to be expected, so they are not recommended for people with vertigo;
Material: the wetsuit, slippers, harness, and all the specific equipment is provided by the canyoning center. You just have to bring your swimsuit, good sneakers (which will go in the water) and your towel for arrival;
Solo: it is possible to do canyoning without accompaniment, provided you are experienced and have the necessary equipment. Of course, the ideal is to follow the training to avoid accidents!
So, what do you think which is the best place to go canyoning in Isere?