Do you want to get into winter sports? Listed below are some of the best ski resorts in France to go skiing in France.
Are you already thinking about your winter holidays in France and you want to ski? That's good, and the Hexagon counts the cream of the crop of ski areas on its territory. 
You will inevitably find your happiness from the small to the largest, from the posh to the most authentic, from the festive to the family!
Experience the heights by skiing in the best ski areas, discovering exceptional landscapes, and having fun in various ways with friends and family.
You should wear your warmest clothing, catch your skis and boards, and fix your hats before heading forward. Travelvibe takes you to discover the top 10 best ski resorts in France.
The 10 Best Ski Resorts In France – Best Skiing In France
1. Val Thorens
As part of the 3 Valleys domain, Val Thorens is well known for its jovial atmosphere as well as its nightlife. The resort is also and above all the highest in Europe and the highest point of the domain of the 3 valleys. 
With more than 600 km of slopes, the Val Thorens ski resort offers an unparalleled quality of snow and a wide range of activities.
In addition to heavenly skiing, you can try your hand at ice diving, paragliding, ziplining, karting, outdoor yoga, and much more! After a day full of emotion, you can relax in a spa in the heart of a sports and wellness center of more than 7200 km2.
An exceptional nature, unusual activities, high-end equipment, and a friendly atmosphere! Much more than a ski resort, Val Thorens is an art of living.
Whether you are with family, friends, or lovers, you will necessarily enjoy your ski holiday in one of the best resorts in France.
If any of you don't know skiing very well but want to experience this amazing activity can check out this article on "Best Ski Resorts in France for Beginners."
2. Courchevel
At the Domaine des 3 Vallées, we ask this time for the pioneer Courchevel! Originally the playground of a few shepherds, it has become a resort with spectacular success. And for a good reason, it is one of the most innovative with its state-of-the-art equipment and creative layouts.
Ideally located in the heart of the Alps, the resort offers exceptional panoramas between snowy slopes and dense forests. It also offers various activities: mountaineering, canyoning, mountain biking, and many other things! 
And as nothing is too beautiful for the visitor, Courchevel has 6 villages that will immerse you in different universes.
From the original village full of authenticity "Saint-Bon" to the typical mountain village "Courchevel Le Praz," through the secret "Courchevel La Tania," the family "Courchevel Village," the dynamic "Courchevel Moriond" and the exceptional "Courchevel 1850", the famous resort will mark your spirits!
People Also Read: The 15 Best Ski Resorts In The Southern Alps
Located in the heart of the 3 valleys, Méribel offers slopes in excellent condition and a snow course with no standard dimensions. 
You can indulge in all your favorite sliding sports: downhill skiing, freeride, snowboarding, cross-country skiing, sit-down skiing, and more!
Do you want to do more than hit the slopes? Don't worry, and there is no shortage of the best outdoor activities to do in Meribel. 
There are sled rides, snowmobiles, and a host of outdoor activities. You're guaranteed a breath of fresh air and total disconnection.
With its exceptional panoramic view and its valley labeled "Famille Plus," this charming mountain village is ideal for family holidays and nature lovers.
People Also Read: The 15 Best Family Ski Resorts In France – Region By Region
4. Val d'Isère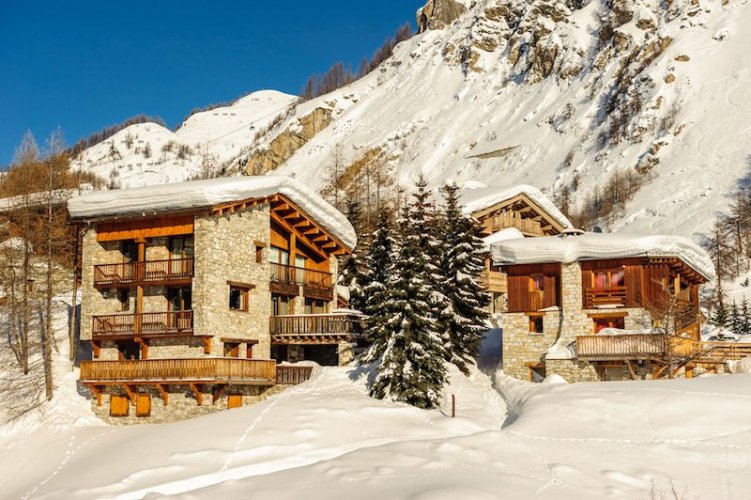 A world-renowned resort since the mid-twentieth century, the Val d'Isère offers a ski area and unique panoramas. 
Land of champions – from Henri Pillow to Clément Noël, via Christine Goitschel – the resort immerses the visitor in an atmosphere mixed with authenticity and excellence.
Grab your skis and set off to conquer the 300 km of slopes. The famous Face de Bellevarde is waiting for you if you are motivated!
If you don't just want to ski, this renowned resort offers many outdoor activities and an upscale après-ski for those who want a good time. 
If you come with your family, know that the resort also benefits from the "Famille Plus" label, and the youngest will be able to enjoy several quality play areas.
5. Alpe d'Huez
Find the resort of Alpe d'Huez and its green plateaus at 1800 meters above sea level. 
Get away from the hustle and bustle of the cities and enjoy the many sporting activities in the Grandes-Rousses massif (walking, aerial, cycling, horseback riding, etc.), cultural and relaxing. Alpe d'Huez is also the scene of strong events throughout the summer!
People Also Read: The 5 Best Ski Resorts For Off-Piste In France
6. Chamonix
Chamonix, this name necessarily speaks to you! This mythical resort, (re)known worldwide, offers you no less than 4 ski areas guaranteeing its reputation: Le Brévent, La Flégère, Balme, Les Grands Montets, and Les Houches.
Here you can enjoy various tracks ideally placed in front of the Mont Blanc range and extraordinary off-piste courses. Beginners, intermediate and experienced skiers will find spaces adapted to their levels.
But if Chamonix is so appreciated, it is also thanks to the range of activities that the resort offers to its visitors. Day and night, you are guaranteed to be entertained in the best way. 
There are theme parks, hiking, climbing, rafting, bars, clubs, restaurants, and many other exciting things to make your stay memorable.
Do not hesitate to head to this cosmopolitan resort where you can test new things with family or friends!
Located in the Evasion Mont Blanc area – offering no less than 445 kilometers of slopes – Megève is an ideal ski resort for snow enthusiasts. You can try the many best outdoor activities in Megeve to enjoy your trip to the maximum.
Want to change the air and discover wide open spaces? Do not hesitate and opt for a stay in this authentic mountain village!
Whether with friends or family, fans of freestyle or classic disciplines, you will inevitably find your happiness in Megève. 
Although it can be considered a ski paradise – thanks to the quality of its snow, its beautiful slopes, and its space dedicated to freestyle – the resort offers much more than that.
Between various outdoor leisure activities, cultural activities, and typical gastronomy, it is a unique and friendly experience that Megève offers you.
People Also Read: The 14 Best Ski Resorts In France For Beginners
Tignes features 300 km of slopes and provides superb conditions and premium snow for ski enthusiasts to enjoy without limits. 
If you like to exceed your limits, you can enjoy the 3200 hectares of an off-piste domain that the resort shares with the Val d'Isère.
Are you worried that skiing is the only occupation at this altitude? Don't panic! You will enjoy a rhythmic and diverse stay in Tignes. 
From sportsmen to partygoers, the resort makes sure to please everyone through lovers of idleness. You will be able to indulge in sliding sports and try paddle, archery, or kayaking, to name but a few.
Between authenticity and modernity, Tignes is the promise of a refreshing break in the heart of the Alps! Enjoy the various best outdoor activities in Tignes and make your trip remarkable.
People Also Read: The 12 Best Places To Go Water Rafting In France
9. La Plagne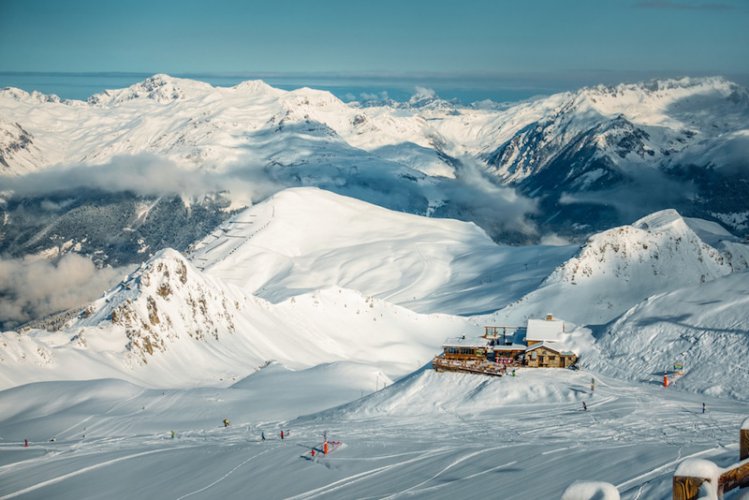 La Plagne, ski resort of Tarentaise valley, also offers 6 altitude resorts (between 1800 and 2100 meters): Plagne Aime 2000, Plagne Centre, Plagne Bellecôte, Belle Plagne, Plagne 1800 and Plagne Village / Soleil.
As you will have understood, the choice is not what is lacking in La Plagne. You can opt for what best suits your expectations, whether you are looking for pure authenticity or avant-gardism. This resort full of character guarantees you a holiday full of charm and friendliness.
Put on your skis and head to Paradiski, one of the largest connected ski areas in the world. 
Do you want to have fun and/or relax off the slopes? Several other outdoor activities are offered: paragliding, snowmobiling, zip-lining, and more!
If you are saturated with the great outdoors (how is this possible? ), concerts, shows, swimming pools, bowling alleys, or escape games are waiting for you. La Plagne is one of the best ski resorts in France.
People Also Read: The 10 Best Water Sports In France To Try This Summer
10. Les Arcs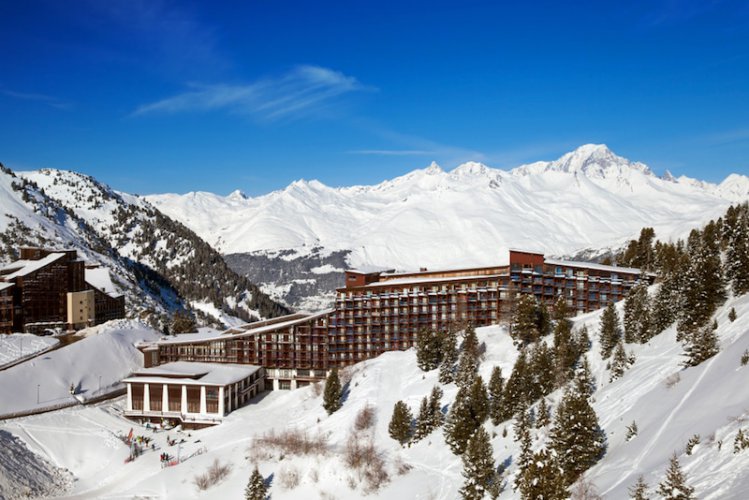 Nestled on the edge of the Alps, Les Arcs resort enjoys an ideal location. Also attached to the Paradiski ski area, it offers less than 425 km of slopes for snow lovers. 
Its strong point: it consists of 5 sites – located at different levels of altitude – which plunge the visitor into heterogeneous atmospheres.
By choosing to spend your ski holidays at les Arcs resort, you ensure a tailor-made experience modeled on your desires and expectations. 
Whether you are looking for calm, authenticity, thrills, or family leisure, you will be conquered by the resort's charm and its villages.
Lovers of off-piste will also find their happiness thanks to the wide-open spaces. 
There are many infrastructures and various ways to ensure a stay where boredom is not on the agenda: snowpark, border crossing, toboggan run, and much more! All with a breathtaking view of the majestic Mont Blanc.