Most of us are unlikely to get a chance to visit a place as remote and pristine as Kadavu, an island in Fiji's south. With that in mind, you're going to want to know what experiences you can't miss during your trip. 
Here is a list of the top things you must do in Kadavu, with something for everyone, whether you're on a family trip, a couple's getaway, a foodie, or on a budget.
The 16 Best Things To Do In Kadavu, Fiji
1.Paddle Out in a Kayak or Outrigger Canoe
Watch the marine life below you as you glide across the clear waters of Kadavu in a kayak or outrigger canoe. The majority of resorts offer free kayaks for guests to use, with Matana Beach Resort being a great choice for paddling to secluded beaches and clear lagoons. 
Oneta Resort has fun mangrove forests to explore at high tide, while Waisamlima Beach Resort has some picturesque nearby bays to discover.
It makes a great way to explore the coast with kids, where you can find more recommendations like this in 10 Things To Do on Kadavu with Kids.
There's also the option to be guided to remote villages, reefs, and islands on an outrigger canoe tour with Astrolabe Reef Outrigger Adventures on full-day and multi-day trips around Kadavu.
2.Go game fishing
Several fish world records are caught in Kadavu's waters – the International Game Fishing Association has caught some. 
Sailfish can be found on most reef edges from June to September. Overcrowded packs of wahoo hang out around the reef edges, and mahimahi, giant trevally, and blue marlin can be seen all year round.
Bite Me Gamefishing Charters, located at Matava Lodge on Kadavu's southeast coast, will ensure visitors a satisfying fishing experience at every time of year. 
"Superb blue water game fishing awaits you around the Great Astrolabe Barrier Reef, oceanic pinnacles, 4,000-metre-deep (13,000ft) trenches, and nearby seamounts," says O'Brien.
3.Exploring the great Astrolabe Reef
The Great Astrolabe Reef is the most prominent attraction on Kadavu Island.
This reef runs parallel to Kadavu's southern shore and arcs north-east past Ono Island until it reaches Buliya Island – the perfect snorkeling spot for manta rays.
Great Astrolabe Reef, named after the French ship Astrolabe, is home to big fish, including tuna, marlin, giant trevally, and sharks. 
The gaps in coral reefs can have strong currents; however, these currents also carry plenty of nutrients, which sustain the entire food chain, from coral to reef fish to large fish. 
Divers can experience big fish action as they explore places like Naiqoro Passage, where they can enjoy soft coral-covered walls against a backdrop of colorful soft coral. 
Ono and Buliya are two of the gentler sites around Kadavu, offering encounters with mantas and other aquatic species in shallower, sheltered waters. 
In addition to the Pacific Voyager Wreck, located on the island, there is also the Muto Marine Protected Area and the Great Astrolabe Reef, which are accessible from the island's resorts.
Kadavu's remoteness means resorts are run sustainably, with eco-friendly yet comfortable (and sometimes luxurious) facilities, and much of the food served comes from local farmers.
Read more: Incredible 26 Best Things To Do In Nadi, Fiji
4. Bird Watching
Kadavu's diverse birdlife is among its many attractions, from a brightly colored endemic parrot to flocks of rowdy seabirds. Unleash your inner Attenborough on a birding quest through the island's dense rainforests, mangrove warrens, and muddy coastal flats to observe some of these beautiful birds up close.
To the uninitiated, spending hours scanning the canopy for sightings of rare birds is not particularly exciting. But birders know that their unusual hobby often leads them to some pretty exotic places.
Kadavu is one such place. Fiji's bird fauna is small, and Kadavu supports only a fraction of the country's 81 land and freshwater bird species. But their rarity and vulnerable population sizes are precisely why you should visit.
Kadavu's Endemic Birds
At the top of your Kadavu birding list should be its 4 endemics. Here's a rundown of the island's avian stars.
Kadavu Shining Parrot (Prosopeia splendens)
Fiji's flamboyant shining musk parrots are a clutter of vivid blues, reds, yellows, and greens. The Kadavu species differs slightly from its close cousins by a crimson head and breast with an attractive blue-collar on its nape. The bird's brilliant red feathers were at the center of a booming trade with Tonga and Samoa in the 1800s which has thankfully ceased. Flocks of this noisy bird can be found feasting on seeds, fruits, and flower buds in forests and farms.
Kadavu Honeyeater (Xanthotis provocator)
Cloaked in a drab olive-brown coat, the Kadavu honeyeater

is easily mistaken for Fiji's Spotted honeyeater. The bird's light green eye patch is the best way to tell them apart.
Kadavu Fantail (Rhipidura personata)
The absence of 3 small spots on its exposed fantail differentiates this small bird from the closely related Streaked fantail in the rest of Fiji. Look for the Kadavu version in lowland coastal forests, where it is usually foraging for insects.
Kadavu Whistling Dove (Chrysoenas layardi)
The Kadavu whistling dove is the most primitive of Fiji's trio of striking 'golden doves.' Their yellow-head and velvety green plumage make them hard to see in the forest, but you'll instantly locate them by their distinctive whistle.
Native Birds
While you're out and about, keep an eye out for other Fijian endemic birds that call Kadavu home, like the Fiji Goshawk, Peale's 'barking' pigeon, the Collared Lory, and several others. Fergus Clunies' Birds of the Fiji Bush' is an excellent resource if you'd like to learn more.
Seabirds
Kadavu is also a haven for seabirds and shearwaters; petrels, terns, herons, and frigates can be spotted roaming remote coastal flats and small islets. Tiny, uninhabited Yabu island ('Birdland') just north of Ono island is Fiji's largest booby rookeries. One of the best experiences on Ono is a sunset cruise to the island where you'll see the sky darken with hundreds of red-footed and brown boobies returning from the hunt to roost for the night.
5.Swim with Manta Rays
Floating among these gentle filter-feeding giants is a bucket-list experience that has to be done in Kadavu. 
While feeding or hovering above a reef cleaning station, watching these majestic creatures perform graceful somersaults is both calming and fascinating.  
Kadavu is the most popular reef site in Fiji for swimming with manta rays, and you can get your fix off eastern Ono Island or Kadavu's south coast. 
6.Kayak around Kadavu's wild coast
Set off around the island in an outrigger canoe, a sea kayak, or an outrigger and guide to explore lonely lagoons, remote villages, and coral reefs up close with a mask and snorkel. 
"The Great Astrolabe Reef protects the lagoons and islands of the Kadavu group from the ocean swell," says Anthony Norris of local kayak company Tamarillo Active Travel. "This creates an ideal environment for sea-kayaking."
Tamarillo Active Travel and Astrolabe Reef Outrigger Canoes offer a range of itineraries ranging from one to ten days, which include stays in various resorts around the island. 
On most tours, guests will paddle two to four hours per day at their own pace; there are always support boats available for paddlers needing a break!
Read more: Awesome!! 7 Best Things To Do In Outer Islands, Fiji
7.Tour an Organic Farm
Dining on Kadavu is a farm-to-plate/sea-to-plate affair, which is why the food tastes so fresh! Learning about sustainable living on the island is something that ends up interesting most visitors. An informal tour of the farms is often provided to guests who inquire, for instance, at Matava Resort with their fabulous organic garden and honey program. There's the Farm Tour on Kokomo Private Island for a more formal guided tour, where you'll learn about the mechanisms for growing fruit, vegetables and looking after their bees and chickens.
8.Hike Hidden Trails
If the reefs didn't page your interest, the inland rainforests might. Hike to the beautiful Kavala Bay waterfall, passing by picturesque forests and charming local villages, for your daily dose of greens. 
This trail, a little-known gem off Kadavu's northeast coast, offers breathtaking views. There is also an option to hike the island all day, with a guide, if you like.
9.Experience local lifestyles on the island of Dravuni
Similar to Moana's tropical island, Dravuni has a beach and a river:
White beaches
There's a baby volcano to climb.
The area is only 0.8 square kilometers (0.3 square miles).
A population of just 125 people
There are no resorts, but some village families offer homestays, which are worth it if you want to sample traditional foods like fresh fish, coconut, and taro and learn about village life. 
They make and sell gorgeous floor mats made of pandanus palm. The souvenirs are gorgeous. 
"The sea color was amazing, just beautiful," says visiting photographer Kevin Walker. "It is one of the Pacific's most unspoiled destinations."
Read more: Amazing 20 Best Things To Do In Suncoast, Fiji
10.Hit Kadavu's Epic Surf Breaks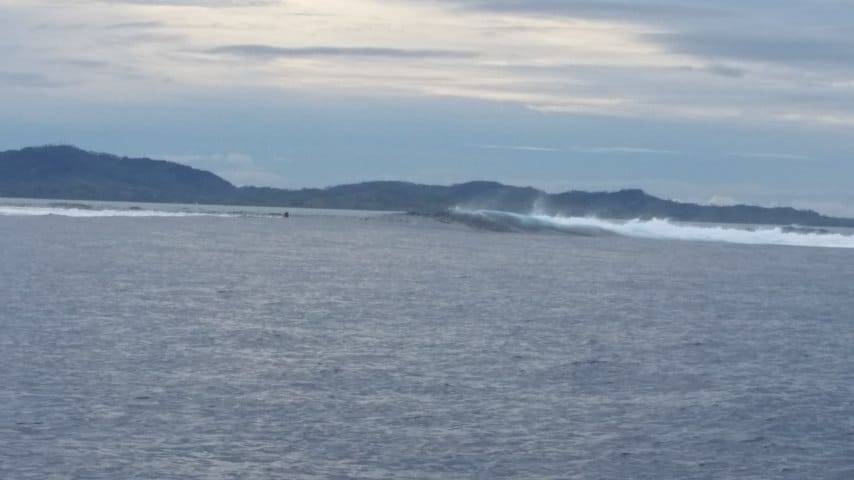 A must-do for keen surfers, Kadavu has some of the most uncrowded breaks in Fiji. Hit the famous King Kong Left, which reaches up to heights of 8ft/3m or Kadavu's most consistent break, Typhoon Ally. The surf breaks around Kadavu are not for the faint of heart and must only be tackled by intermediates to experts.
Surf trips can be organized, including board rentals, from Kokomo Private Island, about a 45-90 minute boat ride from the breaks. Alternatively, Matava Island makes a good base if you have your gear, offering 3-hour surf boat trips to breaks only 10-20 minutes away.
11.Take part in a Yaqona Ceremony
The traditional drink Yaqona (pronounced 'yangona' and known in other Pacific areas as 'kava') is often taken to make peace and settle arguments. 
Using the Piper methysticum plant's roots, water is mixed with a grayish liquid similar to dishwater. The liquid acts as a mild relaxant and can numb the lips and tongue.
Visitors to Kadavu will likely be invited to a yaqona circle at certain points and given a coconut-shell bowl, referred to as a bilo, of the bitter drink. 
In Fiji, the custom is to clap once, say "Bula!" (hello/good health in Fijian), drain the bilo all at once, then clap three more times, then say "maca" (which means "finished").
Visitors are advised not to drink too much Yaqona – and not try to drink their seasoned Fijian counterparts under the table!
12.Attend Sunday Church
The culture of Kadavu is distinctively conservative, and churches play a significant role. 
Services will be in Fijian but are worth attending for the congregation's beautiful singing in multi-part harmony and to see everyone's white Sunday best (especially impressive in a place without washing machines! ). 
"The power of their music will captivate you, and you won't want the singing to end," describes O'Brien.
One of the biggest challenges might be choosing which church to attend as the area is home to various Christian denominations. For example, there are Catholics, Methodists, Anglicans, Seventh-day Adventists, and Assemblies of God. 
Visitors should confirm that they are allowed to attend and dress appropriately in clothes covering shoulders and knees.
Read more: Magnificent 19 Best Things To Do In Taveuni, Fiji
13.Get Out on the water on a Romantic Sunset Cruise
If you're on a romantic getaway in Kadava, don't miss a cruise during the day's most beautiful hour. 
Sunset cruises at Kokomo Island are a specialty of the private island resort, where skippers take you, and a loved one out on a scenic excursion with canapes and beverages provided throughout. Sunset cruises are also available with Matana Beach Resort.
14.Enjoy a Secluded Beach Getaway
Kadavu is pretty isolated but if you want to take your feeling of serenity further, then go on a secluded beach or island getaway.
Papageno Resort offers couples, families, and friends the chance to embark on a getaway to an untouched beach only accessible by boat. 
Ono Island offers private beach activities like snorkeling, fishing, and kayaking. Those who like a bit of adventure can play kayaks and hit one of the secluded beaches on the island.
15.Try a Traditional Fijian Lovo
An absolute must-do for foodies visiting Kadavu, a Fijian Lovo is a traditional cooking method where food is wrapped in banana leaves and slow-cooked underground with hot rocks.
The result is a smokey melt-in-your-mouth feast and a social experience usually combined with drinking kava (a narcotic drink) and singing Fijian songs. A Lovo night takes place once a week at Oneta Resort, Papageno Resort, and Matana Beach Resort.
Read more: Breathtaking!! 20 Best Things To Do In Yasawa Islands
16.Visit One of Kadavu's Exciting Waterfalls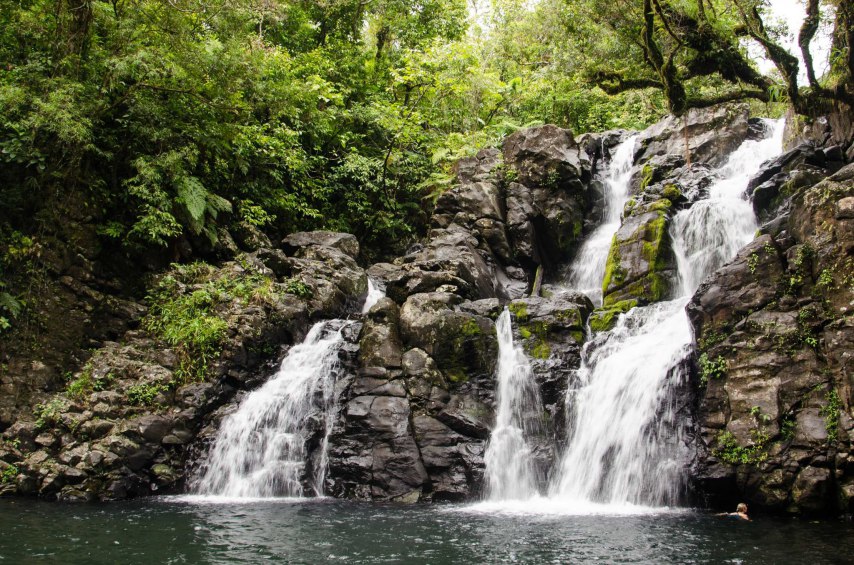 Kadavu's volcanic islands are topped with lush rainforest, which means there are plenty of waterfalls to enjoy. 
Some resorts have at least one waterfall within walking distance, whether it's the 3.5km/2mile walk from Papageno Resort to Malawai Falls or the guided hike from Waisalima Beach Resort to a waterfall. 
Where there isn't a waterfall to walk to, resorts offer boat trips to some of Kadavu's best. For instance, Oneta Resort and offer boat trips through mangrove forests to a 30ft/9m waterfall tumbling off a volcanic ridge.
What are the best walks in Kadavu, Fiji?
Kadavu surely is a hiker's paradise. With fewer than 30 vehicles on the island's very limited roads, the way most locals get around is by boat or by hiking.
Along Kadavu's coast and throughout the lush rainforest interior are a network of trails that villagers have been using to get between villages for centuries.
Trails are often rough, only maintained by the occasional wack of a cane knife, but they certainly provide a real tropical adventure. Check out some of the guided and self-guided walks on Kadavu in the list below!
Teitei Walk
Malawai Waterfall Hike
Kadavu Trail
Vatalutu Trails
Naikorokoro Cascades Trail
Kavala Bay Waterfall Trail
 Matana Beach Resort to Papageno Resort
Namuana Village Waterfall Walk
What are the best resorts in Kadavu?
In the southern reaches of Fiji, Kadavu is a hidden paradise dominated by beautiful species of birds and dense forests and waterfalls. 
It might be a little hard to get to, which is the whole point, but you will be well looked after by one of the eight all-inclusive resorts once you arrive. 
Although they may not all be five-star resorts, they boast more "rugged luxury" and authentic experiences. It's the real Fiji waiting to be discovered, so check out this list of resorts on Kadavu.
Waisalima Beach Resort & Dive Centre
Mai Dive Astrolabe Reef Resort
Tiliva Resort
 Papageno Resort
Matana Beach Resort
Kokomo Private Island
Oneta Resort
Matava Resort
What are the best hotels to stay in in Kadavu, Fiji?
The remote location of Kadavu is often described as the final frontier of Fiji because of its remoteness. 
Kadavu is much less developed than the other islands in Fiji, offering a more limited accommodation range. Rather than hotels, Kadavu offers guesthouses, bed and breakfasts, and resorts. 
With this list of hotels on Kadavu, you'll get a rundown of your options for staying on this island well worth visiting.
Mai Dive Astrolabe Reef Resort
Papageno Resort
Waisalima Beach Resort & Dive Centre
Tiliva Resort
Kokomo Private Island
Matava Resort
Oneta Resort
Matana Beach Resort
Kini's BnB
Navutovuto Accommodation
What romantic things to do in Kadavu?
Couples looking for a romantic getaway should consider Kadavu, one of Fiji's lesser-known islands. 
This large island lies south of the mainland, Viti Levu, and is covered with lush vegetation, volcanic cliffs, and turquoise waters. Viti Levu is home to the world's fourth-largest barrier reef. 
The island offers everything from private island luxury to barefoot getaways where you can immerse yourself in the island's local culture, wildlife, and rhythm in no time. 
No matter what type of getaway you're looking for, from an outdoor wedding to an adventurous honeymoon, Kadavu offers something for everyone. 
Runaway together to your secluded beach getaway
Join together in a kayak as you paddle across the azure waters
Enjoy a peaceful hike to a waterfall.
Take a romantic sunset cruise on the water.
Experience a couples massage or wellness class.
Enjoy a romantic dinner at your resort.
Get to know each other on a nature walk.
Explore the Great Astrolabe Reef through scuba diving
Take part in a game of tennis or beach volleyball.
Become experts at doing absolutely nothing…
What best things to do in Kadavu for foodies?
You may want to spend all your time diving in the Great Astrolabe Reef, hiking to giant waterfalls in Kadavu village, and surfing King Kong Left, but you should also spend some time enjoying the foodie experiences. 
As part of the cultural immersion experience on this Fijian island, guests can sample the cuisine and practice hunting and gathering methods. 
Check out this list of things to do on Kadavu for foodies to excite your tastebuds and experience this Fiji island in an alternative way.
Enjoy a Private Dining Experience with Your Loved One
Sample "Sea-to-Table" and "Farm-to-Table" Dining
Join a Herbal and Medicine Tour
Visit a private island retreat for wellness cuisine
Indulge in a Private Gourmet Beach Picnic
Tour an Organic Farm
Try a Traditional Fijian Lovo
Catch Dinner on a Fishing Trip
What best fun things to do in Kadavu with Kids and family?
Despite being one of Fiji's isolated outer islands, Kadavu surprises families with all that it has to offer. As one of the country's outer islands, there's a misconception that Kadavu doesn't offer much to families. 
You can keep the whole family entertained while on your vacation, thanks to some fantastic family resorts in Kadavu. 
Whether your kids enjoy wildlife, watersports, culture, or discovering something new, there's sure to be something for them on this list of things to do with kids in Kadavu…
Take advantage of the babysitting services or kids' club
Look Out for Fiji's Rarest Birds
Introduce the Little Ones to Scuba Diving
Teach the Youngsters How to Fish
In a kayak, paddle out with your family.
Enjoy a day of tennis, basketball, and more with your family.
Float across the water in a banana boat or biscuit
Snorkel at the Great Astrolabe Reef
Walk to one of Kadavu's Exciting Waterfalls
Discover Fijian culture through arts and crafts
Best Things To Do In Kadavu, Fiji
1. Paddle Out in a Kayak or Outrigger Canoe
2. Go game fishing
3. Exploring the great astrolabe reef 4. Bird Watching
5. Swim with Manta Rays
6. Kayak around Kadavu's wild coast
7. Tour an Organic Farm
8. Hike Hidden Trails
9. Experience local lifestyles on the islet of Dravuni
10. Hit Kadavu's Epic Surf Breaks
11. Take part in a yaqona ceremony
12. Attend Sunday church
13. Get Out on the water on a Romantic Sunset Cruise
14. Enjoy a Secluded Beach Getaway
15. Try a Traditional Fijian Lovo
16. Visit One of Kadavu's Exciting Waterfalls