Discover the top attractions in Nadi, Fiji, with our comprehensive guide to the best things to do. From stunning beaches to local markets and cultural experiences, our guide will help you make the most of your visit to this tropical paradise.
Nadi is one of the most stunning places in the world. There are many best things to do in Nadi that can make your trip worth enjoying.
If you are heading to Fiji, Nadi will likely be your first (and last) stop. It is home to Fiji's international airport, which connects the country to the rest of the world. 
Whether you're stopping here on the way to or from another part of the country or staying nearby, Nadi is full of things to do. 
If you have time between flights longer than four hours, get out and explore the area. Stop at the Nadi Backroad Spa for the last dash of retail therapy before your flight. 
The wide range of accommodations gives travellers flexibility based on their budget and location requirements. Airport hotels are just a short walk away, as are self-contained apartments and hotels for longer stays.
Here is the list of 26 best things to do in Nadi, Fiji:
Hidden Gems in Fiji: What Best Things To Do In Nadi, Fiji?
1.Explore the Nausori Highlands
The dramatic Nausori Highlands appears over the town of Nadi and includes the peaks of Koromba and Koronayitu, a few kilometers to the north. 
Visitors can explore the mountain range in spectacular walking, trekking, and off-roading excursions and learn about the real Fiji beyond the palm-tree-laced beaches. 
Despite the cloud cover, you can still see the beaches and the Mamanuca Islands, as well as the Yasawa Islands. 
The Nausori Highlands offer either golden valleys and hills of lush green landscapes, depending on the season. 
There are several hikes to waterfalls and viewpoints. Still, the best way to explore is with a local guide or through Talanoa Treks, which offers various itineraries over a few days, including homestays. 
Taster tours to the Valley of a Thousand Hills provide an opportunity to experience the Nausori Highlands without committing to a multi-day trek.
After visiting a traditional Fijian village and local boarding school, you'll have kava and a traditional lunch, then cool off at a waterfall before heading back to town. It is one of the free things to do in Nadi.
2. Kanu by Lance Seeto
Kanu is all about surprises – in a good, delicious way. Chef Lance Seeto's menu features familiar Fijian flavors in exciting ways, such as smoked walu (Spanish Mackerel) okra salad.
The Kava Martini is another delicious treat you should check out at Kanu. The food philosophy at Kanu emphasizes local products and seasonal produce, so you can never go wrong with fresh, local produce on your plate.
3. What to do in Nadi, Fiji? Take a stroll at the handicraft market
What to do in Nadi? Nadi Handicraft Market is located in the city center and is a great place to buy some souvenirs and talk to the locals.
You can find a variety of authentic, handmade Fijian crafts in the market, such as sculptures, necklaces, pareos, and more. The price of everything at the market is also fairly affordable, although it's common to negotiate the price in Fiji. 
It's also a great opportunity to watch locals make arts and crafts before your eyes! 
4.Eco Cafe Nadi
Eco Cafe is renowned for its woodfired pizza, and if you need further persuasion to visit, we can tell you that the pasta is extra tasty. 
The family-owned venue is filled with great vibes every night. Families love to come here to fill hungry tummies with outstanding woodfired pizza that comes with almost any topping imaginable. 
5.Visit the Fiji Culture Village
A visit to the Fiji Culture Village just outside Nadi town will take you back in time. This simulated indigenous Fijian village is a wonderful way to get a cultural fix.  
In addition to the ancient temple, there are smaller huts where local artisans demonstrate their traditional handicrafts. There is also traditional dancing and feasting. Villages there are the best places to visit in Nadi, Fiji.
Tip: You can watch the fire dancers light up the night by booking the night show.
6.Take a sunset dinner cruise
The perfect way to end your time in Denarau is to join a Sunset Dinner Cruise from Port Denarau. On this cruise, you'll enjoy delectable food and traditional Fijian entertainment. 
Upon boarding, you'll receive a complimentary cocktail, followed by an exquisite barbecue dinner, which you can upgrade to include freshly-caught lobster. 
Enjoy a spectacular view of the sun setting over the Pacific Ocean while you dine and then experience a traditional cultural show provided by local singers and musicians. 
This experience is truly one of the best things to do in Nadi, Fiji, at night – especially if you're feeling romantic!
Read more: 21 Best Things To Do In Pacific Harbour & Beqa Islands
7.Set Sail for the Drua Experience
Designed as a replica of Fiji's last Drua, the iVola Sigavou recreated an almost forgotten tradition. Over a century ago, these double-hulled canoes were admired for their size, speed, and agility.  
During a 12-day morning excursion to a secret snorkeling spot, the crew will show you how to use the vessels and entertain you with kava and voyaging tales.  
There are daily cruises from the Vuda Marina and a 2-hour sunset cruise, and charter options for up to 10 people.
8. Tata's Curry Place
A humble-looking eatery, just a short distance from the temple, offers some of the best authentic and flavourful curries in Viti Levu.
Just ask the crowd of locals at the open-air deck. Though there is a menu, the friendly staff can recommend what to order (although the Uncivilized Chicken curry is worth seeking).
9.Vou Hub for Arts, Culture & Activities
What to see in Nadi? Vou Hub!! This Broadway-style show outside Denarau is stunningly beautiful and portrays a little-known Fijian legend through contemporary dance.  
'Fiji Untold' tells the story of the origin of the Fijian stick dance through the encounters of a young woman with giants, octopus gods, and shape-shifting iguanas.  
The evening shows take place 3 times a week from 8 pm – 10 pm, so they're a perfect after-dinner treat. Resort transfers, light snacks, and soft drinks are included in the ticket price.  
When booking your tickets at your resort's tour desk or with VOU Hub online, be sure to inquire about transfer times.
Read more: Awesome!! 7 Best Things To Do In Outer Islands, Fiji
10.Ride a bus around town 
Take the bus in Fiji if you're visiting Nadi as a tourist, as it is usually old, loud, and slow – making it an experience that's all it's own! 
If you stay in a resort close to the beach, you will most likely have to take the bus every thirty minutes to get to the center of Nadi. The bus costs FJD 1.11 ($0.50 USD).
11.Visit the Slumbering Giant Garden
A great spot to spend a day wandering in nature, the Garden of the Sleeping Giant is Nadi's most famous park filled with beautiful native plants, stunning orchids, and stunning lily ponds. 
If you're interested in the animals or plants of the Pacific, then this place is worth visiting! It's also a fantastic place for taking photos. 
There is an entry fee of $18 FJD ($8.50 USD) per person, and the garden is outside of Nadi's central business district, so you'll need to take a taxi there.
12.The Nadi Farmers Club
The Nadi Farmers Club attracts a steady stream of foodie devotees with its mix of western and Fijian-Indian cuisine.
You can enjoy a three-course meal for only $35 FJD on Friday evenings, complete with entertainment (fire dancing & live music). The staff is very friendly and does their best to ensure your dining experience is a memorable one. 
Tip: Don't skip the coconut rice with banana dessert because it's truly divine. 
13.Go off the beaten path on Nadi's back roads
Still wondering what to do in Nadi, Fiji? This quad bike tour takes you into the mountains, where you'll fly past cane fields and pine forests before winding back to Nadi town.  
It's a pure riding experience, but you can also chill at popular sightseeing locations, visit a village or hop on a heli ride back. Tours depart twice daily at 9.30 am and 1.30 pm. 
14.Relax at the mud pool
Mud pools are very popular in Nadi, and the Sabeto Hot Springs and Mud Pool is a great place to spend a relaxing day. Just 30 minutes from Nadi's city center, the mud pools are truly a unique experience. 
You must first cover yourself in mud, let it dry in the sun, then wash it off in the hot springs. You will love the therapeutic benefits of this experience and leave feeling refreshed and rejuvenated! 
There is also a massage service available at the Sabeto Hot Springs and Mud Pool. The entrance fee is $30 FJD ($14 USD). This is one of the best things to do in Nadi, Fiji!
15.ENJOY A lazy afternoon on Waiaoaloa Beach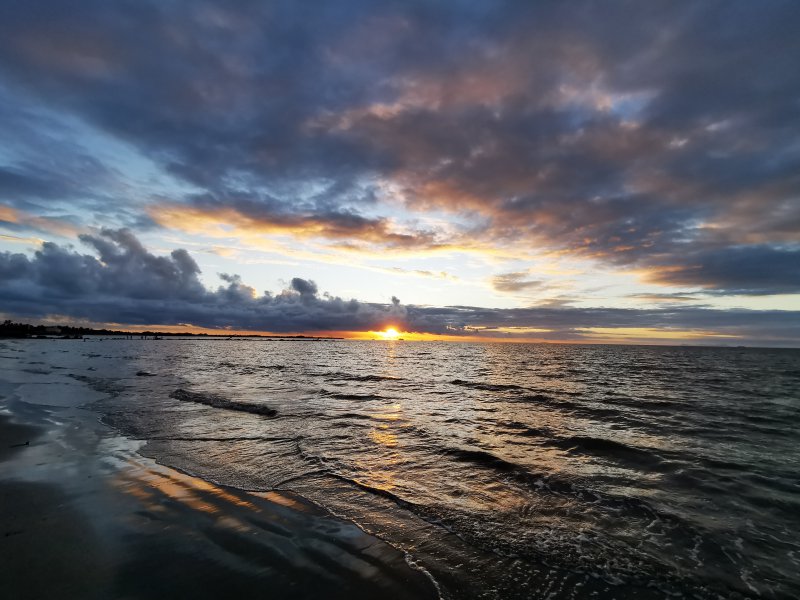 Nadi has many things to do, but if you want to relax and get away from everything, go to Wailoaloa Beach, Fiji's main beach. 
The beach is about a kilometer long and is located near most of Nadi's hotels and resorts. Sunbathing on Wailoaloa Beach is one of the best free things to do in Nadi. 
Wailoaloa beach has stunning sunsets, so don't forget your camera and snacks for a picnic! You can also go horseback riding here, and if you're lucky, you might witness a kava ceremony. This beach is one of the great tourist attractions in Nadi.
Read more: The 25 Best Things To Do In Mamanuca Islands, Fiji
16. Tu's Place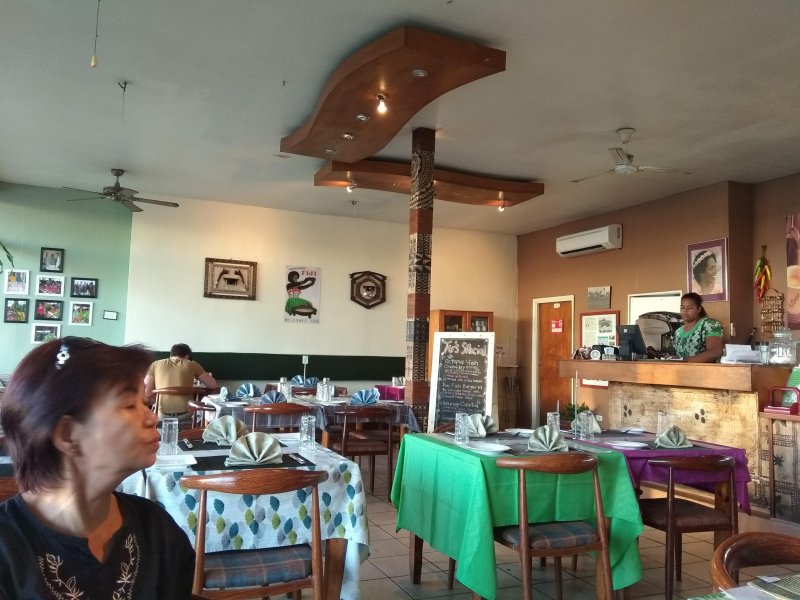 Tu's place serves traditional Fijian food and has a cozy vibe reminiscent of eating at an aunt's place. 
The fish Lolo (along with coconut milk) and spinach balls are among the best dishes. The Nadi prawn curry and authentic Fijian ceviche are also outstanding. 
Both visitors and locals enjoy the great value local food as well as the western-inspired dishes. Bonus points for the friendly staff and ice-cold beer! 
17.Visit Sri Siva Subramaniya Swami Temple
Sri Siva Subramaniya Swami Temple is one of the best Nadi attractions every tourist should see. The brightly colored Hindu temple in the southern part of Nadi town stands out because of its pyramid-like towers with elaborate carvings of war heroes, kings, and gods. 
You can join the guided tour for a small entry fee, which runs every 1/2hour between 8.30 am – 3.00 pm. 
There are a few rules at holy sites, including dressing modestly and removing your shoes upon entry.  
The entire complex is a visual feast but keep your photos for the temple's exterior. It's forbidden to take photos inside the temple.  
18.Drink kava with locals
During your stay at the Tropic Of Capricorn Hotel on Wailoaloa Beach, you'll have the chance to enjoy drinking kava with awesome music in a chilled atmosphere. 
If you're staying at a different hotel, such as Bamboo Backpackers, you can still enjoy the nightlife at the Tropic Of Capricorn every evening starting at 7 pm. 
Kava may not taste so great, but it is still an unforgettable experience to experience it with locals. Remember no kava, no Fiji!
19.Daikoku Japanese Restaurant
Whenever you are in Nadi, be sure to stop by Daikoku for delicious Japanese cuisine. Daikoku's varied menu features sashimi and bento boxes. Teppanyaki chefs are known for their expert knife skills too. 
Tip: Book ahead because it fills up quickly.
20.Go Ziplining
Explore one of Nadi's two zipline courses for some thrilling treetop adventures. Though the Sleeping Giant Zip (Sabeto) has only 5 ziplines, it offers unlimited ziplines and waterfall tours with lunch.  
The 16 ziplines at Zip Fiji (Momi) captivate thrill-seekers with longer and higher ziplines. Add cave abseiling for an extra heart-pumping adventure. Going ziplining is one of the fun things to do in Nadi.
Read more: The 16 Best Things To Do In Kadavu, Fiji
21.Visit the local food market
You can find cheap fruits and vegetables at the Nadi Market. You'll find local produce such as bananas, papayas, mangoes, and tomatoes. A banana bunch costs as little as $ 2 FJD ($ 1 USD). 
It is located near the bus station and is open Monday through Saturday until noon. After 12 pm, some locals continue to sell their stuff outside the market stalls. You can also buy kava, the traditional Fijian drink, at this market!
This Nadi eatery is pretty much a rite of passage for those looking for healthy beverages, great coffee, healthy wraps, and sandwiches. Most of their food is sourced locally from their organic farm. The outdoor dining area is often filled with friendly faces. 
23.Take a dip in Bukuya Highlands Secret Waterfall
In Nadi, you will be fascinated by the wilderness and untamed scenic views of this beautiful waterfall. It is a fun thing to do in Nadi.
24.Enjoy a yacht tour on the Wayward Wind
It's a private yacht with a full crew that takes you to the marvelous coral reefs and displays amazing marine life.
25.Attend the Lovo Feast at Malolo Island Resort
The Lovo Feast at Malolo Island Resort features great food, a superb ambiance, friendly locals, and lovely ladies and children. You will love every minute of it.
Location: Malolo Island, PO Box 10044, Nadi Airport, Fiji Islands.
26.Get a rejuvenating treat in thermal springs at Sabeto
Thermal springs at Sabeto are thought to have healing properties, as locals believe they contain sulfur. Rejuvenate both your body and spirit.
Read more: The Best Things To Do In Fiji – Attractions, Hotels, Resorts
What to do in Nadi, Fiji a day?
If you only have one day in Nadi, Fiji, here are some activities you can do:
Visit the Garden of the Sleeping Giant: This beautiful garden is home to more than 2,000 species of orchids and other tropical plants.
Take a dip in the Sabeto Hot Springs and Mud Pool: This natural spa is said to have healing properties and is a unique and relaxing experience.
Explore the Nadi Municipal Market: This bustling market is a great place to find local handicrafts, fresh produce, and street food.
Go on a snorkeling or scuba diving trip: There are many tour operators in Nadi that offer snorkeling and scuba diving trips to nearby coral reefs.
Take a sunset cruise: Enjoy a romantic sunset cruise on a catamaran or sailboat, with stunning views of the Fijian coastline.
Visit a local village: Experience the Fijian way of life by visiting a traditional village and learning about the local customs and culture.
Relax on the beach: Nadi has several beautiful beaches where you can swim, sunbathe, and relax.
Keep in mind that Nadi is also a great place to try traditional Fijian food and learn about the local culture, so be sure to sample some of the local cuisine and chat with the friendly locals.
What are the best day tours in Nadi?
Fiji's arrival city offers so much more than tranquillity at your resort. If you don't have a car, a guided tour is the best way to explore all its sights and sounds. 
See the highlights of Nadi town and the surrounding countryside on a day trip or a half-day excursion, or sample Fiji's idyllic islands on an island-hopping cruise from Nadi. 
ATV tours, cultural tours, excursions to the Coral Coast, and Suva tours are available from Nadi. Check out our favorites in this list of the best day tours in Nadi!
Whale's Tale Cruise
Cloud 9 Day Trip
Suva Day Tour
Nadi Tour
Malamala Beach Club Cruise
 Sigatoka Shopping Tour
 Abaca Village Tour
Cultural Discovery ATV Tour
Tivua Island Cruise
Mud Pool Tour
What are the best resorts in Nadi for Backpacker?
If your world travels have taken you to Fiji, then you're in luck! Despite Fiji having a reputation for luxury honeymoons, there are plenty of backpacker accommodations to keep the cost of exploring these South Pacific islands to a minimum. 
In Nadi, backpackers find the best budget accommodations at breathtaking beachfront locations, making it the first and last stop for backpackers visiting Fiji! 
The most popular backpacker destination in Nadi is Wailoaloa Beach, about a 10-minute drive from the airport. However, there are a few other gems on the coast. Check out our list of the top backpacker resorts in Nadi!
Oasis Palm Hotel
Rendezvous Surf Camp
Wailoaloa Beach Resort
Tropic of Capricorn
Bluewater Lodge
Bamboo Backpackers
Smugglers Cove Beach Resort
What best romantic activities to do in Nadi?
Known as a couples' getaway, Fiji's clear waters, soft sands, and comfortable, warm weather instantly put couples in the holiday mood. 
Couples with limited time in Fiji should consider staying in Nadi, close to Fiji's main international airport. Romantic activities are all within walking distance, removing any organizational stress. 
Check out this list of romantic activities for couples and add them to your bucket list.
Treat Yourself to a Couples' Massage
 Learn to Scuba Dive Together
Organize a Romantic Proposal
Stay in a Luxury Resort
Drink Cocktails While Watching the Sunset
Get Married in a Beautiful Resort
Do a Sunset Cruise
Unwind in the Sabeto Hot Springs
Visit the Islands on a private sailing excursion
Enjoy Fine Dining in a Private Cabana
Take a helicopter ride to Malamala Beach Club.
What are the best wedding venues in Nadi, Fiji?
Weddings in Nadi provide the perfect combination of charm and convenience, whether you're a visitor or a local. 
Nadi is located within easy reach of Fiji's main international airport, making it the ideal place to host your overseas guests in Fiji. 
The only thing you have to worry about is picking the perfect wedding venue in Nadi for your style and budget. That's why we've compiled this list of wedding venues in Nadi to make your decision a little easier.
Nadi Khatri Hall
Oasis Palm Hotel
Nadi Event Centre
Fiji Marriott Resort Momi Bay
First Landing Beach Resort
What are the best vegan and vegetarian restaurants in Nadi, Fiji?
In some countries, traveling as a vegan or vegetarian can be challenging, but not in Fiji! 
There is no shortage of vegetarian options in Nadi, thanks to the island's multi-cultural population. Vegetarian-exclusive restaurants are not yet a thing in Nadi, but more and more eateries are becoming more aware of our life choices and have menus to reflect that. 
The vegan options are fewer, but the vegetarian-friendly restaurants, like the ones listed below, may be able to cater to your needs if you let them know what you don't eat. 
This list of vegetarian restaurants in Nadi includes restaurants that serve meat as well.
Mumbai Dhaba
Bulaccino
Eco cafe
Sentai Seafood Restaurant
Travellers Beach Cafe
What best things to do in Nadi for Foodies?
The city of Nadi is the perfect place to experience Fiji while tickling your taste buds. The city offers everything from produce markets to street food to cooking classes to food tours.
If you like to eat, Nadi is a paradise for foodies, so take a look at the following list of foodie attractions in Fiji so you can start building your must-try list!
Try Some Local Fijian Dishes
Try Some Fijian Coffee
Go to a Fiji Cooking School
Or Load Up on the Cheap Eats
Try Some Fine Dining
You can enjoy Indo-Fijian food at a Nadi Curry House
Attend a Cooking Class in a Fijian Village
Feast Like a Fijian with a Lovo
Alternatively, Try the Namaka Food Market
Buy the Fruit and Veg at the Produce Market
What are the Best Hotels to stay in Nadi, Fiji?
Staying in one of Fiji's stylish hotels is a great way to end or start your Fiji adventure in style. Many of the hotels are just a short taxi ride away from the airport, though free airport transfers may not be included (always inquire). 
Furthermore, Nadi has a few hotels that you might consider a destination during your Fiji vacation, such as Wailoaloa Beach, located right by the waterfront. 
If you are traveling to Nadi in Fiji, here is a list of hotels in Nadi to start planning.
Bluewater Lodge
Ramada Suites by Wyndham Wailoaloa
Tanoa Skylodge
Novotel Nadi
Fiji Gateway Hotel
Grand West's Villas
Ratsun Nadi Airport Apartment Hotel
Tanoa International Hotel
Mercure Nadi
Nadi Nalagi Hotel
What Adult-only activities to do in Nadi, Fiji?
Unlike kids' overenthusiastic behavior or parents' awkward discipline sessions, which are common during holiday relaxation, not everyone appreciates these things. 
There are so many reasons to visit Fiji, but if you need some time away from the kids at your resort (or your kids), some adult-only activities in Nadi can be a wonderful way to do it.
Nadi has a few excellent activities where children are unlikely to be present, such as drinking cocktails in the sun, riding quad bikes over the Nadi hills, or enjoying a private fishing charter.
Another example is activities that parents don't seem to like taking their kids on, like skydiving or flyboarding, leaving more room for adult tour groups.
Go Quad Biking
Drink at the Resort Bar
Join a Yoga Class in Denarau
Jump on a Private Fishing Charter
Try Plain Old Surfing
Try Flyboarding or Motorised Surfing
Skydive Over the Islands of Fiji
Enjoy at Bars and Nightclubs of Nadi City
Indulge in a Spa Treatment
What are the free and cheap things to do in Nadi, Fiji?
In Nadi, you can experience Fiji on a budget since this tourism hub is just moments from the international airport, cutting out travel expenses to Fiji's outer islands. 
You'll find affordable accommodation, affordable eateries, and free and cheap things to do in Nadi on this page. While there are a few costs associated with seeing the sights in Nadi, we have included only activities that cost under FJ$30 per person.
Take a Day Trip to Denarau Island
Spend a Day by the Pool
Sample the Local Foods
Go Shopping
Visit the Fiji Culture Village
Check Out the Lomolomo Guns
Get Muddy at the Sabeto Mud Pools
Go to the Beach
Explore the Sleeping Giant's Garden.
Visit the Sri Siva Subramaniya Swami Temple
What best things to do in Nadi with kids and family, Fiji?
These family-friendly activities will keep the kids entertained in Nadi! Whether your tribe enjoys adventure, the great outdoors, or simply relaxing by the pool, there's something for everyone. 
People say: if the kids are happy, then you'll have a happy holiday! The great thing about Nadi vacations is that the activities change so often that the kids are kept engaged the entire vacation. 
See the top things to do with kids in Nadi by reading this list!
Spend a Day by the Pool
Discover the Forest Wonderland that is the Garden of the Sleeping Giant
Let the Kids Learn the Fijian Culture at a Kids Club
Relax at the Beach
Get Muddy at the Mud pools and Sabeto Hot Springs 
Enjoy at the Big Bula Waterpark
Visit a Fijian Village
Experience an Island Day Cruise to the Mamanuca Islands
 Scuba or Snorkel with Tropical Fish
Take a Zipline Course
Is Nadi Worth Visiting?
Definitely, Nadi is worth a visit. Nadi is an amazing destination because of its natural beauty, friendly people, rich culture, incredible activities, beautiful resorts, and professional spas. Nadi is also the main entry port into Fiji. 
What is Nadi known for?
Nadi is known for its crystal-clear beaches, fresh and clear waters, plenty of palm and coconut trees, friendly locals, relaxed atmosphere, exclusive resorts, and unique gastronomy. 
FAQ on "Best Things to do in Nadi"
Is Nadi expensive to visit?
Getting around in Fiji is expensive – even for budget-savvy travelers. If you want to island-hop to Fiji's outer islands, there are usually only a few backpacker resorts per island to choose from.
Is Nadi Fiji nice?
Nadi is an amazing gateway to fulfill wanderlust. It's very nice for solo traveling as well as traveling with your partner. The beautiful attractions of Nadi make it a nice place to go and relax. 
Conclusion
From the breathtaking sights of the Garden of the Sleeping Giant to the adrenaline-pumping activities like zip-lining, you'll never be bored in this stunning corner of the world. Whether you're looking to relax on the beach, explore the lush jungles, or immerse yourself in local culture, Nadi has it all.
Therefore, Nadi is a must-visit destination for anyone planning a trip to Fiji. With a wealth of natural beauty, cultural experiences, and exciting activities to choose from, there's something for everyone in this tropical paradise. So, pack your bags and get ready to experience the best that Nadi has to offer! I think you find the article "The 26 Best Things To Do In Nadi, Fiji (Places To Visit)" helpful.