Located less than an hour away from Fiji's capital Suva, Pacific Harbour is a hub for adventure above and below water, with activities ranging from surfing, river tubing, and white water rafting to jet boating and 4WD tours.
Fiji's Pacific Harbour is home to some of the country's most adventurous activities, from world-famous surf breaks on the outer reef to lush inland river valleys that can be explored by 4WD buggies, rubber rafts, or high-speed jet boats.
Among the lush mountainous terrain surrounding this lovely destination, you can discover a range of adventure activities, from hiking rainforest trails to rafting river rapids.
The 21 Best Things To Do In Pacific Harbour & Beqa Islands, Fiji
1. Scuba diving in the Beqa Lagoon
Although there are so many unique activities on the Pacific Harbour, it might seem strange that we are starting this list with an activity you can do almost anywhere in Fiji. 
However, diving in the Beqa Lagoon is far too exciting to leave until last! The warm waters, remarkably clear visibility, and gorgeous underwater scenery make the Beqa Lagoon a fantastic dive location in Fiji. 
Almost 100 dive sites are located in the lagoon, where divers can explore an underwater world home to colorful coral, fish, and other fascinating marine life. 
With sheltered waters, you'll often have a smooth and calm diving experience. Contact Aqua-Trek to book your dive.
2. Fishing in the Beqa Lagoon
Known for its giant fish, the Beqa Lagoon is a dream spot for seasoned anglers looking for some big fish.  
The chartered boats out of Pacific Harbour are crewed by skilled professionals who can help you catch fast Wahoos, hook giant Blue Marlins, or battle Dogtooth Tunas.  
Heads up – Skippers usually give their catch to the local village or restaurant, but you can also snag a piece for your resort chef to create a delicious dinner.
3.River Valley Adventures
Begin your adventure with a trip into the lush rainforest of the Namosi Highlands, where towering mountains lead to the source of the mighty Navua River. 
Navua River rafting tours take you on a thrilling wave-covered cruise along the upper Navua River and its tributary, Wainikoro-i-luva, passing deep gorges and passing cascading waterfalls.
If that's not enough adrenaline for you, take a jet boat ride up the Navua River, swim in Magic Waterfalls, then raft downriver before taking the jet boat to a local village for lunch.
The middle Navua has calmer waters, and you may be able to kayak there, explore waterfalls, hike through a rainforest, and enjoy a gentle punt downstream in the late afternoon.
River tubing is another way to experience the Navua River. Join William Rock Danford, founder of River Tubing Fiji, a descendant of John Humphrey Danford, settled in these highlands in the 1800s.
4.Hiking, Skirmish, and 4WD tours
Explore the Namosi Highlands on a guided tour or go on a self-drive tour. You will usually start with a boat trip upriver to a traditional Fijian village on guided tours, then swim at Magic Waterfalls.
Several self-drive tourist experiences are also available, including picnics in the rainforest and waterfall swims, as well as guided tours of the rainforest on dune buggies.
Read more: The Best Things To Do In Fiji – Attractions, Hotels, Resorts
5.Play Golf Match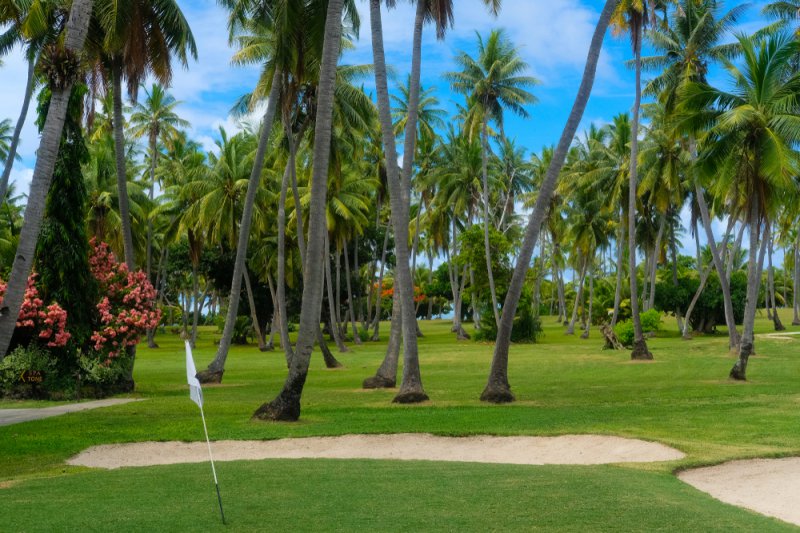 Located amid stunning tropical rainforest and winding canals, The Pearl Golf & Country Club features an 18-hole par 72 course that offers a challenge for every level of golfer. 
Experience challenging obstacles on this golf course, including lily ponds, bunkers, rivers, and more. Enjoy a relaxing massage during your stay in this well-equipped hotel.
6.Jet Boat on the Navua River
Discover Fiji Tours takes you on a jet boat tour along with one of the most beautiful rivers in the South Pacific! There are pristine waterfalls, rapids, and inflatable fun down the Navua River. 
Experience local flavors and Fijian traditions during this cultural portion of the tour before hopping back on the boat to conclude this awesome excursion.
7.Take a Trip to Suva
There are so many things to do in Fiji's bustling capital city! Go to the Fiji Museum, take a tour of the historic buildings, visit the local markets, and so much more!
8.Dive With Sharks
The breathtaking Shark Reef Marine Reserve off Pacific Harbour is the perfect place for shark diving in Fiji. Conservation efforts are helping these majestic creatures thrive. 
In addition to watching sharks up close, adventure seekers can also jump into the water and see up to eight different species. 
The guide team at Aqua-Trek will show you some of the ocean's most remarkable marine species on a safe, exhilarating, and eco-friendly tour. Book your diving tour with them.
Read more: Breathtaking!! 20 Best Things To Do In Yasawa Islands
9.Uprising Sports Centre
Featuring a world-class and state-of-the-art artificial sports field facility, Uprising Sports Centre offers the perfect setting for traveling sports teams to mix training sessions with some downtime in Fiji.
It is the home field of the 2016 Olympic Rugby 7's Gold Medalist team, so you might find some of their magic rubs off on you.
10.Rafting Upper Navua Gorge
Upper Navua River rafting through Viti Levu's tropical interior is one of Fiji's most epic adventures. Expert guides guide rafts through boulder-strewn rapids while waterfalls and lush rainforest cascade down mountain walls.  
Rivers Fiji, NGOs, local landowners, and the government of Fiji are collaborating to make these wetlands internationally important.  
There are only three tours every week (Mon, Wed, Fri), but if Tripadvisor reviews are any indication, you won't want to miss out!
11.Seek out a local village
There are many ways to experience Fijian culture, including visiting local villages. One of the best places to visit a village is the Beqa Lagoon Resort, located between Raviravi and Rukua villages. 
A guided tour takes guests and offers an opportunity to see how the villages live their daily lives, following the same traditions celebrated for hundreds of years. 
People in the village are amiable and often eager to talk to visitors!
12.Drive yourself around the dunes with a dune buggy
Terratrek allows you to reach Fiji's hard-to-reach places on your own! Drive to waterfalls and mountainous terrain that offer panoramic views of the Pacific Ocean. 
Bring your camera for all the breathtaking scenery stops along the way. Many tours can be tailored to meet your needs, so don't be afraid to get creative.
Read more: Magnificent 19 Best Things To Do In Taveuni, Fiji
13.Go Ziplining!
A ziplining adventure

awaits at Pacific Harbour! Scream your way down eight giant ziplines while marveling at the views of Wainadoi Valley. 
In this zipline tour with Zip Fiji, you will zip line through forest canopies as you enjoy a mix of adrenaline and nature! Plus, it's suitable for kids and adults alike!
14. Attend an Arts Village Cultural Show
Explore an ancient Fijian village replica at the Arts Village, a complex that features shops, eateries, and cultural tours that showcase the traditions of the Fijian people. 
The resort has a pool and bar to relax in after you've explored the village on foot or by boat, watched mesmerizing meke dancing and learned about Fijian legends.
15.Tubing Navua River
You'll be able to cruise the Navua river in an inner tube with less effort because the current is at your back, so you won't have to paddle much. As you float by spectacular waterfalls and remote rainforests, you'll never want excitement again.  
There are also riverside village stops, waterfall swims, boat rides, and a delicious picnic to look forward to, along with tubing.
16.Bilibili Tour
You can board the ship's bamboo raft, the 'HMS No Comeback,' to experience what it was like for Fijians to traverse remote villages along the scenic Navua River.  
The excursion includes a ride on a boat, a waterfall excursion, and a traditional 'lovo' lunch. All ages will enjoy this, so bring the kids! 
Read more: Amazing 20 Best Things To Do In Suncoast, Fiji
17.Catch some waves at Frigate Passage
While Fiji is known for its competitive waves on outer reefs, few reef breaks have views like Frigate Passage. 
The Pacific Harbour's inner mountains create a beautiful backdrop to the waves at Frigates with their powerful left-hand breaks. Frigates are just a 20-minute boat ride from Pacific Harbour resorts.
18.Catch Some Whoppers!
The Pacific Harbour is a must-visit destination for anyone interested in big game fishing. 
If you are looking for fishing tours, local guides are more than happy to take you to catch Wahoo, Spanish Mackeral, Blue Marlin, Yellowfin Tuna, and much more that can be found on our What Types of Fish Can You Fish for in Fiji page. 
The fishing guy at your resort will be able to help you have an awesome day on the water.
19.Take Beqa Jet Ski Safari Tour
Embark on a thrilling 4-hour jet ski safari to the idyllic Beqa island.  
Leaving daily at 8:00 am, these guided tours take you to stunning coastal forests and secluded bays, so keep your GoPro handy.  
Before heading back to base, you can snorkel and enjoy a delicious beach picnic. A driver's license is not required; bring your sense of adventure and a change of clothes!
20.Terratrek Waterfall Tour
You'll pass through some spectacular rainforest while tearing through puddles on a muddy track to a hidden waterfall on a dune buggy ride through Pacific Harbour's hinterland.  
Terratrek operates tours twice a day, with waterfall trips in the mornings and leisurely scenic drives in the afternoons. 
If you don't have a driver's license, hitch a ride – it'll be the most fun you've ever had on wheels!
Read more: Awesome!! 7 Best Things To Do In Outer Islands, Fiji
21.Go to Kila Eco-Adventure Park
You can try a 12m stomach-turning drop from the Giant Swing at Kila Eco-Adventure Park, as well as abseiling, ziplining, and several knee-wrenching challenges at the low and high rope courses. 
Visit the park's organic gardens and picnic by the river to take in the park's culinary offerings. Or, if you prefer, get a group together and book a 1/2-day or full-day pass.
What luxurious things to do in Pacific Harbour and Beqa Islands, Fiji?
Pacific Harbour and Beqa Island are indeed famous as "the adventure capital of Fiji," but what if you are looking for that special activity that is uniquely luxurious? 
What will make that special occasion even more special? Here are some of our top recommendations in this category of luxury activities in the Pacific Harbors and Beqa Island.
Enjoy a "Destination Dining" experience with your loved one
Dining in a fine dining restaurant with Pacific-inspired cuisine
Catch Dinner on a Fishing Charter
Indulge in a Fijian Spa Treatment
Treat Your Children (and Yourself) to an Educational and Fun Kids' Club
Escape to an Adult-Only Retreat
Dive in a coral reef that is the largest in the world.
Jet Ski Around Beqa Island
Cruise to Secret Sandbars or Private Islands
Play Golf at The Pearl Golf & Country Club
What are the best wedding venues in Pacific Harbour and Beqa Islands, Fiji?
Wedding party destinations in Fiji like Pacific Harbour and Beqa Island provide the perfect venue for a special wedding day that is as unique as you are. 
The Pacific Harbour is home to more than just barefoot beaches, with stunning wedding chapels, inland waterfalls, local farms, and mangrove forests, as well as sandy shores decorated with floral arches. 
Fiji is known as the "adventure capital of the world," so start your next adventure together at one of these wedding venues on Pacific Harbour and Beqa Island.
Lagoon Resort
Lalati Resort & Spa
Kulu Bay Resort
Uprising Beach Resort
Royal Davui Island Resort
Beqa Lagoon Resort
Nanuku Auberge Resort
The Pearl Resort
What Free and cheap things to do in Pacific Harbour and Beqa Islands, Fiji?
The Pacific Harbour has no doubt been described as the "adventure capital of Fiji" literally thousands of times. 
Adventure can be great, but it can also be very expensive. If you're looking for free things to do on Beqa Island or Pacific Harbour, this is the right place. 
The Pacific Harbour and Beqa have tons of cheap and free things to do. Check out the list below!
Do a Homestay for a Local's Experience
Scout out the Cheap Eats
Explore the Pacific Harbour Town and Navua
Lounge by the Pool
Play Beach Volleyball
Go Snorkelling
Visit the Arts Village
Go to a Local Church Service
Watch a Game of Rugby
Embark on a Kayak Adventure
Read more: Incredible 26 Best Things To Do In Nadi, Fiji
What romantic things to do in Pacific Harbour and Beqa, Fiji?
Pacific Harbour's palm-lined lawns and sandy beaches or isolated Beqa Island's coral reefs make two absolutely contrasting yet utterly charming settings for your Fiji getaway. 
Pacific Harbour and Beqa offer romantic retreats, fabulous dining experiences, and, as you're about to discover, unforgettable moments to share. 
Find out what romantic activities are available on Pacific Harbour for couples so you can spend your time in paradise with your loved one.
Stay in a Luxury or Adult-only Resort
Experience Adventure on a Jet Ski Safari
Spend a romantic afternoon with a loved one by the seaside.
Explore Hidden Coves and Inlets in a Double Kayak
Together, learn how to scuba dive in the Beqa Lagoon.
Enjoy one of the resort's romantic packages
Enjoy a sensual couple's massage.
Enjoy drinks and canapes on the sunset cruise
Take a day trip to a private island
What adult-only activities things to do in Pacific Harbour and Beqa, Fiji?
Try one of these adult-only activities on Beqa Island or Pacific Harbour! 
Here is a list of things to do on the Pacific Harbour for adults that will inspire a romantic getaway, a trip with friends, or just some time away from the kids.
Rejuvenate with a Fitness and Wellness Program
Relax with a Spa Treatment
Play Golf match at The Pearl Golf & Country Club
Explore the Coast by Kayak
Try Sports Fishing, Handline Fishing or Spearfishing
Surf on the Famous Frigates Passage
Indulge in a Private Beach Picnic
Enjoy a Private Cruise Around the Islands
Take it to the next level with a Shark Dive Experience.
Scuba Diving in the Beqa Lagoon; World's Largest Reef
What things to do in Pacific Harbour for food lovers?
The Pacific Harbour is the ideal place to experience Fijian culture through food. 
The resorts and restaurants at Pacific Harbour serve up delectable Fijian seafood, thanks to the Beqa Lagoon teeming with tropical fish right on their doorstep. 
You'll also find locals eager to share their culture with food-friendly activities such as cooking classes and crab-catching. Check out this list of activities in Pacific Harbour for foodies.
Treat Yourself to Some Fine Dining
Experience a Traditional Kava Ceremony
Try a Traditional Lovo Feast
Try "Destination Dining" with a Beach Picnic
See a Coconut Demonstration
Try Moonlight Prawning, Crab Catching, and Beekeeping
Do a Fijian Food Safari
Visit the local markets and learn about Fijian herbs and spices.
Check out the Arts Village's restaurants and stalls
Learn to cook Fijian food in a cooking class
What best things to do in Pacific Harbour with kids and family, Fiji?
A family vacation in Fiji's Pacific Harbour is the perfect way to spend quality time together. There are plenty of activities that will excite adults and children alike while keeping everyone safe. 
Ziplining, boat trips, snorkeling, whitewater rafting, river tubing, and cultural activities are great for the whole family when exploring the Pacific Coast. 
The resorts at Pacific Harbour offer various kids' clubs and nanny services that can be used when parents need some time alone. 
Check out our list of things to do in Pacific Harbour with kids and family to see what you could get up to!
Do Some Kayaking
White Water Rafting on the Navua River
Do a Fijian Village Visit
Send the Kids to a Kids' Club
Check Out the Arts Village
Enjoy Some Beach Time
Discover the Navua River and Fijian Village by River Boat
Go River Tubing
Snorkel at the Beqa Lagoon
Do a Zipline Course
Best Things To Do In Pacific Harbour & Beqa Islands, Fiji
1.Scuba diving in the Beqa Lagoon 2.Fishing in the Beqa Lagoon
3.River Valley Adventures
4.Hiking, Skirmish, and 4WD tours
5.Play Golf Match
6.Jet Boat on the Navua River
7.Take a Trip to Suva
8.Dive With Sharks
9.Uprising Sports Centre
10.Rafting Upper Navua Gorge
11.Seek out a local village
12.Drive yourself around the dunes with a dune buggy
13.Go Ziplining! 14.Attend an Arts Village Cultural Show
15.Tubing Navua River
16.Bilibili Tour
17.Catch some waves at Frigate Passage
18.Catch Some Whoppers!
19.Take Beqa Jet Ski Safari Tour
20.Terratrek Waterfall Tour
21.Go to Kila Eco-Adventure Park