Almost everyone must agree that Borobudur Temple is one of the best and most famous tourism in the Magelang area. However, did you know that Magelang still holds one other unique tourist spot known as Silancur Highland?
Want to know more about why you should visit this tourist spot? Follow this article to the end!
Best Things To Do In Silancur Highland and Top Attractions
Location and Route to Silancur Highland
Magelang is one of the regions in the country known to have many interesting tourist sites worth visiting. 
One of the famous tourist attractions in this area is Borobudur Temple, the largest Buddhist temple in Indonesia and the world. 
But along with the development of the times and the world of tourism, Magelang offers many new tourist areas that are no less beautiful than Borobudur Temple, namely Silancur Highland.
This tourist attraction in the form of a viewing booth offers many tourist charms that you may not find in other areas.
Located in Kaliangkrik District, Magelang Regency, Central Java, precisely in Mangli Village, Silancur Highland

is only about 15 km from Magelang city center. 
Photo Credit – Reza Setyaji

If you travel from Magelang City Square to Silancur Highland, then the estimated time required is 30 minutes.
To get to this tourist spot, you have several transport options, including private vehicles, tour/travel, and public transportation. 
However, of course, public transportation can not take you directly to the right in front of the tourist sites. Therefore, the best option is to use a private vehicle.
If you intend to visit this tourist spot, remember that Silancur Highland is a contemporary tourist attraction located at the foot of the mountain. The average temperature in this tourist spot is in the range of 11 degrees Celsius is likely to get colder at night.
So, do not forget to prepare a thick jacket if you visit Silancur Highland, especially for those of you who plan to camp.
Read more: Romantica!! The 5 Best Honeymoon Destinations In Indonesia
Silancur Highland Top Tourist Attractions
Speaking of tourist attractions, Silancur Highland certainly can not be separated from the landscape of Magelang City. Because in this area, you can enjoy the beauty of all corners of Magelang city from an altitude of 1300 meters above sea level.
There are quite many reasons to stop by Silancur Highland. In addition to its strategic location near the city center and its cool temperature area, five tourist spots can make you stunned. 
1.Beautiful Panorama 5 Mountains
Photo Credit – Ashan Fardhani

The first tourist attraction of Silancur Highland is 5 panoramic views of the mountain that stand firmly around this tourist spot. 
The 5 mountains are Mount Merapi, Mount Sumbing, Mount Merbabu, Mount Telomoyo, and Mount Andong. The five mountains seem to be the 'fence' of Silancur Highland.
Mount Sumbing is the main background of the beauty of the Silancur Highland panorama from these five sturdy mountains. This is because the location of this tourist attraction is closer to Mount Sumbing than to other mountains.
2. Golden Sunrise Charm
Photo Credit – Yulli Yully

Considering its location close to the mountain and almost without obstacles, the Silancur Highland tour also presents the charm of a golden sunrise, arguably one of the best in Indonesia. 
Of course, this view is very targeted by those who are sunrise hunters.
Not only pampered with the beauty of the stunning sunrise scenery, but you can also capture the moment of the sun sliding on the east side of Silancur from behind the mountains of Merbabu, Merapi, Telomoyo, and Andong there.
3.Hobbit House In Silancur Highland
Next, there's the Hobbit House. Although the landscape and scale of hobbit houses in Silancur Highland are not as impressive as those in New Zealand, those of you who are fans of The Lord of the Rings will at least be satisfied with this sight.
Well, at least you don't have to go all the way abroad just to see the home of these dwarf humans. Instead, just come to Silancur Highland, then you can already see a typical hobbit-owned little house with beautiful natural scenery.
Read more: Great!! The 8 Best Things To Do In Mount Pancar Sentul
4. Camping Area
Photo Credit – Mentek Adhen

The next reason to visit Silancur Lookout is its camping ground area. If you like camping, then this tourist spot in Silancur is the right place for you. 
In Silancur Highland, a large camping field is the best place to experience the charm of golden sunrise or sunset.
5.Flower Garden
Photo Credit – Maria Jenflower

Lastly, the tourist attraction of Silancur Highland is the flower garden. Besides enjoying the sunrise and the five-mountain panorama, you can also enjoy the beauty in the flower gardens in Mangli Village. Instagramable!
Silancur Highland area is relatively new, but many facilities have been supported, including mosques, parking lots, toilets, and rest areas filled with food vendors who open their stalls. 
Besides, the entrance ticket only cost Rp 15,000 (1.05$), which is also very pocket-friendly.
Oh yes, Silancur Lookout is open to the public for 24 hours every day. So if you have free time, you can stop by this location whenever you want.
Read more: The 7 Wonderful Attractions In Bima Lambu (NTB)
Interesting Things To Do in Silancur Highland
For the people who like to be active and want to explore all the beauty of this tourist area, you can try these interesting activities below.
1.Hunting Photos
Photo Credit – Ashan Fardhani

Silancur Lookout is a great place for photo hunting. There are many interesting places you can locate here. 
Some of them are flower gardens, hobbit houses, and some points in other climbing areas. Even if you are diligent enough to come before dawn, you can hunt photos of the famous golden sunrise.
Still not satisfied? You can also take pictures with an interesting background from the panorama of 5 large and sturdy mountains in the Silancur area. 
Scenes like the green vegetation on this tourist site, shaded by green trees, would also look a pity if not captured with your camera.
2.Camping
Photo Credit – Smg 266

As discussed above, enjoying the sunrise in Silancur Highland will be more suitable if you camp first. 
You don't have to worry because the management of the tourist attractions has prepared a camping ground in the form of a large field facing the sunrise directly, with a background of five beautiful and sturdy mountains.
You also don't need to bring a lot of camping equipment because the management provides mattresses, tents, flasks, and other stuff. 
All you have to do is rent it at the provided location and bring a change of clothes from home. Easy and straightforward, isn't it?
Read more: Best Things To Do In Timang Beach – Attractions, Food
3.Picnic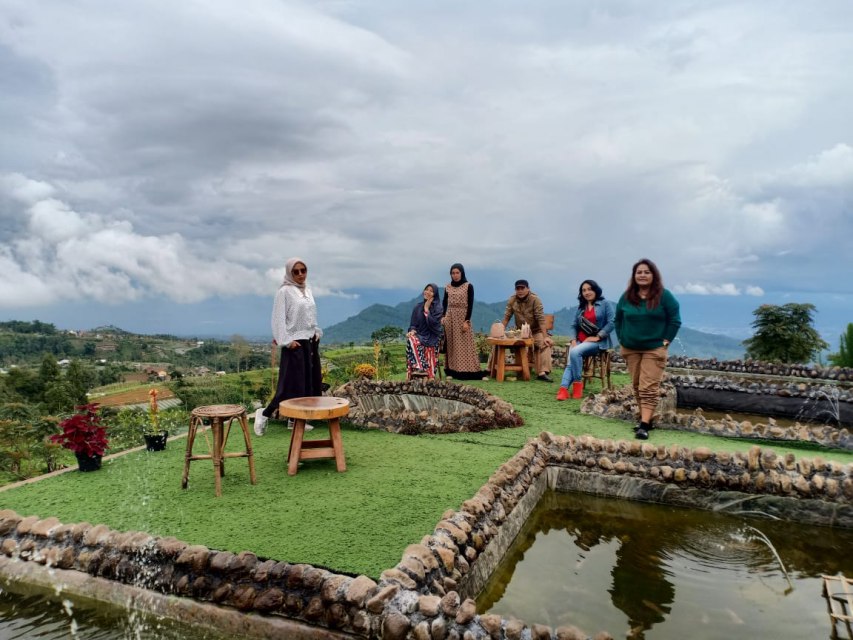 Photo Credit – Novi Bundar

If you don't have time to stay overnight at Silancur Lookout, then you can make the most of your vacation hours by having a picnic with your family and kids or loved ones in this place. 
Make sure you bring supplies from home and eat at the tourist site. Do not forget to turn to the stalls in the tourist area to purchase food and drinks to make the holiday atmosphere more real.
4.Enjoy the Amazing Natural View
Photo Credit – Eko Purwadi

It is a delight to be silent here and enjoy the beauty of the surroundings. All you have to do is sit sweetly in one of the spots and enjoy the beauty of Bak Luksan from an altitude of 1300 meters above sea level.
When night falls, the scenery in the area becomes even more interesting because Silancur Highland seems to be decorated with twinkling stars in the clouds and twinkling lights of Magelang city underneath. 
Don't wait anymore; pack your backpack and make plans for a trip in an area full of amazing attractions.