Fiji's northern region, Viti Levu, combines adventure with tranquility and authentic culture. From Lautoka in the west to Korovou in the east, the Suncoast encompasses Fijian villages and Indo-Fijian towns, a rocky and sandy coastline, and four-star resorts. 
A coral-filled lake and towering mountains of Viti Levu's rugged interior surround the island. 
The Suncoast of Fiji offers a range of experiences to enjoy – best suited to those who would rather "do" their Fiji vacation than stay by the pool all day. 
Here are our recommendations for the best things to do in Suncoast!
Amazing 20 Best Things To Do In Suncoast, Fiji
1.Discover Fiji's heart – Talanoa Treks
Photo Credit – Talanoa Treks

Talanoa Treks is the only international award-winning hiking company in Fiji, formed through friendships made exploring Fiji's mountainous interior and knowing the iTaukei people who live there.
Talanoa Treks

is Fiji's only hiking company that has gained international recognition.
Talanoa Treks offers hikes, treks, and tramping trips in partnership with 4 rural iTaukei communities and local lodges to create a mix of great walking and authentic culture.
These iTaukei communities are the very reason Talanoa Treks existed, and they all work together to make sure that the treks are great for you and, just as important, great for them too.
Trekkers can embark on one-day or multi-day treks that take them well off the beaten path to experience Fiji's, true heart.
Visitors escape the crowded beaches and hike through remote waterfalls, walk through pristine forests, climb Fiji's highest peak, wade through clear tropical rivers, cross open grassland, and stay in remote villages.
2. Visit Rakiraki Town
Rakiraki is approximately halfway along Kings Road from Nadi, making it an ideal overnighting spot for those traveling along the Suncoast.
Rakiraki is where locals suggest you refuel, get your tire repaired, or buy supplies for your stay at Nananu-i-Ra Island, but they refer to Vaileka, which is about a kilometer off Kings Rd.
3.Highland hiking 
Take on the multi-day treks across Viti Levu's Suncoast with Talanoa Treks with a healthy dose of grit and adventure. Fiji's interior views are just as picturesque if you can tear yourself away from its fabulous beaches.
Eco-tourism Champion
One of Fiji's only hiking companies, Talanoa Treks, has racked up some impressive sustainability credentials in its work with rural communities.
What started as a way for me to escape the city on the weekends turned into a passion project and business that connected remote highland villages with the outside world.
Hiking Highlights
Hikes vary in length, difficulty, and itinerary, so you are sure to find one that's right for you.
Cross Island Hikes 
It's worlds away from Fiji's beaches, but Nabutautau village and Navala village's uniqueness make it worth the detour. Add a waterfall challenge to the 5-day trip for the full experience.
Peak Challenge
Peak challenges challenge some of the tallest mountains in Fiji, including its highest peak, Mt Tomanivi (1,323m), which dominates the central mountainous region of Viti Levu. 
A three-hour hike from Navai village at its foot to its summit takes hikers through fern beds, orchids, and native birds like the giant forest honeyeater and the barking pigeon masked shining parrot.
Waterfall Hike
Nabalasere village is one of the most spectacular waterfalls in Fiji, especially after heavy rain.
Even though the scenery is beautiful, experiencing the simple life and sharing stories with the locals is truly a memorable experience. 
The local guides who point out traditional medicines along the well-worn pathways to your village hosts who welcome you with a hot meal and a simple bed at the end of an unforgettable hike are just a few of the things that make this an unforgettable experience. 
Hiking Options
Hikes include transportation to and from the start and finish, basic accommodations, most meals, a dedicated trip leader, local guides, and all entry fees and cultural requirements to the villages visited along the way. 
The day trips offer a more leisurely pace if you are not up for a marathon. If you're traveling with a few friends, why not organize a group trek? Book your hike today.
4.Take a look back at Navala Village
Photo Credit – SMD Industries

Navala, Fiji's most scenic village, sits in the rugged, grassy mountains of the Suncoast. On a guided tour of the village, you'll be greeted with a kava ceremony before meeting the locals and learning more about their way of life. 
Navala is different from other places in Fiji in that it has largely maintained traditional-style houses. Up close, you can see these stunning thatched-roof bures.  
Don't forget to bring your camera, because this ancient village looks like a photo postcard against the dramatic landscape.
5. Relax at Daulomani Day Spa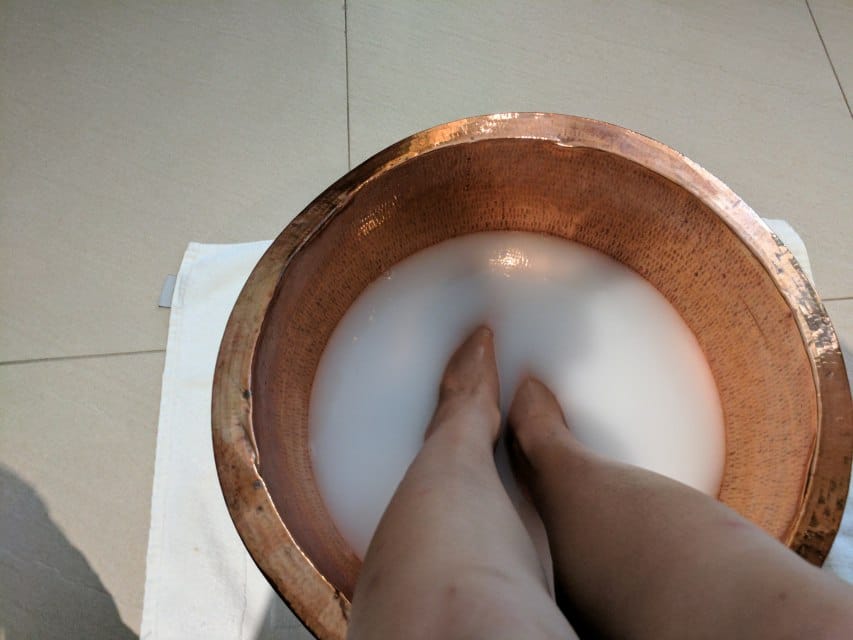 Photo Credit – Triana Do

Daulomani Day Spa at Volivoli Beach offers captivating views of the South Pacific ocean while providing a sanctuary from the pressures of daily life.
Relax and experience total tranquility with the Essence of Fiji's local Fijian skin and body care range. The power of touch allows our trained therapists to relax your mind and rejuvenate your body.
Read more: The Best Things To Do In Fiji – Attractions, Hotels, Resorts
6.Chase the wind at Kite Point
The kite season begins on the Suncoast when the tradewinds blow from April to January, a perfect time to visit if you're a keen kiter or windsurfer.
Students can launch their sails from Kite Point on Nananu-i-Ra Island while experienced sailors take advantage of the steady 15 – 30kt winds to fly across the water and learn new tricks.
7.Experience the culture of Fiji's most beautiful village
The Suncoast is also home to inland adventures, including a trip to Fiji's most picturesque Fijian village, Navala. 
If you wish to visit the village independently, you can take a taxi, 4WD vehicle, or bus from Ba, or you can join a tour like Fiji Eco Tours (more information on Viator and Tripadvisor). 
There are traditional thatched bures in this village set among the Nausori Highlands. Show the village chief your sevusevu (gift) and pay around FJ$30 each to enter the village and hire a village guide.
8.Learn to make Fijian or Indo-Fijian cuisine in a cooking class
Discover Fijian culture and cuisine with an interactive cooking class at Volivoli Beach Resort. Learn how to prepare kokoda, fresh coconut-marinated fish, and an Indo-Fijian dish called roti.
There's also the option of paying a visit to the local farmer who grows organic ingredients. Like-minded experiences can also be found at Bularangi Villa – Indo-Fijian cooking classes in your kitchen and Dolphin Island.
Read more: Breathtaking!! 20 Best Things To Do In Yasawa Islands
9.Enjoy a romantic sunset cruise
If you are on your honeymoon or a romantic getaway and looking for something special to do together, consider a sunset cruise on the Suncoast. 
It is argued that this region of Fiji has the most breathtaking sunsets. Enjoy canapes and champagne at Volivoli Beach Resort or Wananavu Beach Resort while you admire the golden hour. 
While you await the sun to sink into the sea, you will cruise through picturesque islands while watching golden hues in the sky glisten on the water.
10.Dive the Bligh Waters
Explore the underwater highlights of Bligh Water's world-class dive sites. There are 50 incredible dive sites off the Suncoast, showcasing Fiji's famous soft corals, vibrant tropical fish life, and mysterious reef critters.  
Many pelagics pass through the area, and encounters with sharks, manta, dolphins, and whales will delight divers of all levels.
11.Discover Fiji's real beauty on a Suncoast Self-drive Tour
It is on the largest island of Fiji, the Suncoast, which is well-connected by roads, that provides the ultimate freedom and independence. Suncoast offers an unforgettable road trip in Fiji. 
The Suncoast's stunning interior and villages make any 4WD vehicle worthwhile, though you may prefer a 2WD vehicle if you're sticking to Kings Road. 
If you need to rent a car, you can book one with Bularangi Villa, which also offers car rentals from their villa in Rakiraki. If you prefer to stay at the Bularangi Villa, you can arrange for car rentals through their reception.
12.Avise Rakiraki and Lautoka's local markets
Photo Credit – Yamada Takashi

Fijian produce markets are a must-see for anyone visiting the country for the first time. They offer vivid displays of colorful tropical fruits and vegetables, which make for excellent photos and the friendliness of the locals who grow them.
Sellers are eager to talk to you (without pushing you to sell) and provide you with information about the food they sell, as well as tips for preparing it. Visit Lautoka and Rakiraki produce markets independently or during resort tours.
Read more: Magnificent 19 Best Things To Do In Taveuni, Fiji
13. Dive in Wananavu
Photo Credit – Wananavu Resort

Located just outside Rakiraki on the northern coast of the main island of Fiji, Viti Levu, Dive Wananavu offers easy access to the Bligh Waters and the magnificent diving in the "Soft Coral Capital of the World."
It is based on Fiji's main island of Viti Levu, at the beautiful Wananavu Beach Resort.
The owners of this PADI 5-star Dive Resort established it in 2012, boasting a team of well-trained, experienced, and friendly local crew excited to take you to their favorite underwater sites.
Both dive boats are equipped with safety equipment, dry storage, healthy snacks, freshwater, camera storage, and designated camera rinse bins so divers will enjoy a safe and comfortable ride to and from the dive sites.
14.Take a dolphin cruise and feel the excitement
Dolphin cruises are great activities for kids and nature lovers alike on the Suncoast! 
Dolphins regularly visit the Bligh Water near the Suncoast, so join Wananavu Beach Resort's 2h30min boat trip to see them in their natural habitat. 
The trip begins at a special spot where dolphins of up to 40 are commonly seen! After watching these playful creatures, you will enjoy a 30-minute snorkeling trip along the outer reefs. 
Acrobatic spinner dolphin cruises through the Moon Reef are also a signature visit of Takalana Bay Retreat, home of Dolphin Watch Fiji.
15. Slide down a waterfall at Narara Village
Travel to Narara Village to experience a traditional Kava ceremony. This waterfall tour is available from Wananavu Beach Resort and Dolphin Island. 
Then, you'll be guided for 15 minutes on foot or by horseback to a cascading waterfall slide that plunges into a freshwater pool. Once is never enough, so you'll have ample time to slide and then browse local crafts in the village. 
This is a fantastic thing to do for families visiting the Suncoast.
16.Udre Udre Tomb
In Fiji's history, Ratu Udre Udre, a cannibal and tribal chief said to be the world's most prolific. He reigned terror throughout the region more than 200 years ago.
In Fiji, he was the last known cannibal. His body is buried here, and the 872 stones surrounding his tomb are said to represent each human dinner he ate.
Udre Udre ate around 872 to 999 people during the 19th century. Each body he ate was commemorated by a stone, which he placed beside his tomb in Rakiraki, Viti Levu.
According to the son of Udre Udre, the chiefs of Rakiraki would accompany Udre Udre on the battlefield and bring him every body part of their victims, especially the head, saving what he couldn't eat at once for later consumption.
Read more: Awesome!! 7 Best Things To Do In Outer Islands, Fiji
17.Kayak or Wander Around Nananu-I-Ra Island
Photo Credit – Robin White

This hilly 3.5km2 (3.8ft2) island is an island paradise without the associated cost of getting there, only a 5-10 minutes boat ride from the Suncoast. 
The island is good for trekking, offering views of the mainland and the Nakauvadra Ranges. Kayaking is another popular activity here, where various accommodations, such as McDonald's Nananu Beach Cottages or Dolphin Island, offer complimentary kayak use to guests. 
Additionally, snorkeling is possible off the beach and jetty in the marine sanctuary. There is budget accommodation on the island and free activities, making it an ideal backpacker destination.
18.Dive Among the Reefs and Coral Structures of the Bligh Water and the Vatu-i-Ra Passage!
There is excellent snorkeling and scuba diving at the Vatu-i-Ra Passage, the Bligh Water, and the Suncoast. 
There are several dive sites in the Bligh Water between the Suncoast and the Yasawa Islands that are suitable for non-professional divers and experienced divers.
You can dive deep into soft yellow coral in the Vatu-i-Ra Passage, as well as around Nananu-i-Ra Island, which boasts the "Amazing Maze" seascape.
19.Church of the Black Christ
Photo Credit – https://www.suncoastfiji.org/

Known locally as the Church of the Black Christ because of the mural depicting a Fijian-like Christ above the altar by French artist Jean Charlot, its official name is the Church of St Francis Xavier, Ra Province.
The work combines Fijian motifs with the teachings of Christ. Charlot painted it in 1962 at the invitation of Monsignor Franz Wasner, who was then the caretaker of the mission. 
It was difficult for Charlot to apply fresh mortar to the wall since the church's lamplight was dim – perhaps this discouraged him from finishing the mural.
20.Sportfishing with Half Cast Fishing Charters
Any time of year is a good time for sport fishing in Fiji, especially on Fiji's Suncoast. The tropical waters around Volivoli Beach are home to various game fish, and they have the boat and gear to find them!
Sport Fishing Seasons
| | |
| --- | --- |
| Fish | Season |
| Dogtooth Tuna | Year-round |
| Giant Trevally | Year-round |
| Spanish Mackerel | Year-round |
| Sailfish and Marlin | Year-round, peaking November through February |
| Wahoo | Year-round, peaking May through September |
| Yellowfin Tuna | Year-round, peaking November through May |
| Mahi Mahi | December through January and June through August |
Table: Sport Fishing Seasons
Read more: Incredible 26 Best Things To Do In Nadi, Fiji
What Romantic activities to do in Suncoast, Fiji?
Couples who would rather experience the world together than spend their time away from home sitting in a resort sipping cocktails might find the Suncoast to be the perfect Fiji getaway. 
The Suncoast is a less-developed destination than some of Fiji's busy resort areas, but it's no less enchanting. 
From the strewn beaches and offshore islands to the rainforest and mountains of the interior, the Suncoast is an idyllic setting for romance and exploration. 
The Suncoast offers an array of activities for a romantic getaway or honeymoon, from scuba diving to kayaking to trekking, as well as spa treatments and private dining venues. 
These are our top recommendations for romantic activities for couples on the Suncoast.
Embrace the Art of Doing Nothing at All
Go on a Journey of Discovery Together with a Guided Trek Through the Heart of Fiji
Enjoy a candlelit dinner on a floating pontoon
Take a Self-Drive Tour to Discover the Real Fiji
Set the mood with a romantic sunset cruise
Treat Each Other to a Private Beach Picnic
Indulge in a Couples' Massage
Kayak from Island to Island and savor the tranquility
Learn to Scuba Dive Together in the Famous Bligh Water
Enjoy a scenic flight on your way to the Suncoast
What are the best walks on Suncoast, Fiji?
Fiji hikers should check out the Suncoast if they want to do some serious hiking. 
There is the best access to Fiji's highest peak, Mt Tomaniivi, along the northern coast of the main island, Viti Levu. 
There aren't many places to walk on your own in Rarotonga, aside from the offshore island of Nananu-i-Ra Island, as the trails are complicated without a guide. 
However, with local knowledge and sometimes excursions to local villages, hiking on the Suncoast is much more than just a hike – it's a cultural experience. 
Here's a list of the best walks on the Suncoast.
Dolphin Island Walks
Cross Highland Hike
Mt Tomanivi Hike
Mt Batliamu Hike
Mt Koroyanitu Walk
Waterfall Walk in Koroyanitu National Park
Nananu-i-Ra Island Walks
Nabalasere Waterfall Walk
Nacagicagi Mountain Hike
Read more: The 25 Best Things To Do In Mamanuca Islands, Fiji
What are the best hotels to stay in in Suncoast, Fiji?
Fiji's Suncoast region is located on the northern half of the main island, Viti Levu, and has a network of good roads, making it ideal for renting a car and exploring. 
With that, you'll find plenty of cheap hotels to grab a quick stay along the way. If you feel like treating yourself, there are also some more upmarket hotels. 
Choose a hotel from this list on Suncoast.
Wananavu Beach Resort
Safari Lodge
Lautoka Hotel
Tailevu Hotel
Sea Breeze Hotel
Cathay Hotel
Tanoa Waterfront Hotel
Outback Hotel Fiji
Gold Town Tavua Hotel
Tanoa Rakiraki Hotel
What are the best wedding venus in Suncoast, Fiji?
It's the perfect place for sun-kissed weddings, as the Suncoast shows off the stunning sunsets of Fiji. 
On Fiji's main island, Viti Levu, you'll find various beach resorts, offshore islands, and fabulous 4.5-star hotels as wedding venues, whether you're planning an intimate beach wedding or a fun Fijian celebration. 
Find out more about the wedding venues on Suncoast below.
Tanoa Rakiraki Hotel
Belo Vula Resort
Dreamview Villas
Dolphin Island
Bularangi Villa
Wananavu Beach Resort
Tanoa Waterfront Hotel
What best things to do in Suncoast for foodies?
Discover the Suncoast region of Viti Levu's northern region as you sample Indo-Fijian street food, Fijian villagers inviting guests into their homes, and a variety of foodie resort activities. 
The Suncoast stretches from Lautoka to Rakiraki to Korovou, covering a vast area of Fiji where the culture is as rich as the cuisine. Check out this list of things to do on the Suncoast for foodies for inspiration.
See a Coconut Husking Demonstration
Scout Out the Street Eats in the Suncoast's Towns
Try Fijian Cuisine at the Suncoast's Restaurants
Take Part in a Cultural Village Stay
Dine on a private beach while enjoying the sunset.
Try a Traditional Lovo feast
Experience a Kava Ceremony
Catch Your Dinner in Handline or Sports Fishing
Experience Rakiraki's and Lautoka's local markets
Take a cooking class to learn how to prepare Fijian or Indo-Fijian cuisine
What best things to do in Suncoast with Kids and family?
Families arriving at Nadi International Airport travel south to manicured resorts with kids' clubs on the Coral Coast or out to the Mamanuca Islands for some beach time. 
However, on the Suncoast, the limited few who decide to head north will discover an alternative family-friendly Fiji experience. People traveling to the Suncoast would rather spend their vacation together. 
Whether you're cruising the waters to see dolphins or visiting traditional Fijian villages, there are plenty of fun things to do on the Suncoast with kids! Take a look at the list below for your options.
Play tennis or volleyball, board games, or crab races.
Get Some Pool Time in
Get your imagination going at the Tomb of Udre Udre
Walk to Picturesque Waterfalls in the Koroyanitu National Park
Enjoy a Handline Fishing Trip
Experience the culture of the Navala Village
Teach the Youngsters to Kayak
Experience the Excitement of a Dolphin Cruise
A Snorkel Trip Among Vibrant Fish
Visit Narara Village and slide down the waterfall
What free and cheap things to do in Suncoast, Fiji?
Visit the sunny side of Fiji, Viti Levu, to experience the culture and nature of the country, including authentic Fijian villages, historic sites, and beautiful natural attractions.
Budget travelers can spend the night in a Fijian village homestay in Rakiraki, visit vast limestone caves, or trek down the King's Road to a feared cannibal's grave. 
See our top recommendations for free and cheap activities on the Suncoast of Fiji in this list.
Scout Out the Cheap Local Cuisine
Take a Picture of Navatu Rock
Kayak and Wander Around Nananu-I-Ra Island
Hike in the Koroyanitu National Heritage Park
Visit the Cave of Snake God
Check out the Tomb of Udre Udre
Visit the Church of the Black Christ
Experience Fijian culture in a village
Snorkel the Outer Reefs
Explore the Towns of Lautoka and Rakiraki
What are the best resorts in Suncoast, Fiji?
On Suncoast, you will find great accommodations for families, honeymooners, and backpackers. 
The Fiji destination on the northern coast of Viti Levu is ideal for travelers who prefer to "do" rather than "relax" by the pool all day. The resorts offer everything from wildlife encounters to cultural experiences. 
Check out our top picks for resorts along the Suncoast.
Takalana Bay Retreat
Vatia Beach Resort
McDonald's Nananu Beach Cottages
Golden Point Resort
Dreamview Villas
Belo Vula Resort
Dua Dua Beach Resort
The Fiji Orchid
Wananavu Beach Resort
Volivoli Beach Resort
What are the best villas in Suncoast, Fiji?
If you're seeking private villas in Fiji, no doubt you're looking for a tranquil destination. The less-popular side of the country, the Suncoast, offers breathtaking coastline, offshore islands, and a lush forest and mountain interior. 
Whether it's a large group holiday or a romantic getaway, villas are perfect for the occasion. Here are some of all the options you have on the Sunshine Coast.
Luxury Ocean Front Villa – Volivoli Beach Resort
Villa Vanua – Wananavu Beach Resort
Starfish Blue
Bularangi Villa
Dreamview Villas
Best Things To Do In Suncoast, Fiji
1. Discover Fiji's heart – Talanoa Treks 2. Visit Rakiraki Town
3. Highland hiking
4. Take a look back at Navala Village 5. Relax at Daulomani Day Spa
6. Chase the wind at Kite Point
7. Experience the culture of Fiji's most beautiful village
8. Learn to make Fijian or Indo-Fijian cuisine in a cooking class
9. Enjoy a romantic sunset cruise
10. Dive the Bligh Waters
11. Discover Fiji's real beauty on a Suncoast Self-drive Tour
12.Avise Rakiraki and Lautoka's local markets. 13.Dive in Wnanavu Fiji
14. Take a dolphin cruise and feel the excitement. 15.Slide down a waterfall at Narara Village
16. Udre Udre Tomb
17. Kayak or Wander Around Nananu-I-Ra Island
18. Dive Among the Reefs and Coral Structures of the Bligh Water and the Vatu-i-Ra Passage!
19. Church of the Black Christ
20. Sportfishing with Half Cast Fishing Charters