Imagine a holiday in Fiji consisting of small tropical islands covered with lush rainforest, palm-fringed beaches, and crystal-clear waters perfect for snorkeling. That's what you probably envision when we talk about the Yasawa Islands. 
Yasawa means Heaven in Fijian, and once you arrive on these picturesque islands, you'll see why. This group of 30 resort islands is located north of the mainland, and it offers many homestays in Fijian villages. 
The Yasawa Flyer, which runs every day, will take you to the Yasawa islands to stay at various resorts. 
Once you've done that, you'll be ready to embark on some of the amazing activities these islands have to offer, from unique experiences such as swimming with manta rays to typical Fijian activities (although something about the Yasawas makes it feel so much better). 
Make your bucket list come true with this list of things to do in the Yasawa Islands!
Breathtaking!! 20 Best Things To Do In Yasawa Islands
1.Take a Scenic Flight
Seeing the Yasawa Islands from the ocean is stunning. Still, nothing beats the view from the sky! Take in the beautiful Pacific Ocean peppered with paradise islands from the air in a seaplane or helicopter ride. 
Take the fastest way to get to the Yasawa Islands from Denarau on the mainland by flying over volcanic ridges and rainforests and landing directly at your resort.
2.Volunteer with Vinaka Fiji
If you want to work in a scenic location, the Yasawa Islands are a perfect place to choose. That's why Vinaka Fiji volunteers get to enjoy the Yasawa islands.  
Working on education, livelihoods, and conservation programs runs from one week to six months. In addition to making good memories, you'll make lots of new friends teaching kids to read, constructing village water tanks, or ridding the reef of marine pests.  
During downtime, you can take a dive course (or two), explore the exotic Sawa-i-Lau caves, or top off your tan on a well-deserved beach day. Apply now!
3.Coconut Beach Resort
Photo Credit – Carl Von Muller

A seaplane takes you only 30 minutes from Nadi International Airport to Coconut Beach Resort while providing a breathtaking view of the coral reefs and islands in the area. 
You can stay at this adults-only haven with stunning views of Yasawa Island's infamous Blue Lagoon is only 8 bures, so you can be confident you will get the tranquil getaway you have been dreaming of.
In addition to learning how to husk coconuts, you can also enjoy fresh coconut juice on the beach throughout the day, then end the day with some fun coconut bowling!
4.Place Your Bets for Crab Racing!
"Crab Racing Sunset Beach Bar" by David Davies

is licensed under CC BY-SA 2.0


A highly bizarre activity on the Yasawa Islands is crab racing. After dark, you can join the staff in collecting crabs that will later be used for competition. 
Your resort can join in on this fun activity by picking the speediest crab, and they're off! It's a great social activity to do with your friends, but no crabs are harmed.
5.Cruising the Islands
There is no better way to discover Yasawa Island than by cruise. 
You can spend magical mornings snorkeling colorful coral reefs, sunbathing on deserted beaches, or dining under the stars. Small ships sail this chain of islands on 4-to-7-day itineraries. 
Short on time? Take a day cruise to islands where you can snorkel, and you may be lucky enough to see manta rays. Or, do it in style and set your course with a yacht charter out of Port Denarau.
Read more: The Best Things To Do In Fiji – Attractions, Hotels, Resorts
6.Navutu Stars, Fiji
Photo Credit – Ryatt L

Only 10 villas at Navutu Stars provide a secluded and idyllic experience for adults only. This dream destination can be reached via a scenic seaplane flight or a high-speed catamaran in 30 minutes.
The villas are traditionally themed for an authentic Fijian experience, and the hospitality creates a joyful atmosphere perfect for your holiday spirit!
7.Kava, Meke, and Fire Dancing!
There are many exciting resorts on the Yasawa Islands, and they will help you dive right into Fijian culture with a kava ceremony. 
Yaqona, or kava, is a root that is crushed and mixed with water to make a traditional drink shared by hosts and guests. It tastes earthy but leaves your mouth tingly (and your head, too if you have too much). 
When visiting a village not organized by a resort tour, you need to bring kava root. Resorts also put on traditional dance shows, and fire shows in the evening.
8.Go Hiking
There are stunning beaches to explore, romantic sunset summits to conquer, and scenic lookouts to swoon over in the Yasawa Islands. Getting out of your beach bungalow is a great way to spend your time. 
You will find spectacular views of the region's natural beauty at Waya Lailai, a rocky peak in the Yasawa Islands in the southern portion of the group.  
Get in touch with your resort, and they will recommend the best hiking trails in the area. It can get really hot out there, so remember to bring plenty of sunscreen and water with you.
9.Viwa Island Resort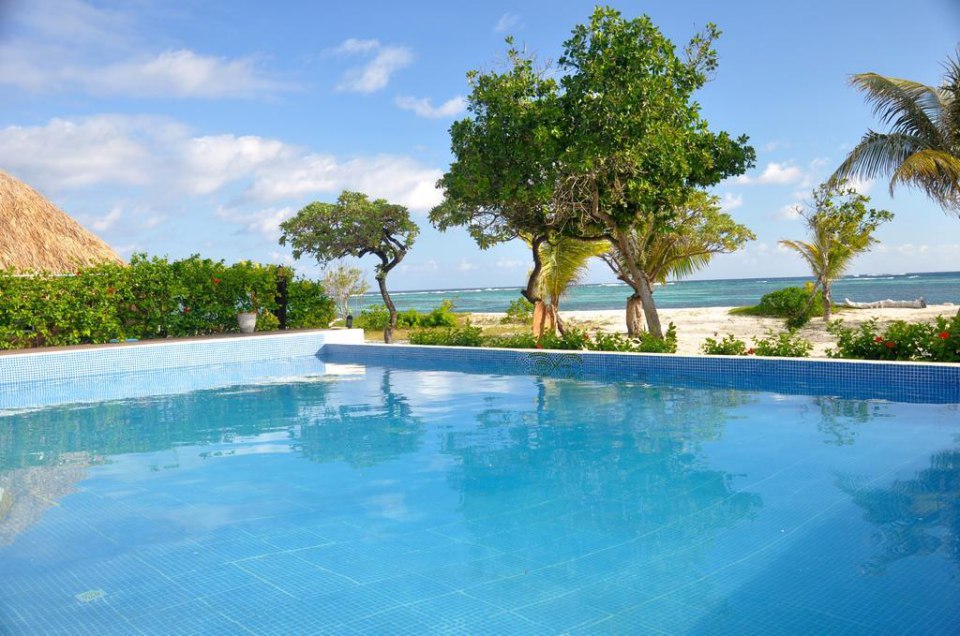 Photo Credit – Hotelbeds

Discover romance at Viwa Island Resort, a tranquil resort in the Yasawa Islands just an hour from Nadi Airport.
The Beachfront Bures at Viwa provide personalization and intimacy with your very own name on the plaque by your door! 
The beaches are pristine, and you can spot turtles swimming at the shoreline. Among the activities on offer for couples, you can explore Fiji's underwater haven, go deep-sea Fishing and take a relaxing walk along the beach.
10.Relax With an Island Massage
You will feel your stress melt away from the moment you arrive at the Yasawas, but even more so after a relaxing island massage under palm trees. 
The Yasawa Islands, known for their scenic beauty and tranquil settings, are also home to various spas and massages, especially resorts that offer traditional Fijian massages as part of their spa menus.
Read more: Awesome!! 7 Best Things To Do In Outer Islands, Fiji
11.Swim with Manta Rays
Between May and October, majestic manta rays feed in a small, shallow channel off the coast of Drawaqa Island. The rays on the high tide are signaled by rhythmic drumbeats, encouraging people to get into the water.  
This mysterious animal can only be found in a few places globally, so add it to your vacation hit list.  
The Manta Trust investigates and regulates the activity of manta rays in the channel by Fijian law, and they are protected under the Globally Vulnerable Species Act.  
12.Go Fishing!
Fishing has always been a way of life for islanders, so catching a fish through hand-line Fishing, trolling or spearfishing is a great way to immerse yourself in the culture.
Some fishing trips are relaxing out on the water, while those who want to catch the big game, such as the blue marlin, giant trevally, yellowfin tuna, and others, should join one of the fishing charters.
13.Learn Some Fijian Crafts
Creating hats and baskets under the shade of a tree couldn't be more "island life" than this! 
Resort staff will be happy to teach you weaving using the vegetation found around the island, whether they are offering it complimentary or charging you a fee.
14.Go Kayaking
Kayaking is a relaxing way to discover Fiji, and many resorts offer free hire if you are a guest. Other options include guided kayaking trips so you can discover the best snorkeling spots around the islands.
15.Turtle Island Resort
Photo Credit – Turtle Island Fiji

There are only 14 couples in the resort at one time, making it an exclusive island retreat. 
Located on Turtle Island, you can take a relaxing cruise through the Mamanuca Islands or Yasawa Islands onboard Blue Lagoon Cruises or Awesome Adventures. 
If you wish to arrive earlier, Island Hoppers and Turtle Airways offer charter flights from Nadi that take less than 30 minutes.
You can experience a romantic getaway with fine dining at Turtle Island Resort. Indulge in sustainable, heart-warming activities such as turtle tagging and a visit to a five-acre eco-sanctuary while riding in solar-powered electric carts.
Read more: Incredible 26 Best Things To Do In Nadi, Fiji
16.Go Scuba Diving
Despite sharks and manta rays taking the limelight when it comes to marine life in the Yasawa Islands, there is a whole ocean out there that is home to an incredible array of unique wildlife. 
The coral reefs are home to tropical fish, eels, seahorses, and more. The water is warm and clear, making it a perfect diving area for beginners and experienced divers! 
Yasawas resorts usually have certified diving instructors who will take you to the best dive sites in the area.
17.Delve into the Sawa-i-Lau Caves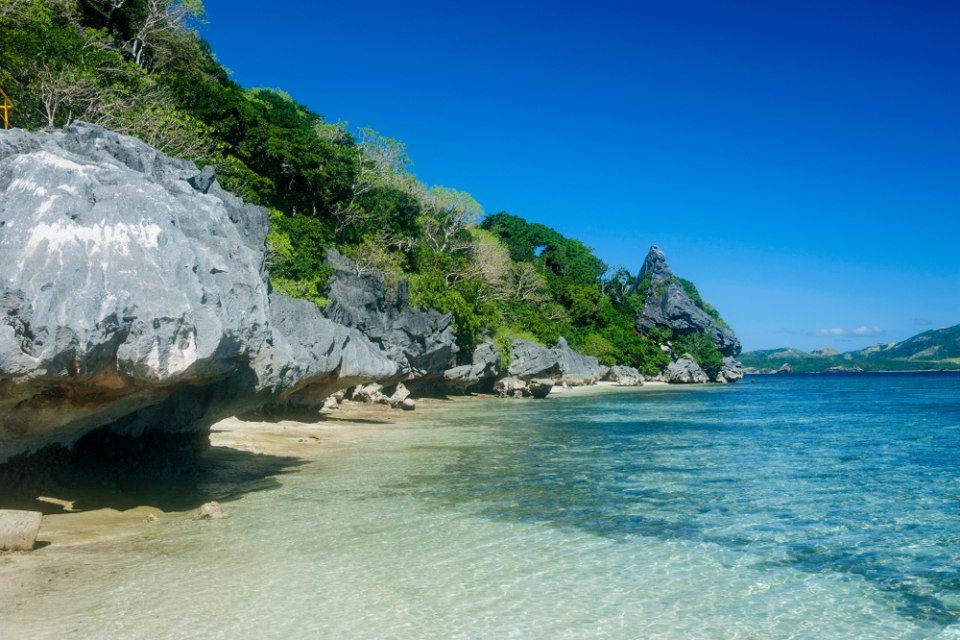 The Sawai-Lau Caves are one of the unique things to do in the Yasawa Islands. Boat trips will take you to the cave from the Blue Lagoon area in northern Yasawas. 
Visit the secret cave through a tunnel in the waters and learn about the legends of these sacred Fijian waters. Half-day tours of the caves are available from Exotic Holidays Fiji.
18.Yasawa Island Resort & Spa Fiji
Yasawa Island Resort is remote but only 25 minutes away from Nadi International Airport by charter flight. It is a haven of luxury with picnic views. 
There are 11 private white sandy beaches in the area, perfect for proposing or just spending time together.
This all-inclusive resort is a great choice for travelers who want to enjoy these stunning islands without worrying about hidden costs.
Sip cocktails at the bar or chill in the hammock by your bure; either way, you'll have a fulfilling experience when you disconnect from the hustle and bustle of life.
19.Visit or Stay in a Fijian Village
Fiji's Yasawa Islands are dotted with villages where Fijians have lived isolated on the islands for centuries. Resorts offer village visits that allow guests to experience Fijian culture and mingle with friendly locals. 
Alternatively, you can book a homestay or village stay through Airbnb or Booking.com, run by local villagers. 
If you truly want to experience the culture of Fiji and see ancient traditions played out every day, staying in a village is the best way to do so. 
You need to observe the customs of visiting a village, such as wearing a sarong (Sulu), not wearing a hat, and bringing yaqona (kava root) to offer to the village hosts.
20.Snorkel in the Blue Lagoon
Yasawa's Blue Lagoon

is encircled by beautiful islands at its northern end. 
Due to the combination of shallow sandy waters leading to white-sand beaches and darker shades where coral is located, this lagoon is filled with many shades of vivid blue. 
The clear and calm waters of these sheltered waters make snorkeling here a truly inviting experience. This truly is a stunning spot to visit in the Yasawa Islands.
Read more: The 25 Best Things To Do In Mamanuca Islands, Fiji
What luxurious things to do in Yasawa Islands?
Are you looking for a special way to spend your time in Fiji? Want to celebrate a special occasion or "just because?" Then you won't find anything more picturesque than the Yasawa Islands. 
Several secluded five-star resorts can be found amidst the Yasawas, and Yasawa's luxurious resorts provide sensational experiences to cherish forever, providing island adventures and R&R.
Attend a Dinner Party on the Mountaintops
Enjoy a Day's Fishing – Game Fishing or Island-Style
Treat Her to a Private Beach Picnic
Go Horse Riding Along a Private Beach
Observe Fijian Cooking Demonstrations
Indulge in a Luxurious Beachfront Massage
Swim with Giant Manta Rays
Glide Across the Waters in Windsurfing
Scuba Dive at Unspoiled Reefs
Take a scenic seaplane flight to your luxury resort
What adult-only things to do in Yasawa Islands, Fiji?
We all know not everyone loves spending time with loud children. Luckily there are many adult-only activities where you can delve into peace and tranquillity. 
Choosing an adult-only resort in the Yasawa Islands is the best way to ensure you get an adult-only experience. If you're looking for a quick getaway, you can visit the spa or bar.
Take Your Loved One to a Private Beach Picnic
Take Part in Cultural Activities at an Adult-Only Resort
Rejuvenate with a Morning Yoga Session
Drink Cocktails in One of the Yasawa Islands' Bars…
Indulge in a Massage at One of the Island Spas
Explore the Islands on Nature Walks and Trails
Kayak or Stand-Up Paddleboard on the Tranquil Waters
Get Out on the Water on a Fishing Charter
Snorkel or Scuba Dive with One of the Adult-Only Resorts
 Explore the Yasawa Islands on an adult-only cruise
What are the best wedding venues in the Yasawa Islands, Fiji?
If your dream wedding includes barefoot weddings, aisles decorated with tropical flowers, and sparkling turquoise waters, the Yasawa Islands may be for you. 
There are only a handful of remote islands in Fiji, but they enjoy the driest climate in the country, as well as breathtaking scenery, so it's perfect for that summer-feeling wedding all year. 
Here is a list of wedding venues in the Yasawa Islands that will make your wedding a dream come true!
Octopus Resort
Blue Lagoon Beach Resort
Paradise Cove Resort
Navutu Stars Resort
Coralview Island Resort
Barefoot Manta Island Resort
Barefoot Kuata Island Resort
Nanuya Island Resort
Yasawa Island Resort & Spa
Naqalia Lodge
What romantic activities to do in the Yasawa Islands, Fiji?
There's romance in the air in the Yasawa Islands. Every activity you do with your loved one is surrounded by a warm tropical breeze, sparkling waters, soft sandy beaches, and lush palm trees – a romantic setting if there ever was one. 
In addition, the Yasawa Islands provide a fantastic combination of adventure, relaxation, and romance, making them a wonderful getaway for any couple. 
Find romance on the Yasawa Islands with our romantic activities for couples.
Have a Barefoot Beach Wedding
Take her to a private beach, host a champagne breakfast, picnic, etc.
Stay in a Romantic Adult-Only Resort
Test Your Relationship in a Double Kayak
Explore Yasawa Islands on a cruise for couples or adults-only
Spend a romantic evening together at a beach picnic or private dinner
Hike to a Secluded Sunset Spot
Indulge in a Couple's Massage
Learn How to Scuba Dive Together
Enjoy an Intimate Flight over the Islands
What best things to do in the Yasawa Islands for Foodies?
The Yasawa Islands of Fiji are a great example of how cuisine can reflect a culture. The locals are proud to share their cooking techniques, many of which haven't changed in hundreds of years. 
Yasawas offers culinary classes, welcome ceremonies involving "kava" drinks, traditional Fijian feasts, and more. 
Here is the list of things to do in the Yasawa Islands for foodies.
Enjoy a Private Dinner on the Beach
Experience authentic Fijian food at a village homestay
Dine on Turtle Island at a luxurious dinner party
Embark on a Yasawas Cruise with Foodie Activities
Visit a productive tropical garden on a garden tour
Take your loved one to a beach picnic
Catch Your Dinner in Handline Fishing or Spearfishing
Take Part in a Kava Ceremony
Try a Traditional Lovo Feast
Find a New Recipe in a Fijian Cooking Class
What are the best beaches in the Yasawa Islands, Fiji?
Yasawa Island resorts and lodges are located on the waterfront. However, not all offer pristine sand beaches, convenient beachfront snorkeling, and calm waters for swimming. 
You need to visit these beaches if you want to fall into a sun-coma on a Fiji holiday!
Honeymoon Beach
Botaira Beach Resort Beach
Blue Lagoon Beach Resort Beach
Nanuya Island Resort Beach
Oarsman's Bay Lodge Beach
Octopus Resort Beach
Yasawa Island Resort Beach
What free and cheap things to do in the Yasawa Islands, Fiji?
A budget vacation to Fiji shouldn't miss the Yasawa Islands. It takes about 2-5 hours by boat to reach these stunning tropical islands, but once you discover the budget resorts of the Yasawa Islands, the trip is well worth it! 
Many resorts provide meals and water sports equipment as part of the room rate, so you don't have to spend a dime while at the resort. All you have to do is decide how you want to spend your "Fiji time." 
Here are some ideas for enjoying the Yasawa Islands on a budget.
Go for a Swim
Do Some Yoga
Take Part in Some Beach Sports
Enjoy Fijian Entertainment
Do a Fijian Cooking Class
Craft Your Fijian Souvenir
Go on an Island Hike
Go on a Handline Fishing Trip
Kayak or Stand-Up Paddleboard
Snorkel in Coral Reefs
Read more: The 16 Best Things To Do In Kadavu, Fiji
What things to do in Yasawa Islands with kids and families?
Family holidays to Fiji's Yasawa Islands will let you explore unique underwater worlds, fascinating Fijian culture, and picturesque island landscapes together. 
With the variety of family-friendly activities available in the Yasawas, Yasawa Island getaways are perfect for families to reconnect and experience Fiji together. 
Here are some ideas for things to do in Yasawa Islands with kids and families to help inspire your next vacation to paradise.
Take Your Kids to Great Kids' Clubs
Get Competitive with Beach Volleyball or Football
Attend a Marine Talk to learn more about the underwater world
Enjoy a Family Fishing Trip
Take a walk through the tropical landscape
Learn to make jewelry or weave hats
Experience Fijian culture on a village visit
Embark on a boat trip to the Sawa-i-Lau Caves
Learn to Scuba Dive (for 10 Years+)
Snorkel with the fish at your resort or on a snorkeling safari.
20 Best Things To Do In Yasawa Islands, Fiji
1.Take a Scenic Flight
2.Volunteer with Vinaka Fiji
3.Coconut Beach Resort
4.Place Your Bets for Crab Racing!
5.Cruising the Islands
6.Navutu Stars Fiji
7.Kava, Meke, and Fire Dancing!
8.Go Hiking
9.Viwa Island Resort
10.Relax With an Island Massage
11.Swim with Manta Rays
12.Go Fishing!
13.Learn Some Fijian Crafts
14.Go Kayaking
15.Turtle Island Resort
16.Go Scuba Diving
17.Delve into the Sawa-i-Lau Caves
18.Yasawa Island Resort & Spa Fiji
19.Visit or Stay in a Fijian Village
20.Snorkel in the Blue Lagoon