Last Updated on 14/05/2022 by Alfred
Do you like water activities? Here is a selection of the thirteen best water parks in France with family or friends. Laughter and thrills are guaranteed!
Less known than theme parks, water parks in France have everything to seduce their public! Those who have tried have also been conquered: several hundred thousand visitors flock each year searching for dives.
Created in the 1990s, these parks now offer a wide variety of activities for children and adults. Thus, families can enjoy the pools and other slides adapted according to the ages. 
As for lovers of extreme sensations, rejoice with new experiences: descents in the dark, surf simulators, etc.
Want to give it a try? Whatever your destination, there is surely a water park in the vicinity. From north to south, from west to east, here is our selection of the best water parks in France.
The 13 Best Water Parks In France To Go With Family And Kids
1. The Aqualud (Pas-de-Calais)
Located in Le Touquet-Paris-Plage, Aqualud is one of the oldest water parks in France. Its 8,000 m2 are divided between indoor and outdoor. 
Under its pyramid, thrill-seekers can discover the Twister, which will make you land in a two-meter pool, or the Black Hole, in total darkness. 
You can try the Grand Canyon or the Magic River, which alternates pools and slides for those who go there with your family. Finally, the youngest will have fun with the Mini-Glisse or the Kid's Lagoon!
2. Aqua'Fun Park / Cobac Parc (Ille-et-Vilaine)
With its eleven slides, the Aqua'Fun Park has something to seduce you. It has a wide choice of activities for children with the Aqua Kids Park: water jets, slides … 
The older ones will test the Wave, accessible by the buoy, or the Niagara, a circular slide with six turns! Aqua'Fun Park is part of the Cobac Parc leisure park, based in Lanhélin, between Saint-Malo and Rennes. 
Therefore, you can consider spending a whole day there, trying the different animations offered throughout the domain.
3. Oceanile (Vendée)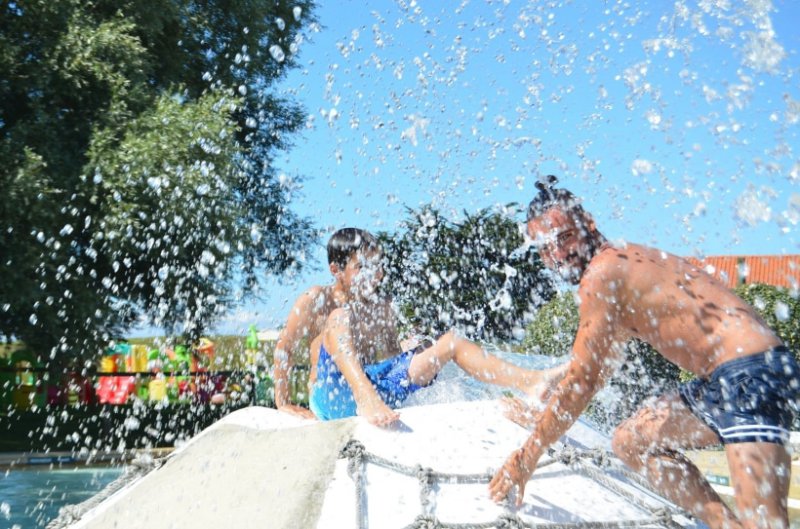 Oceanile is the sort of water park in France you'll never forget! This park sits on almost four hectares in the heart of Noirmoutier. 
There are a dozen different activities to relax and have fun, from the paddling pools to the pools. Whether you prefer speed with pentaglisse or the relaxation offered by whirlpool baths, you will find here something to please you, all in a unique marine setting!
4. Atlantic Park (Landes)
On 2,800 m2 of pools, the Seignosse water park is a must-see. In water heated to 27 ° C, you will enjoy the river in the opposite direction and the hot tubs. 
You will discover slides ranging from simple blue, like the Flash Tube, to the fearsome black, with the Super Kamikaze. For children, a Bout'Chou area and green slides are reserved for them! 
Good to know, some water parks in France, like this one, only open their doors between mid-June and the end of August.
5. Aqualand (Pyrénées-Orientales)
Are you going on holiday on the Mediterranean side? Don't miss the Aqualand in Saint-Cyprien! In a setting with lush vegetation, many activities await you. 
The Anaconda or snake Canyon are reserved for experienced swimmers, the Surf Beach and the Bubble Bath are accessible to all. Especially with Adventure Kids, children are not left out. 
On the other hand, access is also reserved for the summer months. So remember to check the schedules according to your dates of stay.
6. Espace Grand Bleu (Hérault)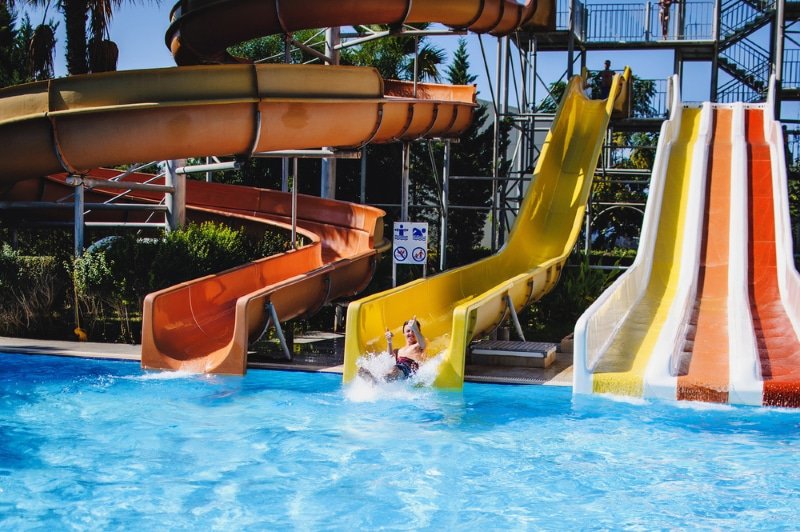 Many water parks in France are in the south of the country. This is still the case with the Espace Grand Bleu, in the heart of the Plaine des Jeux of La Grande-Motte, near Montpellier. 
This water park is open from Monday to Sunday and caters to all ages. It has five pools and slides, as well as an outdoor area. It has three slides, a water playground for the little ones, and a whirlpool bath. 
Therefore, everything is gathered to make you spend pleasant moments with family or friends!
7. Water park of La Bouscarasse (Gard)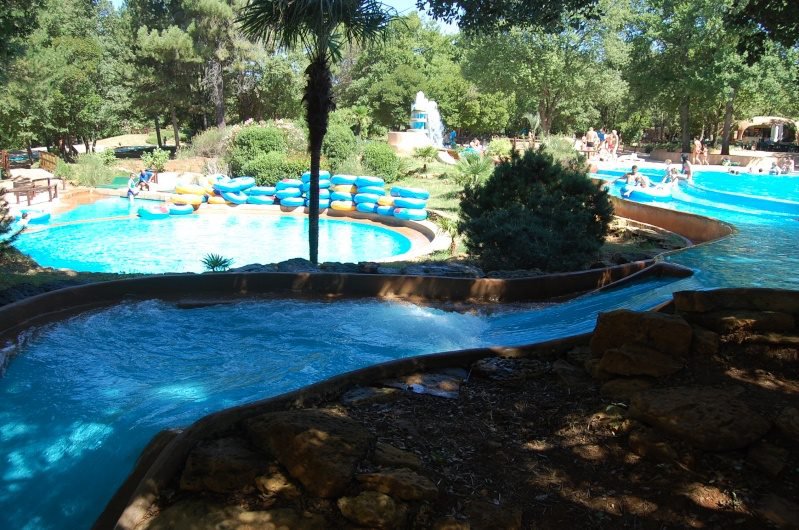 If most water parks in France are close to the sea, one is hidden in a forest massif, just five minutes from Uzès. Friendly and playful, it is a space of relaxation for all. 
Children are especially spoiled with a paddling pool and a pool with floating toys. Other attractions like buoy courses and slides await the older ones. Massage water jets are also available for people looking for relaxation.
8. Wave Island (Vaucluse)
This water park awaits you in Monteux, near Avignon, in a tropical setting. Nineteen attractions specially dedicated to skiing are located there. 
Tikki Slide, a place for the little ones, as well as the Tube, a ninety-three-meter descent full of emotions, are among the latest novelties. 
As a family, you will enjoy the Baie des Sirènes, a space that brings together different activities—looking for thrills? Try the Psychedelik and let yourself be stunned by this colorful descent!
9. Western Splash (Corsica)
On the side of Bastia, you will find one of the newest water parks in France. Opened in 2017, the Western Splash offers a 600 m2 wave pool and a wide variety of slides. 
Deckchairs are also available near the pools. Many activities are also scheduled in the evening.
10. Aquaparc BeFun (Rhône)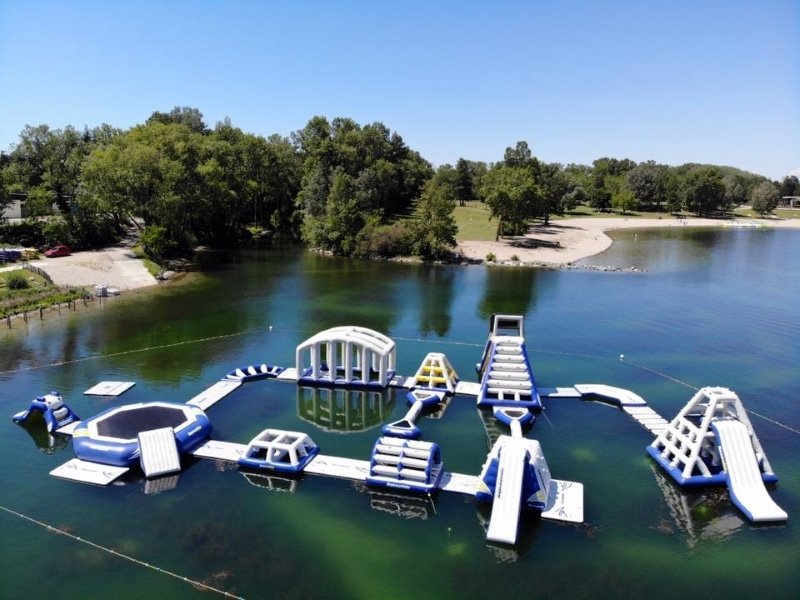 Here is an original idea for a water park in France: the Aquaparc Befun! Fifteen minutes from Lyon, it is a high-level course that awaits budding adventurers on 1,500 m2. 
These are inflatable structures where balance and flexibility are required. You will have to climb, slide, and jump in complete safety to reach the end! 
Laughter and good humor are guaranteed for a few hours of relaxation. Accessible from the age of six, this park is open every weekend between June and August.
11. Aquaparc Isis (Jura)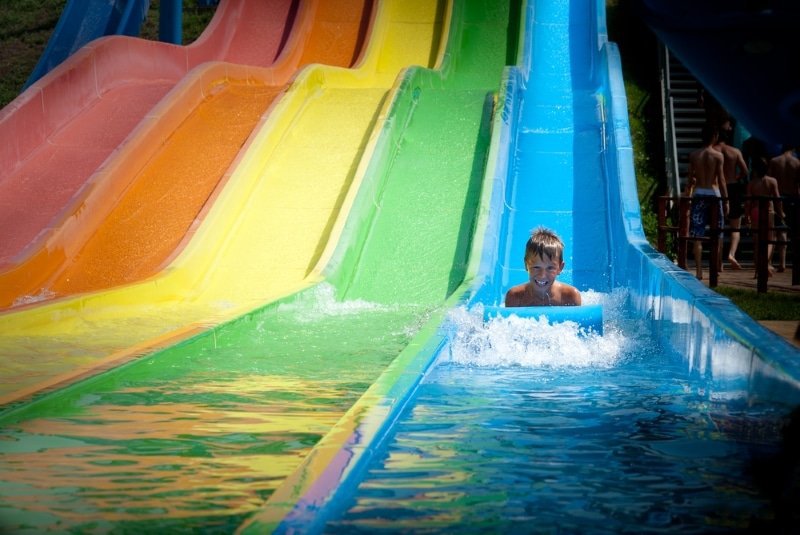 Are you planning a stay in Franche-Comté? The Aquaparc Isis offers you a break of freshness and fun in Dole. It has a large pool with a fast river, a seven-meter slide, and a pentaglisse. 
Toddlers will be able to discover the pleasures of water in the paddling pool dedicated to them. Other activities are offered, this time on land: volleyball, mini-golf… 
A good summary of everything that water parks in France offer!
12. The Aquaboulevard(Paris)
Among the best water parks in France, it is impossible not to mention the Aquaboulevard! This park located in the fifteenth arrondissement of Paris has indoor and outdoor spaces, including a relaxation area. 
Visitors will discover a dozen different slides and activities, such as wakeboarding or a wave pool. A big slide awaits toddlers with the Aquajonas, whose start is in the suspended whale!
13. O'Gliss Park (Vendée)
Located just a few minutes from the Vendée beaches, O'Gliss Park is in the heart of an oasis of relaxation. You can choose from spaces to relax or to experience thrills for a whole day. 
The park seduces families but also a young clientele thanks to its foamy afternoons in a crazy atmosphere.
Now it's up to you to choose where to take a dip among all these best water parks in France!