7 Most Breath-Taking Dinajpur Tourist Spots To Visit

1.Kantajew Temple/Kantajir Mondir/কান্তজীর মন্দির
Image

An iconic structure in Bangladesh is the Kantajir temple. Various names are known for this temple, and some know it as Kantajew Temple or Kantanagar Temple. 
In contrast, for many, the Temple of Kantajir is also known as Navratna Temple. The temple was built in the 18th century. The temple is located in Kantanagar village on the banks of the Dheepa river, about a mile west of the Dinajpur-Tetanlia road, 20 km from Dinajpur.
According to the inscription on Kantajir temple, the then Maharaja Zamindar Prannath Roy started constructing the temple. Later, after the death of Prannath Roy in 1722, his son Maharaja Ramnath Roy completed the construction of the temple in 1752. 
At that time, the Temple of Kantajir was 70 feet high, but the temple was damaged by the 1897 earthquake, which is currently 50 feet high. 
The square temple has about 15,000 terracotta tiles or terracotta plaques written on the outer walls of the Mahabharat, Ramayana, and various myths. An inner deity surrounds the three-step temple. 
Many grooved arches can be seen at all entrances on the 1st floor, while two brick pillars have been placed in succession and separated. 
The pillars look wonderful and ornamented. The temple has 21 doors on the 1st floor, 27 on the 2nd floor, and 3 doors on the 3rd floor. 
On the west side of Kantajir temple are the stairs leading up from the verandah.
People Also Read: People Also Read: The 8 Best Tourist Spots In Kurigram To See, Rangpur
2.Dipshikha School, Dinajpur/দীপশিখা স্কুল, দিনাজপুর
Image

A different school is made of clay at Rudrapur in Biral Upazila, 22 km away from Dinajpur district, named Dipshikha School. The school showcases the traditions and identities of the local people. 
The children of Rudrapur village had to go to school on foot for about 7 km. As a result, many students drop out of their studies and get involved in agriculture or other activities. 
In 2002, 10 students, including Anna Herigar, came from Liz University in Australia for research in Rudrapur village. After the study, others returned, but Anna Herigar planned to build a school to expand Rudrapur's underdeveloped education system using his research and architecture. 
His dream was realized by the Modern Education and Training Institute of the Development Agency of Germany and Dipshikha, a private service company in Bangladesh. As a result of which METI Handmade School was constructed in 2006.
Dipshikha Meti School was made of local raw materials such as bamboo and mud. The 8,000-square-foot two-floor School, which is completely eco-friendly, has three rooms per floor and an open staircase built with bamboo to go to the 2nd floor. 
The ground, sand, and straw have been mixed with tears as plaster on the thick earthen walls of the lower part. The upper lock has a roof over the bamboo plank with licking and soil and wood with the bamboo. 
At the same time, tins have been given above to protect them from rainwater. Waterproof palmwells and soap paste have been used on the floor for eco-friendliness. 
Dipshikha School has a natural way to keep it cool on hot days and hot on winter days. There are also some open rooms like caves for children to play in the bottom locks. 
The school teaches dance, song, acting, painting, and English language besides teaching from children's classes to class X. 
The Aga Khan Foundation selected the Meti School for best architecture in 2007 and awarded 18 construction workers who made Dipshikha School

.
People Also Read: Must Visit: 6 Top Tourist Attractions In Rangpur District
3.Dinajpur Rajbari/দিনাজপুর রাজবাড়ী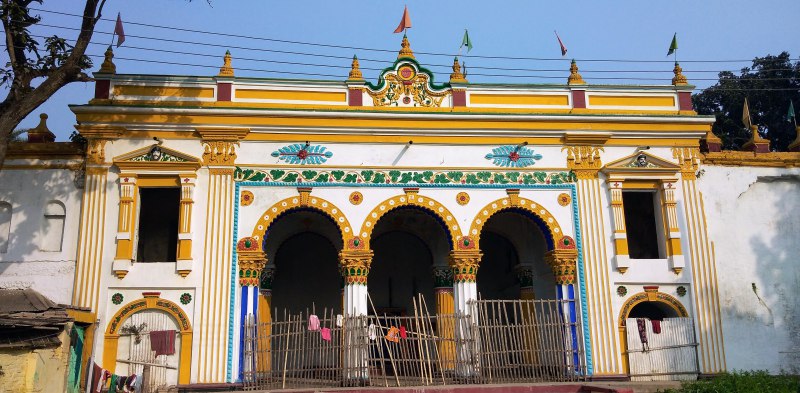 Image

Dinajpur Rajbari, very close to Dinajpur city, has been considered a symbol of the history and wealth of the district. Since the abolition of the zamindari system in 1951, the fame of Dinajpur Palace has been under the fold. 
Jagdish Nath, the last zamindar of Dinajpur Rajbari, died in Kolkata in 1962. At present, this palace survives as a witness to time.
Various structures of Dinajpur Rajbari include Kumar Mahal, Ayana Mahal, Rani Mahal, Laxmi Ghar, Atchala Ghar, Thakur Ghar, Kalia Jiu Temple, Attur Ghar, Rani Pukur, Champa Tala Dighi, etc. 
Apart from this, various historical artifacts used by the royal dynasty from this zamindar house are preserved in Dhaka and the Dinajpur Museum.
People Also Read The 9 Most Famous Tourist Places In Thakurgaon, Rangpur
4.Hajee Mohammad Danesh University of Science and Technology/হাজী মোহাম্মাদ দানেশ বিজ্ঞান ও প্রযুক্তি বিশ্ববিদ্যালয়
Image

Hajee Mohammad Danesh University of Science and Technology is the first University of Science and Technology established in the Rangpur division to create human resource development and global acceptance. 
The university was named after Hajee Mohammad Danesh, the father of the Tebhaga movement. In 1976, the university started its journey as an Agricultural Extension Training Institute and was offered a diploma degree in agriculture. 
It was then upgraded to a graduate agricultural college under Bangladesh Agricultural University in 1988. On September 11, 1999, it was announced that the agricultural college would be upgraded to a university. 
The Hajee Mohammad Danesh University of Science and Technology was then founded on April 8, 2002, after his Excellency the President issued the Notification. 
The 130-acre university currently has certificates in 22 subjects under 8 faculties.
Hajee Mohammad Danesh University of Science and Technology, which stands with the head of green trees on its head, has spectacular buildings made of red-and-white bricks, gymnasiums, canteens, d-box squares, TSCs, central jam mosques, central martyrs' minarets, academic buildings, administrative buildings, student hostels, seminar rooms, and two auditoriums.
There are also children's parks, post offices, bank branches, universal internet facilities, playgrounds, medical centers, botanical gardens, and a library rich in about 25,000 books.
People Also Read: The 6 Wonderful Tourist Places In Gaibandha, Rangpur
5.Nayabad Mosque/নয়াবাদ মসজিদ
Image

The Nayabad Masjid (Nayabad Mosque) has been constructed on 1.15 bighas of land in Nayabad village of Kaharol Upazila, 20 km from Dinajpur district town. 
The plaque on the wall of the Nayabad Mosque indicates that the mosque was built in 1793 during the reign of Emperor Shah Alam II. 
King Vaidyanath was the last descendant of the Dinajpur royal family at that time. Residents say the mosque was built by Muslim workers and architects who contributed to constructing the Kantnagar temple in the mid-18th century.
The Nayabad Mosque has 3 domes on the roof and 4 octagonal minarets in four corners. The thickness of the mosque wall is 1.10 meters. 
There are three doors to enter the mosque on the west side, opposite three mimbers. Although numerous terracottas are used in the design of The Nayabad Mosque, there are currently only 100 terracottas left. 
There is also a grave next to the mosque, but there is no information about the grave owner.
People Also Read: 4 Most Beautiful Tourist Places To See In Lalmonirhat, Rangpur
6.Shopnopuri Picnic Spot/স্বপ্নপুরী পিকনিক স্পট
Image

The Shopnopuri Picnic Spot (Shopnopuri Artificial Amusement Park) or entertainment center has been set up on about 400 acres of land at Aftabganj in Nawabganj Upazila Dinajpur district. 
The distance from Dinajpur to Shopnopuri by road is about 52 km. A lot of visitors from all over Bangladesh visit Shopnopuri for entertainment. 
Apart from this, with various films being made here, Shopnopuri has easily become the center of interest for the people.
In the Shopnopuri picnic spot, you can see artificial lakes, hills, gardens, diverse vegetation and flower gardens, various portraits, children's parks, zoos, artificial animals, flower gardens, artificial fountains, brickfields, horse chariots, shawls, Hansraj sampans, play platforms, prayer places, kunj, various sculptures, earthen huts, dak bungalows, markets and land maps of Bangladesh. 
There is also the enchanting beauty of the natural environment!
Shopnopuri has all the arrangements for picnics or any event. The Shopnopuri picnic spot for the night includes 5 cottages, namely Sandhyatara, Nilpari, Nishipadma, Rajnigandha Methoghar, and VIP Kunj. 
As part of the food system, there are different types of rented stoves, pots, and decoration items. There is no reason to think about security in Shopnopuri, and the authorities have their security arrangements.
Entry Price
The ticket per entry ticket per person at Swapnapuri Amusement Park is priced at Rs 70.
Shopnopuri Picnic Spot Contact
Address in Dhaka for communication at Shopnopuri Picnic Spot:
Hotel Sofina 152,
Osman Gani Road (Aloo Bazar), Dhaka.
Phone- 9554630, 9562130
Dinajpur address for communication in Shopnopuri:
Hotel Kanika, Station Road, Dinajpur in Dinajpur.
Phone- 0531-63711
People Also Read: The 7 Stunning Nilphamari Tourist Places To See, Rangpur
7.Ramsagar Dighi/রামসাগর দীঘি
Image

Ramsagar Dighi is the largest Dighi in Bangladesh excavated by people in the Tezpur village of Dinajpur district. Ramsagar Dighi has an area of about 437,492 square meters and an average depth of about 10 meters. 
There is a ghat on the western bank of Dighi. Ramsagar Dighi has located about 7 km from Dinajpur city. A picturesque Ramsagar National Park has been set up with Ramsagar Dighi. 
Camping across the Ramsagar is also a wonderful way to enjoy the full moon. 
According to history, sometime before the Palashi war, King Ramnath excavated the Dighi to meet the water needs of the neighboring villages. 
The Dighi came to be known as Ramsagar Dighi from the name of King Ramnath. Ramsagar Dighi is currently under the supervision of the tourism department. Ramsagar has built a modern rest house to beautify Dighi and attract tourists.
What Is In Ramsagar National Park?
Ramsagar National Park now has a mini zoo. Where various animals, including pythons, monkeys, and some deer, have got shelter. 
Here is an attractive children's park for children's entertainment. There are 7 picnic corners in Ramsagar to ensure a picnic facility. 
In addition, a library called Ramsagar Library was set up in Ramsagar National Park on October 10, 2010, under a full-fledged individual initiative.