Seville Hidden Gems: Seville, a city full of color, art, and a good atmosphere, is one of the most beautiful cities in the world. There are many unusual things to do in Seville. It is a city full of surprises that will make you want to return again and again. You can explore some great surroundings in Seville via day trips without a car.
Divided in two by the Guadalquivir River, the capital of Andalusia will make you fall in love at first sight. 
This will happen when you stroll through the narrow streets of its most charming neighborhoods like Santa Cruz or Triana. 
Visit impressive monuments like the Cathedral or the Alcazar, relax walking through the Maria Luisa Park, or watch a flamenco show in a tablao.
To visit all the most exciting and unique places in Seville, you will need a minimum of 3 days. 
Nonetheless, we recommend you spend some time enjoying Seville's most typical dishes with more tranquility and try its fried fish or its famous gazpacho and some of the surrounding wonders, such as the Roman city of Italica.
The best time to visit Seville is between spring and autumn, when temperatures do not exceed 40 degrees, allowing you to stroll through the streets without fear of heatstroke or having to protect yourself from the sun inside a church or shopping center.
If you want to travel in March or April, you should keep in mind that if you coincide with its traditional Easter or the April Fair, the city will be very crowded, and hotel prices will be sky-high.
People Also Read: 
How To Climb The Giralda Of Seville – Schedules, Prices, History
Ultimate Guide To Visit The Cathedral Of Seville
10 Best Excursions From Seville You Can Take
Guide To The Archive Of The Indies In Seville
Olive Oil Tourism In Seville, Andalusia
How To Get From Seville Airport To The City Center (Downtown)
These 9 Best Free Tours In Seville You Should Try
Ultimate Guide To Visit The Alcazar Of Seville – Tickets, Access, Attractions
A Complete Guide To Visit Italica In Seville – Tickets, Location, Attractions
What to see and do in Seville? Hidden Gems In Seville – 25 Unusual Things To Do In Seville
1. Free tour of Seville
As we always recommend, the first thing you should do in Seville is to sign up for a free tour to get to know the city's prominent corners. Remember to leave a tip for the guide, who surely deserves it. The best news is that there are several of these free tours in Seville.
People Also Read: The 9 Best Free Tours In Seville You Should Try
2. Real Alcazar – A must-see attraction to see in Seville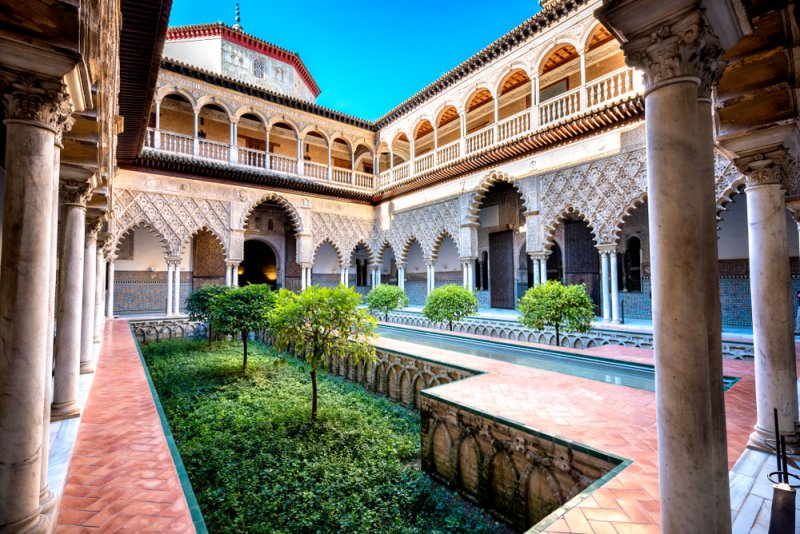 The Real Alcazar is a must-see attraction in Seville, so mark that on your map. The palace dates back to the 11th century, making it one of the oldest in the world, with rooms that could be the setting for The Thousand and One Nights.
Its halls witnessed the passage of different cultures, so there is no shortage of Arab, Mudejar, Gothic, and Baroque architectural samples. Come on. It's a pa-sa-da! 
3. Royal Alcazar Gardens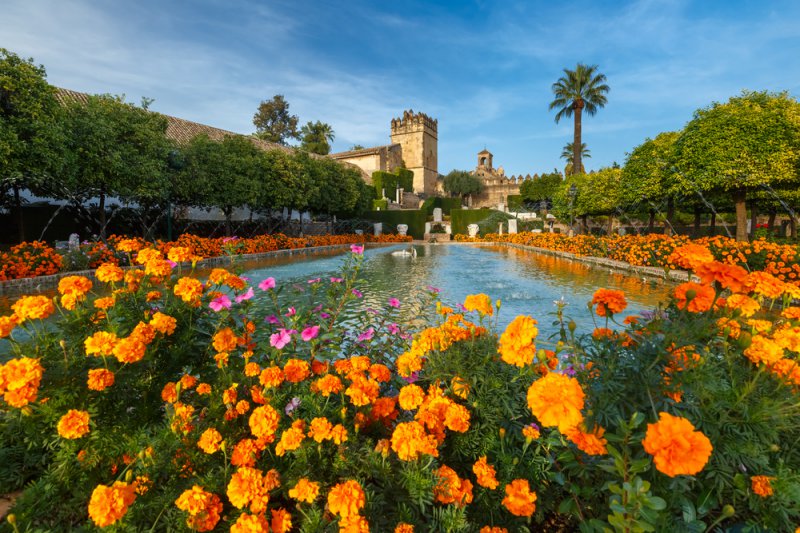 Once you are here, don't forget to visit the Royal Alcazar Gardens. Pay special attention to the pond of Mercury, the Garden of the Dance, and the Garden of the Ladies. 
You have one more reason to come if you are a fan of the TV series Game of Thrones: the Royal Alcazar and its gardens were used to film the scenes of Dorne (place of the House Martell).
4. Seville Cathedral – Seville Hidden Gems
Another emblem of Seville is its Cathedral. It is one of the most spectacular Gothic cathedrals in Europe (and the world, of course). And it has a surprise: you can see the remains of Christopher Columbus. 
People Also Read: Ultimate Guide To Visit The Cathedral Of Seville
5. Triana Neighborhood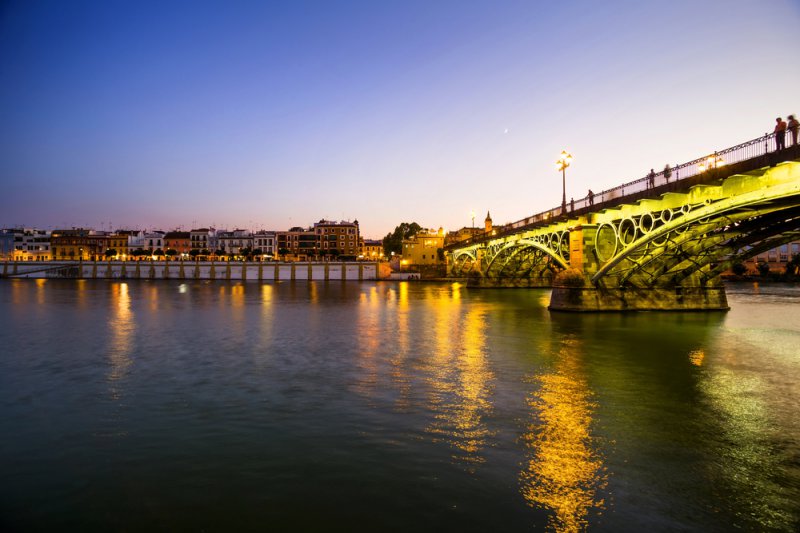 A trip to Seville is not complete without a tour of Triana. Seville's most authentic and flamenco neighborhood contains some of the essential stops: the Plaza del Altozano, Calle Betis, the Capillita del Carmen, the Castillo de San Jorge, and the Triana Market.
 And when the sun goes down … don't forget to go to a flamenco stage.  
6. Plaza de España – The most beautiful place to see in Seville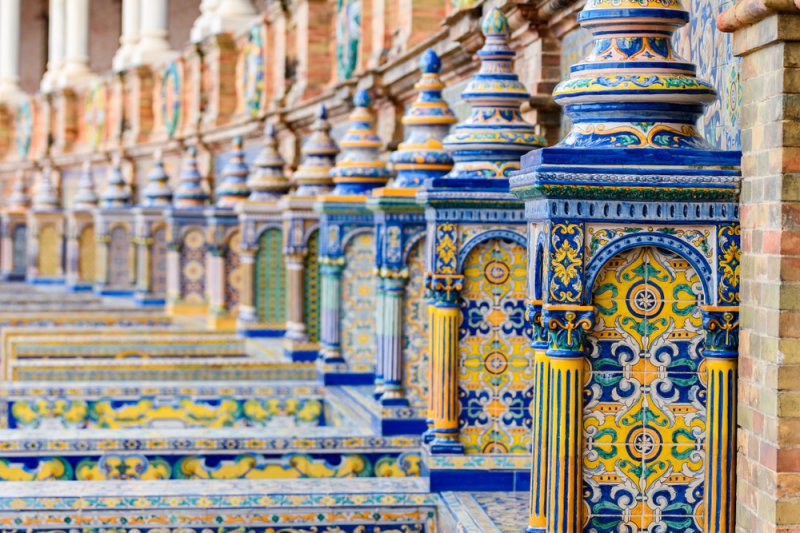 Flip a lot when you get to Plaza de España. For us, it is possibly the most beautiful square in the country. 
There you can see the benches and tiles from 48 Spanish provinces. It was built for the Ibero-American Exposition of 1929, and Alfonso XIII himself, when he saw it declared, "Gentlemen, I knew this was beautiful… But not so much". Visiting Plaza de Espana is a unique thing to do in Seville.
7. Climbing the Giralda – One of the best things to do in Seville
Climbing the Giralda is the best way to digest croquettes. From up there, the views are the most breathtaking. The entrance fee of 9€ is joint to visit the Cathedral (free on Mondays from 16:30 to 18:00). Climbing the Giralda is an unusual thing to do in Seville.
People Also Read: How To Climb The Giralda Of Seville – Schedules, Prices, History
8. Terrace of the Corte Inglés of Pl. del Duque
Are you looking to get Instagrammable photos? Go up to the terrace of the Corte Inglés de Pl. del Duque at sunset. The panoramic view is magical.
9. Casa Ricardo (and its croquettes)
Go to Casa Ricardo and try their legendary croquettes. It is located at Calle Hernán Cortés, 2.
10. Boat ride
Another option to see it from another point of view is to take a boat ride on the Guadalquivir. They were not expensive.
11. Flamenco Tablao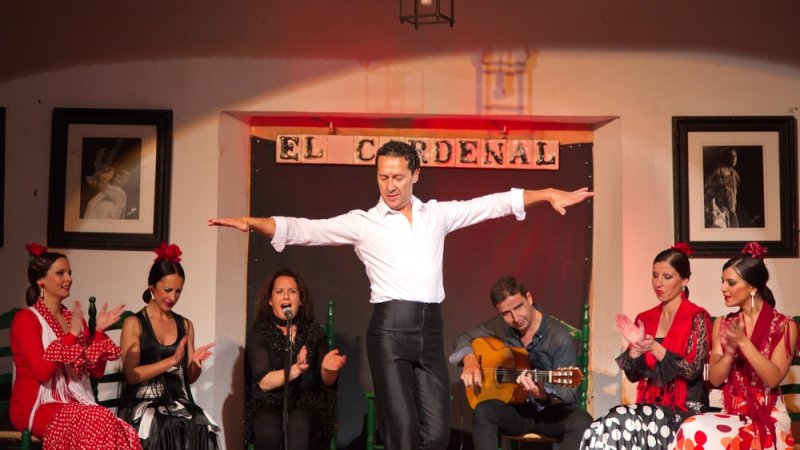 Seville is synonymous with flamenco; take advantage of your visit to attend a show in a flamenco tablao. It is sure to be one to remember. Attending this great show is a unique thing to do in Seville.
12. Golden Tower – Sevilla Hidden Gems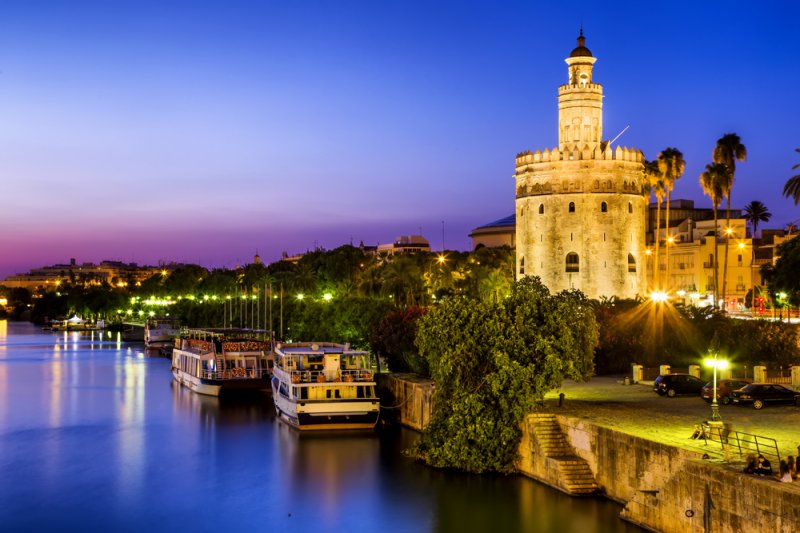 Take a walk along the banks of the Guadalquivir to the Torre del Oro, which is incredibly stunning at sunset. There is no gold to be found here, and the Tower is named after the golden reflection it casts on the river. 
Although there are other theories about its name, including that it was a tower where gold warehouses were located or the entry point for gold from the New World. The entrance to the Tower costs 3€ (free on Mondays).
13. Palaces of Seville – A famous place in Seville
If you are an architecture lover, Seville will be your paradise. Some of the most picturesque buildings are the Casa Consistorial (City Hall), the Palace of San Telmo, the Palace of the Countess of Lebrija, the Casa de Pilatos, the Palacio de las Dueñas, the Hotel Alfonso XIII, the Hospital de las Cinco Llagas and the Royal Tobacco Factory.
14. Metropol Parasol (Las Setas) – A must-see place in Seville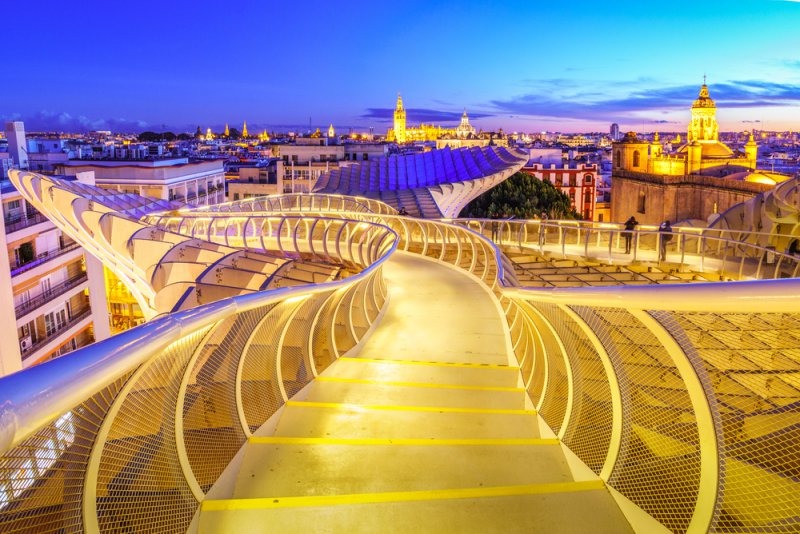 And what can we say about the Metropol Parasol (also known as "the mushrooms")? Some think it is a horror, and others find it very interesting. 
We are in this second group. It is a building that breaks with the classic Sevillian style and gives the city a modern touch. But we like it most for the views it offers. It cost 3€.
15. Maria Luisa Park – Hidden Gems Seville
And after so much hustle and bustle, do you want to relax and rest for a while? Come to María Luisa Park, the green lung of the city. Relax before or after visiting the Plaza de España, and do not leave without visiting the beautiful Isleta de los Pájaros. It is a very beautiful place in Seville to visit.
People Also Read: How To Get From Seville Airport To The City Center (Downtown)
16. Basilica of the Macarena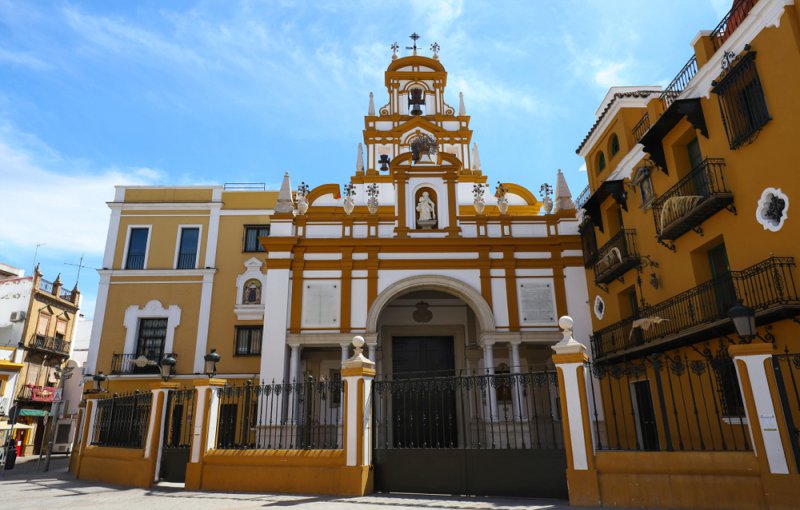 If you ever find yourself in Seville's Macarena neighborhood, don't miss the Basilica de la Macarena. Although recently constructed (1941), it is one of Seville's most significant temples thanks to its yellow-white colors and unique charm. 
Check out the Basilica de la Macarena if you want to see exciting sections in the chapel, including the Chapel of the Macarena, the Chapel of the Sentencia, Sentencia, and the Altar of Hispanidad.
17. Archive of the Indies
You have an obligatory stop at the Archivo de Indies if you like history. It was created in 1785 to gather all the documentation related to the Spanish colonies in one place. You can visit it for free (Tuesday to Saturday from 9:30 to 16:45 and Sundays from 10:00 to 14:00).
People Also Read: Guide To The Archive Of The Indies In Seville
18. DO NOT ride in a horse-drawn carriage
Use your tiny feet to get around Seville! Don't be a tourist and take a horse-drawn carriage ride through Seville, don't contribute to the animal business.  
19. Santa Cruz neighborhood – A Beautiful Place in Seville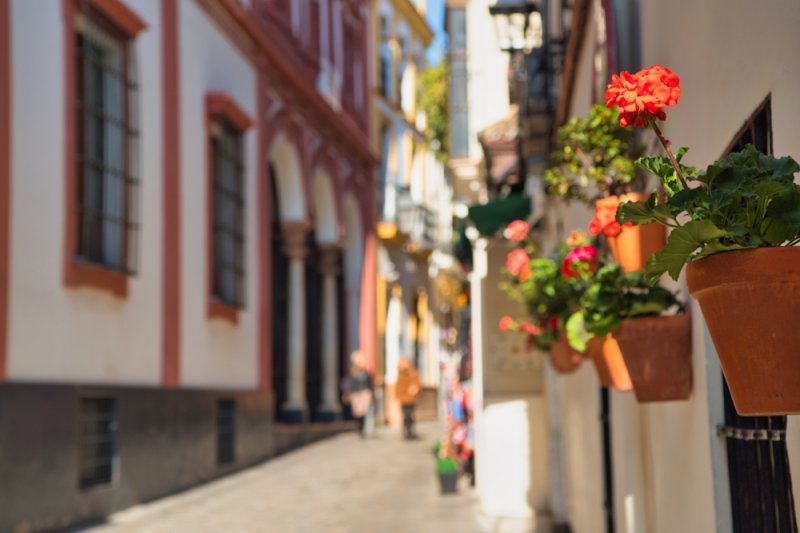 What to see in Seville? Get lost in the neighborhood of Santa Cruz, the old Jewish quarter and one of the most scenic corners of Seville. 
Known for its cobblestone streets, small squares, and taverns, this city will enchant you. 
Some of the essential stops here are Mateos Gago Street, the Santa Cruz Parish Church, the Pinelo Palace, the Callejón del Agua, and the Plaza de Santa Cruz (among others).
The Santa Cruz neighborhood is the most famous and visible face of the Jewish quarter of Seville, but in reality, it is much more extensive.  
20. Seville Festivals
There are two events that everyone should enjoy, sooner or later, in Seville: Holy Week and the April Fair. Enjoy your vacation if these dates fall on your trip!
21. Birthplace of Velázquez
Do you like Velázquez? The famous painter was born in Seville, specifically in Padre Luis Maria Llop (you can only see the facade). Curiosity: This house also belonged to Victorio & Lucchino jijiji -I don't know why it makes me laugh-.
22. Tapas route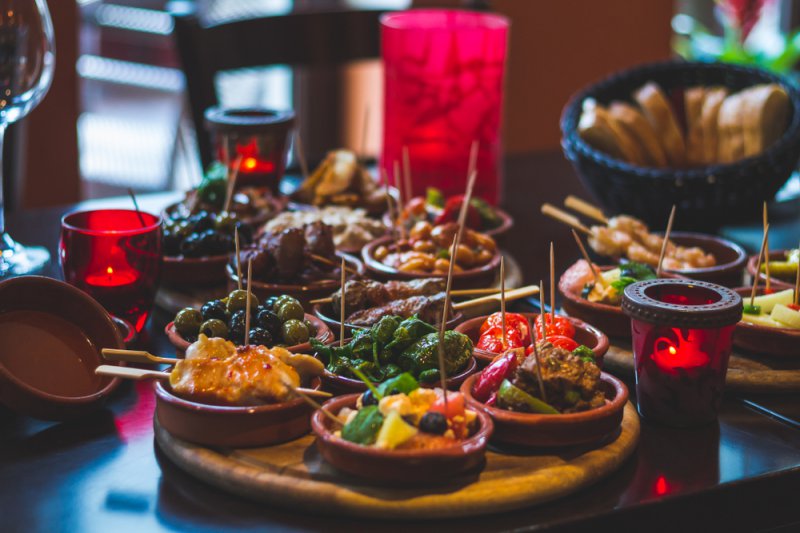 23. Party in Alfalfa – Unique things to do in Seville
If, unlike us, you like to party at night, an exciting neighborhood to go out in is Alfalfa.
24. Roman Site of Italica
Did you know that just 10 km from Seville is the Roman site of Italica? It is possible to dive into the Roman past of this Andalusian city on a free tour that takes you there. 
25. Excursions from Seville
Have you already done all of the above and have more time? Take advantage of the fact that you are in Andalusia and go on an excursion. All of them can be done on your own, but if you prefer to have a guide and learn more about the places, we recommend these tours:
Excursion to Cordoba
Visit Granada
Escape to Doñana
Excursion to Gibraltar
Combined visit to Cadiz and Jerez
People Also Read: 10 Best Excursions From Seville You Can Take
Where to stay in Seville?
We leave you an article about the best places to stay in Seville, with a handful of recommendations of good, friendly, and cheap hotels. 
On my last trip to Seville, I stayed at the Melia Sevilla. A four-star hotel in Seville is located right next to the Plaza de España. So close that some rooms even overlook the square. 
The hotel has a swimming pool, the rooms are very spacious and modern, and the location is excellent. In addition, if you go out of high season, they usually have offers at a reasonable price.
Another option is to book an apartment in Seville in the center. Here there is a wide variety of offers. In this case, I recommend the Green-Apartments Giralda Views. The apartment is charming and even has views of the Giralda. A good, excellent, and cheap accommodation option in Seville.
What to see in Seville Center?
My next suggestion is to have a drink in Seville. There are many places to eat in Seville, from terraces with views of Seville to great restaurants for special occasions to excellent taverns for tapas. You might need a bit of a terrace after walking around Seville. 
Don't worry. I'm here to recommend one of the best things to do in Seville: A terrace with views of the Cathedral and the Giralda. Take a seat, gentlemen!
The drinks in these kinds of terraces are not the cheapest in Seville, but they are worth it. These are some of the most excellent terraces with views in Seville that I recommend:
Eme Catedral Home terrace (it is also a restaurant). It has probably the most impressive view of the Giralda of Seville from above.
La Terraza Eme in Seville overlooking the Cathedral.
The terrace of the Hotel Doña María is not short on views of the Giralda either.
The Gourmet Experience at the Corte Inglés el Duque is also a viable option. It is cheaper than the previous ones, although further away from the center.
Instead of having a snack, I recommend these restaurants in Seville with breathtaking views if you fancy a romantic lunch or dinner. 
The bad thing is that instead of eating, you might get stunned looking at them (and I'm not talking about looking at your girlfriend).
Maríatrifulca – Delicious food and terrace overlooking the Guadalquivir and the Torre del Oro. For me, it is one of the most spectacular restaurants in Seville.
Abadés Triana. – It is also one of the top restaurants in Seville and is right in front of the Torre del Oro. The views are unbeatable!
Where to eat tapas in Seville?
I have already talked about some of the posher restaurants in Seville, but now it's time to talk about tapas in authentic Andalusian taverns with the best tapas in Seville. 
You can not leave Seville without eating a good sirloin with whiskey (I love them), spinach with chickpeas, or the typical serranito. These are the bars that I recommend where to go for tapas in Seville:
El Rinconcillo is the oldest bar in Seville. A safe bet that it never disappoints. You can find it in Calle Gerona 40.
La Taberna. This is another Sevillian tavern in the center, where you can enjoy its delicious tapas at an excellent price. You can find it at Calle Gamazo 6.
Bodega el Góngora. The winery is very close to the Cathedral and has a long tradition. Location: Calle Albareda 5.
Chifa Tapas. It is not the typical Andalusian bar. Fusion of Japanese, Peruvian, and Latin food. It was delicious and at a very reasonable price if you want something different to eat. Location: Calle Calatrava 16.
What to see in the Seville province?
If you have more time than a weekend in Seville, I recommend you to visit the province and make a route through its villages. Briefly, I comment on some of the best things to do in the province of Seville:
Visit the town of Carmona, one of the most beautiful villages in Spain.
Ecija is known for being the city of towers, and it is also a real gem.
The Doñana Natural Park is a true paradise for nature lovers.
Osuna is also considered one of the most charming towns in Seville.
A spectacular rice field on Isla Mayor is the perfect entrance to Donana Park, where the movie "La Isla Minima" was filmed.
Let us know what do you think is the best unusual thing to do in Seville and which Seville hidden gems did attract you the most?
FAQ on Unusual Things To Do in Seville