Is the Algarve worth visiting? Of course, Algarve is worth visiting. Algarve can be called a natural paradise for both surfers and kitesurfers. Incredible waves, strong winds, and beautiful beaches make Algarve a worth-seeing place.
This article will discuss the best things to do in Algarve during your trip. Thus, you can decide whether the Algarve is worth visiting for you or not.
The Algarve is a magnificent coastline that is culturally rich and beautiful. So, visiting the Algarve, a tourist region of Portugal, is an ideal choice for your weekends or vacations.
Between Faro, the capital of the region, Monchique, Sagres, or Tavira, you will be spoilt for a choice for a vacation that will meet your expectations.
To help you with the "to-do list" of your Portuguese trip, here are my Top 15 unmissable things to visit in the Algarve.
In this article, we will discuss whether Algarve is worth a visit or not. Also, we will discuss what best things to do in Algarve.
Is Algarve Worth Visiting? Best Things To Do In The Algarve, Portugal
Algarve Weather
To visit Algarve in the best conditions, here are my weather recommendations.
The Algarve is a sunny region with a Mediterranean climate and more than 2,500 hours of sunshine per year (about 104 days). The best months to visit are from March to December, which is almost all year round.
If you are looking for warmth, the months from July to September are the most appropriate for your stay. The temperature is around 30° during those months. The coolest months are from January to March, with temperatures around 18°.
The 15 Things To Do In The Algarve
Here is our selection of the best things to do in the Algarve, which are also the reasons to visit Algarve, Portugal, to enjoy a vacation to the fullest.
1. Visit the Algarve with the city of Faro
Faro is the capital of the Algarve region. This charming walled city is rich in history and tourism. Here, you can admire its superb historical center called "La Cidade Velha" surrounded by walls.
The Cidade Velha is home to the sublime cathedral of Faro. It was built-in 1251 and renovated in 1755 in Gothic style. Today, it presents itselft with Baroque and Renaissance trends.
You can also visit the municipal museum. It exhibits elements of prehistory and medieval times.
You can also enjoy walking through the old town of Faro and its cobbled streets. There you will find an episcopal palace and many restaurants and bars.
In short, Faro in Algarve is an old city with a strong culture. But also a modern one with its animation and the variety of its shops.
2. Lagos
Lagos is also a Portuguese city full of history. Located on the coast of the Algarve, Lagos is a seaside town ruled only by tourism.
Lagos is a city known for its beautiful beaches, authentic culture, and lively nightlife. To visit Lagos is to enjoy enriching natural activities such as its famous cliffs.
We advise you to visit the Ponta de Piedade, the natural tunnels and caves dug in the golden cliffs of the coast.
A sublime spectacle! For beach lovers, the most majestic beach is Praia Dona Ana. That's because of its translucent water and proximity to the city center.
3. Visit the Algarve with the city of Sagres
Sagres is a town located in the municipality of Vilado Bispo in the southwest of the Algarve region.
It is the city where we advise you to pass if you are fond of beer and surfing. This atypical city offers you a wild landscape with many surf spots.
Sagres is also known for its cape Saint-Vincent, the most southwestern point in Europe.
Sarges is a city where you can take the time to breathe, live, and can relax. From hikes to the discovery of wild nature, surf beer atmosphere, and cliffs, there is something for everyone in Sagres, Algarve.
4. Albufeira
Located 30 kilometers from Faro, Albufeira is a lively city with great beaches. This seaside resort is known for its animation quality, day, nightlife, and location.
You shouldn't visit the Algarve without tasting some good seafood in Albufeira. The old town of Albufeira has a charm and atmosphere that you can only find here.
Albufeira also offers many water sports around its beautiful beaches. The most famous ones like Praia de Marinha and Praia da Galé are must-visit places.
5. Olhão
Olhão is a small fishing port with an atypical style. Fishermen settled in the area due to its favorable living conditions, which led to its heyday. A real favorite of the Algarve, Olhão, is about 30,000 inhabitants full of typical and charming places.
We advise you to get lost in its narrow streets and discover the white architecture of its typical houses. Don't forget to enjoy its vegetable and fish markets.
Olhao is recognized as the best Portuguese city to eat fish. Not stopping in this small authentic city during your stay in the Algarve would be a shame.
6. Visit Algarve with the city of Monchique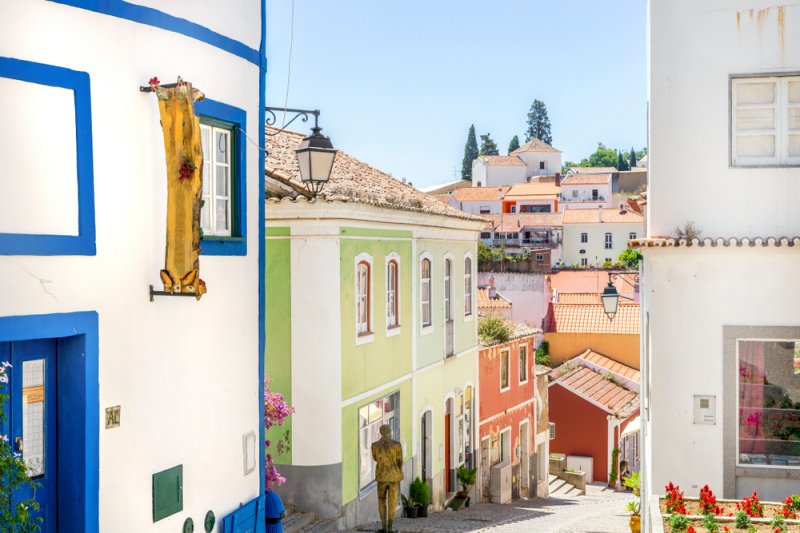 Located north of Lagos, Monchique is perched in a very wooded environment near the Algarve coastline.
Its superb situation makes it a destination not to be missed and to visit. Monchique is located in the mountains of the Serra de Monchique. It's a place of history and omnipresent nature.
Its narrow streets, brightly colored houses, and rural culture make this small town of the Algarve a true Portuguese charm.
7. Enjoy the beaches
Visiting the Algarve region means seeing sublime beaches, each one as different as the other.
You will find paradisiacal beaches on the 155 kilometers of coastline of the Algarve. The beaches stretch of fine sand and translucent waters and wild beaches.
The beaches of Odeceixe, Praia de Porto de Mos, Bordeira, and Barril offer a range of activities. Such as surfing, basking, and discovering which of the beaches most entices you.
8. Cities and villages to discover around Algarve
Visiting the Algarve also means getting lost in its dream setting. Also, visiting its villages and towns of tradition, authenticity, and beauty.
9. The perched village of Querença
Querença is a small village perched in the mountains of the Algarve. This village is one of the most typical in the region. It stands out for its white houses, the lace of its chimneys, and its rich traditional gastronomy.
We advise you to stop in Querença for a real moment of tradition and happiness for the eyes.
10. Silvès
The former capital of the Algarve, Silvès, is rich in culture, history and a soothing atmosphere. Visiting Silves is discovering the Portuguese way of life, between history, cathedral, and small outdoor cafes.
11. Tavira
The city of Tavira is located in the Algarve and has great charm. Located on the banks of the Gilao River, Tavira is a small town with cobbled streets and traditional houses.
We recommend you go there for a few days or hours and discover its tiled architecture, churches, and typical restaurants.
12. Do a nautical activity
Jet Ski rental in Vilamoura: For sensational water activity, enjoy an hour of a jet ski for only 65€ per person. Take advantage of a jet ski of the last generation with 3 seats. Also, visit the discovery circuit by boat outside Vilamoura Marina.
SUP riders in Lagos: We recommend the Lagos rides tour from 40€ per person for a 2-3h discovery activity. With the help of a SUP surfer, you can discover the caves of Lagos between impressive cliffs and hidden beaches. Also, many other caves leading to the Rio de Aljesur river. A 100% happy activity.
Kitesurfing lessons in Lagos: In Lagos, you can enjoy a sporty activity to discover kitesurfing for 125€ per person. This lasts 3 hours per day for a few days.
You will be pampered, coached, and equipped like a professional for 100% sensational and fresh air kitesurfing lessons with an experienced instructor.
13. Visit the Algarve and its marine life
Kayak tour in Ponta da Piedade from the marina of Lagos:
We recommend you take a tour of two and a half hours and 15 minutes at the cost of 25$ per person to take in the beauty of the sea.
You can discover the sublime coast of the Algarve on board a catamaran. Before getting into your kayak, discover caves, cliffs, and the sumptuous landscapes of the Algarve.
Dolphin Cruise from Albufeira:
Dolphin fans, enjoy a 2.5-hour cruise on a catamaran to observe these beautiful marine mammals. You can also discover the superb caves of the region. Also, you can discover the dolphins' impressive ballet, which is 29€ per person.
Lagos: guided cruise to Ponta da Piedade:
For 75 minutes of intense nature, we recommend this cruise that will take you to discover the beautiful secluded beaches of Dona Ana and Camilho.
Also the superb caves of the Algarve, the caves of Ponta da Piedade. This cruise can be booked online from 20€ per person.
14. Visit the Algarve and explore caves
Cruise to the Benagil Caves: 
Departing from Portimao, opt for this cruise that will take you to the heart of the Benagil Caves to its superb rock formations.
For 30€ per person, you can take a cruise for two hours and thirty minutes. If lucky, you can see the dolphins that venture into these caves.
Boat tour of the Algarve and the Benagil de Portimão cave:
Enjoy 2 hours of sailing on a blue sea, along beautiful coasts. It will be an opportunity to learn about the history of the Arade River. You will have to count on a budget of about 29€ per person.
3 hours cruise to visit the coast and the caves of the Algarve:
From Albufeira to Bengail, you can admire the beautiful landscape of the Algarve coast.
You can also swim in clear water between beautiful rocks and an impressive coastline. This activity is available from 26€ per person.
15. Hike the 7 hanging valleys
We advise you to hike the 7 hanging valleys to admire the most beautiful landscapes of the Algarve.
This hike will take you closer to nature and the true beauty of Praia da Marinha and Carvalho beaches. You can enjoy the amazing rock formation view of Benagil caves and discover the surrounding.
This hike is as exciting as it is impressive in terms of landscape. Take advantage of this 6km walk, about 3 hours of hiking, to live an unprecedented experience of the beauty and richness of nature.
How to get to the Algarve from Paris?
Plane: Visiting the Algarve

and getting there by plane is easy from Paris. From Paris, arriving at Faro airport, you can easily get to the different cities via bus.
The flight time to Faro from Paris is 2h 30 min for a budget between €80 and €200 depending on the season. You can get there via many companies such as EasyJet, La Tap Air Portugal, or Rayanair.
Train: You can visit the Algarve by train from Paris. There are few or no direct trains to get there. But from Montparnasse to arriving at Faro station, you will need about 20 to 25 hours of travel time (including connections, often at Hendaye). Please count an average budget of 180 to 220€ for the train trip.
Bus: If you decide to visit the Algarve by bus, you can find tickets for less than a hundred euros from Paris to Faro. In that case, your travel time will be about 34 hours. 
Where to sleep in the Algarve
Looking for a hotel in Lagos?
Lagos Atlantic Hotel
From €70 per night, the Lagos Atlantic Hotel welcomes you to its upscale establishment all year round. The rooms are well-equipped, and the hotel is located 750 meters from the beach of Porto de Mos, an ideal location.
You will surely have a good time with the sea in front of you with quality services, warm decorations, and a continental breakfast.
Tivoli Lagos
From 150€ per night, the 4-star Tivoli Lagos hotel offers a typical and traditional Algarve decoration and atmosphere.
The well-equipped rooms have a balcony, TV, and private bathroom. The hotel also offers a spa and swimming pool. Best of all, you're only a 15-minute walk from the Ponta da Bandeira fort and the center of Lagos.
Looking for a hotel in Faro?
Hotel Faro & Beach Club
From 100€ per night, the Hotel Faro & Beach Club welcomes you only a 3-minute walk from the old town of Faro.
Besides its perfect location, it offers an excellent breakfast and an amazing view of the marina and the old town. In other words, you will enjoy every moment of your stay there. A modern and central hotel, it is the ideal place to stay when visiting the Algarve.
Eva Senses Hotel
From 80€ per night, this hotel in the center of Faro offers spacious, fully-equipped rooms with sea views.
Enjoy the view of Faro's marina and the Ria Formosa natural park. The hotel also offers many services, such as a spa, a traditional restaurant, and beauty treatments. 
Conclusion visit Algarve
Your choice to visit the Algarve is the right one. Your visit to the Algarve will be your favorite vacation between a pleasant climate and cosmopolitan and animated areas. Also, wild natural landscapes, magnificent beaches, caves, and an omnipresent culture and tradition.
So, don't hesitate any longer and discover this magnificent region of Portugal. Algarve offers surf spots, vineyards, golf courses, atypical villages, strong culture, and good gastronomy. In short, a stay that promises to be more than perfect!
So, what's your thought? Is Algarve worth visiting for you? What are the Best things to do in Algarve according to you?
FAQ About Visiting Algarve