There is no close location to Times Square. From the renowned naked cowboy to the masked figures (staring at you, Spidey), Broadway plays, and the famed ball drop on New Year's Eve, this New York City location is one of a kind—and more.
Times Square is frequently called the "crossroads of the world" for a reason. It's one of the world's most popular tourist attractions, with an average of 300,000 people every day and a million on New Year's Eve.
Manhattan's Midtown neighborhood includes 42nd to 47th Streets, from Broadway to Seventh Avenue, and Broadway to 42nd Street. Times Square–42nd Street/Port Authority Bus Terminal station is where you'll need to get on the subway, and it's linked to almost every line.
There's a lot to see and do in this region, so we've put up a guide to help you navigate your way about. In addition, some essential facts regarding New York Times Square may be found here.
You May Also Read: 

Things To Do in Times Square for Birthdays 

Things to Do in Times Square with Kids

Walking around Times Square at Night

Free Things to Do in Times Square at Night

Is Times Square Safe at Night? Everything You Need To Know About Times Square
Is Times Square safe at night?
Times Square is safe at night for the visitor as the place wakes up at night. It is secure until midnight when the shows are going to end. But After midnight to noon of the next day, it is suggested to avoid the dark or less crowded places alone.
There are some tips to be safe in Times Square. The yellow taxis with ID numbers in Manhattan are easy to see if you're trying to avoid being scammed by unlicensed drivers.
The wallet should be in your front pocket, while the bag should be closed and carried in front of you or on the side while riding packed subways. The New York City Police Department may be contacted at 311 or 911 in the event of an emergency.
Is Times Square safe to walk at night?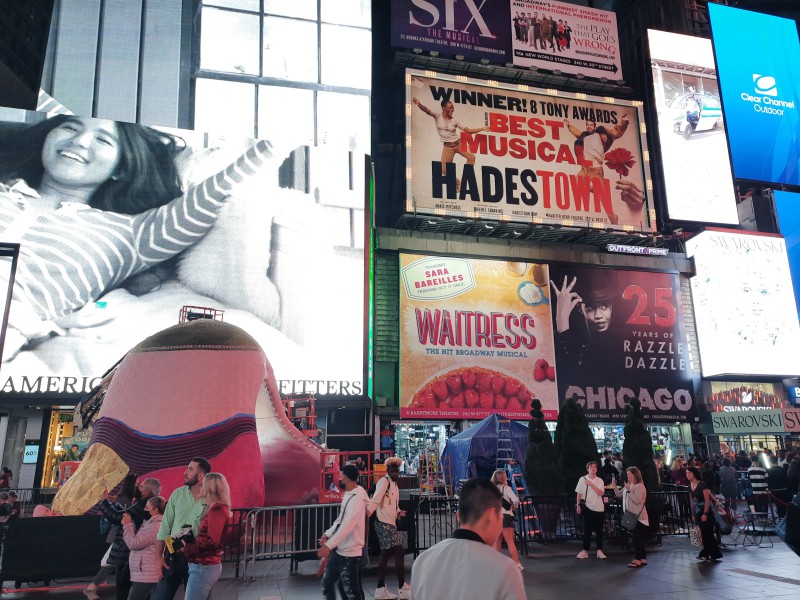 It is entirely safe to walk in Times Square at night after you have enjoyed your night theater show. However, not only in this area but also in any region in the world, you should always be careful while walking at night either with your family or alone. Be alert and open your eyes and ears for danger.
If you feel a little drunk or have any weakness, try to get help from people to choose your taxi or walking route. 
Is Times Square safe to visit?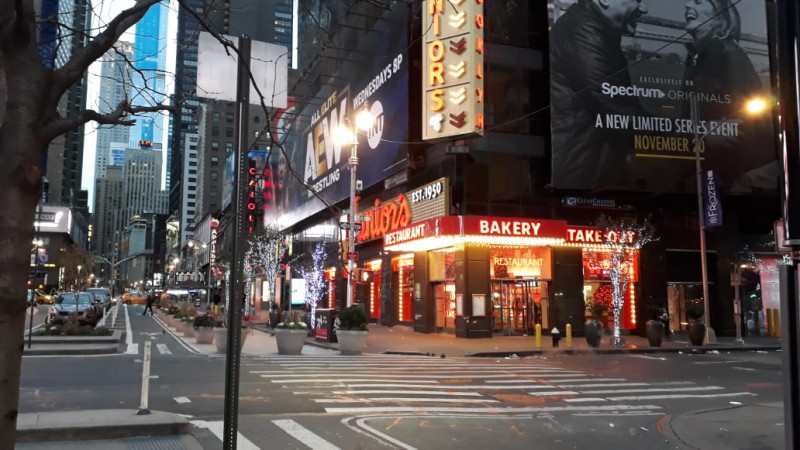 According to the NYPD, despite the huge number of tourists visiting this place, especially on New Year's occasion, it is entirely safe to visit. People can easily walk alone, or women can walk around times square. But, yes, you should always be aware, and it is suggested to travel in a group or not to walk in the dark.
After learning about Times Square's enticing aspects, you may have already planned your visit. But there's more! What are your thoughts on the matter of safety? Because Times Square is the world's busiest site, safety is a major issue.
Is Times Square safe for tourists?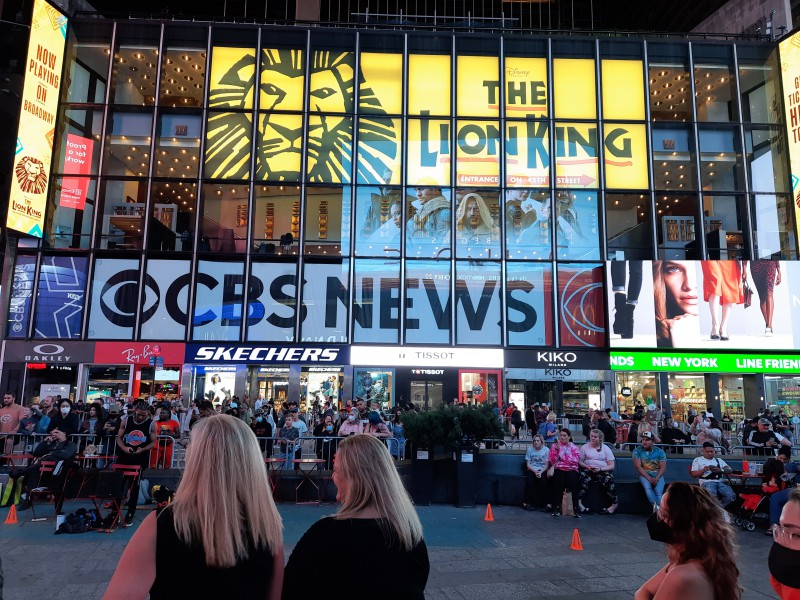 According to the NYPD, Times Square is safe for tourists as the crime rate, and security procedures are increased over the last 5 years. Almost every corner of Times Square is covered by structured police controlling system.
It is always recommended to avoid the subway after midnight and alone, especially if you are a woman. Even if you are a man, avoiding the subway after midnight is safe.
Why is Times Square famous?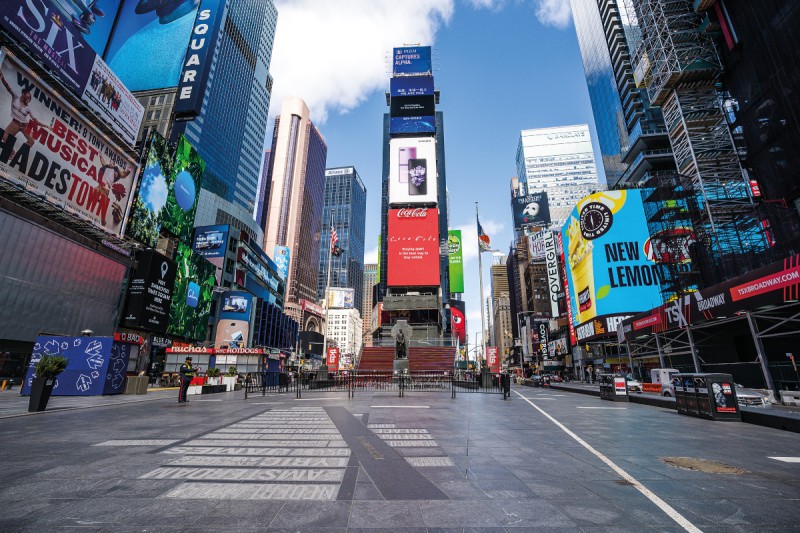 The sheer number of theaters in Times Square, Broadway, Lincoln Center, and the Theater District is the major factor in the area's popularity. Glitzy advertising, colorful individuals, well-known locations, and award-winning performance abound in Times Square. In addition, there are lights at Times Square that can be seen from outer space.
Some billboards may take up the whole side of a building and cost as much as $500,000 a month to advertise on them. If you have an embedded camera, you may see yourself projected onto a Times Square billboard.
A visit to the M&M'S shop or Hershey's Chocolate World is a must for anybody with an insatiable sweet appetite. In addition, several flagship shops in the center of Times Square offer a wide range of well-known brands.
The Naked Cowboy is also a well-known attraction in Times Square. In just his underpants, a cowboy hat, and a pair of cowboy boots, he sings and poses for photographs with visitors come rain or shine.
What is unique about Times Square?
There is a wide variety of stuff to do, watch, dine, and shop at Times Square. Street entertainment, museum and gallery exploration, and award-winning Broadway productions may all be found here. In addition, Madame Tussauds Wax Museum and Ripley's Believe It or Not! a museum may be located in this open space.
Red bleachers at Times Square's Father Duffy Square have long been a mainstay of visitors. The Times Square TKTS book is located behind the 27 ruby red stairs, which climb 16 feet above Times Square and offer cheap day-of-performance tickets. Neon lights and billboards abound, and the view of the Milky Way from here is spectacular.
Events abound at Times Square at all times of the year. There's always something happening in or near the plaza during a national holiday. On Valentine's Day, for example, couples from all over the globe gather in Times Square to renew their vows or to tell their love story.
Bryant Park is located just east of Times Square, making it much easier to get there. Bryant Park is a lovely spot to relax in the summer, and in the winter, it transforms into Citipond, a skating rink! A short distance east of Bryant Park is the New York Public Library and the Chrysler Building.
The Empire State Building, the other well-known skyscraper in Midtown Manhattan, is located just south of Times Square. Macy's main store and Herald Square are other great places to shop. Madison Square Garden is located near Macy's.
Lastly, to the west of Times Square lies the hip Midtown West neighborhood Hell's Kitchen, also known as Clinton. Off-Broadway plays, shops, and a wide variety of eateries and cafés may all be found in Hell's Kitchen.
Why do people love Times Square?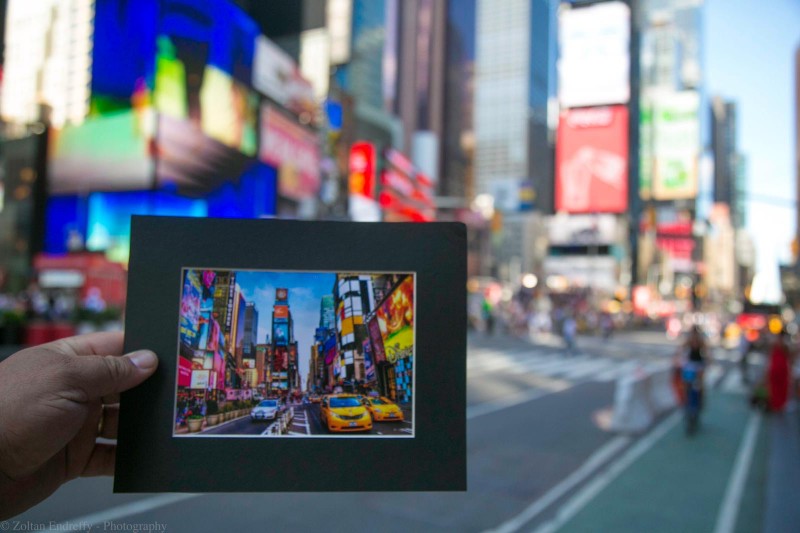 What makes Times Square so unique, and why is it the most popular tourist attraction in the world? But unfortunately, the statement must stop here since Times Square and everything it stands for cannot be defined precisely.
People from all over the globe congregate in one area, and Times Square undergoes ongoing metamorphosis, which may be what sets it apart from other locations in New York and the rest of the world.
Bars, restaurants, theaters, and museums abound in Times Square, which also has a lively nightlife. Times Square lights up the city at night, and residents and visitors are stunned by the city's most renowned square.
Is Times Square a good place to live?
It is without a doubt the city's most precisely placed neighborhood. The central position and easy access to the rest of the city are unbeatable. There is no better area to reside if you want to be close to Subway.
Also, there are some problems too. This place is significantly light polluted and costly. And it has to be. If you have enough cash to maintain the cost and you want to wake up in a city every day that never sleeps, Times Square can be an ideal place to live.
Do New Yorkers avoid Times Square?
Usually, New Yorkers avoid Time Square except if they are attending a Broadway show. Usually, local New Yorkers are not getting any thrill with these regular naked cowboys or the Superheroes. But, if there are any new show that comes up or any new event, they go there with their FnF.
Yes, it's an eye-opening location with all of the lights, clubs, and touristy museums such as the world-famous Wax Museum. However, bargains are scarce, and prices are exorbitant compared to the rest of Manhattan.
Is Time Square always busy?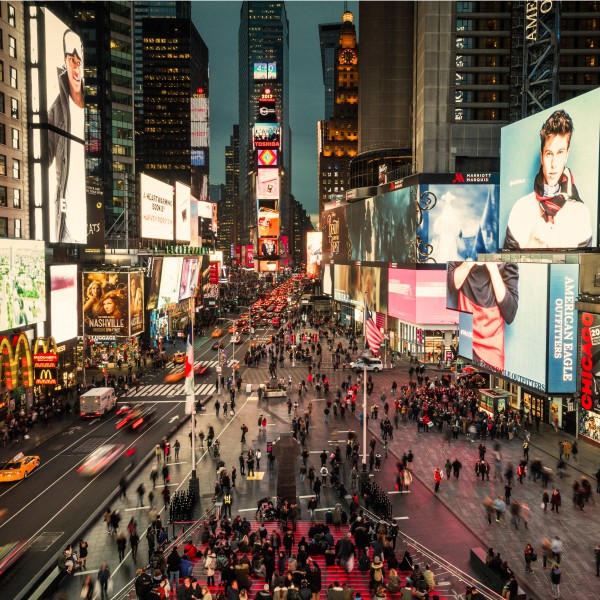 Time square is always busy, but this place has the lowest crowd after midnight and before morning. This place is mostly crowded from afternoon to midnight. Time Square is called the "crossroads of the world" as this place has the most people visiting than the other places. 
According to the Times Square Alliance, which represents the district's businesses, more than 300,000 people usually stroll through the neighborhood daily, around 20% less than pre-pandemic levels.
Is Times Square better at night?
Times Square is prominent for its colorful lighting at night. The broadway show and vivid colors of restaurants make the palace beautiful. Visit Times Square at 6 or 7 p.m., just before the Broadway performances begin, if you want to see it at its best. The crowds and lights will appear to be the biggest at this time.
Is Times Square worth visiting?
In a single word, yes- a visit to Times Square is entirely worth it. What will you not see there? The broadway shows, mesmerizing billboards, lights, the naked cowboy, costumed superheroes, multi-cuisine restaurants… What else do you want to make your memory colorful?
However, here are a few pointers: many of dressed characters want to take pictures with you. They do want payment as a tip! And be cautious. Others will rush in and demand money, even if you only want a picture with one character.
Is Times Square dog friendly?
On regular days, when there are no special events or occasions, walking with your pet or dog in Times Square is safe. Having the dog fastened with a belt is advised, or you can carry it in a bag. But, on occasion or event day, it is not suggested to carry your pet.
Most of the hotels near Times Square are pet friendly. They allow tourists to stay with their dogs or any other pets. But they do charge for them according to their weight.
Is Times Square free?
Although there is no entrance cost for Times Square, several sections in the region where New Year's Eve festivities take place will require people to buy access tickets. The cost of the admittance tickets varies depending on the location and events.
Is Times Square expensive?
When you are explicitly talking about Times Square's expansiveness, it is obvious that it is costly. It is a tourist spot, and people are making their living by selling souvenirs and their arts. Also, the position of Times Square impacts its expensiveness.
For this reason, most local New Yorkers usually avoid visiting there. However, if you are a first-time visitor with a budget limit, you should be very careful and clear before buying anything from there.
Is Times Square lit up all night?
There is a saying that Times Square shows her beauty at night. At night, the billboard's lights, music, and all the signboards lit up and remained on all night. There are some nightclubs also that are open all night. After midnight, the lights will shut off gradually to prepare for the next night.
Is Times Square overrated?
Not always overrated, but it depends on how you view it. Amazing Broadway productions and fantastic shopping can always be found in the Times Square neighborhood owing to intense competition and considerably better bargains. Additionally, it is constantly bright at night, so bring your shades.
Is Times Square near Central Park?
Times Square is the hourglass-shaped region created where Broadway crosses Seventh Avenue after traveling diagonally across the grid of streets; the intersection of 45th Street and Seventh Avenue is considered the heart of Times Square. Between 59th and 110th Streets, Central Park is located between Fifth Avenue and Central Park West, a continuation of Eighth Avenue.