The 15 Most Beautiful Beaches in France You Should Go For Vacation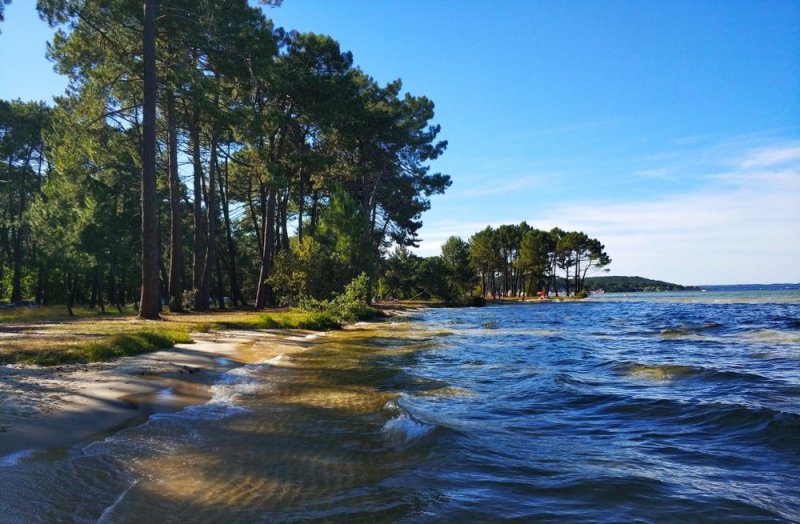 Last Updated on 14/05/2022 by Alfred
Want to relax in the sun and swim in crystal clear waters? These are the 15 most beautiful beaches in France where you can relax with your towel in a natural setting!
With more than 10,000 kilometers of coastline, France is full of maritime treasures. On its coasts, sometimes sandy, sometimes rocky, many beaches delight lovers of the sea and the ocean. 
Even if they are not as paradisiacal or as famous as those of the Caribbean, Oceania, or Asia, the most beautiful beaches in France still offer varied and magnificent landscapes that are worth a visit.
The beaches offer stretches of white sand or small pebbles, populated by holidaymakers or hidden in the shelter of a cove, golden dunes of golden cliffs, wild landscapes, or elegant coastal houses suitable for swimming or water sports.
You will inevitably find your happiness as the French beaches are unique and different from each other. 
If you do not yet know which one to choose for your next vacation, follow our recommendations and discover France's 15 most beautiful beaches.
The 15 Most Beautiful Beaches in France
1. Beach of Little Sperone, Bonifacio (South Corsica)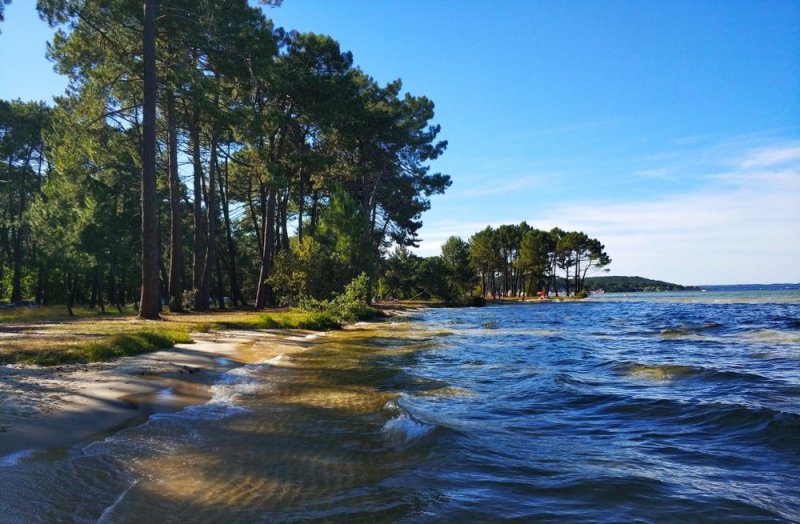 A true haven of peace very appreciated by Bonifacians, the beach of Petit Sperone offers a unique panorama of the Lavezzi Islands. 
Accessible after a short walk through small dunes and bushes, it is one of the most beautiful beaches in the south of Corsica: turquoise sea, fine sand, cove with clear waters, etc.
We prefer the early morning or the very end of the afternoon, rather out of season, to have a good location because the beach is not very large and can be quickly filled.
2. Pampelonne Beach, Saint-Tropez (Var)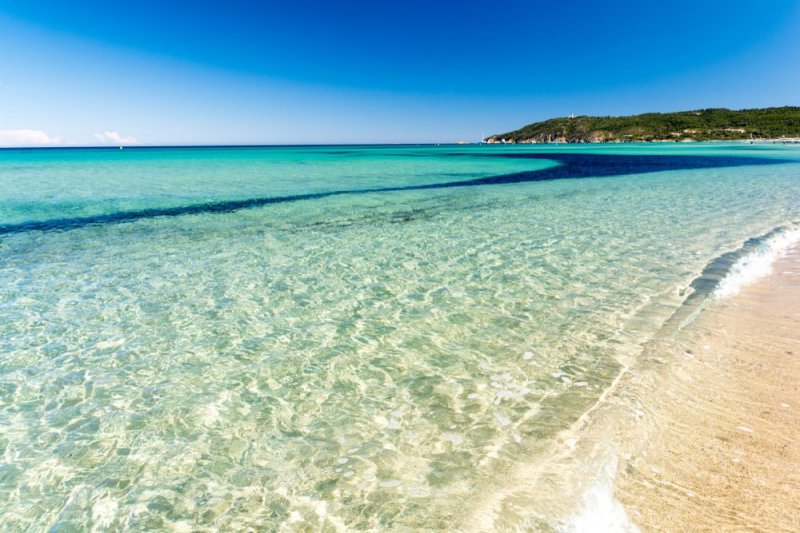 Made famous by Brigitte Bardot in the film And God created the woman, the beach of Pampelonne is a must if you are passing through Saint-Tropez. 
This long stretch of 4 kilometers of white sand is one of the most beautiful beaches in France and invites you to swim and relax there.
Divided between a naturist area, a private area with deckchairs, and a public beach, it is located in a splendid bay where the azure blue of the water and the green of the forest mix in perfect harmony.
3. Côte des Basques Beach, Biarritz (Pyrénées-Atlantiques)
Among the many charms and attractions of Biarritz, its city beach is largely at the top of the list. A paradise for surfers, the Côte des Basques is one of the most wonderful beaches in France. 
Surrounded by cliffs, it offers a magnificent view of the mountains of the Spanish coast and the Rock of the Virgin. At high tide, this vast expanse of fine sand disappears completely.
4. Virgin Island Beach, Crozon (Finistère)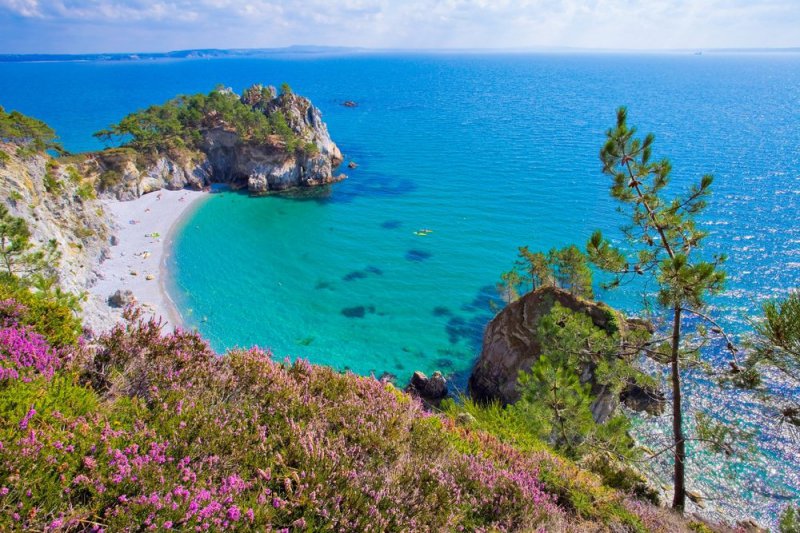 There are few tourists on Crozon, a virgin island with a wild beach. Since Virgin Island's beaches can be quite difficult to reach, they deserve their place of honor. But once you get to this great cove, you won't regret it.
Its translucent waters and the maritime pines surrounding it give it a Mediterranean feel, and its pebble beach adds to the authentic feel. 
If you are not chilly, you can swim in this unusual setting, which the peninsula's inhabitants exceptionally preserve.
5. Paloma Beach, Saint-Jean-Cap-Ferrat (Alpes-Maritimes)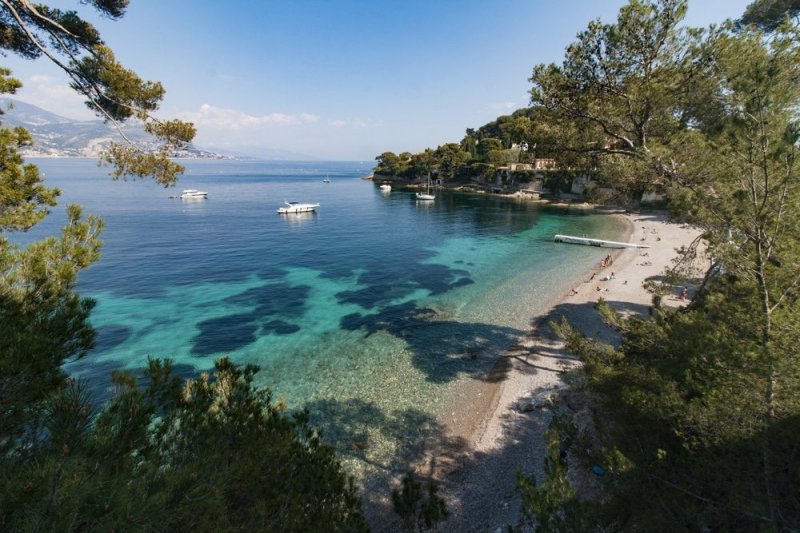 Paloma Beach is known to all locals and visitors to Saint-Jean-Cap-Ferrat and is one of the most scenic beaches in France.
It is composed of several small coves framed by many pine trees and wild nature. The view of the turquoise waters of Anse de la Scaletta with the villages of Èze and Beaulieu in the background is a real postcard setting, typical of the south of France.
6. Le Touquet Beach (Pas-de-Calais)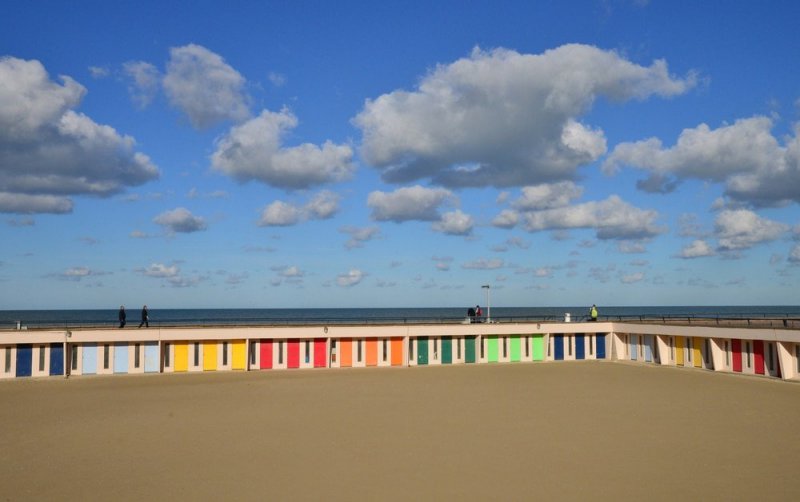 Nicknamed the Arcachon of the north, Le Touquet is a seaside resort very popular with Parisians. Le Touquet beach is for you if sunsets over the sea and sand yachting are your passions.
12 kilometers long, it is surrounded by dunes and pine forest, and you can easily walk on its ledge on foot, by bike, or on horseback while enjoying a splendid view of the bay of Canche. 
North of the beach, the Estuary Park allows you to discover the local fauna.
7. Saleccia beach, Agriates desert (Haute-Corse)
Considered one of the most picturesque beaches in Corsica, the beach of Saleccia welcomes you in a preserved and bucolic setting. 
Lined with pines and junipers, this slight stretch of white sand offers you a unique panorama of the mountains of Cap Corse.
Its turquoise waters, wild environment, and intoxicating floral scents would almost make you believe that you are on an island in the heart of the Indian Ocean or the Caribbean. 
A paradise corner that largely deserves its beach in our list of the most beautiful beaches in France.
8. Notre Dame Beach, Porquerolles Island (Var)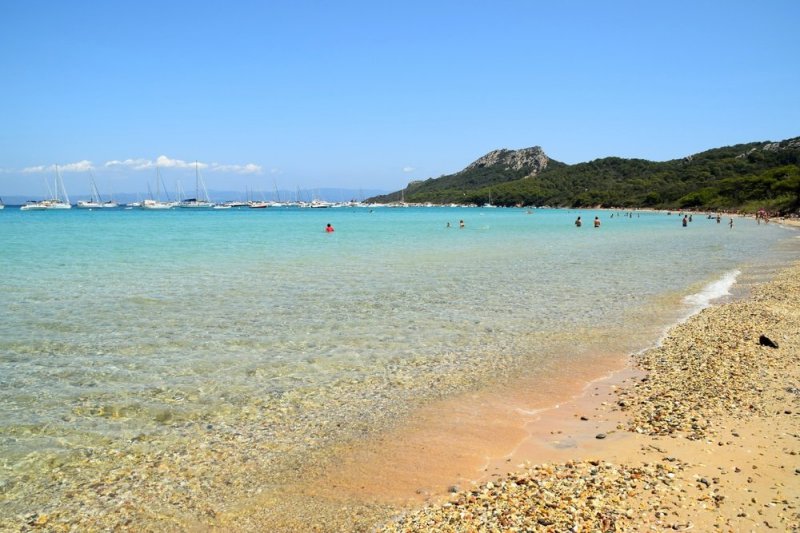 Umbrella pines, crystal clear water, fine sand, light breeze: everything at Notre Dame beach invites you to relax and escape. 
Located in the north of the island, it is less crowded than other beaches closer to the port. Quiet and exotic, you can access it by several paths surrounded by shrubs, heather bushes, and stairs. 
A re-revegetation program is currently underway to preserve the beach's environment and raise awareness among visitors.
9. Deauville Beach (Calvados)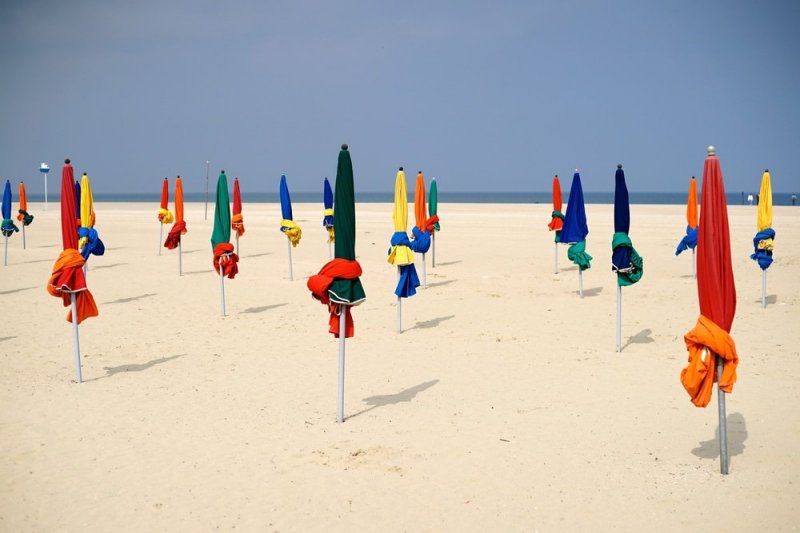 How can we talk about the most attractive beaches in France without mentioning the famous and romantic one in Deauville? 
On this large stretch of white sand, you can stroll on its famous boards, relax in the shade of one of its many colorful umbrellas, rent a small wooden cabin or have a drink watching the brave bathers venture into the calm waters of the English Channel.
You can also practice sand yachting when the tide is low or try to spot celebrities at the American Film Festival (every year in September).
10. Beach of Lake Navarrosse, Biscarrosse (Landes)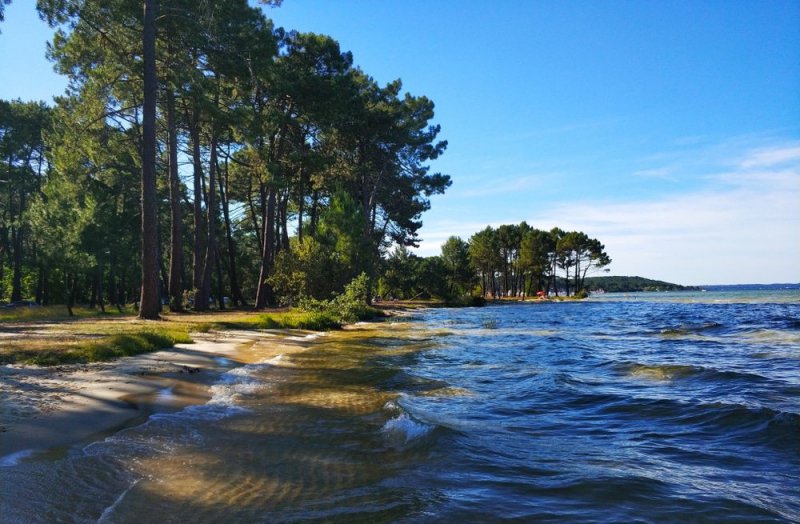 Located on the shores of the lake, Navarrosse beach is particularly popular with families. Surrounded by pine trees, it is easily accessible, and the water temperature varies between 24 and 28 degrees. 
The shallow depth of the water, the surrounding golden and green vegetation, and the friendly atmosphere that reigns there makes it a little corner of paradise for lovers of swimming and idleness.
11. Sillon Beach, Saint-Malo (Ille-et-Vilaine)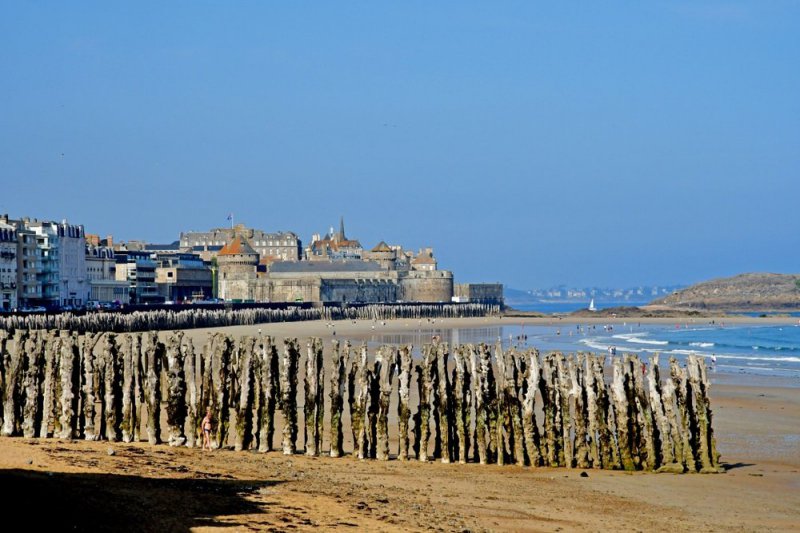 The beach of Sillon, also called Grande Plage, is located between the national fort of Saint-Malo and the tip of Rochebonne. 
Windsurfing, kite-flying, running, and sand yachting enthusiasts enjoy it at low tide.
From this 3-kilometer stretch of white sand that is one of the most beautiful beaches in France, you can admire the Paramé Dike and its magnificent Falkland Islands villas. 
Its famous breakwaters protect bathers and walkers when the sea is too rough.
12. Palombaggia Beach, Porto-Vecchio (South Corsica)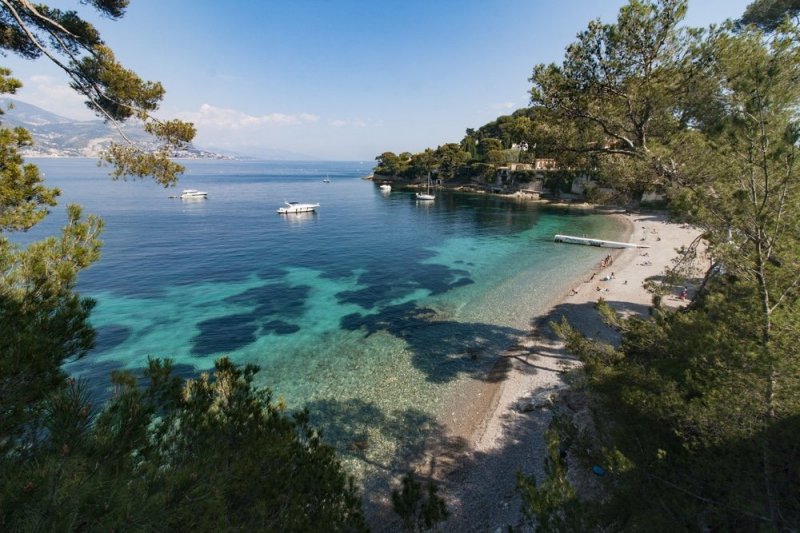 On the Island of Beauty, everyone – from north to south, from east to west – knows the beach of Palombaggia, located in Porto-Vecchio. 
Separated into several areas by rocks, this stretch of extra-fine sand with turquoise waters is the delight of locals and tourists alike.
You will find huts, private areas, and water sports spots to the north. In the center, the beach is public and lined with small dunes and large maritime pines.
13.Etretat Beach (Seine-Maritime)
A must-see seaside resort in Normandy, Etretat has one of the most beautiful beaches in France. The expanse of pebbles surrounded by limestone cliffs is famous for its natural arches.
The soft light of the surroundings and the wild side of the beach make it a trendy place for painters. 
You can easily practice sailing, diving, surfing, or fishing. The seafront promenade also offers charming maritime panoramas.
14.Hendaye Beach (Pyrénées-Atlantiques)
Passing through Hendaye, do not miss its superb beach offering a splendid view of the Pyrenees. The largest sandy beach on the Basque coast (3 kilometers), Hendaye beach is very popular with surfers and families. 
The beach is surrounded by small hills and typical houses and is one of the quietest and most pleasant.
Note: Be aware that the part in the far north is reserved for naturists.
15. Saint-Clair Beach, Le Lavandou (Var)
Nicknamed La Perle by the inhabitants of Le Lavandou, the beach of Saint-Clair is a small jewel of fine sand with turquoise waters. 
Located east of the city center, it is very popular with scuba diving and snorkeling enthusiasts, especially around the rocky tip "La Baleine." 
Follow the coastal path to access this haven of peace surrounded by tall palm trees and enjoy a breathtaking view of the islands of Hyères from one of the most beautiful beaches in France.