France is full of wonders, so why not go on a trip to discover these villages that make the country's reputation! Here are 20 of the most charming villages in France.
Going far away is good, but do you know that paradise has little corners near you? Discover France and its most beautiful villages.
This ranking of the 20 most beautiful villages in France will help you choose where to go for a special weekend or holiday.
The 20 Most Charming Villages In France
1. Domme, Dordogne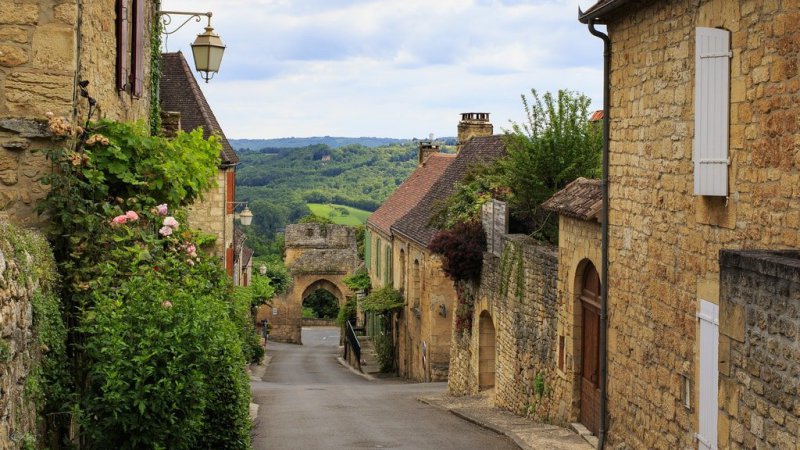 Perched on a vertiginous cliff, Domme is one of the most charming villages in France that enjoys an exceptional view of the Dordogne valley. 
Its location in the Périgord Noir and the harmony of its buildings make this old medieval bastide, a village, very popular with travelers.
2. Gordes, Vaucluse
The village of Gordes lies in the heart of the Mont du Vaucluse and Luberon Natural Park. Gordes is one of the most beautiful villages in France for its beauty and architecture, and heritage richness.
3. Saint-Guilhem-le-Désert, Hérault
Place of the passage of many hikes, Saint-Guilhem-Le-Désert (near Montpellier) is a village-like nowhere else. 
A true jewel of Languedoc Romanesque art, its abbey is a UNESCO World Heritage Site. Its picturesque streets will offer you small stalls of local artisans.
4. Gerberoy, Picardy
The mix of half-timbering and bricks creates a charming atmosphere that will delight many. Thanks to its majestic climbing roses, this unique spot becomes a non-traditional rose garden in the spring. 
In Gerberoy, you will discover a part of history through its many stones, from the ruins of the old fortress to the cobbled streets.
5. Conques, Aveyron
Stage of the Way of Santiago de Compostela, Conques is a natural architectural and historical pearl. 
Long considered an essential sanctuary of relics, this village, among the most picturesque in France, is known for its abbey church. Conques is a symbolic place of the Catholic religion and a place you should not miss exploring.
6. Olargues, Herault
Olargues is the perfect mix of different eras, from the old keep of the medieval castle to its church. Symbolized by its name, Le Pont du Diable, Olargues' bridge has all the attributes needed to attract many visitors.
7. Rocamadour, Lot
The Lot is a department full of beauty, and Rocamadour is proof of this. This cliffside village is not a simple village but a religious city. It houses many religious monuments accessible by the Grand Staircase.
8. Eguisheim, Alsace
Alsace still shows us with Eguisheim that it has many treasures. The village is one of the prettiest in France. It is also one of the most flowery. 
Located on gentle hills planted with many vines, it is also the cradle of the Alsatian vineyard. This small village will have something to seduce gourmets and lovers of beautiful stones.
9. Sainte-Enimie, Lozère
It is not because Lozère is the least populated department in France that it does not contain real wonders, and Sainte-Enimie is proof of this. 
This medieval city takes its name from a legend that tells that the source of Burle, which is at its feet, would have treated the princess Enimie with leprosy. 
This symbolic place of the Gorges du Tarn is very popular with travelers for its beauty and calm.
10. Beuvron-en-Auge, Calvados
Formerly a duchy held by the Harcourt family of which only ruins remain, Beuvron-en-Auge is a village that has established itself in history. 
Its various historic mansions attract many visitors because of their beauty. Walking in Beuvron-en-Auge is a real moment of pleasure and tranquility.
11. Les Baux-de-Provence, Bouches-du-Rhône
Les Baux-de-Provence, a small, almost magical village in a beautiful setting, is in the heart of the Alpilles Natural Park. 
This village is a must for artists, craftsmen, and other producers. Proof of this is the career of Lumières, who was immersed in the works of different artists.
12. Piana, Corsica
The Island of Beauty does not bear his name by chance, and Piana is one of its spearheads. 
The village is located in a paradisiacal setting near the pink granite creeks listed as World Heritage sites by UNESCO. Its white houses arranged in an arc along the coast give it a new charm.
13. Collonges-la-Rouge, Corrèze
Nicknamed the City of Twenty-Five Tours, this village is not part of France's most aesthetically pleasing villages by coincidence. 
The originality of its red color comes from the stone used red sandstone. Collonges-La-Rouge has many stories to tell through its buildings.
14. Saint-Cirq-Lapopie, Lot
From the top of its cliff, Saint-Cirq-Lapopie dominates a meander of the Lot. This medieval village has 13 historical monuments, ranking it among the must-see sites to visit in the Lot Valley. 
Its church is one of the city's emblems since it overlooks the entire village.
15. Salers, Cantal
In the heights of the Regional Natural Park of the Volcanoes of Auvergne is a small village called Salers. With buildings built of volcanic stone dating back to the 16th century, it has an austere feel. 
However, when the village is decked out in white during the winter, the contrast between the black stone and the snow is like something straight out of a fairytale.
16. Rousillon, Vaucluse
At the heart of the largest ochre deposit in the world, Roussillon is a firework of colors and light. 
Over the centuries, this village has developed know-how unlike any other. It is a magical place, full of colors to discover through its alleys and houses.
17. Najac, Aveyron
Overlooked by a fortress, the village of Najac is drawn along a rocky ridge located above the Aveyron valley. 
Reaching the highest point of the dungeon will allow you to admire a unique view. Many monuments make Najac one of the most scenic villages in France.
18. Locronan, Finistère
Endowed with important cultural heritage, the village of Locronan stands out for its architecture. The Church of St. Ronan, the Irish bishop who gave his name to the village, is a wonder that has persisted through time. 
Its granite houses dating from the Renaissance give it a very authentic charm.
19. Barfleur, Manche
The smallest town in the Manche department, which ranks among the most wonderful villages in France, has been a port since the Middle Ages. 
This place has stood the test of time and is part of one of the villages liberated by the Americans in June 1944. 
It is a village to discover for the charm of its old granite buildings and history.
20. Walnut, Burgundy
Whether it is a medieval city or a wine-growing community, Noyers gives a very varied impression of its offer. 
From aristocratic hotels to winegrowers' houses to old chapels, this small village is a place where time has stood still. Often chosen for film shoots, walking in Noyers will immerse you in a world of magic and wonder.
On our side, we still have many villages to explore. Of course, this list is non-exhaustive, so do not hesitate to comment on the article to tell us what is for you the most charming village in France and how many of them you have visited!