Is Pensacola beach worth visiting? Pensacola Beach is one of the top-rated tourist spots in the U.S. Especially if you are a beach person; you need to visit Pensacola at least once. Considering the pearl white beach and the glossy clear water, you'll finally have something fun to post on your Instagram. 
Pensacola Beach is right in the heart of Florida, with its pier being close to the Gulf of Mexico. With thousands of tourists visiting every year, the beach is crowded during summer. It's a place to keep on your bucket list.
Hence, if you are passionate about visiting one of the best beaches in the U.S, keep reading. 
Is Pensacola Beach Worth Visiting?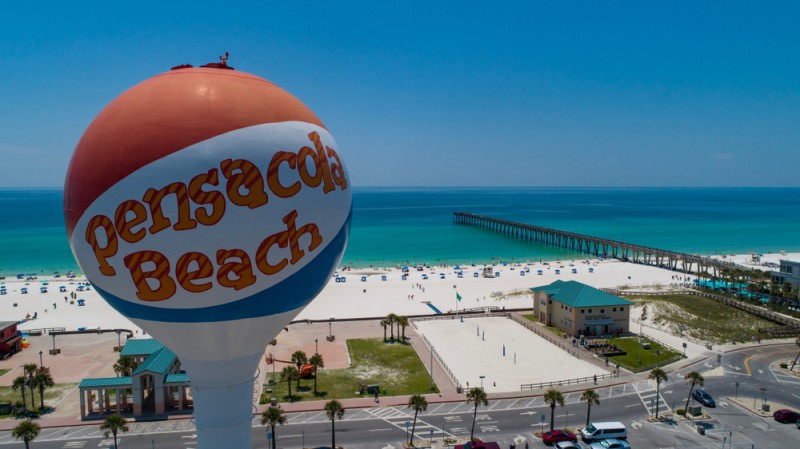 This is a question whose answer depends on the person who is visiting. If you are someone who enjoys beaches and wild parties, Pensacola Beach is worth visiting and a must-visit destination.
With the beach's magnificent view and hot weather, it's a beautiful place to be in for a vacation. And the beach's crystal white sand stretches for eight miles, meaning will need a lot of time exploring the beach itself. 
Is Pensacola Beach Nice?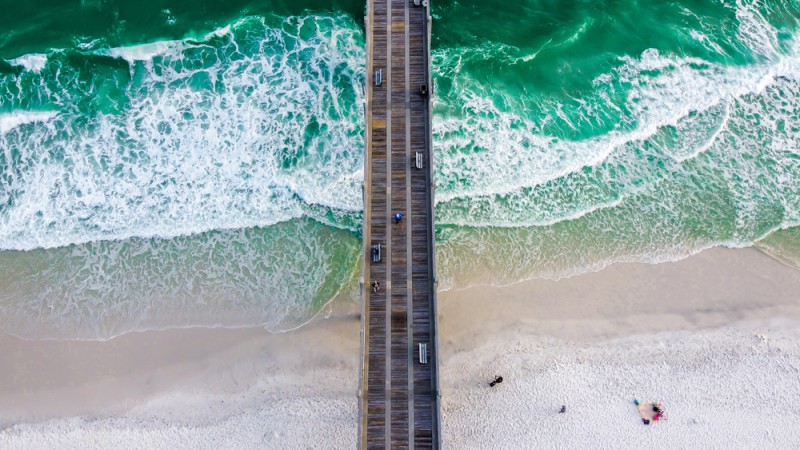 The one-word answer is yes! Pensacola Beach is very nice and worth a visit. 
It's a very relaxing and calm spot. You can relax and take your mind off of all the worldly affairs during your time staying in Pensacola. Not to mention the crazy parties, live music almost 24/7, and a secured beach to walk through.
Pensacola Beach has been voted number 1, in the best beaches in Florida category in 2018 by USA TODAY readers. 
Where Is Pensacola Beach?
Pensacola Beach is situated in Florida, in the states. Pensacola is a beautiful place with lots of diversity of people on Santa Rosa Island in Florida. The sheer environment and beauty of the place attract thousands a year.
Pensacola is on the north side of Pensacola Bay, which is located in Escambia County, Florida. Home to almost fifty-two thousand people.
Is Pensacola Beach Open 24 Hours?
Pensacola Beach is open twenty-four hours. It is public property, therefore, the beach does not have any fixated opening or closing time. 
'However, most people start showing up at the beach after sunrise and leave after sunset, which varies from time to time. This is why it is said that the beach is guarded 24/7, but it is not.
.Most lifeguards leave after sunset. The beach chairs are also removed after the sun goes down too.
Is Pensacola Beach Water Clear?
Pensacola is known for having pearl white sand and crystal clear water. The water's blue and clear. Perfect for surfing or swimming. The clear blue water is what attracts the tourists the most.
Lots of fishermen and surfers are seen on the beach because of the water. The secret behind the water is that Pensacola has built-in drainage. This means the wastage does not go into the water and pollutes it from time to time.
What Is Pensacola Beach Known For?
Pensacola is known for its beautiful beach and fresh, clear water. The beach is also popular for nature's scenery and wildlife. U.S Navy's elite squadron, Blue Angels, is home to Pensacola too. Another reason why it's so famous.
Pensacola is also known as "The City Of Five Flags" because of its political history of governments from different countries. The governments were France, Britain, Spain, Confederacy, and of course, the United States of America. 
Is Pensacola Beach An Island?
Pensacola Beach itself is not an island. But it is situated in one. The Santa Rosa Island in Escambia County, Florida, holds Pensacola Beach.
As Santa Rosa is a barrier island, locals also call Pensacola Beach a barrier island. Although Pensacola Beach has lots of tourists, it has helped improve Santa Rosa's environment over the years.
Is Pensacola Beach Man-made?
Pensacola Beach is not man-made. It is a natural beach. However, some changes

have been made after the United States Interior Administration took it into public interest in 1947. But those were minor, and done for tourist purposes. 
This means Pensacola is not an artificial beach. It's a great place for you to enjoy solitude or enjoy time with family and friends while enjoying the spectacular views of the beach and the city.
Is Pensacola Beach Crowded?
Pensacola Beach sees people often. During summer, it's crowded the most. It is a long beach. This gives you the freedom to drive around and find a place that is less crowded. Nevertheless, if you like places that are loud and a little crowded, Pensacola Beach is the one for you. 
If you are more of a private person and prefer secluded places, maybe Pensacola won't be the best place. But then again, trading a little bit of privacy for beautiful skies and clear water sounds fair. 
Is Pensacola Beach Family Friendly?
Pensacola Beach is a great spot if you are going with your family on vacation. Not only is it family-friendly, but it's also one of the most family-friendly favored places in the U.S.
It is also a great place for kids too. The hotels in Pensacola have top no security systems, so you don't have to worry about your kids running anywhere unsafe. 
There are multiple activities you can do with your kids or family in Pensacola, and some are given just for idea purposes:
Exploring the beach
Swimming
Surfing
Dolphin Cruise
Volleyball at the beach
Pensacola Beach Gulf Pier and Board Walk 
Pensacola Science Hall
Pensacola Light House and Museum
Gulf Breeze Zoo
These are not even half of the stuff you can do. Keep in mind that these activities are not restricted to children only. Anyone can have access to it.
Does Pensacola Beach Close At Night?
As mentioned earlier, Pensacola Beach is public property, so there is no opening or closing time. However, most lifeguards go after sunset, with the beach chairs and everything.
Meaning if you want to swim at night, you will have no one to watch out for you. Since the chairs are taken away too, you can't do anything else except walk or go swimming, which is dangerous without lifeguards. The tidal waves are unbalanced at night. 
Not only these but most restaurants and bars also close at night too. Leaving you with very limited options to do anything. So it's best to do most activities during the daytime. The beach and the gulf pier are open at night. 
Nighttime will be perfect for you if you want a place of quiet while watching the sea from the pier.
Is Pensacola Beach Dangerous?
This part of the article itself can be a stumper for some people. But truth has to be told. As breathtaking as Pensacola Beach is, both the beach and water can be dangerous if you're not self-aware.
Sure, there are lifeguards and security, but in a public place that is crowdy most of the time, they can only do so much.
The water has strong waves from time to time and undercurrents too. So, if you are not aware of these, you might hurt yourself. A hefty number of deaths have been reported because people are unaware of the water's state, which leads to drowning.
Not just these, Pensacola has a crime rate of 85%, which is higher than a lot of states' cities and towns combined. This holds back a lot of people from visiting the place.
Another reason why Pensacola Beach might not be the safest is because of its wildlife. You know what to do if you are scared of sudden sharks or rattlesnakes.
Is Pensacola Beach Expensive?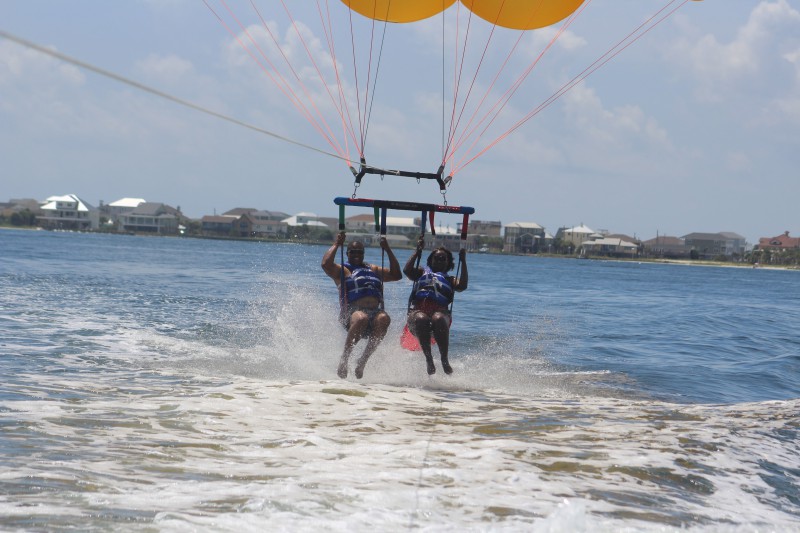 Pensacola Beach can be quite expensive if you don't keep an eye out and analyze the place before going. 
For example, if you are someone who is visiting alone, it should cost over $1000 for a 7-day trip. If you are a couple, expect to spend over $3000. Yeah, Pensacola will break the bank a little. 
However, if you do your research and analyze the cost of hotels and food. You can get a decent hotel, including meals under $200 for a 2 days trip if you are lucky. 
Final Thoughts
Pensacola is a great vacation spot to visit, especially during the summer. Tropical weather, beautiful long beach, with friendly locals. 
It is a place of history as well, with the Five Flags. People have access to the beach almost 24/7, although it is recommended to go after sunrise and return before sunset. The Beach has 8 miles to explore and is a barrier island.
The beach is family-friendly. So kids can have fun too. There are multiple places that your little ones can visit and have fun. Although Pensacola Beach can be crowdy, if you want some moments of silence, visiting the beach at night can be one of the best experiences for you. 
If you are aware enough and take all precautions, the experience won't be dangerous at all, instead, you can save some bucks and enjoy your time while staying, have fun!
Was the "Is Pensacola Beach Worth Visiting? Everything About Pensacola Beach" guide helpful to you?