Scuba Diving in French Riviera: Discover why scuba divers are attracted to the French Riviera's underwater world. The Mediterranean Sea offers a wide variety of dive sites with friendly marine encounters from Hyères to Menton. French Riviera is a famous place for scuba diving.
Why you should go Scuba Diving in French Riviera?
5 Reasons to go scuba Diving in French Riviera:
1. Exciting Dive Sites For All Ages
At Cap-Ferrat, Cap d'Antibes, or the Lerins Islands, beginner divers can swim through schools of sea bream while floating over grass-wrack fields.
The drop-offs from Nice to Menton descend to 40 to 60 m deep while surprisingly close to the shore. Scuba diving is possible off Cap d'Antibes from Golfe-Juan.
2. Historic Shipwrecks
The French Riviera is one of the best destinations for wreck diving lovers. Divers with more experience will enjoy the twin shipwrecks of the Grec and the Donator (maximum depths of respectively 40 and 55 m) in Port-Cros and Porquerolles National Park.
Cavalaire has also become a leading destination in Europe for deep wreck diving training thanks to the " Togo " shipwreck (maximum depth of 66 meters) and the " Rubis " submarine wreck (maximum depth of 40 meters).
3. Friendly Marine Encounters
Dive into the French Riviera to discover the underwater habitats of the many marine species found in the Mediterranean Sea.
Marine life thrives in the French Riviera thanks to its Natura 2000 marine reserves (Golfe-Juan-Cap d'Antibes-Lerins Islands) and France's first marine national park (Port-Cros and Porquerolles).
There are some friendly encounters with scuba divers, such as groupers, which are often curious about divers, and octopuses, which like to hide under rocks.
4. Quirky Underwater Monuments
Scuba divers who love unusual dives will enjoy the Fourmigue lighthouse in Golfe-Juan. Among other things, you can visit a miniature underwater village built as a setting for an animation film.
You should not miss the dive site named " Grotte de Miro " (Miro's Cave), which is home to a statue of Commander Le Prieur, the inventor of modern scuba diving.
5. Perfect Condition From June to October
France's French Riviera offers the mildest water temperatures on mainland France. As early as June, the temperature in the 20 m zone exceeds 20°C. August is a hot month, with water temperatures easily reaching 26°C.
During the late summer and autumn, the Mediterranean Sea has remarkable underwater visibility of 30 to 40 meters, comparable to some more exotic locations.
Which is the best time to go scuba diving in French Riviera?
From June to October is the perfect time to go scuba diving on French Riviera. At that time, the temperature and air pressure are suitable for enjoying the amazing underwater activity. 
| | | | | | | | | | | | | |
| --- | --- | --- | --- | --- | --- | --- | --- | --- | --- | --- | --- | --- |
| By Month | Jan. | Feb. | Mar. | Apr. | May | Jun. | Jul. | Aug. | Sep. | Oct. | Nov. | Dec. |
| Temperature | 9° | 11° | 14° | 16° | 19° | 23° | 26° | 23° | 18° | 13° | 10° | ° |
| Air Pressure | 14° | 13° | 13° | 16° | 18° | 21° | 23° | 25° | 23° | 20° | 17° | 15° |
Water and Air Temperature in French Riviera
5 Best Scuba Diving Sites for scuba Diving in French Riviera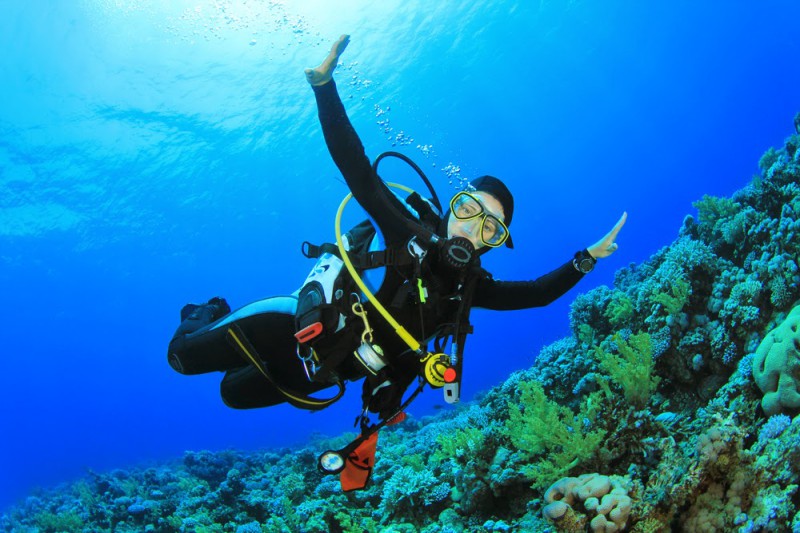 In France, the French Riviera has the highest concentration of dive sites from Hyères to Menton. During summer, from June to September, divers can enjoy the best water temperatures (18 to 26°C) and visibility (20 to 25 m). 
It's good to know that the water is still warm enough to dive in a wetsuit until November. There are a few spots that are perfect for learning to scuba dive. However, the depths of its mysterious shipwrecks and breathtaking walls are ideal for advanced divers trained in deep diving or tech diving.
Port-Cros National Park
Port-Cros National Park was created in the 1960s between Toulon and St-Tropez. After being protected for so long, it's no wonder French divers love diving there. "La Gabinière" is one of the most famous dive sites within the national park, where fishing is strictly forbidden.
But, here, large groupers are not afraid to check you out on a deep drift dive. It is one of the best spots to scuba dive on the French Riviera. 
Wreck diving in Cavalaire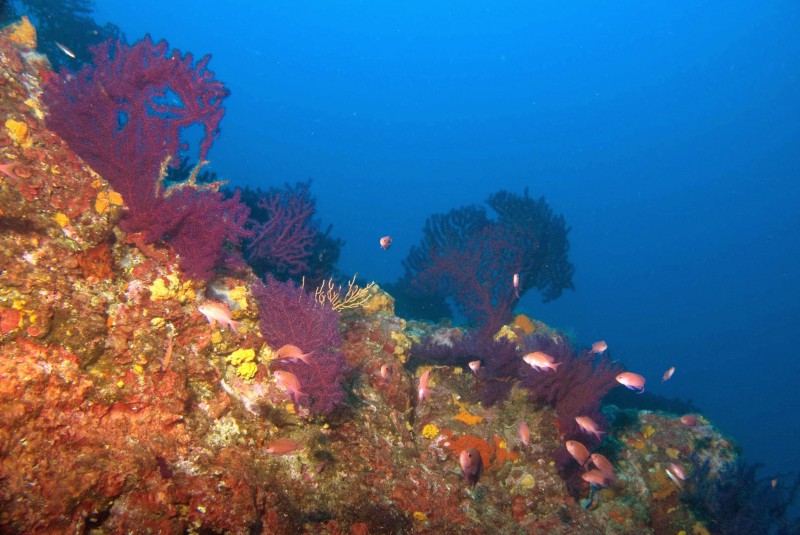 Thanks to the number of shipwrecks to explore, including the "Torpilleur 178", between 45 and 48 m deep, and the "Togo," between 47 and 58 m deep, Cavalaire has quickly become a popular place for wreck diving and advanced nitrox and trimix training.
In Cavalaire, recreational divers can also have fun as long as they are Advanced Open Water divers with a Deep Diver specialty. Would you like to explore the wreckage of a WWII submarine? There is only a maximum depth of 40 meters in the "Rubis."
Underwater macro photography in St-Raphael
Red rocks drop directly into the Mediterranean Sea in the Esterel mountain range. For marine biology or underwater photography enthusiasts, St-Raphael offers several dive sites. 
"Lion de Mer," a rocky islet with shallow waters for beginners and deep walls for more experienced divers, is one of them. Divers with an eagle eye will find colorful nudibranchs, curious hermit crabs, shy seahorses, and much more.
An underwater village in Golfe-Juan
You'll love diving at the "Fourmigue" lighthouse in Golfe-Juan, between Cannes and Antibes, if quirky dive sites are your thing. 
Divers of all levels can explore the miniature underwater village with a maximum depth of 15 meters. A movie set was built for it in the 1990s. Today, despite the failed filming project, the "village" still stands with several houses, a cathedral, a theater, and even a pyramid! Golfe-Juan is a great place for scuba diving on the French Riviera. 
Wall diving in Nice
It must be the easiest place in all of France to go scuba diving, not just on the French Riviera! Right in the city's heart, you can take a tram from the train station or the airport to the harbor. 
Several dive centers can take you on their boats to breathtaking deep walls in 10 to 20 minutes, including the excellent "Pointe Caussinière." At 30 to 35 meters, red and yellow gorgonians form elegant bouquets where moray eels hide and seek.
We hope you enjoyed reading this blog post about places to dive in the French Riviera.
If you like scuba diving, then there is no other place as good as French Riviera for scuba diving. Simply, Scuba diving in French Riviera is worth it. Go to the best season and explore the underwater beauty.
Simply scuba diving is the best thing to do on French Riviera. Don't forget to include it on your list before traveling to France's most amazing destination French Riviera. We hope the "Scuba Diving in French Riviera" guide was helpful to you.