Last Updated on 17/01/2022 by Alfred
The World's Largest Mangrove Forest: Sundarbans, Bangladesh
Sundarban is a natural wonder name, and it is the largest mangrove forest or saline forest in the world. About 10,000 square kilometers of Sundarbans are in Bangladesh, the rest in India.
Khulna, Satkhira, Bagerhat, Patuakhali, and Barguna are the Bangladeshi sections of the Sundarbans. UNESCO recognized the Sundarbans as World Heritage Site in 1997.
The biodiversity-rich Sundarbans will also be called the Museum of Organisms and Plants. The Sundarbans have a 1,874 square kilometer swell of rivers and bills.
Sundarbans is home to over 350 species of plants, 120 species of fish, 270 species of birds, 42 species of mammals, 35 reptiles, and eight ostriches.
There are about 120 species of fish in the region and over a hundred species of birds. The forest is named Sundarbans after the beautiful tree. The only way to get to the Sundarbans is by boat. Winter is the best time to go.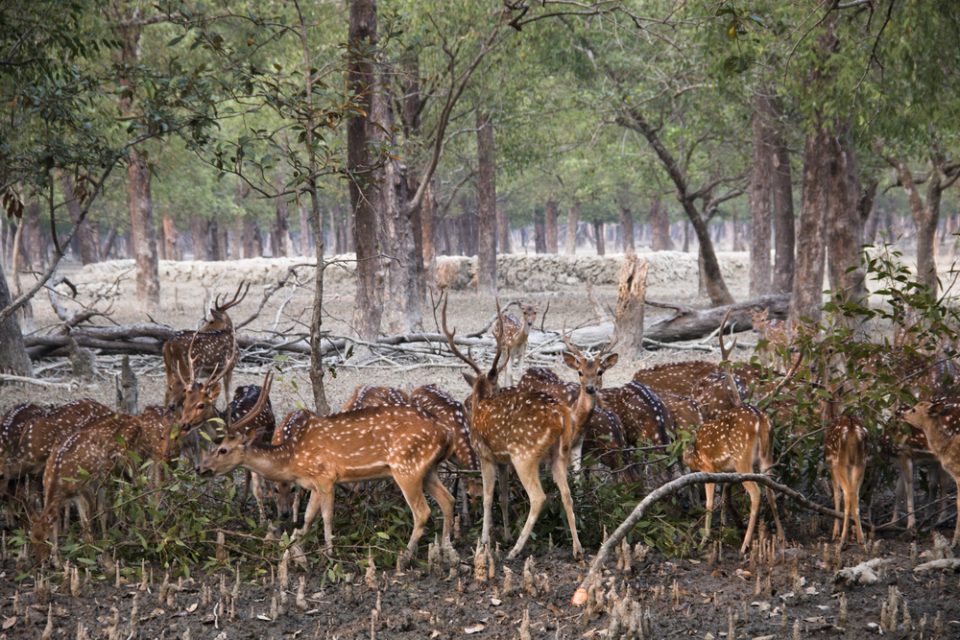 What is the best time to visit Sundarbans
The best time to visit Sundarbans is from September to March, with winter being the most pleasant season. The summer months can bring soaring temperatures, but they are an ideal time to visit the wildlife sanctuary.
Traveling in the monsoons with their full generosity in showers may be challenging, but the lush green surroundings may just make up for it.
Monthly Weather in Sundarbans
| Month | High/Low (°C) | Rain |
| --- | --- | --- |
| January | 23°/ 18° | 3 days |
| February | 25°/ 20° | 0 days |
| March | 29°/ 24° | 2 days |
| April | 30°/ 26° | 7 days |
| May | 32°/ 28° | 4 days |
| June | 32°/ 28° | 13 days |
| July | 31°/ 27° | 24 days |
| August | 30°/ 27° | 28 days |
| September | 31°/ 27° | 20 days |
| October | 31°/ 26° | 15 days |
| November | 28°/ 24° | 3 days |
| December | 25°/ 19° | 1 day |
Monthly weather in Sundarbans
Sundarbans in Summer (March-May) 
This is the season when most visitors and locals avoid visiting the park. It is usually between 30 and 42 degrees Celsius in the summer.
The region is also experiencing a water shortage in this season. Together, these factors cause the animals, especially tigers, to seek shade in the high trees, making them invisible to the naked eye.
Sundarbans in Monsoon (June – October) 
Rain is abundant during the monsoon months of June to September. After a long summer of scorching temperatures, the monsoon rains revitalize the delta.
During these months, rain provides relief from the summer heat for the animals.
Also, the temperature drops to between 25 and 35 degrees Celsius. Therefore, visiting the Sundarbans in the rainy season is quite risky, since the mud is everywhere and the water is quite high.
Sundarbans in Winter (November – February) 
It is the ideal time of year to experience the beauty of the Sundarbans. While the summers and monsoons bring oppressive heat and humidity, the winters are quite pleasant and even provide relief to the animals living on the premises.
The best time to explore the forests and enjoy the natural beauty of the region is during this season. Additionally, visitors have a better chance of spotting animals and bird species as they emerge from hiding.
The famous boat safari is also possible since the river is not overflooded and therefore not dangerous.
During the winter season, temperatures range between 10 degrees Celsius and 30 degrees Celsius, which is good for tourists since they can walk around and partake in activities without worrying about the weather.
What best places to visit in Sundarbans
Jamtala Beach: There's an observation tower there. From this tower, one can close one's eyes together on some part of Sundarbans' beauty. And if you have good luck, you can see deer or tigers from here.
Mandarbaria Beach: Part of Mandarbaria Beach is still believed to be undiscovered. It's a great place to watch sunrise and sunset.
Hiron Point: Deer, monkeys, iguana, and crocodiles can be seen walking on the beautiful wooden streets of Hiron Point. Here too, sometimes the Bengal Tiger is seen.
Dubeychar: A small char in the Sundarbans area is the dubeal char. The river flowing through Dubera char merges into the Bay of Bengal.
Katka Beach: Katake Sea Beach is very clean and beautiful. Here the artworks of red crabs are painted all over the belabhoomi.
Read more: Amazing!! The Top 34 Best Travel Destinations In Bangladesh
Best Things to Do In Sundarbans:
Two countries, India and Bangladesh, are linked by this mangrove forest. The Sundarbans can be explored to a large extent during a visit to Bangladesh.
This mangrove forest gets its raw flavor from the rivers that make up the veins of the forest and create a natural environment.
Tour guides are mandatory for tourists, and their entry is ultimately restricted. Furthermore, you can also continue with the bogus tour operator. In the following, we give you a list of Sundarbans sights a guide can offer you to compare your trip with.
Before you travel to the largest mangrove forest, you need to know what to expect. Here are a few of the most memorable experiences you can have in the Sundarbans.
1.Silent country boat tour in the morning
Everybody interested in learning more about the area will certainly be interested in boat trips. You will discover the real mangrove forest by crossing rivers and canals.
The narrow grooved paths of the boat ride can quench the thirst of both water and prey and call the flood to the water.
Starting the day with a silly sound environment would be a great way to explore the forest. At this point, you will be able to see different wildlife simultaneously, so don't miss out on the opportunity.
2.Discover the tranquility of Jamtola beach
The Jamtola beach in Bangladesh is considered the cleanest of all the beaches in the country. This place is quiet and serene due to the low population density.
The scenic view of nature should be on the tourists' list after walking along the Bay of Bengal beach.
3.Discover the wildlife sanctuary
Getting as close to wildlife as possible is one of the main reasons to visit places like these. There are many wildlife sanctuaries in the Sundarbans to quench your thirst.
However, access to the site is a bit difficult. Kotka Wildlife Sanctuary is the only usable sanctuary.
Also, you will see deer, monkeys, crocodiles, and many other animals from a satisfactory distance. This wildlife sanctuary is a must-see for tourists.
4.A bird-watching excursion in the afternoon
Typically, you do this activity early in the morning on a silent boat, but you would see more birds here, and you would want to take as many pictures as you can during the golden hour of the day.
5.Jungle trekking from Kochikhali
In the Kochikhali forest, you will come across the jungle's interior, an open field where you can relax, and then Jamtola beach, which is 10 km away.
Getting lost in a forest can be a terrible experience, and a long walk on the beach will be a wonderful experience for them.
6.The watchtower's view of the animal feeding ground
You will eventually reach an open field with the Watch Tower after following the trail. Most guards can see them from their watchtowers, but only a tiny group will be able to get a look at nature and wildlife from the top, which is a dazzling sight since most people cannot climb the watchtower at once.
7.Mud bath and mud walk
When visiting the Sundarbans, you should not miss this popular activity. The fun part of this activity is bathing in mud or making self-idols with this rich herbal clay, which is pollution-free. The fine mud is also good for your skin.
8.Learn about river dolphins
Dolphin jumping is another event to participate in. They are a rare species that can only be found in the Bay of Bengal and parts of Southeast Asia. The Ganges river dolphins and Irabati dolphins are endangered mammals.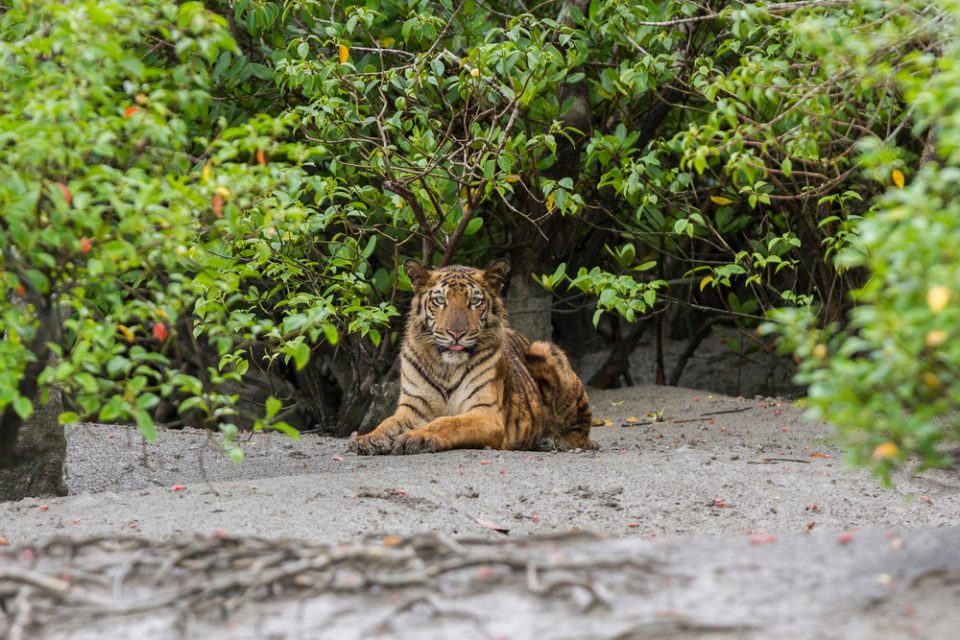 Arrangements to leave Dhaka
There are buses, trains, and launch systems directly from Dhaka to Khulna. Buses from Dhaka are Sohag, Hanif, and Eagle, which regularly leave for Khulna from 6 am to 11 pm.
From Dhaka, it takes about 8 hours by road. There are launches of various companies going from the Sadarghat launch terminal in Dhaka to Khulna.
But the most convenient way to visit the Sundarbans is to go for a walk with the right tour company package. Let's find out the names and numbers of some of these tour companies.
Bengal Tours Ltd. of Dingi and Vela Vessels. Solides Tour Phone- 01552555550
The Guide Tours Ltd. Phone-01711540431
To see Sundarbans from Khulna, you have to go to Mongala, 50 km away. From Khulna to Mongla you can take a private car or a bus.
From Mongla Ghat you can take a boat or a launch and go to Karmjal, in the Sundarbans, in two hours. If you want, you can return to Khulna in the evening after seeing Sundarbans from Khulna to Mongla.
Conversion Eco-Tourism Ltd. Phone-01711829414
The three vessels of Satkhira are operated by:
Monsoon Tourism, Phone 01715251963
Sundarbans Wanderers and Adventure Limited, Phone 01711439557
Royal Gonola Vessel Royal Tour, Phone 01711295738
The general cost of Sundarbans travel package: A medium type tour usually costs Rs 5000 (58.84$) to Rs 8000 (94.15$) per person depending on the quality of food and the ship. It is difficult to get a vessel unless you confirm the booking with advance money from a month in advance.
Read more: The 13 Best Khulna Tourist Spot To Visit, Bangladesh
Cost of Travel to Sundarbans
Daily travel fee for domestic tourists in sanctuary areas – Tk. 150 (1.77$), Tk. 30 for students, Travel Fee for foreign tourists – Tk. 1500 (17.65$). The travel fee for domestic tourists outside the sanctuary is Tk. 70 (0.82$), students – Tk. 20 (0.24$), travel fee for foreigners is taka 1000 (11.77$) and travel fee for researchers – Tk. 40 (0.47$). The travel fee for domestic tourists in Karmjal is Tk. 20 (0.24$) per person, Tk. 300 (3.53$) for foreigners.
A one-time fee for a helicopter/Seaplane is Rs. 30,000 (353.05$), and the renewal fee is Rs. 10,000 (117.68$).
15,000/- (176.52$)) for launch above 100 feet, 4,000 (47.07$) taka for the renewal fee For a 50-foot to 100-foot: launch, one-time Rs. 10,000 (117.68$) has to be paid, and the renewal fee is Rs. 3,000 (35.30$). 7,500/- (88.26$) for ships below 50 feet and Rs. 2,500/- (29.42$) for them.
The standard trawler can stay in Sundarbans at a fee of Rs. 3,000 (35.30$), with a renewal fee of Tk. 1500 (17.65$). The cost for speedboats is Rs. 5,000 (58.84$), and it takes Rs. 2,000 (23.54$) to be renewed.
Those known as Jaliboat tourist boats require a one-time fee of Rs 2,000 (23.54$) and a renewal fee of Rs 1,000 (11.77$).
Read more: The 11 Best Tourist Places To Visit In Jashore District, Khulna
Apart from the forest department's travel fee, other expenses include Rs 500 (5.88$) per day for guides, Rs 300 (3.53$) for security guards, Rs 70 (0.82$) for launch crew, Tk 200 (2.35$) for telecommunication fee.
Domestic tourists have to pay Rs 200 (2.35$) for video cameras, and foreign tourists have to pay Rs 300 (3.53$).
During Ras Purnima in Sundarbans, pilgrims have to pay a per person fee of Tk. 50 (0.59$) for 3 days, registered trawler fee of Tk. 200 (2.35$), unregistered trawler fee of Rs. 800 (9.41$) and trawler fee of Tk. 200 (2.35$) for daily stay.
Where's the best place to stay in Sundarbans
There are arrangements to stay in the resthouses of Kachikhali at Tiger Point in Sundarbans, Neelkamal at Hiranpoint, and Resthouse in Katka Forest Department.
If you want to stay in Neelkamal, it will cost 3,000 (35.30$) taka per room for domestic tourists and 5,000 (58.84$) taka for foreigners.
Kachikhali will cost 3,000 (35.30$) taka per room and 5,000 taka for foreigners. It will take 2,000 (23.54$) taka per room or locals and Rs—5,000 (58.84$) per room for foreigners.
There is not much residential hotel system to stay in Bagerhat. The facilities at Mumtaz Hotel on Rail Road are less, but the service quality is relatively good, but the cost is a little higher. Mumtaz can also search for other hotels around the hotel.
The tourism corporation has hotels to stay in Mongla. There are some typical quality hotels for tourists to stay in animal ports.
If you want to stay in the city, you will find some ordinary hotels here. NGO Sushilan's resthouse and dormitory in Munshiganj in Shyamnagar have a night stay.
Best Hotels near Sundarbans
Sundarbans National Park is home to a variety of flora and fauna. Sundarbans has many best hotels and resorts. Throughout the Sundarbans wildlife sanctuary and outside, there are countless hotels and nature resorts. In the indifference of the city in peace are economic hotels such as resting in the lap of nature in the environment.

1.Tiger Garden International Hotel
You can't (and won't) expect more in this city. The hotel is also clean and non-frills, catering to most business travelers. Cleanliness is always maintained in the room. Bangladeshis have a wide variety of breakfast options.

2.Zabeer International Hotel
An international hotel had been missing in the city for decades. There are also ramps for the people. After many years, the hotel visited Home City and found a silver-colored hotel with a reserved parking lot right in the heart of the city.

3.City Inn
The hotel is our second location after five years. Accommodations were very good as well, with the exception of having to use fur blankets (which were provided).

4.Hotel Royal International
A minimum of two nights spent with family. The hotel offers a local quality house which is a good thing.

5.Hotel Castle Salam
If you choose to stay overnight at the hotel after the Sundarban tour, you will be able to return to the city in the morning. The place was nice, too: you get a double room with a huge bathroom and it was quite comfortable.
Although the single rooms are small, the double rooms are definitely great. Western visitors had a wide variety of options in the morning restaurant, and the dishes were served with eggs or an egg omelet.

6.Hotel City Plaza International
The hotel is located in the heart of Jashore city at an affordable rate. The hotel is the first that BB (bed and breakfast) has launched. After having lived a kilometer away to experience their fame and name.


7.Hotel Millennium
There are low-priced houses in the middle of the city with good facilities. The hotel is ideal for business travelers. An average service experience. There are food services available, but you may not always be able to make your choice.
Best Restaurants In Sundarbans
Sundarbans has quite a few restaurants around mostly in Khulna city or outside of the Sundarban area. Some well knows restaurants are – 

Rovers Cafe
Citylight Cafe & Restaurant
Mughal's Dine
Bistro CPasta Express
We Hungry
New Azmiri Grill & Bar-B-Q
KFC Khulna
Deshi Kitchen
Shawarma House
Guhaa Restaurant
Mejban bari
Things to eat around Sundarbans
In Sundarban you will get quite a few types of famous local foods. Those have hype not only in Khulna, Sundarbans but also all over Bangladesh.
Paratha
Kacci Biriyani
Bhuna Khicuri
Patla Khicuri
Morog Polao
Rice, dal and curry
Grilled Chicken
Haleem
Sheek Kabab
Fish curry
What you must need while visiting Sundarbans
Keep safe food with water, as there is no source of food water in the Sundarbans.
Keep necessary medicines and first aid items with you.
Arrange for an experienced tour operator.
Keep skilled and armed forest guards with you for security on the Sundarbans tour.
FAQ Related to the Sundarbans