Are you looking for an exciting adventure? Look no further than Chuadanga Tourist Spot!
Get ready to explore the amazing attractions this place has to offer. From the historic Alamdanga Slaughter House to the peaceful Thakurpur Jame Mosque, there is something for everyone.
Don't miss out on the lively Mehrun Children's Park or the calm Police Park. And if you're feeling courageous, visit the enigmatic Eight Graves or the grand Gholdari Shahi Masjid.
Get ready to immerse yourself in the beauty of Chuadanga!
Chuadanga Tourist Spots To See
There are lots of visiting places in Khulna. Chuadanga is in the Khulna division and has some fascinating tourist spots anyone should visit. Here, I'm discussing about the 8 best Chuadanga tourist spots to visit:
1. Alamdanga Slaughter House/আলমডাঙ্গা বধ্যভুমি
The Alamdanga Slaughter House is a well-known tourist spot where you can learn about a horrific massacre during the liberation war and pay tribute to the victims. It is situated in Chuadanga district and has a dark history of the terrible acts committed by the Pakistani forces in 1971.
When you enter the area, you will notice the walls decorated with beautiful designs made by students studying fine arts at Rajshahi University. Inside, there is a sculpture dedicated to the brave individuals who lost their lives, as well as a museum showcasing pictures that depict the chronological events of the liberation war. It serves as a solemn reminder of the sacrifices made by the courageous Bengalis who fought for their country's independence.
People from all over the world come to this place to honor the memory of the victims and gain a deeper understanding of Bangladesh's past.
2. Thakurpur Jame Mosque/Thakurpur Jame Masjid/ঠাকুরপুর জামে মসজিদ
When you enter Thakurpur Jame Mosque, you'll notice a modern entrance arch.
This mosque, located in Thakurpur village, Chuadanga district, is an important Islamic architectural site.
According to legend, it was built in just one night with the assistance of Jinns by Afu Shah, a man from West Bengal who came to spread Islam in 1698.
The mosque is situated on a large plot of land, encompassing over 30 bighas, and is surrounded by a big pond, rows of coconut trees, and cemeteries.
Local people believe that every Thursday, the Jinns pray in this mosque and bless the oil or water left by visitors, which is said to aid in resolving various issues.
The mosque has been renovated throughout the years while maintaining its original structure.
Additionally, it hosts the annual OROSH, a traditional event that attracts visitors from afar.
3. Darshana/দর্শনা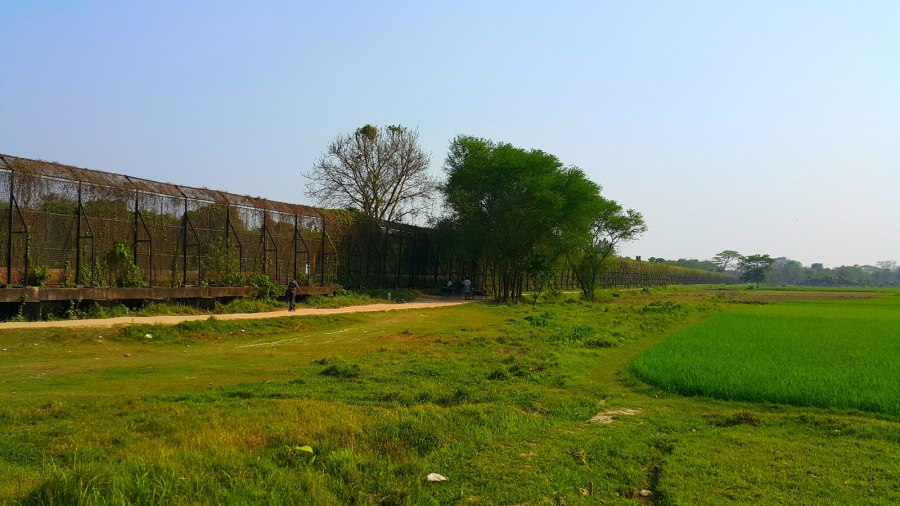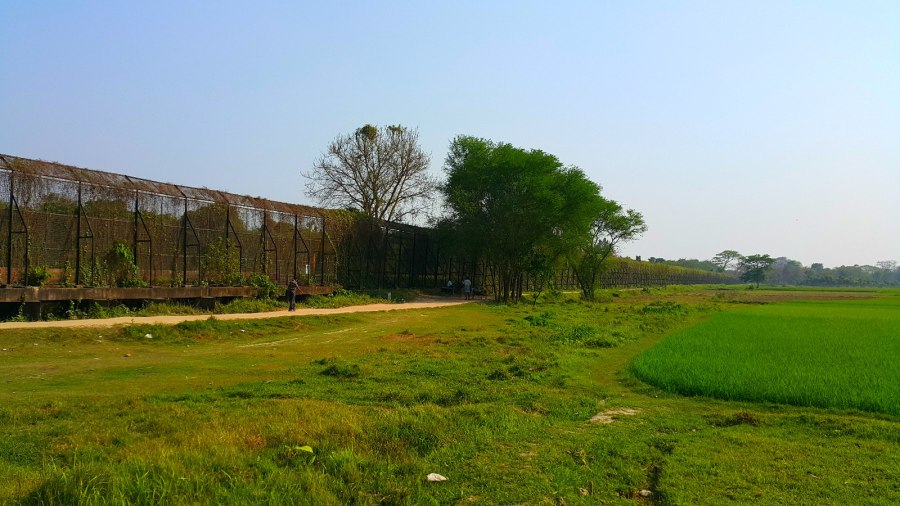 When you go to Darshana, you will find a lively city near the border of Bangladesh and India. This busy city is home to the famous Darshana railway station, which is an important building in the area. Here, Maitri trains travel directly to India, connecting the two countries.
One of the main attractions in Darshana is Keru & Co., the biggest sugar mill in Asia. This huge area covers over 3,572 acres and includes sugar factories, a distillery, commercial farms, and organic manure factories. While sugar is the main product, the byproducts are used to make spirits, alcoholic beverages, and organic fertilizers. Keru & Co. has also become a popular place for picnics, offering a Dotala guest house for visitors to enjoy.
Additionally, Darshana is an important center for trade between India and Bangladesh, with many people importing and exporting different goods. The customs station in Darshana brings in significant revenue for the government.
Lastly, just 31 km from Darshana is the historic Mujibnagar, which was the first capital of Bangladesh.
4. Mehrun Children's Park/মেহেরুন শিশু পার্ক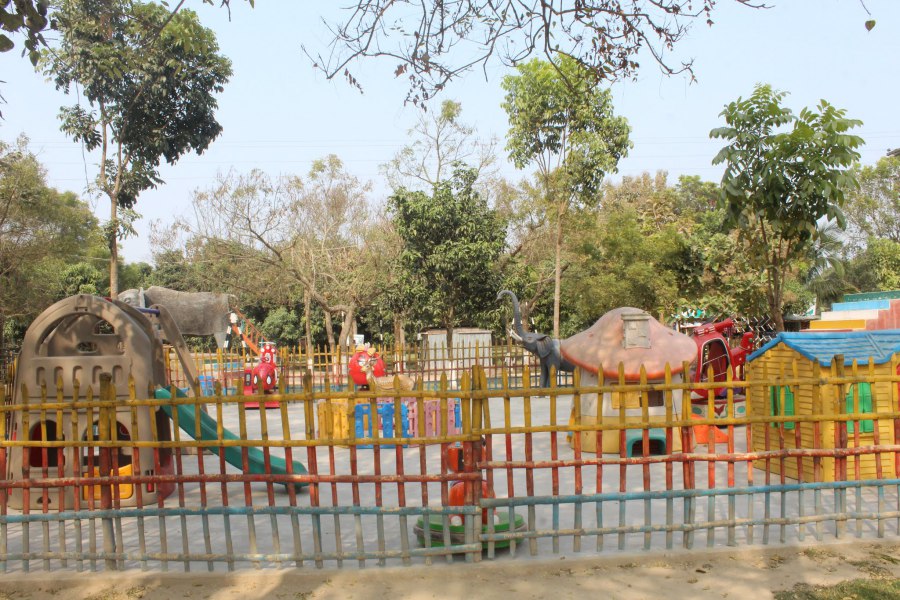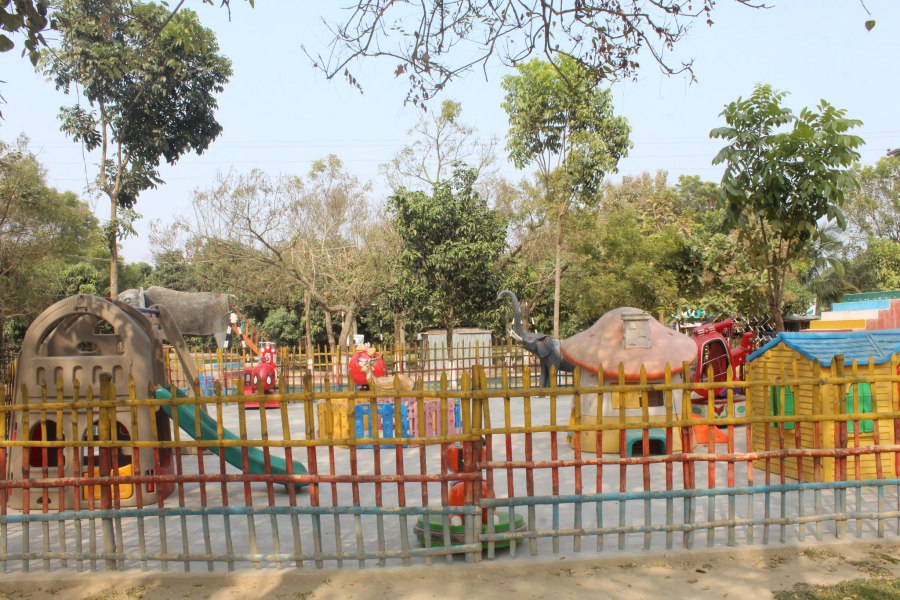 Located around 15 km from Chuadanga city, Mehrun Children's Park and Mini Zoo have become a popular and enjoyable destination for locals, attracting more and more visitors each day.
When you enter the park, you'll be welcomed by vibrant rides and horse carriages, creating a lively atmosphere. The park is decorated with beautiful sculptures, adding to its appeal.
For those who love animals, the mini zoo offers a delightful experience with a variety of animals such as peacocks, monkeys, deer, camels, and owls. You can also visit the weavers' villages and see the traditional craftsmanship up close.
The entry fee is Rs 50 per person, and you can enjoy the various rides for Rs 30-50. Don't forget to pay the parking fee for your vehicle.
Mehrun Children's Park guarantees a fun-filled day for both children and adults.
5. Police Park/পুলিশ পার্ক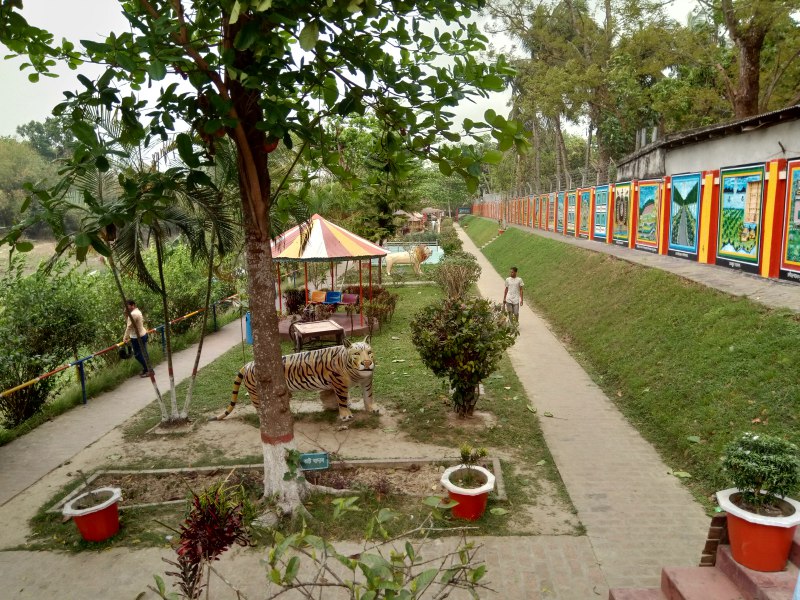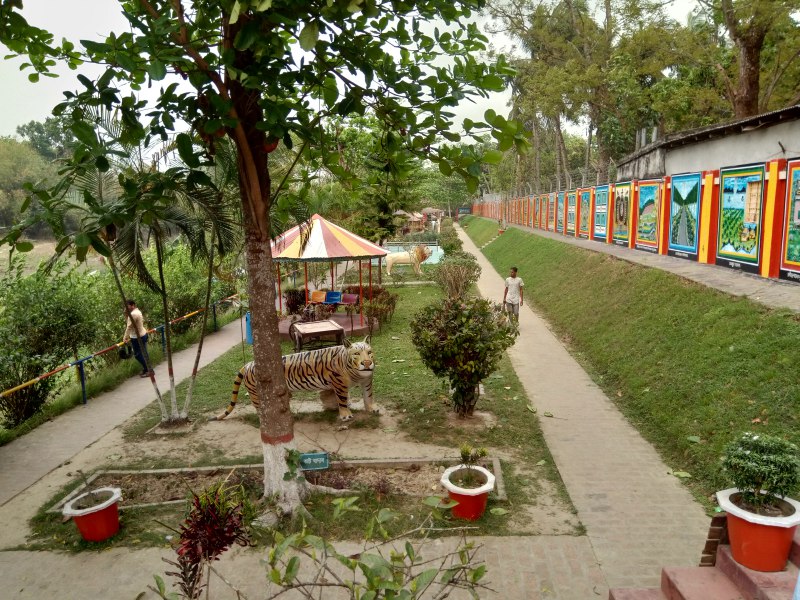 You can have a great time at Police Park, where you can enjoy modern amenities and attractions like rides and a small zoo. It is located on the banks of Mathavanga, in the heart of Chuadanga city, offering a truly special experience.
As soon as you enter the park, you will be welcomed by the beautiful green surroundings and peaceful atmosphere. The rides in the park are not only exciting but also well-maintained, ensuring your safety and enjoyment.
The small zoo is also a highlight, with a variety of animals to admire. The Police Park Community Center and Chinese Restaurant are ideal for hosting social events, offering a convenient and picturesque setting.
Whether you are visiting with your family or friends, Police Park is a must-see attraction in Chuadanga City.
6.Keru & Co./কেরু এন্ড কোং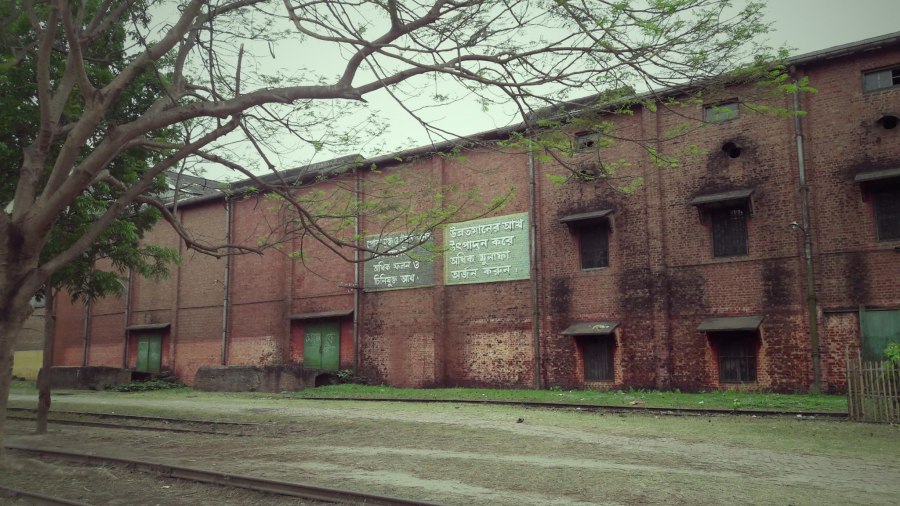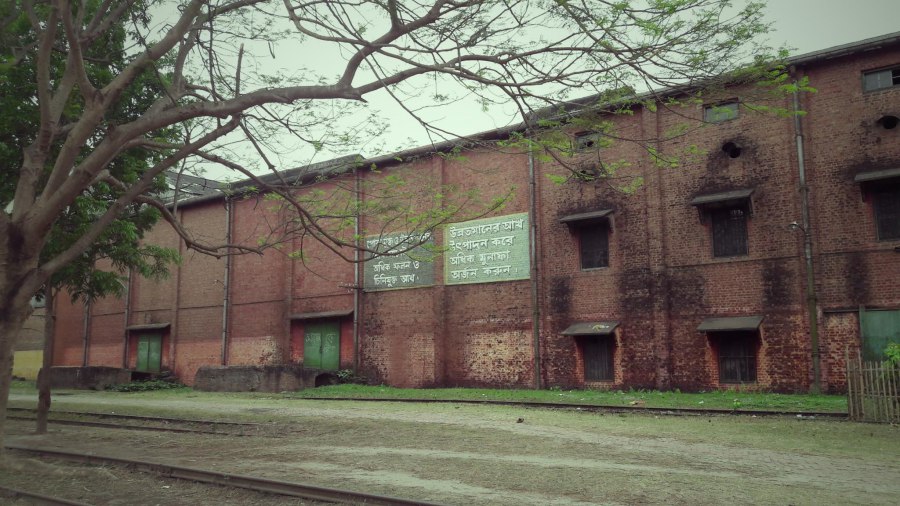 Don't miss out on Keru & Co., where you can find a variety of delicious food options to satisfy your cravings.
Located in Police Park on Superintendent of Police Road in Chuadanga, Keru & Co. is the perfect place to replenish yourself after enjoying all the entertainment the park has to offer.
Whether you're in the mood for mouthwatering local delicacies or international cuisine, Keru & Co. has got you covered. Their menu offers a range of dishes, from flavorful biryanis to juicy burgers.
The cozy and inviting atmosphere of the restaurant makes it a great spot to unwind and enjoy your meal.
7. Eight Graves/Atkobor/Atkabar/আট কবর
In 1971, eight brave freedom fighters lost their lives in a battle against Pakistani soldiers near Bagwan village. This led to the creation of the historical site called the Eight Graves in Jagannathpur. These graves hold the memory of the heroes who fought for Bangladesh's freedom during the 1971 war.
Located around 30 km from Chuadanga, these graves remind us of the sacrifices made for independence. The burial site covers 0.66 acres of land and also features libraries, open platforms, and a two-story tower adorned with over 200 photographs showcasing Bangladesh's freedom movement history.
It's not just a place of remembrance, but also a spot to learn about the struggles and victories of the liberation war. Visiting this site allows us to pay tribute to the fallen heroes and gain a deeper understanding of Bangladesh's history.
8. Gholdari Shahi Masjid/ঘোলদাড়ী শাহী মসজিদ
The Gholdari Shahi Mosque, built in 1006, is still a popular site for tourists to visit and offer prayers. When you enter this old mosque, you can't help but notice its timeless beauty and peacefulness.
The mosque's intricate designs and delicate carvings show its amazing architecture that has withstood the test of time. Inside the mosque, you can sit and reflect, surrounded by the calming sound of prayers.
The Gholdari Shahi Mosque is important to the locals, who come here to find comfort and connect with their faith. As you explore the mosque, you'll also find historical objects and writings that give you a glimpse into the area's rich culture.
Conclusion: Chuadanga Tourist Spots
If you're looking for a one-of-a-kind and diverse tourist spot, Chuadanga is the place to go!
From the historical Alamdanga Slaughter House to the beautiful Thakurpur Jame Mosque, there is something for everyone.
Enjoy a peaceful visit to Darshana or have a fun day at Mehrun Children's Park.
Don't forget to explore the calm Police Park and treat yourself to some delicious food at Keru & Co.
Lastly, pay your respects at the Eight Graves and admire the beauty of Gholdari Shahi Masjid.
Chuadanga truly has it all! I hope you find the article "Chuadanga tourist spots" helpful.