Looking for an exciting getaway? Look no further than Jhenaidah tourist places that will make your trip worthwhile.
From the historic Golakata Mosque to the famous K.P. Basu's house, there's something for everyone to enjoy.
Don't miss the impressive Shailkupa Shahi Masjid and the beautiful Naldanga Rajbari Resort.
Take a leisurely walk through the lively Barobazar and explore the charming Miya's Building.
For a day full of fun, head to Johan Drim Valley Park and Resort.
Jhenaidah truly has it all!
Jhenaidah Tourist Places That Will Surely Captivate You
There are lots of best places to visit in Khulna. Jhenaidah is in the Khulna division and has some fascinating tourist spots anyone should visit. Here, I'm discussing about the 11 best Jhenaidah tourist spots to visit:
1. Golakata Mosque/Golakata Masjid/গলাকাটা মসজিদ – A Historical Place in Jhenaidah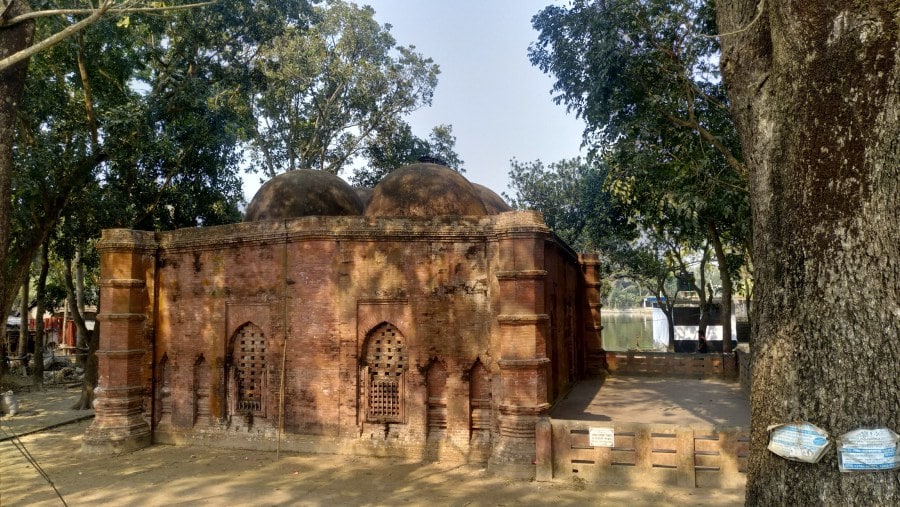 The Golakata Mosque, also known as Golakata Masjid, is a historical spot in Jhenaidah that attracts many visitors. It was built during the Sultani era in the 16th century by Khan Jahan Ali and holds significant historical value.
The mosque has a stunning design with its six dome-shaped walls, beautifully decorated semi-circular mihrabs, and two stone minarets. The surrounding area of Golakata Dighi adds to the charm of the mosque. According to legends, the Dighi got its name from a cruel king of Barobazar who would throw his subjects into the Dighi after cutting their throats.
The Golakata Mosque not only preserves artifacts from the 15th century but also showcases the architectural brilliance of that era.
2. K.P. Basu's house/কে পি বসুর বাড়ি – A Famous Places in Jhenaidah
If you're keen on exploring famous spots in Jhenaidah, you should definitely check out K.P. Basu's house, also known as কে পি বসুর বাড়ি. This historical house holds immense historical value and is renowned for its architectural features.
The house has been renovated over the years to preserve its heritage. K.P. Basu's house is a testament to the rich cultural legacy of Jhenaidah. The house showcases intricate designs and skilled craftsmanship, combining traditional and modern elements in a unique way.
From its stunning exterior to its beautifully adorned interiors, every nook and cranny of the house tells a captivating tale. Visiting K.P. Basu's house is like stepping back in time and experiencing the grandeur of the past. It is undeniably a must-visit destination for history enthusiasts and admirers of architectural marvels.
3. Shailkupa Shahi Masjid/শৈলকুপা শাহী মসজিদ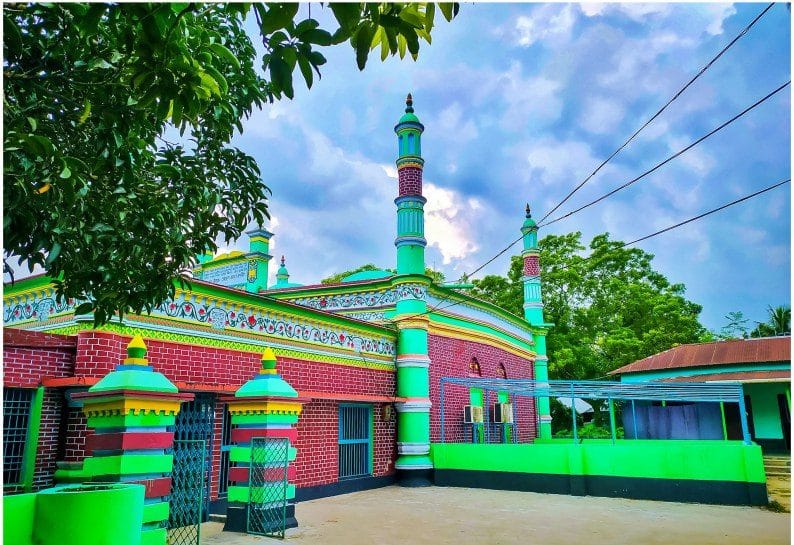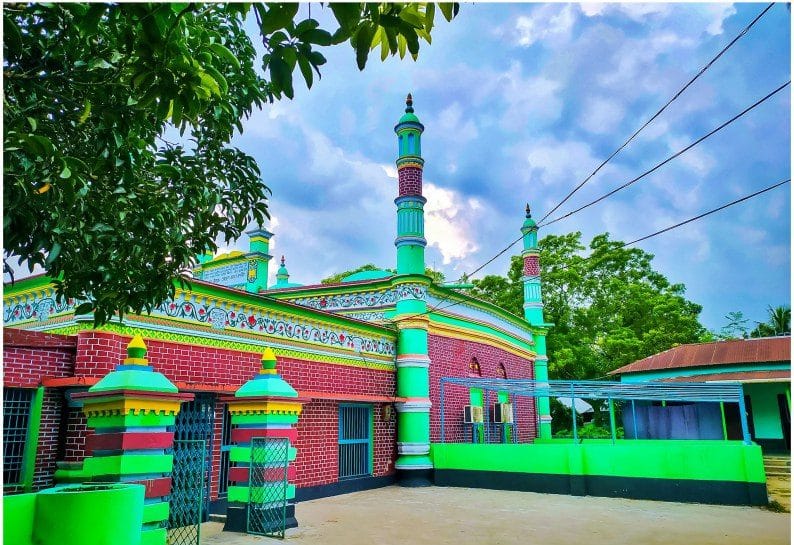 When you visit Shailkupa Shahi Masjid, it feels like going back in time and experiencing the beauty of medieval Muslim architecture. This mosque is very important to the culture and history of Jhenaidah, Bangladesh.
Over the years, the mosque has been restored to keep its original design and features. It is made with small red bricks, showing the amazing architecture of the Middle Ages. The mosque is 31.5 feet long and 21 feet wide, and it has six domes, four round minarets, and seven entrances.
Inside, you will find three mihrabs and a special area dedicated to Pir Shah Mohammad Arif-e-Rabbani, also known as Arab Shah. This mosque is almost 500 years old and shows the ancient tradition and beautiful Muslim architecture from the Sultanate period.
4. Jor Bangla Masjid/Jor Bangla Mosque/জোড় বাংলা মসজিদ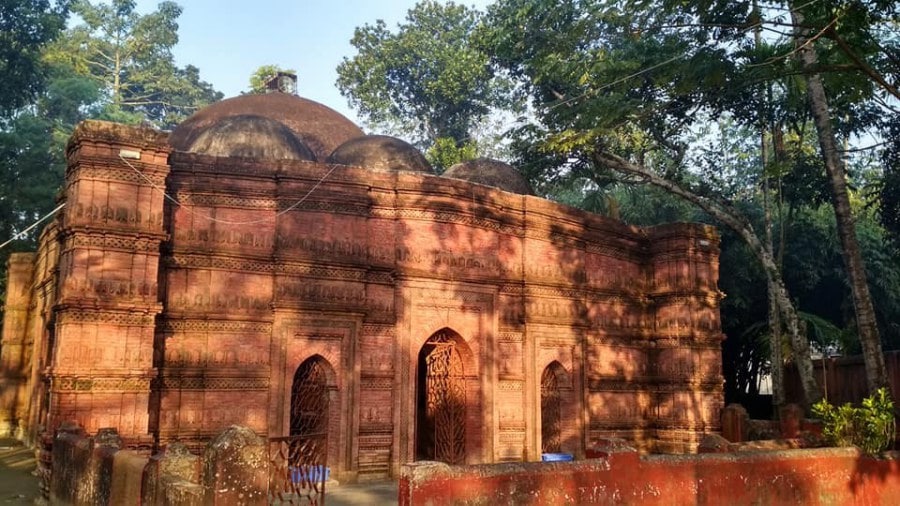 When you enter Jor Bangla Masjid, you will be amazed by the detailed architecture and the peaceful atmosphere.
The Jor Bangla Mosque, also known as the Jor Bangla Masjid, is a valuable historical site in Jhenaidah, Bangladesh. This beautiful mosque holds great historical importance and showcases the impressive Jor Bangla architecture.
The mosque was built during the medieval period, and even though it has been renovated, it still maintains the architectural features of that time. The Jor Bangla Mosque has a unique design with six domes, four rounded minarets, and seven entrances.
The use of small red bricks adds to its appeal, and the mosque is surrounded by a pond and sacred places. Visiting the Jor Bangla Mosque is not only an opportunity to admire its architectural beauty, but also a glimpse into the rich history of the region.
5. Shailkupa Zamindar House/শৈলকুপা জমিদার বাড়ি
The Shailkupa Zamindar House is a historic home in Abaipur village that showcases the beautiful architecture of the zamindari era. This grand house was built by Ramsundar Sikdar, the Zamindar of Jashore district, way back in the 12th century.
Throughout the years, the house has seen the ups and downs of the zamindari system and has preserved many ancient artifacts like gramophones, stone hookas, swords, and old scriptures. Sadly, the estate on Shikdar street got destroyed with time, leaving only the ancient house as a witness to the grand past.
To preserve its history, efforts are being made to renovate the Shailkupa Zamindar House. This restoration project will not only bring back its former glory but also offer visitors a glimpse into the stunning architecture of that time.
6. Banyan tree in Mollickpur/Mollicpurer Bot Gaach/ মল্লিকপুরের বটগাছ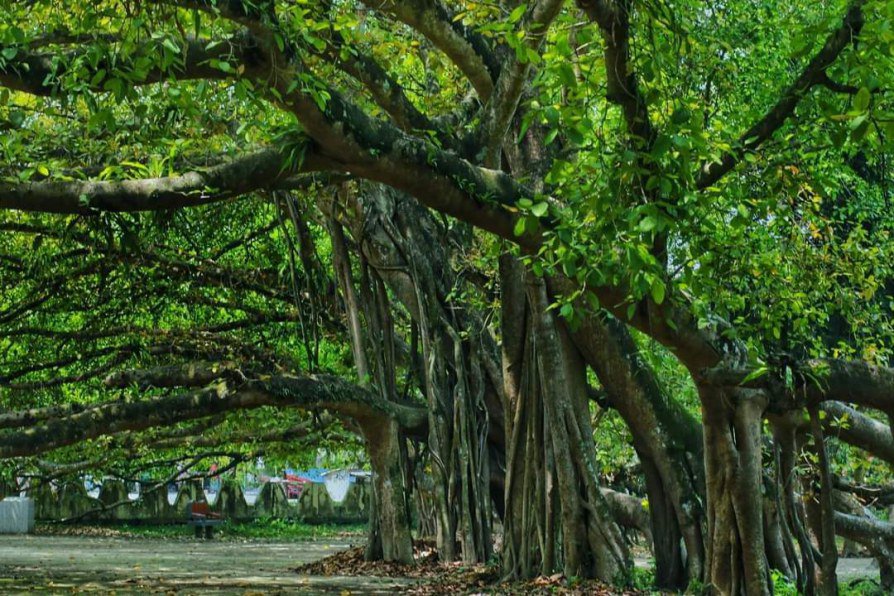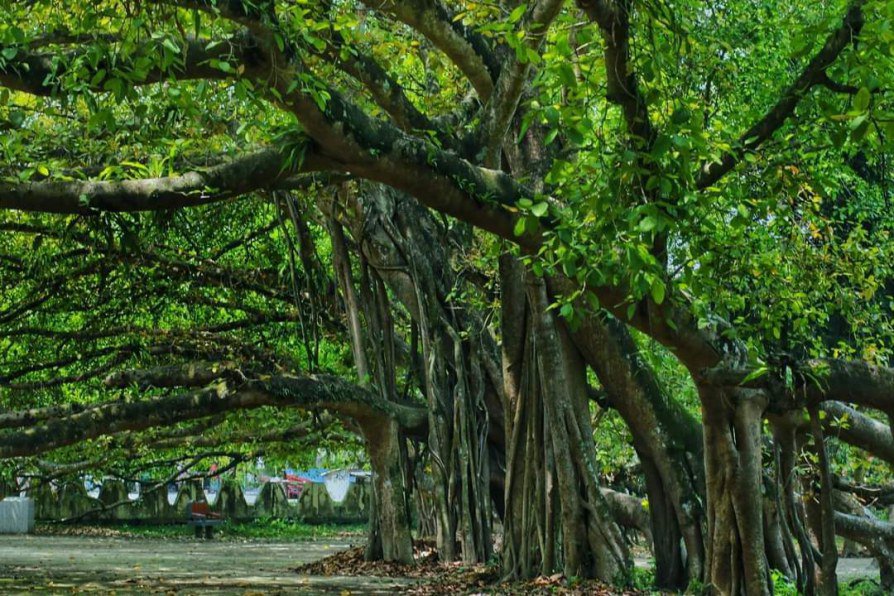 Now, let's explore the mesmerizing Mollickpur Banyan Tree, which holds immense cultural significance and is surrounded by local legends.
This magnificent banyan tree spans across 11 acres with 52 banyan trees of various sizes. It stands tall in the village of Bethuli in Kaliganj Upazila, Jhenaidah district.
The Mollickpur Banyan Tree, also known as the Suitala Banyan Tree or the Banyan Tree of Bethuli, has been a part of the community for countless years, though its exact age remains a mystery. According to local beliefs, the banyan tree originated from a patkua, a traditional well, owned by the Sen Vanshi Kumar family, who resided in Bethuli village three hundred years ago.
Exploring this natural wonder is truly a delight for the senses. The peaceful surroundings and the delightful melodies of the birds create a serene atmosphere.
Since 2009, the social forest department has been responsible for maintaining the Mollickpur Banyan Tree, ensuring its preservation for future generations.
7. Dhol Samudra Dighi/ঢোল সমুদ্র দীঘি – A Beautiful Tourist Spot in Jhenaidah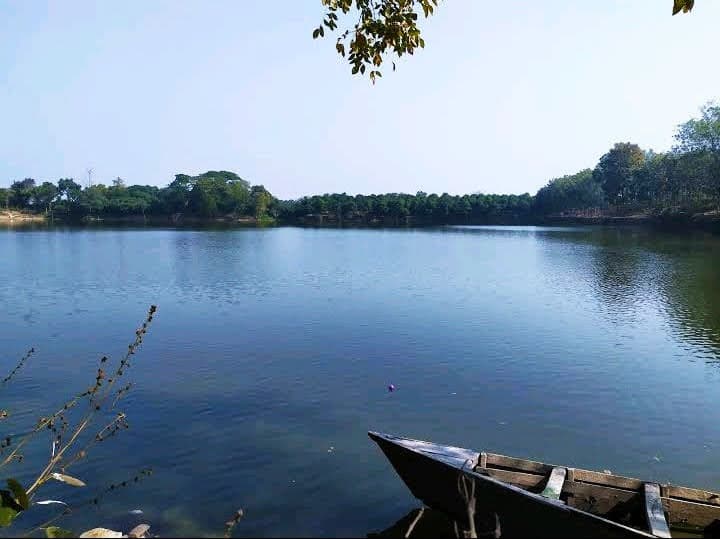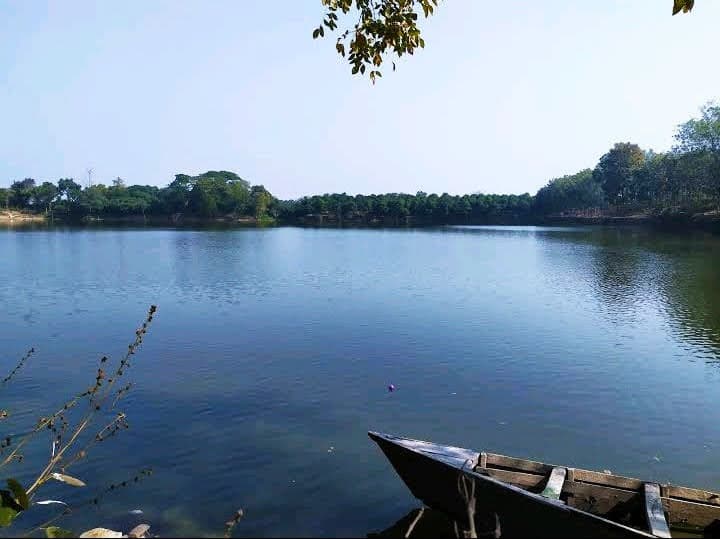 Located just 4 km to the west of the city, Dhol Samudra Dighi is a splendid spot that locals adore visiting on holidays to spend quality time with their families. This Dighi provides a wonderful opportunity for dighi exploration and is a renowned tourist spot in Jhenaidah.
Upon arriving at Dhol Samudra Dighi, you will be captivated by the picturesque views that surround the largest and age-old Dighi in Jhenaidah. The rows of trees on the Dighi's banks enhance its beauty, creating a tranquil and harmonious atmosphere.
It is not only a place to relish in the natural beauty but also a spot where you can immerse yourself in the local traditions. People gather on the Dighi's banks to engage in worship and celebrations, complemented by the mesmerizing melodies of drums, Sanai, and flutes.
8. Naldanga Rajbari Resort/নলডাঙ্গা রাজবাড়ী রিসোর্ট – A Perfect Picnic Spot in Jhenaidah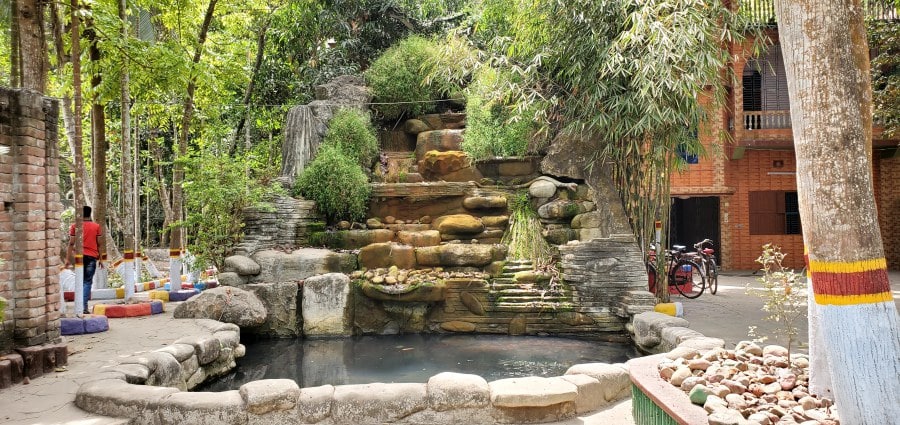 When y'all visit Naldanga Rajbari Resort, y'all gonna find a dang good picnic spot in Jhenaidah to chill and enjoy.
This resort, situated in the beautiful district of Jhenaidah, offers a calm and peaceful environment for folks lookin' to have a picnic. With its lush green surroundings and peaceful atmosphere, Naldanga Rajbari Resort is the perfect place to escape the hustle and bustle of city life.
At the resort, y'all can spread out a picnic blanket under the shade of the trees and enjoy a tasty meal with your loved ones. The resort provides all the necessary amenities for a comfortable picnic, including spots to sit, clean bathrooms, and plenty of space to park your vehicle.
In addition to its gorgeous setting, Naldanga Rajbari Resort also offers various recreational activities for y'all to enjoy. Y'all can take a leisurely stroll 'round the resort's gardens, play outdoor games, or simply unwind by the poolside.
9. Barobazar/বারোবাজার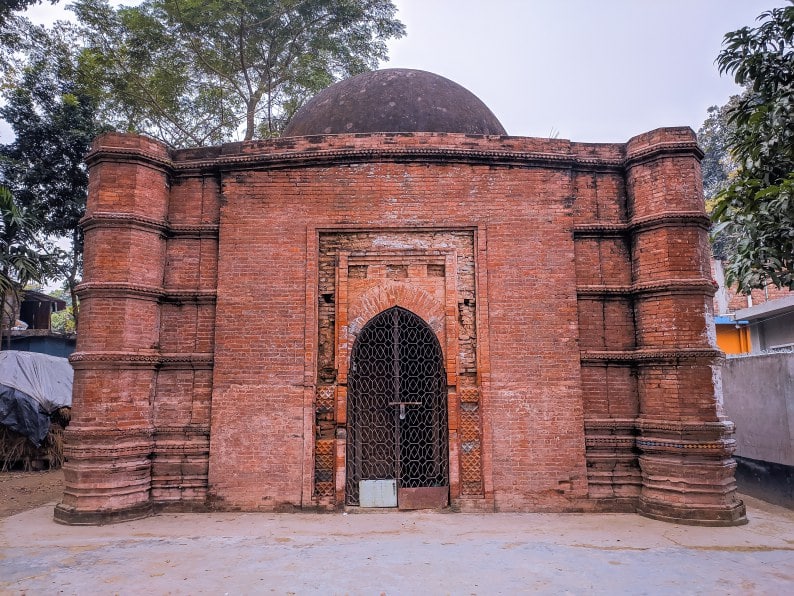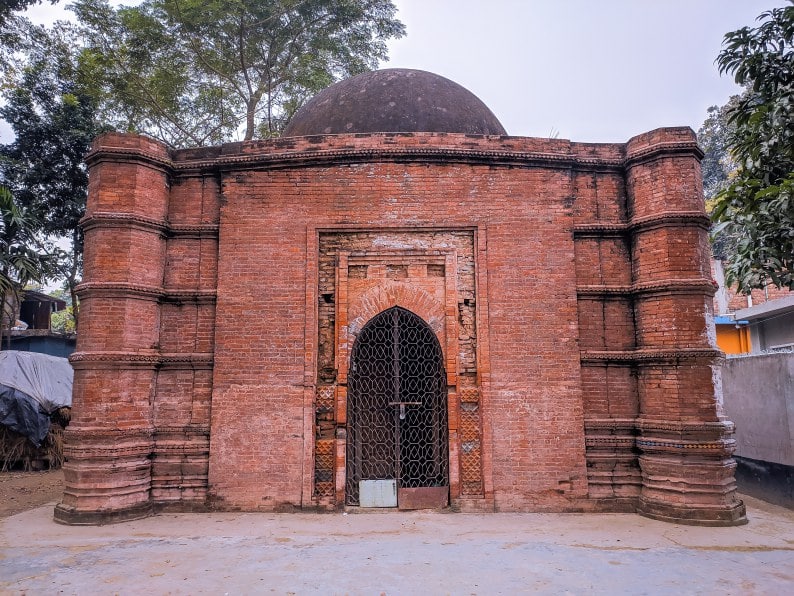 The city of Barobazar in the Jhenaidah district of Bangladesh is spread across 10 square miles. It is home to twelve different markets and is well-known for its archaeological artifacts.
Barobazar has a long and rich history that goes back approximately 700 years. The city consists of several villages, including Pirojpur, Khoshalpur, Sadekpur, and more.
In 1993, the Archaeological Department carried out excavations near the Barobazar railway line, leading to the discovery of various archaeological findings. These findings included mosques, cemeteries, ports, and buildings. Notable artifacts found in Barobazar include the Satgachia Mosque, Namazgah Cemetery, and Galakata Mosque. These artifacts offer a glimpse into the city's past.
The markets in Barobazar have played a significant role in its history and continue to attract both locals and tourists. The combination of captivating archaeological discoveries and diverse markets makes Barobazar a must-visit destination for history enthusiasts and shoppers alike.
10. Miya's Building/Miyar Dalan/মিয়ার দালান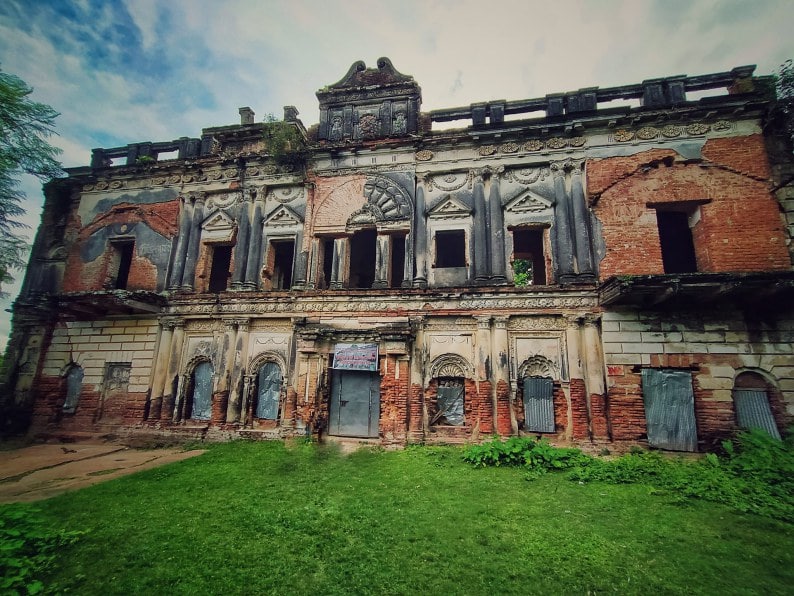 You should definitely check out the Miyar Building in Muraridah village to appreciate its unique architecture and historical significance.
This traditional site, also known as Salim Chowdhury's house, was built in 1236 by the zamindar authorities and holds great historical value. The building stands as a testament to traditional architecture, showcasing intricate details and craftsmanship that will leave you amazed.
As you explore the building, you'll come across walls adorned with beautifully constructed construction costs and other information, adding to its charm. The Miyar Building also holds local legends, like the existence of a tunnel that was built under the Navganga river, with its entrance still visible today.
Visiting this historical gem will not only let you admire its architectural beauty but also immerse yourself in the stories and legends that surround it.
11. Johan Drim Valley Park and Resort/জোহান ড্রীম ভ্যালী পার্ক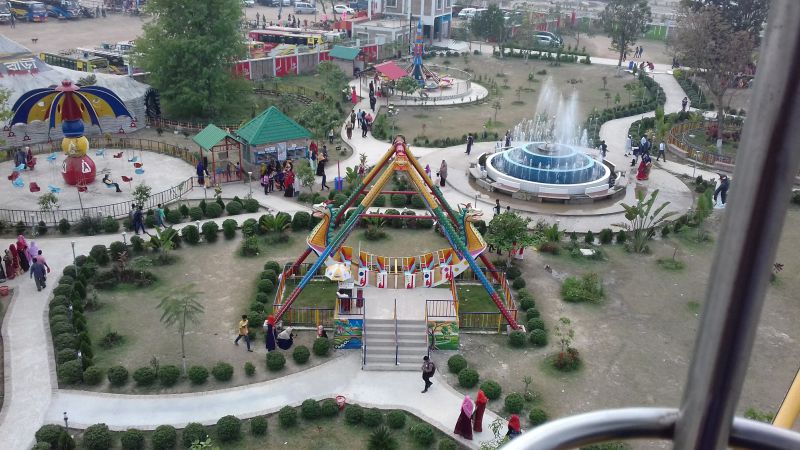 To fully enjoy Johan Drim Valley Park and Resort, be sure to explore its wide range of entertainment options and relax in the beautiful natural environment.
This popular amusement center in Jhenaidah offers a variety of exciting activities for the whole family. From cave trains to jet shelters, merry-go-rounds to pedal boats/water rickshaws, there's something for everyone to enjoy. The park also has fun adventure rides, swing chairs, Nagar Dola, and special areas just for kids, ensuring that children have a fantastic time too.
The park is situated on a vast 100 bighas of land, providing plenty of space for outdoor activities and open fields.
After a day filled with fun, you can choose to stay overnight in one of the high-quality resorts within the park and completely immerse yourself in the peaceful natural surroundings.
Conclusion: Jhenaidah Tourist Places
So there you have it, a glimpse into the beautiful tourist places in Jhenaidah.
From the historical Golakata Mosque to the famous K.P. Basu's house, there is something for everyone to explore.
Don't miss the stunning Shailkupa Shahi Masjid and Jor Bangla Masjid, as well as the picturesque Shailkupa Zamindar House.
If you're looking for a perfect picnic spot, head to Naldanga Rajbari Resort. Barobazar, Miya's Building, and Johan Drim Valley Park and Resort are also worth a visit.
Enjoy your time exploring these amazing attractions in Jhenaidah! I hope you find the article "Jhenaidah Tourist Places" helpful.