Are you looking for the best Rajshahi tourist places to explore? Rajshahi has something for everyone!
You can relax and unwind at Safina Park. Learn about history at the Shaheed Sriti Museum. Enjoy the lively atmosphere of Utshab Park. Visit Rajshahi Central Zoo to see wildlife up close. Expand your knowledge at Barendra Research Museum.
Have fun at Shishu Park. Admire the beauty of Bagha Masjid and Puthia Rajbari.
Rajshahi Tourist Place You Should Visit
Rajshahi is one of the must visited places in Bangladesh. Here, I'm going to discuss 8 tourist places in Rajshahi city.
1.Safina Park, Rajshashi/সাফিনা পার্ক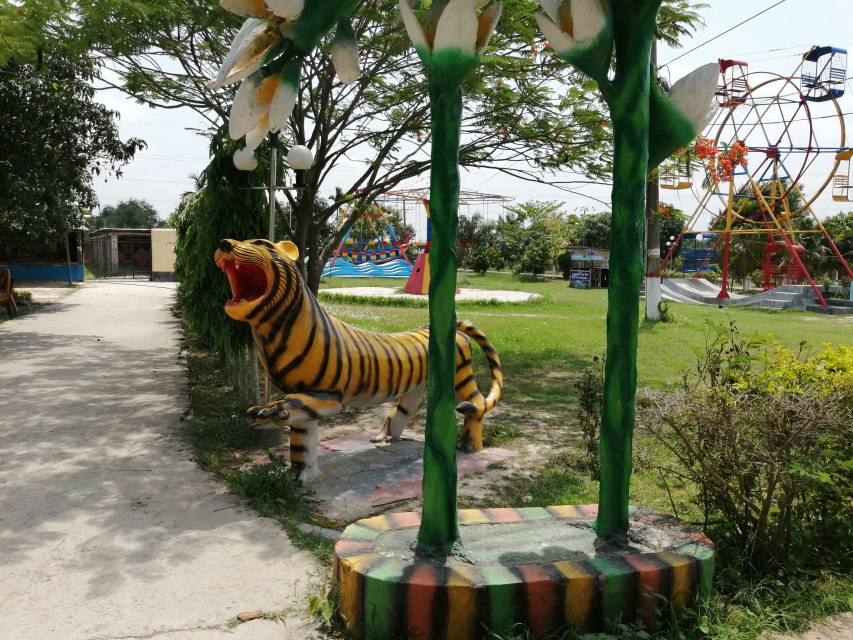 Photo Credit – Saumik Hasan
Safina Park is becoming increasingly popular as a fun and relaxing spot for people of all ages. It is one of the top tourist destinations in Rajshahi city, offering a wide range of attractions and activities for everyone to enjoy.
The park is surrounded by beautiful flowers, fruits, and medicinal plants, creating a peaceful and refreshing atmosphere. There are also stunning fountains and sculptures of different animals, adding to its charm.
Kids can have a great time with exciting options like a Ferris wheel, swings, a train ride, a 3D cinema, and a sports zone just for them. Visitors can also take a boat ride on the park's lakes or try their hand at fishing with permission.
Safina Park is the ideal place for picnics, conferences, and events, with designated picnic areas, conference rooms, and stage arrangements available. There is even a market inside the park, making it convenient for visitors to make purchases.
Make sure not to miss the chance to visit this popular tourist spot in Rajshahi and enjoy the joy and relaxation it offers.
2. Shaheed Sriti Museum, Rajshahi/শহীদ স্মৃতি জাদুঘর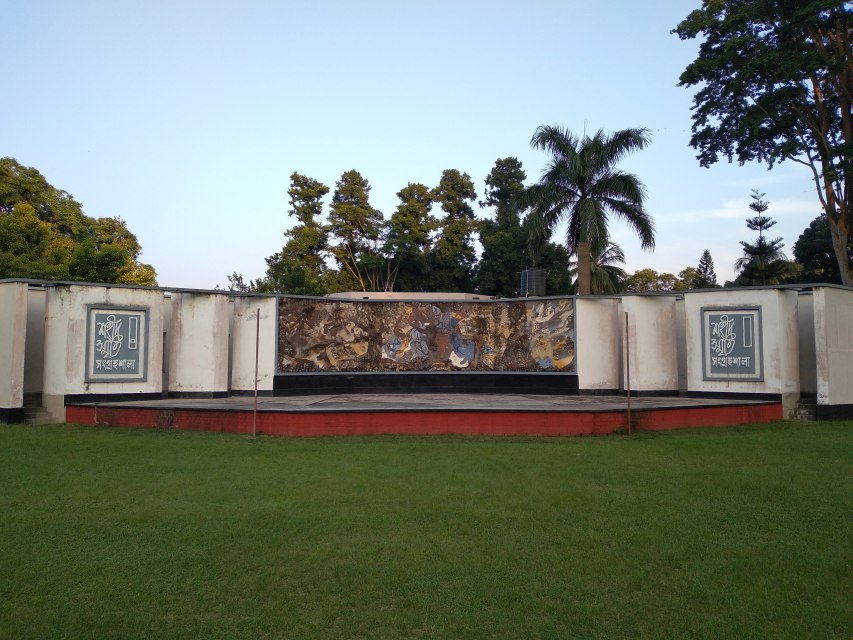 Photo Credit – Shariful Islam
You can visit the Shaheed Sriti Museum in Rajshahi, which displays artifacts and photos from the liberation war. It is an important historical site in Rajshahi district and a popular tourist attraction.
The museum is split into three sections, each showcasing different aspects of the war. The first section features items and images related to Bangladesh's history. The second section displays belongings of martyred intellectuals and the atrocities committed by Pakistani invaders. The third section exhibits the skulls of martyrs, photographs of Bangabandhu Sheikh Mujibur Rahman, and the surrender of Pakistani invaders.
Additionally, the Shaheed Sriti Museum has a research library dedicated to the liberation war, housing a wide collection of books, magazines, and newspaper clippings.
Be sure to include this historical site in your Rajshahi itinerary.
3. Utshab Park, Rajshahi/উৎসব পার্ক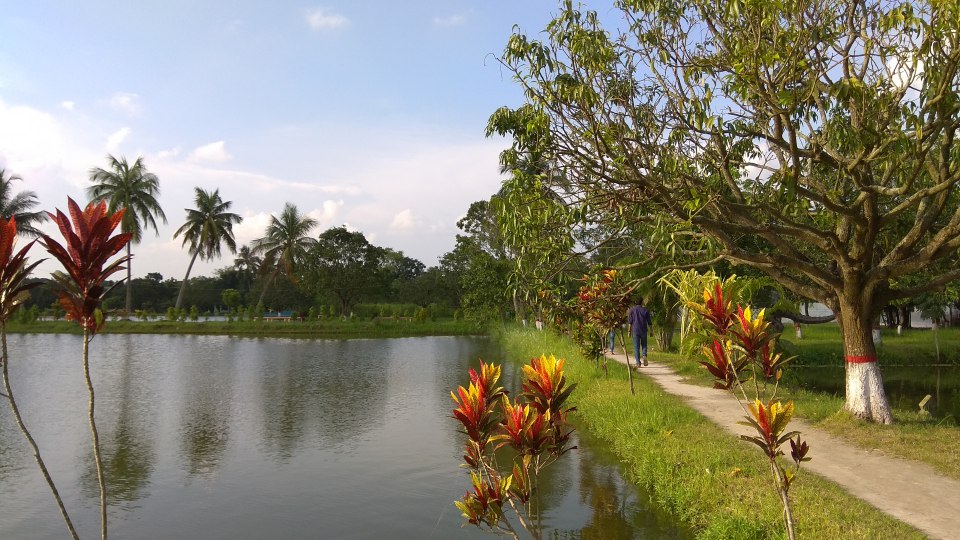 Photo Credit – Hasibur Rahman
Utshab Park is located just 2 km away from Bagha Upazila in Rajshahi. It is a popular tourist spot that offers various entertainment options along the banks of Bagha Dighi.
The park was established in 2014 and covers around 80 bighas of land. It has gained popularity among both locals and tourists.
The park features exciting rides such as trains, nagardola, swirls, and swings. Additionally, there are impressive sculptures of different animals that add to the park's charm. Visitors of all ages can have a great time here.
Another attraction within the park is the beautiful lake where you can enjoy pedal boating.
Utshab Park is a well-known destination in Rajshahi and remains busy with visitors throughout the day. It is definitely a must-visit place in the city.
4. Rajshahi Central Zoo, Rajshahi/রাজশাহী কেন্দ্রীয় চিড়িয়াখানা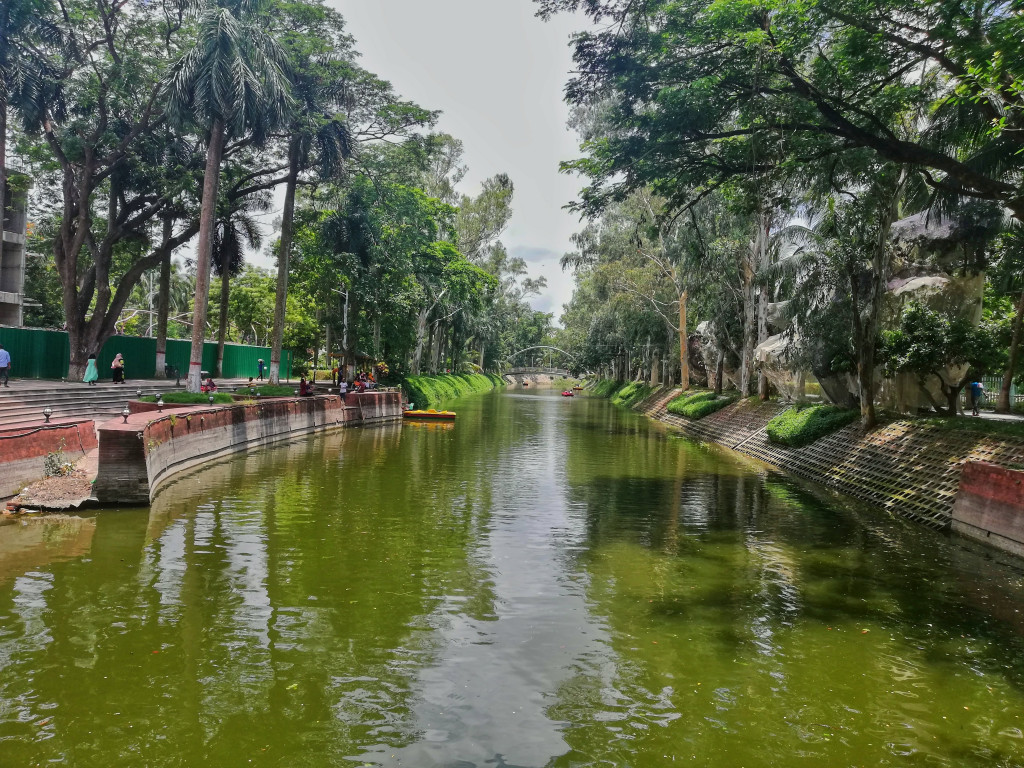 Photo Credit – Arfan Tanvir Hasan
The Rajshahi Central Zoo is a popular place for people of all ages to visit because it has many different animals and fun things to do. It is located in Rajshahi, which is a historic city in Bangladesh.
The zoo covers 32.76 acres of land near the Padma River, making it a beautiful place for both animals and visitors. The zoo has many different animals, such as giraffes, deer, pythons, and crocodiles.
In addition to seeing the animals, you can also enjoy fun rides like pedal boats and Nagardola. Whether you are from this area or you are visiting, the Rajshahi Central Zoo is a place that you must see.
5. Barendra Research Museum, Rajshahi/বরেন্দ্র গবেষণা জাদুঘর
Photo Credit – Md. Saiyen Azad
Don't miss the chance to explore the interesting artifacts at the Barendra Research Museum in Rajshahi!
It is the first museum in Bangladesh and has a large collection of ancient treasures. The museum was established in 1913 by the Barendra Search Committee to preserve traditional items from Bengal.
Although the museum has faced challenges over the years, it was saved from closing when Rajshahi University took over in 1964.
Today, visitors can see relics from different time periods that represent the rich cultural heritage of Bangladesh. Many famous people, such as Mahatma Gandhi and Netaji Subhas Chandra Bose, have visited the Barendra Research Museum.
Plan your visit and experience the history and culture of Rajshahi at this incredible museum.
6. Shishu Park, Rajshahi/শিশু পার্ক, রাজশাহী
Photo Credit – Aroshi Ovi
Shishu Park in Rajshahi is a popular tourist spot and a must-visit when you are in the city. The park has many fun rides and activities for children of all ages. It has been a favorite place to visit since it opened in 2006.
Spanning across 12.21 acres, Shishu Park offers a wide range of exciting rides such as Mary Go Round, Mini Railcar, Flume Rides, Sky Bike, Super Swing, and more. In addition to these thrilling rides, the park also has a 3D Movie Theatre, Pedal Boat, and Bouncy Castle for entertainment.
For your convenience, Shishu Park provides prayer arrangements, washrooms, and car parking facilities. So you can enjoy your day without any worries.
Don't miss the chance to have an exciting and joyful day at Shishu Park in Rajshahi.
7. Bagha Masjid, Rajshahi/বাঘা মসজিদ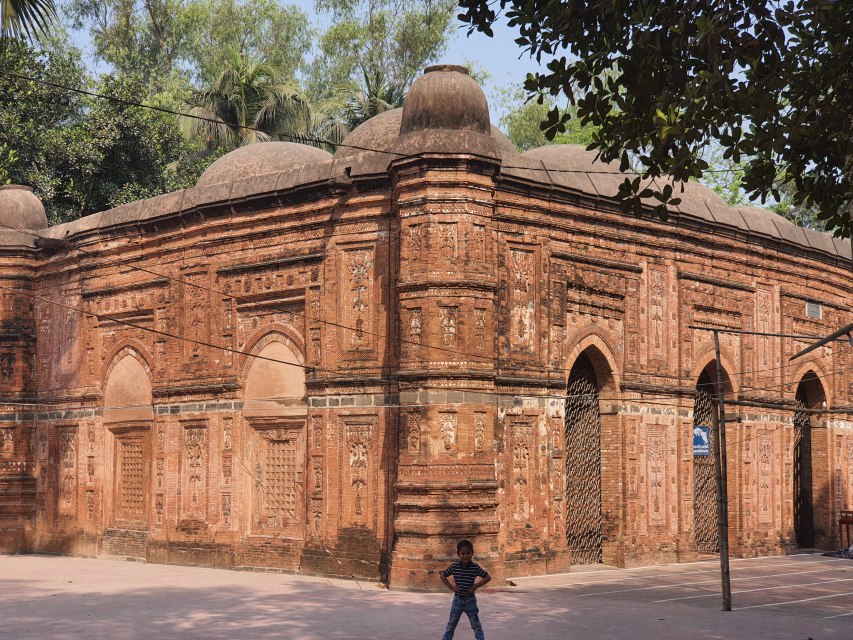 Photo Credit – Obaidul Islam
Bagha Masjid is an old mosque located around 40 km from Rajshahi city. It has a rich history and beautiful architecture.
The mosque is made of bricks and has four domes surrounding it and ten domes in two rows in the middle. Inside, there are burnt earthen plaques both inside and outside the mosque, which are of historical significance. The prayer room on the high altar is very impressive.
Although the north-south walls of the mosque are closed off, there are five doors on the eastern side. After an earthquake in 1897, Bagha Masjid underwent restoration work.
It is definitely worth visiting when exploring Rajshahi.
8. Puthia Rajbari, Rajshahi/পুঠিয়া রাজবাড়ি
Photo Credit – Tariqul Islam
Puthia Rajbari is a beautiful and historically important place to visit in Rajshahi. It is located just 30 km away from the city and is one of the top tourist spots in the Rajshahi division.
The palace was built in the 19th century and showcases a blend of Indo-European architecture. Currently, it is managed by the Archaeology Department and serves as Laskarpur Degree College.
The surrounding trenches, named Shiv Sarovar and Marachowki, add to the charm of the place. Puthia Rajbari houses several temples and palaces, including the Boro Ahnik temple and the four-storeyed Puthiya Dol Temple.
If you are looking for the best place to explore in Rajshahi, Puthia Rajbari should be at the top of your list.
Conclusion: Rajshahi Tourist Places
There is something for everyone. Don't forget to visit the Barendra Research Museum and Shishu Park as well.
If you're interested in history and culture, make sure to explore Bagha Masjid and Puthia Rajbari.
Rajshahi has a lot to offer, so start planning your trip now! I hope you find the article "Rajshahi Tourist Place" helpful.