Looking for a vacation? Discover the best Jamalpur tourist places! From the old Maloncho Mosque to the beautiful Doyamoyee Temple, there's something for everyone.
Want some excitement? Visit the Luis Village Resort & Park for a thrilling picnic experience. Or, relax in nature at the scenic Lauchapara Picnic Spot.
With its interesting history and stunning sights, Jamalpur is a place you must visit. So, pack your bags and enjoy the wonders of this beautiful destination!
Jamalpur Tourist Places To See
Jamalpur is in Mymensingh district, and there are also many tourist spots in Mymensingh. Here I have discussed about 7 tourist spots in Nilphamari that worth visiting:
1.Maloncho Mosque/মালঞ্চ মসজিদ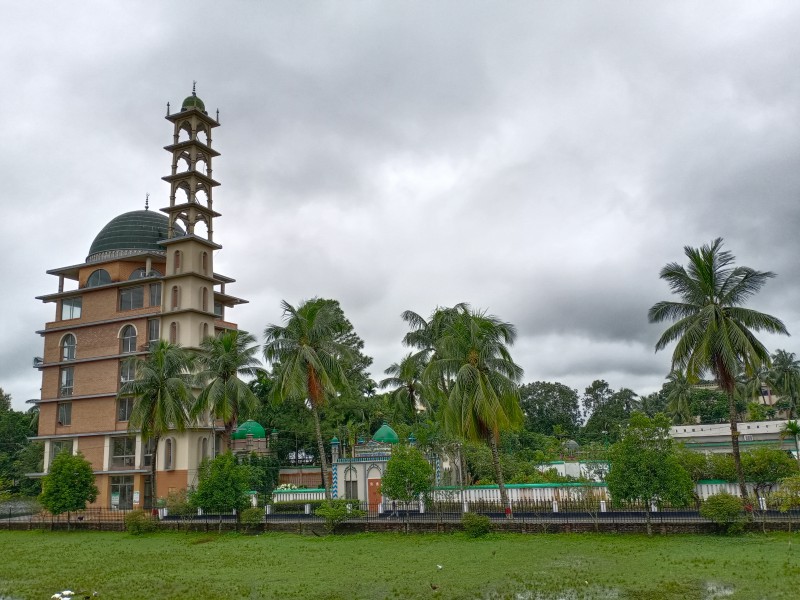 The Maloncho Mosque is a beautiful and peaceful spot to visit in Jamalpur. It is located in the Maloncho Children and Eye Hospital in Melandoh Upazila.
The mosque is known for its stunning architecture, with a dome surrounded by green trees and a water lamp in front. It is part of the larger Maloncho complex, which includes shrines, mosques, madrassas, and Islamic missions.
The Maloncho Mosque is important to the local community for spiritual and cultural reasons. It is used as a place of worship and for Islamic education.
The mosque has also become a popular tourist attraction in Jamalpur, drawing visitors from far and wide who are impressed by its beauty and peaceful atmosphere.
2. Shah Jamal's Shrine/Shah Jamaler Mazar/শাহ জামালের মাজার – Historical Place in Jamalpur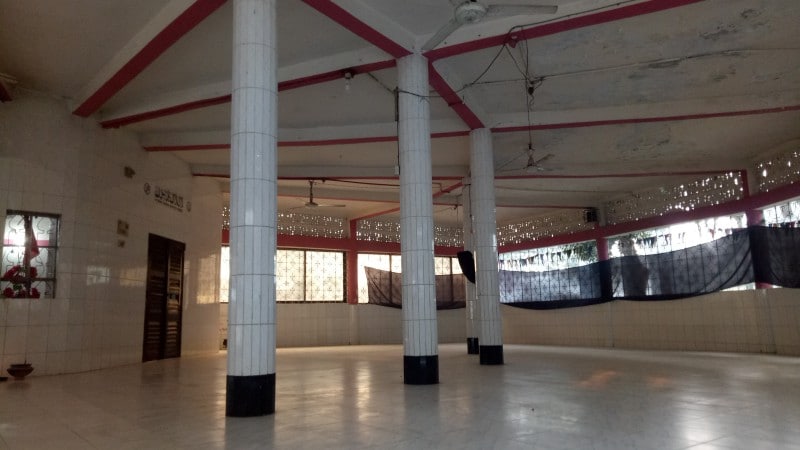 You should visit Shah Jamal's Shrine, a historical place in Jamalpur that is very important.
The shrine is dedicated to Hazrat Shah Jamal, a respected religious figure who came to the region from Yemen during Emperor Akbar's rule in 1586. Hazrat Shah Jamal had a big impact on the Mughal court, spreading religion and catching the attention of King Akbar himself. King Akbar even offered to pay for all the expenses of the Sharif of Hazrat Shah Jamal, but the saint turned down the tempting offer.
This area became known as Jamalpur to honor Hazrat Shah Jamal. The Shrine Sharif of Hazrat Shah Jamal has been updated over time, but still keeps its historical charm. Today, many devotees come to the shrine for Mazar Sharif Ziyarat and other reasons.
It is definitely a historical site in Jamalpur that you should see.
3.Doyamoyee Temple/দয়াময়ী মন্দির – Jamalpur Historical Place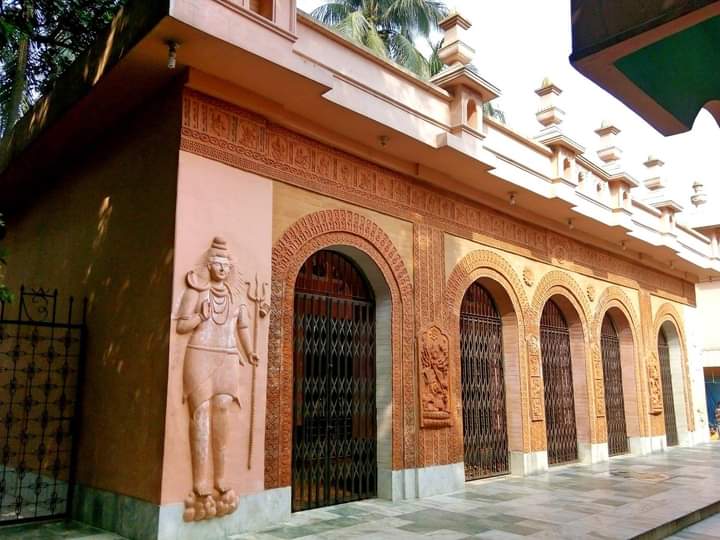 The Doyamoyee Temple is located at Zero Point in Jamalpur district city. It is an old structure that contains separate temples for Shiva, Kali, Natmandir, and Mansa Devi.
The temple was built in 1698 by Sri Krishna Roy Chowdhury during the reign of Nawab Murshidkuli Khan. The architecture of the Doyamoyee Temple is very impressive, with detailed carvings and beautiful paintings that depict stories from Hindu mythology.
Many tourists and devotees visit the temple to offer prayers to the different deities. One special event that takes place at the temple is the Ashtami Fair, which is celebrated annually by Hindus. During this festival, the temple is adorned with colorful decorations and there are music and dance performances, creating a joyful atmosphere.
The Doyamoyee Temple is not only a historical site but also a spiritual place that continues to inspire and amaze visitors with its beauty and religious importance.
4.Luis Village Resort & Park/লুইস ভিলেজ রিসোর্ট এন্ড পার্ক – Jamalpur Picnic Spot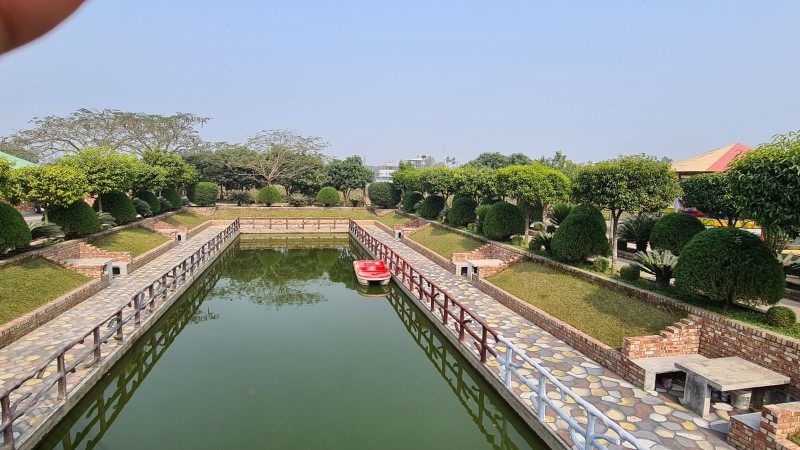 Luis Village Resort & Park is a popular picnic spot in Jamalpur. It is located in the peaceful area of Beltia and covers an area of 10 acres.
Tourists from the Mymensingh division often visit this park. The park offers 14 exciting rides, such as a wonder wheel, bumper cars, swing chairs, and even a mini train. Visitors can also enjoy boat rides and explore the handicraft shops and toy stores for children.
If you get hungry, there are fast food corners and clean restaurants available. Additionally, the park has night-time resorts with comfortable accommodations for those who want to stay longer.
Visitors have highly recommended Luis Village Resort & Park for a fun-filled day out due to its excellent facilities and attractions.
5.Lauchapara Picnic Spot/লাউচাপাড়া পিকনিক স্পট – Jamalpur Tourist Spot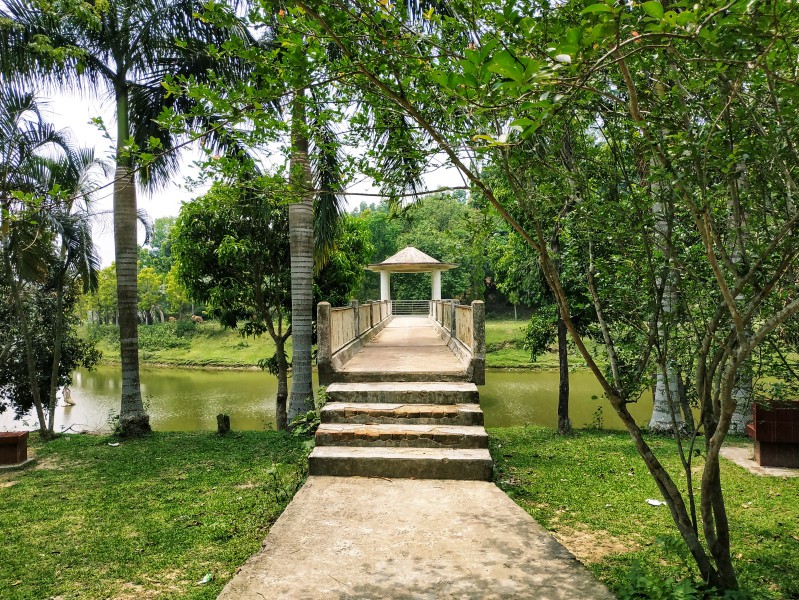 Lauchapara Picnic Spot in Jamalpur district has a wide range of rides and attractions for visitors to enjoy. It is located in the beautiful Bakshiganj Upazila and is known for its natural beauty. This spot is a must-visit among the tourist attractions in Jamalpur.
The hills, forests, and lakes of Lauchapara create a stunning backdrop that attracts both local and international tourists. The picnic spot covers an area of 26 acres and offers various recreational activities for people of all ages. Children can have a great time exploring the park with swings and sleeper rides.
The main attraction of the spot is the 60-feet high watchtower, which offers breathtaking views of the green mountains and landscapes. You can enter this paradise by purchasing a ticket for just Rs 10.
Conclusion: Jamalpur Tourist Places
So there you have it! Jamalpur has many tourist spots that are worth exploring.
From the historic Maloncho Mosque and Shah Jamal's Shrine to the peaceful Doyamoyee Temple, you can learn about the region's rich history and culture.
If you're looking for a fun day out, the Luis Village Resort & Park and Lauchapara Picnic Spot are great options.
Whether you love history or just want a relaxing getaway, Jamalpur has something for everyone.
Make sure you don't miss the chance to visit these amazing places! I hope you find the article "Jamalpur Tourist Places" helpful.