As the ninth-largest island in Indonesia, Bangka island tourism has a variety of beauty that can not be forgotten. Each visit offers an unparalleled panorama of nature. 
Those of you who travel to Bangka are guaranteed not to go home if you see the natural beauty that this place has to offer. Even those already in Bangka are afraid to leave because of the natural beauty on display there. 
Especially natural tourism in Bangka in the form of beaches become a dish of unspoiled beauty that you have to follow.
For those of you who already have plans for a vacation in Bangka and want to enjoy a variety of tours in Bangka presented, here we give a list of interesting tourist spots to visit and things to do in Bangka. 
12 Interesting Tourist Spots To Visit In Bangka and Things To Do
1.Batu Dinding Beach/Pantai Batu Dinding
Photo Credit – Sigitto Channel

The first Bangka tourist destination recommended is Batu Dinding Beach. Batu Dinding Beach is a rocky beach with the charm of beach scenery and granite rocks that are quite large. 
If you visit this beach, you will also see the charm of Punai Island in the middle of the sea.
The charm of this beach is very soothing to anyone who visits it. Tin miners also pass by the water. So it becomes another sight to look at for each visitor.
Then on the left side of the beach, you will see the presence of a pier where fishermen around to dock their boats. You can also take a photo at the pier where the fishermen put the boat. The view will be even cooler when the sunset comes shadowing.
2.Red Hill, Lake Ampar/Red Hill, Danau Ampar
Photo Credit – Harry

If you've ever come to the Grand Canyon, at first glance, Red Hill is a tourist attraction similar to the Grand Canyon. You will find a stunning panorama of rocks in red brick.
Not only the charm of the red brick rocks become a pleasant sight in Red Hill, but you will also find clear water in the middle that makes the atmosphere of Red Hill more perfect.
But if your tour in Red Hill coincides with the moment the lake water dries up, then you will feel like you are in the desert with a very beautiful red coral.
3.Kaolin Aek Blue Lake/Danau Kaolin Belitung
Photo Credit – Terry Cheng

If Red Hill is identical to red, then Kaolin Aek Blue Lake is identical to blue and white colors that make the atmosphere very clear. With its unparalleled beauty, it makes many people do prewedding photos in Kaolin Aek Blue Lake.
Well, getting to this lake is pretty easy. From the airport, you only need about a 1-hour drive and use four wheels. Of course, at some point, you'll find steep roads. But even though the road is quite steep, you will not find it difficult to find sparkling blue water on this tour.
Read more: Woah!!! The 7 Best Places To Visit In Sumba
4.Matras Beach/Pantai Matras
Photo Credit – Pahri Setiawan

For those in the Bangka area and are looking for a beach attraction that many visitors, you can directly come to Matras Beach. The stunning natural panorama can be seen at Matras Beach.
Not to mention, the view of the vast stretch of beach sand becomes an advantage that you will find behind this beach. You can play sand and play as much water as you want when traveling at Matras Beach.
You can either stay in a bungalow, set up a tent from this beach tour if you want, or choose to camp on this beach. 
The most beautiful charm will surely be the scenery that you will not forget when you stay in this Bangka beach tourist area.
If you stay overnight at Bangka Beach, at night, you will enjoy the atmosphere of the beach while watching the view of fishing boats sailing in the middle of the ocean. 
The night light from the fishing boat that you can hardly find when you return to the city, everything will certainly be the most beautiful scenery that you can get in one of Bangka's tours.
5.Pantai Tikus
Photo Credit – Mohammad Iddad

For those looking for Bangka tourism with natural charms that are still very beautiful and natural, it is recommended that you visit Tikus Beach. The beauty of nature that is still unspoiled you will find in this tour.
Tikus Beach is one of the best Bangka tourism that has the charm of a row of large granite rocks around the beach. Some cliffs are still very natural.
The blue and very clear sea water you will find. Not to mention, the presence of a magnificent Bihar or temple near the beach provides another attraction for everyone who visits Tikus Beach. You can also take pictures of the background of the magnificent monastery.
6.Parai Tenggiri Beach/Pantai Parai Tenggiri
Photo Credit – Daniel Haposan Marbun

Parai Tenggiri Beach is a Bangka tour in the form of a very cool beach. When you enter, you will be able to witness the spectacular views of nature the place has to offer.
Parai Tenggiri Beach was formerly known as Hakok. It is said that Indonesia's first president, Ir, first gave the term Parai Tenggiri. Soekarno. For those of you who want to travel and enjoy the beautiful panorama of Parai Tenggiri Beach, you must travel approximately between 43 to 60 minutes by road.
Once you reach Parai Tenggiri Beach, you will be made to fall in love with the natural beauty offered. Bangka tourism comes with the contours of a sloping beach filled with a very soft stretch of white sand.
Then the sea looks very clear with a turquoise color. Around it, you'll find rows of charming coconut and granite trees. The rows of coconut trees and granite stones are characteristics of beach tourism in the Bangka area, including Parai Tenggiri Beach.
In addition to being a beautiful and exclusive natural panorama, Parai Tenggiri Beach is also very comfortable and quiet. 
Those of you who need tranquility, just slam the steering wheel to Parai Tenggiri Beach. In terms of location, Parai Tenggiri Beach is connected to Rock Island. 
What is Rock Island?
Rock Island is an island consisting of large granite rocks. To see the uniqueness of Rock Island, visitors to Parai Tenggiri Beach only need to pass a long bridge that stretches.
Besides enjoying the exoticism of the beach in Parai Tenggiri, you can also enjoy outbound activities on this beach. Guaranteed, a tourist experience that is second to none you will get at Parai Tengiri Beach tour.
Read more: The 7 Wonderful Attractions In Bima Lambu (NTB)
7.Belinyu Stone Wall Beach/Pantai Batu Dinding Belinyu
Photo Credit – Yusuf Saputra

Batu Belinyu Wall Beach is beach tourism in Bangka with a unique shaped stone contour. You can take pictures with a uniquely shaped stone line perched on every corner of the beach.
One of the best tourist sites in Bangka is a beach near Villa Batu Dinding. If you come here, you can take the beach down the path starting from the bottom of the hill. 
A special road has been created to facilitate visitors to reach The Stone Wall Beach Belinyu from the old path.
After passing the road, you arrive at Batu Dinding Belinyu Beach, and surely you will be amazed by the giant rocks perched there. You can capture all the moments at Batu Dinding Belinyu Beach with your camera or mobile phone.
With the natural beauty offered, it is no wonder until this moment many tourists come alternately to Batu Dinding Belinyu Beach. Foreign tourists and domestic tourists alike come back and forth to travel and capture the moment.
Even this beach becomes one of the best Bangka tourism that is often used as a location for shooting video clips, prewedding photos, and weddings. So if you have a certain event, you can do it here. 
8.Pait Jaya Muntok Waterfall/ Air Terjun Pait Jaya Muntok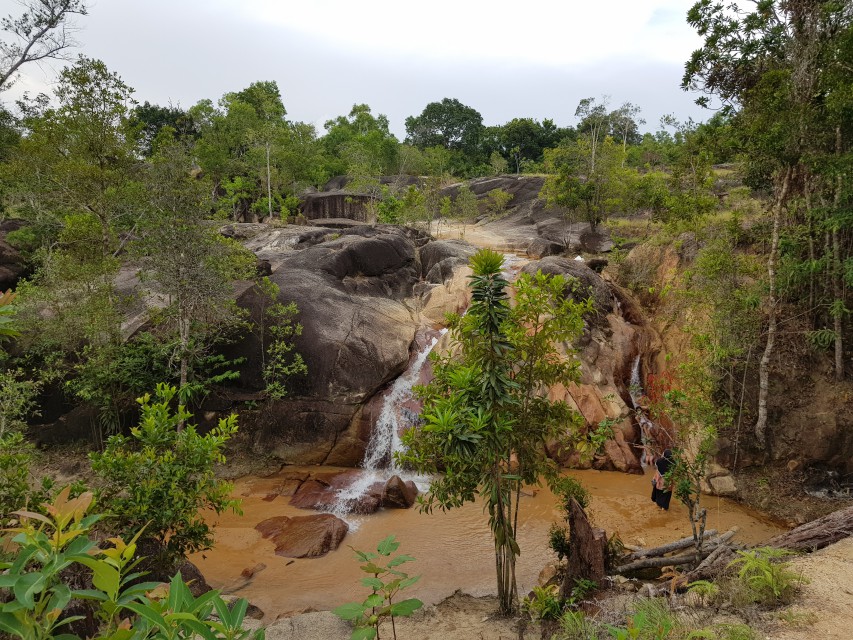 Photo Credit – Ardika Surya Kusuma

Pait Jaya Muntok Waterfall, originally a waterfall tour in Bangka, is abandoned. But now, nature tourism in Bangka one began to be looked at again. 
Moreover, its easy access means that many tourists who visit Bangka will also visit Pait Jaya Muntok Waterfall, which is also part of Bangka beach tourism.
There is a fun-filled environment at Pait Jaya Muntok Waterfall, with the sound of gurgling water surrounding you. A shady forest surrounds you, while water flows quickly at the waterfall.
There are several tourist activities that you can do when traveling in Pait Jaya Muntok Waterfall. Those of you who visit this waterfall tour can play water, hunt for photos, and relax while relaxing.
If necessary, do not forget to bring supplies so that you can also eat the supplies you bring when you feel hungry. 
It is mandatory for those of you who are easily hungry to bring supplies because around this waterfall, and there are still no stalls, let alone restaurants. Don't forget to bring some water if you're traveling here, buddy!
9.Bangka Botanical Garden
Photo Credit – Rizal

If you come to Bangka, there are not many green expanses insight. But you can still see the beauty of Bangka from Bangka Botanical Garden. 
Shrubs surround the Bangka Botanical Garden area as ornamental plants. But the herbaceous plants do not hinder the beauty of Bangka Botanical Garden.
In Bangka Botanical Garden, you will see how the manager develops the zero-waste system. 
What does the zero-waste system itself look like? 
Zero waste is the process of minimization of waste and the remaining production of the three main activities of Bangka. If there is waste, it will be used to support other production sectors in Bangka.
Photo Credit – Catatan Sinine

Besides being a place developed for plantations, the Bangka Botanical Garden is also an area of cattle farms. It is planted with a variety of fruits and vegetables. 
Moreover, Bangka botanical garden area is a center for breeding various types of plants, freshwater fish breeding ponds, and agricultural production centers.
In Bangka Botanical Garden, wildlife is also thriving. There are at least 200 animals and 2000 species of plants that live in the Bangka botanical garden ecosystem.
Indonesia has several other islands which hold a natural tourism charm besides Bangka Island. 
Read more: Top 8 Best Things To Do In Bali Zoo – Review
10. Bangka Golden Bridge/Jembatan Emas Bangka
Photo Credit – Muhammad Gunawan

Bangka Golden Bridge is known as one of the most important tourist attractions on Bangka island. It is an icon of Bangka city, which serves as a hub for Bangka regency and Pangkal Pinang, the capital of Bangka Belitung province.
Standing very majestically, making Bangka Golden Bridge is often used as a spot for photos. In the evening, this tourist icon looks very beautiful with the charm of the perfect city light. 
11.Timah Muntok Museum/Museum Timah Muntok
Photo Credit – Iwan Resmawan

Timah Muntok Museum is one of the museums worth seeing in Bangka. It is a tin mining museum and has a Malay culture museum at the same time.
For those of you who want to travel to the museum with free admission, you can travel for 2.5 hours from the city center. The museum building itself is a former tin mining office in the Dutch colonial era.
A very thick ancient impression is still attached to this museum. Formerly, this museum was named Hoofdbureau Banka Tinwinning Bedriff, which also functioned as the center of the Dutch government in Bangka Island.
Timah Muntok Museum is a museum with white European architecture that has been established in 1915. Now The Timah Muntok Museum is open to the public. 
Timah Muntok Museum has been transformed into a museum since November 7, 2013.
In this museum, you can find 176 collections and nine galleries that display tin mining and the history of Bangka to the history of World War II and the history of exile Bung Karno. 
Those of you who want to learn history and enjoy the past architecture must come to this Timah Muntok Museum.
12.Sea Goddess Temple/Kelenteng Dewi Laut
Photo Credit – Ahmad Habib

A place of worship for kong hu cu religious people and a tourist destination, Bangka also has outstanding icons of natural tourism. One such icon is Dewi Laut Temple, which is a tourist attraction and a place of worship for visitors. 
This temple is one of the most beautiful and more beautiful because it faces the sea. Thus, you who travel in The Goddess of the Sea Temple can also experience the exoticism of the Bangka sea, which is second to none.
Visitors entering the temple area will see a variety of statues. Statues at the temple entrance welcome visitors with statues of all zodiacs of the Chinese calendar, such as the pig, mouse, dog, monkey, horse, and many more.
Uniquely, the statues built in Dewi Laut Temple were built on the donation of volunteers whose names are listed at the bottom of the statue. 
Followers of Kong Hu Cu donated almost all ornaments and various equipment in the Temple Of The Goddess of the Sea. For those who come to this temple, taking pictures is okay. 
But you should be polite as well since, until this moment, The Temple of the Goddess of the Sea is still actively used as a place of worship by Kong Hu Cu people in Bangka.
Those who travel in Bangka, you may choose from various best Bangka tours above. Enjoy a variety of interesting tourist experiences in Bangka nature tourism or tourism icon in Bangka. Happy traveling!