Last Updated on 18/05/2022 by Alfred
Traveling to Costa Rica? Discover the unique and unusual things to do in San Jose, Costa Rica's true jewel of fauna and flora!
Why visit San Jose?
San José is the capital of Costa Rica. Yet, it does not look like what one would expect when arriving in this Central American country: the city is located in the heart of the country, far from the paradisiacal beaches that Costa Rica offers.
However, this city, founded late in 1738, is a must during a trip to Costa Rica, and it is not because an international airport is there. 
It will take you a while to adapt to the layout of the streets. Still, once you have located the National Theater, you are off to discover the different districts of Amon, Otoya, and Soledad, where beautiful buildings adorn the streets. 
The museums contain natural treasures such as the Gold Museum, the Jade Museum, and the National Museum. Another local attraction is the markets. 
Stroll through the shopping aisles of the Central Market, for example. In the surroundings of San José, only a few hours separate you from volcanoes and nature.
8 Unusual Things To Do In San Jose, Costa Rica
San José is the destination through which you will arrive in Costa Rica. Your first impression in the capital will be to discover the chaos in which you have just come: narrow streets filled with passers-by, cars, and buses spewing diesel fumes, dirty sidewalks, etc… 
In short, you will quickly take refuge in your hotel. But that's a mistake! San José also has its charms, quiet places, markets, and old quarters worth a visit. 
Another advantage of San José: the city is located in the country's center, allowing you to shine throughout Costa Rica over several days in the sandstone of breathtaking fauna and flora.
Here is our selection of the Unique things to do and see in the unmissable San José!
1. The old quarters of San José
The barrios Soledad, Amon, Coca Cola, and Otoya are the oldest neighborhoods in San José and the most interesting. 
Markets (Mercado central in particular), parks, zoos (Simon Bolivar Zoo), and architectural monuments are a terrific start to San José. For a total immersion, opt for a visit accompanied by a local. There's no better way to discover a city than from a new perspective!
2. Local wildlife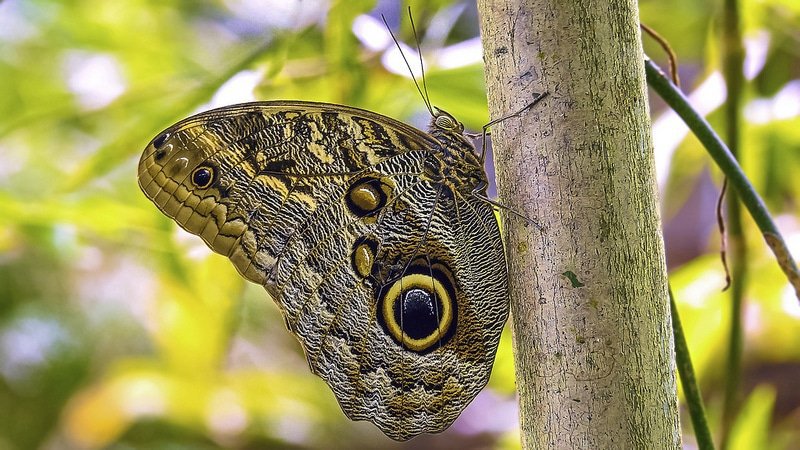 Photo credit: Flickr – Ian D. Keating
Costa Rica is home to an abundance of stunning butterflies. To delight enthusiasts, nature excursions invite you to dive into the world of these kaleidoscopic creatures for a few hours. 
Several gardens also open their doors to you: at the Spirogyra Butterfly Garden, you can learn more about Costa Rica's natural history and discover the living contact between butterflies and their environment. 
There are also beautiful plants and hummingbirds for a real botanical experience!
At the Butterfly Farm, just south of Alajuela (30 min from San Jose), you can stroll through an enclosed garden while the butterflies flap their wings. 
Here, up to 80 species of butterflies await you, immersing visitors in the different phases of life of the species, from the egg to the caterpillar, to the cocoon. 
In particular, you will learn that the cocoons themselves have shimmering colors and a movement that allows them to protect themselves from predators… 
To get there, do not hesitate to opt for one of these bus excursions: scheduled daily from San José, they include the entrance ticket to the farm for a two-hour guided tour.
For budding explorers, there's also La Paz Waterfall Gardens. This attraction opens the doors to a huge butterfly garden (supposedly the largest). Along the La Paz River, it takes you into the rainforest to meet orchids, hummingbirds, and stunning waterfalls. 
This is a two to four hours walk that you won't forget… If its price is higher than other San José excursions, know that it is sincerely worth every Colón spent!
People Also Read: Is Costa Rica Worth Visiting? Costa Rica Ecotourism
3. Bull racing
The Ticos (Costa Ricans) try their hand at The Corridas a la Tica, a popular sport here. Here, bloodbath and traditional killing are not de rigueur! 
The Ticos prefer to tease el toro in an arena: 150 improvised toreadors jostle to avoid the bulls during the race. Like in the traditional Camargue race, the bravest riders hit the bull's back until it chases them. Going to see a bull race or to participate in it is one of the most unusual things to do in San Jose.
4. A café in the National Theatre
Since 1897, the National Theater, located in the heart of San José, has been the number 1 pride of Costa Ricans. 
Its sublime architecture makes it a popular destination for locals and visitors to see its shows. The National Theater is also home to its unmissable Café! 
Inside, guests take the time to enjoy the country's drink while enjoying the works on display.
5. La Sabana Park
Sabana Park is the largest park in the city. It is often described as Los Pulmones de San José. 
The reason is simple: thousands of people gather there to relax and get some fresh air on weekends. With its large deformed pond and numerous sports facilities, this park has all the ingredients to spend time with the family. 
Buy your snack in a local store (pulpería) and join the famous lung of greenery. You can also stop at the Costa Rica Art Museum, which used to be the airport terminal when La Sabana was the country's main airport.
6. The Tortuguero Reserve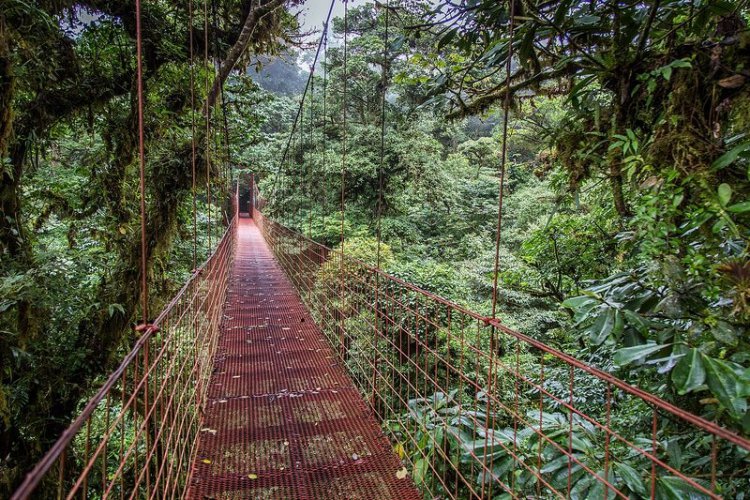 Photo credit: Flickr – Julian Buijz
What if you went to discover the lands of Tortuguero? A true jewel of nature, this jungle is home to several turtles, amphibians, reptiles, birds, trees, and plants!
During a boat ride on tropical waters, explore this incredible unspoiled park that, from its banana plantations to its solitary beaches, invites you to discover one of the most beautiful faces of Costa Rica.
7. Volcanoes
Costa Rica is home to several volcanoes. There are none in San Jose, so you should plan a day trip or more.
Among the most incredible in Central America, the Arenal is breathtaking, especially at night, when it spits lava into the air. 
Closer to San José, we find the Turrialba, the Irazu (the highest), and the Poas (one of the most active). It is recommended to always go very early in the morning. Otherwise, the view would be obscured by clouds almost every day.
8. The Orosi Valley
Photo credit: Wikimedia Commons – DirkvdM
Quiet and picturesque, the Orosi Valley has many treasures in store. Whether it's the oldest church in Costa Rica, the ruins of Ujarras, the Cachi hydroelectric power plant, or the Casa del Soñador for coffee lovers, the place promises to store memories! 
You can have your means of transport or opt for a guided tour to access it. In any case, plan a whole day. Visiting Orosi Valley is the last and one of the best unusual things to do in San Jose, Costa Rica on our list.
How to get to San José?
The best way to get to San José is by plane. Several companies offer travel from France with a travel time between 12h and 14h. 
Whichever airline you choose, you should also know that all flights from the mainland to Costa Rica include a stopover in North America.
Where to stay in San José? 
Not sure where to stay in San Jose? Here are the best neighborhoods to stay in the capital of Costa Rica, a country with such a soft motto: "Pura Vida"!
A visit to Costa Rica is ideal for those who want to commune with nature and discover flora and fauna that can't be found anywhere else. 
This tiny Central American country, a pioneer of eco-tourism, has 30 national parks and ecological reserves, 11 active volcanoes, many rivers, and waterfalls, or 27% of its area classified as a nature reserve! 
Its capital is San José. It is also the largest city in the country. San José currently has more than 339,000 inhabitants. 
It is a large city spread between volcanoes and mountains, located 1200 meters above sea level. This is where you can spot the best bars and restaurants in Costa Rica. 
The city is also home to some fascinating museums, including pre-Columbian art. Take advantage of this getaway to admire the colonial buildings and buy some local products in the central market.
It is essential to choose suitable accommodation in San José to enjoy the city and its charms. San José is an unusual capital city. The so-called "rich" neighborhoods are on the city's outskirts, and the "popular" parts are more central. 
The economic activity of the city is increasingly played out on the periphery. Here you will find the best places and neighborhoods to stay in San José!
Cool Places To Stay In San Jose, Costa Rica
San Pedro
Located at the eastern end of the city, San Pedro is one of the most popular neighborhoods in San José. Attracting many young people due to the presence of the largest public university in the country, this neighborhood is charming. 
We recommend it first if you are looking for places to stay in San José. It is full of good restaurants and bars around the university campus and several affordable hotels. 
San Pedro is just 10 minutes from downtown San Jose and is home to one of the city's first and most popular shopping malls, the San Pedro Shopping Center.
Los Yoses
The quiet residential area of Los Yoses has many foreign embassies and diplomatic enclaves nearby. It is also here that the Iglesia de Fátima is located. 
It's a nice neighborhood, one of the chicest in east San Jose. Located very close to the city center, it only takes 5 to 10 minutes to get there by taxi or bus. 
Hotels in the area are also relatively budget-friendly, with several small bed and breakfast options available. This part of the city is an ideal place to live if you want to avoid the noise while staying close to the heart of the city center.
Barrio California & Barrio Dent
Mainly residential areas, these two districts have several old and beautiful houses converted into restaurants and language schools. With a few Spanish learning institutes in these areas, many tourists and ex-pats will find them here. 
Students come mainly to these regions to learn Spanish or perfect their vocabulary, whether young or old. 
Most language learning institutes offer between 3 and 5 hours per day of intensive Spanish study with homestay options. Thus, you will live with a host family that will provide you with a room and daily meals while learning the language and immersing yourself in the "Tico" culture.
Wondering what "Pura Vida" is? Go to Costa Rica! There, it is the motto of the country. 
Each day, they greet each other using this expression to mark their optimism and epicurean outlook on life. The meaning of Costa Rica will be fully realized when all its riches are discovered.
Is San Jose Worth Visiting?
Without a doubt, San Jose is worth a visit. San Jose is the main and most popular entry point to Costa Rica. Almost every traveler visits San Jose on their Costa Rica trip. San Jose offers many tourist attractions (museums, parks, hikes) for its tourists.
This is essentially the most exciting thing to do in San José and its surroundings. Of course, your curiosity can take you to places you'll love that aren't mentioned here, and that's all the charm of Costa Rica. Have you been to San Jose?