Bar Harbor is a hot spot resort town that is a heart-taking place on Mount Desert Island in Maine. Along with Frenchman Bay, this beautiful town is a gateway to the mountains and cliffs with the Acadia National Park. 
There are many more spectacular things in Bar Harbor for which it's known worldwide. Also, the place is popular for its scenic natural beauty and rich history. After finishing the article, you will just ask yourself one question: How Do I Spend A Day In Bar Harbor?
So, to learn more about its popularity and history and what makes this place prettier in detail, keep an eye out for the "Why is Bar Harbor So Popular? Does Bar Harbor Have a Downtown?" article.
People Also Read: 

Ghost Tour in Bar Harbor

Best Things To Do in Bar Harbor in May

Bar Harbor Whale Watching

Movie Theater Bar Harbor

How Do I Spend A Day In Bar Harbor

Best Things To Do In Bar Harbor Each Month

Why is Bar Harbor So Popular?
Bar Harbor is popular for its beautiful natural scenery, gorgeous Frenchman Bay, Shore Paths, Acadia National Park, Cadillac Mountain, and rich history.
This place has celebrity residents, College of the Atlantic, Jackson Laboratory, Abbe Museum, and Agamont Park for the tourists to enjoy their summer vacation. Bar Harbor is also popular for its seafood restaurants, where you can have delicious Maine lobster.   
Bar Harbor is a place where nature is at its finest. It has gained popularity as one of the best summer vacation tourist spots in the United States. Bar Harbor is a small town on Mount Desert Island that serves as the gateway to the mountains and cliffs of Acadia Park in the United States. 
Bar Harbor became a popular tourist spot and exclusive summer resort during the Gilded Age. In this walkable town, there is Acadia Park which is the oldest park in Maine. Acadia Park is most spectacular as it is the home of Cadillac Mountain. Hiking in Cadillac Mountain is one of the best things to do in Bar Harbor.
This blessing place of mother nature offers sightseeing, climbing, hiking, kayaking, boating, fishing, bird watching, wildlife sightings, biking, and more, making this most popular tourist spot. 
Does Bar Harbor Have A Downtown? 
Bar Harbor is a small beautiful town where you can walk along through the beauty of nature in this downtown. You can take a walk on the main road surrounded by downright charming. Wandering around the village can be pleasant in this downtown Bar Harbor.
You can explore downtown Bar Harbor on a footwalk. You can stroll through the Village Green, walk down to summer cottages, or can explore the carriage trails in Acadia National Park.
In downtown Bar Harbor, having a walking tour through the Sand beaches and exploring Frenchman Bay is more than something to describe. On the main road of Bar Harbor, you'll keep staring in store windows at paintings, artwork, clothes, and books.
The Shore Paths is a great attraction for the tourists in Bar Harbor. Running through the waterside, and staring for hours at the water ringed by the mountains, is very appealing in downtown Bar Harbor.
Is Bar Harbor Pretty?
The Bar Harbor is a heavenly piece of nature on Mount Desert Island. Beautiful coastlines, breathtaking views of islands, and the ocean make Bar Harbor prettier. More beauty is added as it is a charming seafront town full of seafood restaurants and various activities. 
The beauty of Bar Harbor is something that is beyond the ability to describe within a few words. Mount Desert Island is the largest island on the East Coast of Maine, having spectacular attractions.
Bar Harbor offers fancy enjoyment with galleries, museums, parks, restaurants, shopping places, and many more. Every year thousands of visitors come to this place to enjoy the shady, green ways of Acadia National Park, to watch whales, for fish, or to enjoy the Maine lobsters.
In Bar Harbor, you can experience a magnificent world with relaxing sounds and sights. Here, on the water, you can see Bar Island, Sheep Porcupine, Bald Porcupine, and Long Porcupine Islands throughout Frenchman Bay. Take a foot-walk on the Shore Path, and you can breathe salty fresh air. 
On top of that, climbing Cadillac Mountain is an awesome experience as you can see the painting of the ocean, painted by mother nature from the top of the mountain. The lobster boat tour becomes more fascinating when the lobster traps are hauled on the boat, and you can hold it.
What is Bar Harbor Known For?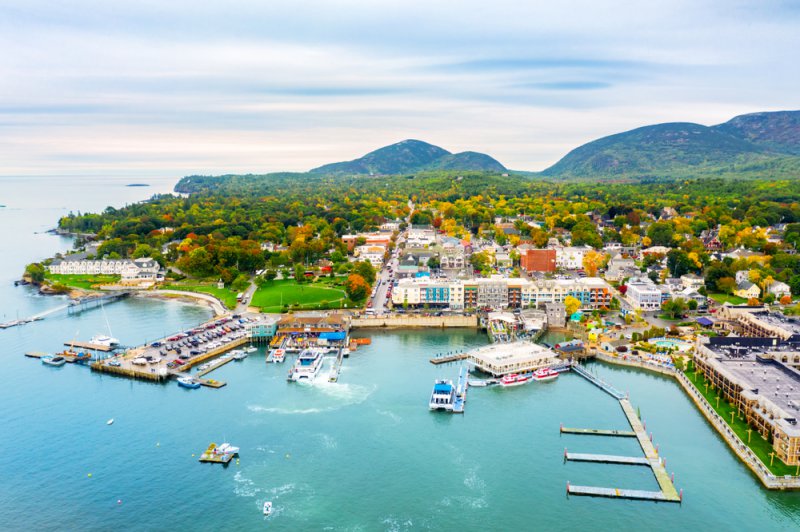 Bar Harbor is known for its breathtaking natural beauty, rugged rocky coastal charms, relaxing ocean beauty, and many yachts and lobster boats. People can enjoy sparkling sunlight reflecting on the sea with indescribable vibes here. The mountains are an extra attraction of Bar Harbor to have the best scenario of the islands.
Bar Harbor is a resort town on Mount Desert Island in Maine, United States. People loved this place as Bar Harbor is blessed with immense natural beauty. Bar Harbor is offering its best and most spectacular outdoor attractions that can anyone fall in love with. 
Cadillac Mountain, coastal outlines, Cranberry Islands and Sand Beaches are the artistry that makes Bar Harbor known worldwide.
You can enjoy the great Frenchman Bay beauty, a lobster boat tour, or the green forest in Acadia National Park. You can take a walk along the Town Pier or wander on the Shore Path to enjoy the delightful winds coming from the bay overlooking the ocean. 
Tourists can have enjoyable biking, hiking, walking, boating, and whatnot in Bar Harbor. So, the charms of Bar Harbor are more than worthy to be only known.
Is Bar Harbor A Touristy?
Yes, Bar Harbor is definitely touristy. Bar Harbor may be listed on the top list of tourists if there is a list of the best tourist spots. Bar Harbor has many artistry places like Acadia Park, Cadillac Mountain, Village Green, and many more attractive places with which the tourist will fall in love.
There are quite a number of places to stay and a lot of restaurants for travelers making Bar Harbor the best touristy place.
Bar Harbor offers a green forest scenario and rocky coastal outlines at Acadia Park. Tourists can stroll around the bank of Frenchman's Bay or cruise in boats along with its water. 
On top of that, the majestic Cadillac Mountain offers the best view of Acadia Park or Frenchman Bay. Of course, no one can ignore the feeling of the thought of hiking at Cadillac Mountain. 
You can visit the College of the Atlantic, Jackson Laboratory, which has the world's largest mammalian genetic research facility, or Abbe Museum, where you can witness the Native American culture and its history. 
Tourists can have a time out at Agamont Park, a hilltop location of Bar Harbor from where you can see straight at Bar Island and Porcupine Island on a shiny clear day. The picturesque shore paths of Bar Harbor are another attraction for tourists. 
It attracts tourists, especially when there is a beautiful sunrise. The seafood restaurants are the extra attraction of Bar Harbor. You can get a classic lobster dinner with corn on the cob, cornbread, and coleslaw.
Why Do They Call It Bar Harbor?
The name Bar harbor was renamed, inspired by the sand and gravel bar that connects Bar Harbor to Bar Island. This sand bar is only visible when there is a low tide. The former town of Eden was named Bar Harbor on March 3, 1918. 
The history of Bar Harbor starts long before, in 1604, when the French explorer Samuel de Champlain first visited Bar Harbor. On September 6, 1604, he was sailing towards Otter Creek when his boat ran aground on a rock. 
This French explorer named this island Iles des Monts Deserts, or "island of barren mountains" which is now Mount Desert Island.
In 1763 Europeans Israel Higgins and John Thomas first settled and started a community in this area. The area was named as town of Eden on February 23, 1796, after the name of Sir Richard Eden. 
The beauty of this place attracted the attention of wealthy residents and travelers when Thomas Cole and Frederic Church glorified Mount Desert Island in their artwork. In 1855, Tobias Roberts established the first hotel Agamont House where by 1880, almost 30 hotels were established. 
John D. Rockefeller built the roads of Acadia Park, which are now used for hiking or biking. He also donated one-third of the land to Acadia National Park. And finally, in 1918, inspired by the sand bar, this town of Eden was renamed Bar Harbor, a charming place with a fantastic wealth of natural beauty. 
Wrapping up 
To wrap up everything, nothing is left behind to know that Bar Harbor is a magnificent place to have a summer or winter vacation trip. Go for a Bar Harbor trip and get involved with the beautiful part of nature. Breath in the salty fresh air having the sweet smell of roses perfuming the air in Bar Harbor.
Bar Harbor has gained popularity over the years for its striking beauty among tourists and locals. You can do amazing things there on your vacation with family and friends. We hope the "Why is Bar Harbor So Popular? Does Bar Harbor Have a Downtown?" guide was helpful to you. Have a good time!!