The right to disconnect is not just a beautiful formula! To make it concrete, we have selected the 15 best destinations in France to disconnect.
Can't end a conversation with your spouse without having to answer a business call? You no longer look your children in the eye but are absorbed by your mobile phone screen? 
Can't go through a meal without taking a picture of what you eat and posting it on Instagram? Are you shaking if you don't respond to an email, even on weekends? 
The symptoms are clear, and the diagnosis is clear: you are overworked and suffer from digital addiction! A digital detox cure of at least three days is prescribed urgently!
Are you ready to try the adventure of disconnection? It is ok! However, one thing is troubling you. What are these strange and exotic places where it is still possible today to disconnect? 
One may not want to hide deep in the Amazon rain forest, exile oneself to the most remote corners of the Bolivian altiplano, or turn to asceticism, so what are the other options? 
Rest assured, no need to fly fifteen hours or eight days of walking to reconnect with yourself! In the four corners of France, there are many sites, perhaps near you, that offer you a digital detox experience.
Ready to store your phone in your drawer and discover the best destinations in France to disconnect? There is something for every taste and price. Pack your bags!
The 12 Best Destinations In France To Disconnect
1. The Château de la Gravière
When grapes replace screens. What if you lost yourself in the vines that could heal you? Located between Bordeaux and the Atlantic coast, south of the Gironde estuary, in the heart of the Médoc, this guest house is perfectly suited to a digital detox cure. 
Your stay will include coaches' evaluations, board games, walks, tastings, massages, or a swimming pool, all in a pleasant setting and surrounded by a severe and positive team.
Rates: from 210 € per person for 3 days and 2 nights, without the cost of accommodation or catering.
2. The Westin Hotel in Paris
Is it impossible to disconnect in Paris? Think again! Since 2014, the famous hotel The Westin Paris-Vendôme has invited digital addicts like you to offer themselves a window of disconnection. 
Your gadgets, objects of your addiction, must be deposited in the hotel safe to help you resist temptation. Don't worry; everything is designed to make you forget about your toys!
Get ready to be pampered! Swap your Skype session for an energizing thirty-minute massage. Enjoy the basket of pastries and sweets deposited in your room! 
In a complete New Balance outfit, loaned by the hotel, let off steam in the hotel's gym. Put away your emails and read a magazine on paper instead.
Rates: from 450 € per night.
3. The islands of Morbihan
Even if it means living the digital detox experience, you might as well not do things by halves! Spend an unforgettable day and night onboard a sailing ship with Out of Reach. 
Live in clean air and saltwater for nearly forty-eight hours and discover islands like Grois, Belle-île, Houat, or Hoëdic. On the program: fishing, diving, introduction to navigation, and disconnection! 
Be careful; you may not want to find your smartphone after tasting silence and a life without attachment!
Rates: 205 € per person, in summer.
4. The Vichy Célestins Spa Hotel
Vichy Spa has had a digital detox formula since 2014. Hotel rooms are devoid of screens and offer coaching sessions to help overworked people preserve their health. 
Want to watch the news or a football match? Forget! Instead, opt for a relaxing treatment or a moment of relaxation against a backdrop of Zen music. To best target your needs, you will be invited to meet with a doctor and a nutritionist.
Rates: € 1,035 per person, for 3 days and 3 nights. From 786 € without accommodation or catering.
5. The Mas de la Fouque, in the Camargue
Find the sun to cure your disconnection! Relax and enjoy the beautiful setting of this exceptional place. On the program: gourmet meals, two treatments, two fitness sessions, and unlimited access to the pool, jacuzzi, fitness room, sauna, ice waterfall, etc.
Rates: 
Low Season: from € 1,500 for two people; 
High season: from €1,620 for two people.
6. The castle of Riell, in the Pyrenees
If you want to live your disconnect as you wish, without program or supervision, come and spend a weekend at the castle of Riell. 
No network will pass nearby, so there won't be any strong temptations to use your phone or computer! Once you enter this valley of Catalonia, you will be forced to cut! 
Rest in this enchanting setting and enjoy those few hours where you will do something foreign: nothing!
Rates: The "Escapade Spa et Relaxation" formula is 502 € per person for one night, dinner, breakfast, a 45-minute massage, and access to the thermal baths and the pool.
7. The cabanes of the Grands Reflets, in the Territoire de Belfort
A hut, a pond, a nature reserve, and you without your screens! This description of what awaits you if you choose to spend a night or a few days in this unusual place is conducive to digital detox. 
Many activities are offered: massages, yoga classes, hiking, bike or horse rides, cultural outings, etc. Copious packed lunches will make you forget your emails and posts!
Rates: 160 € for a night in a floating cabin or the trees. Breakfast included. Various activities and services are not included in the price.
8. The domain of Rochevilaine, in Morbihan
Located on the east coast of Morbihan, this superb estate combines luxury, calm, and character. All the conditions are met so that your daily life as a digital addict is no more than a distant memory: the sea a few meters away, a refined cuisine, a balneotherapy center available, high-end comfort, an available team, etc.
Rates: € 1,618 per person for 4 days and 4 nights, in full board, with twelve treatments included (Detox formula). The SPA package is not included, from 273 € per person for one night.
9. The Moulin de Beltaine, in Morbihan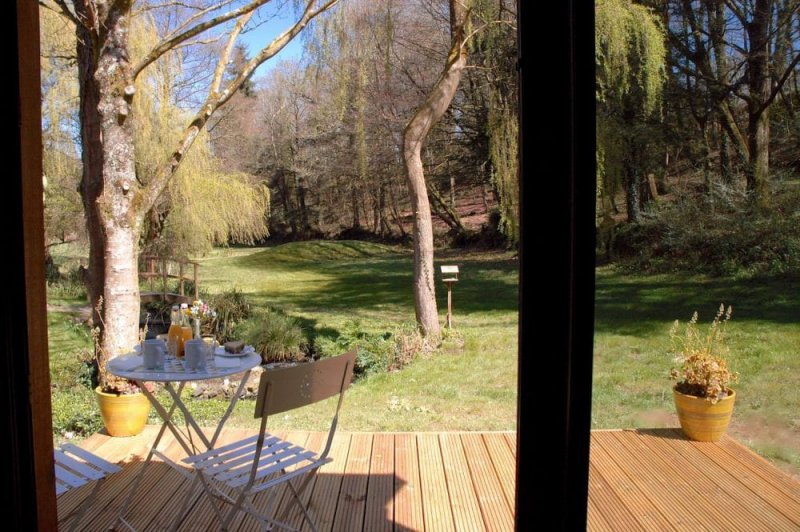 Do you want to cut yourself off from the world and technology? The Moulin de Beltaine is an ideal place. Hotel point, crowd point. In a small coquettish cottage, you will be alone or with the person of your choice and will enjoy all the site's assets. 
Located twenty-five minutes from Guingamp, on the Pink Granite Coast, the estate also houses a naturopathic practice that will provide you with the best advice on nutrition and well-being. Guests can also enjoy massages or follow a detox fast.
Rates: 455 € per week in low season; 679 € in high season. Book minimum two nights. Natural therapies and consultations are taken in a small, coquettish cottage, not including you.
10. The thermal baths of Bagnères de Bigorre, in the Hautes Pyrénées.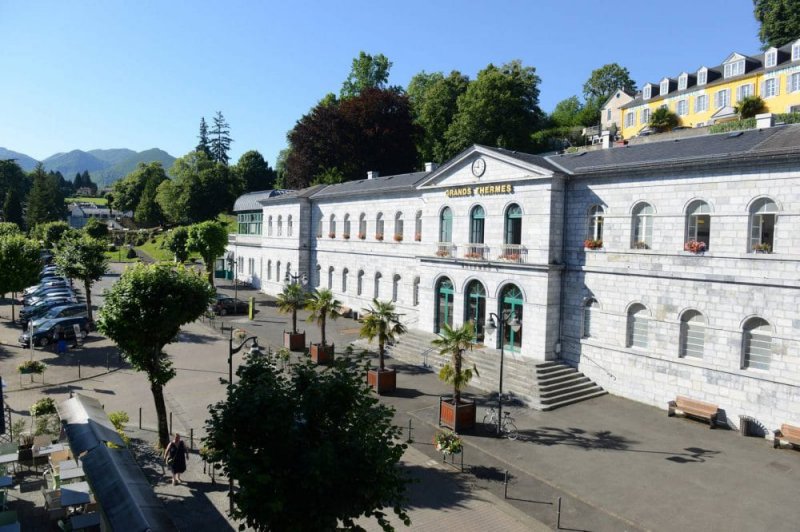 Who does not know the thermal baths of Bagnères de Bigorre? You? Discover this region while on a digital detox cure and kill two birds with one stone. It is one of the best destinations in France to disconnect. 
The site combines elegant architecture, high-performance equipment, an ideal location, and a formula dedicated to disconnection. Indeed, the "hands-free week" will make you forget about technology! 
Ten treatments are on the program: relaxation, massage, watsu, gym, thermal bath, creative workshop, psychological interviews, etc.
Rates: The formula is 199 € per person, without accommodation. Between 371 € and 717 € per person, with accommodation.
11. The Relax Oceane center, in Morbihan
Don't feel like experiencing digital detox solo? Relax Oceane offers disconnection stays in small groups on Arz, Berder, or the seven islands. 
If you register, you agree to come without a tablet, computer, or mobile phone. This will allow you to focus on your yoga or meditation sessions.
Rates: from 90 € per day to 500 € for 4 days and 3 nights. From May to August.
12. And many other destinations
If you have not found your happiness among the eleven previous destinations, know that many individuals are riding the wave of disconnection.
It will be easy to cut yourself off from this infernal world by booking a chalet in the Cévennes, a shed in Corsica, a mill in Charente, a barn on the Spanish border, or any other accommodation that will offer you the ideal conditions to refocus and rediscover the essentials.