Want to have a good time in France, thinking where to go? Carcassonne is one of the best places to visit. Still, Is Carcassonne worth visiting? In this post, we will clearly give you the answer.
Yes, Carcassonne is worth visiting. To have a memorable trip and exotic experience you shouldn't miss this place at all. There are lots of amazing things waiting to surprise you in Carcassone.
Located between Toulouse and Montpellier, Carcassonne is an ideal place for travelers to discover the medieval city. The region is full of history and legends, and you are in Cathar country.
There are plenty of things to visit, good gastronomy and vineyards as well as a friendly climate.
The city of Carcassonne has been inhabited since ancient times. The history of the city is very rich. Then, in the twelfth century, Carcassonne was at the heart of the power struggles between the French royal forces and the Cathars. 
The city was also fiercely fought during the construction of the Franco-Spanish borders in 1659.
Tourists come to Carcassonne in greater numbers than 4 million annually, a very popular destination for tourists. The city has been a UNESCO World Heritage Site since 1997. 
I have selected the must-see places to discover during your stay in Carcassonne. A real journey back in time, in the steps of the knights!
Practical information to organize your trip to visit Carcassonne: Carcassonne Tourism
Weather Carcassonne: What is the best time to visit Carcassonne?
The best months to visit Carcassonne are from April to October. The hottest months are of July and August, and it is also the period when there are the most tourists. And January is the coldest month of the year (between 4 and 8 degrees on average).
How to get to Carcassonne from Paris?
You have several possibilities to get to Carcassonne.
All aboard: Highways will serve the city. There is the A10, A20, and A61. It takes 8 hours from Paris. If you want to take advantage of your stay in Toulouse or Montpellier to visit Carcassonne, know that it is just over an hour away by car.
By train: It takes a bit long time to reach. You can take the TGV to Montpellier and then a regional train that will connect Carcassonne. Then the medieval city is a 30-minute walk away.
By plane: There is Carcassonne-Salvaza airport which is nearby and is the best. The flight lasts less than 2 hours from Paris. You also can go to Toulouse or Montpellier, which offers more low-cost,s and finish your trip by rental car.
Transport in Carcassonne
Carcassonne is a small town not necessarily well covered by transport. However, you don't need it to cross the city.
You have buses that connect the agglomeration. The city has also set up self-service electric bikes, Cyclolib. There are many well-designed bike paths.
You can also take the option to rent a car directly on-site; I advise you to go through Rentalcars or Ouicar for this!
Interesting Fact: During the Hundred Years' War, Edward the Black Prince failed to capture the city.
What are the best things to do in Carcassone? – The 13 things to do in Carcassonne
1. The city of Carcassonne/La cité de Carcassonne
The Medieval City is a historic gem where it is good to stroll through its alleys, so typical. Carcassonne is surrounded by two enclosures composed of 52 towers and 3 km of ramparts!
The walk along the ramparts offers a superb view of the Aude Valley and the Lower Town. At night, the illumination of the ramparts and the city is magical.
Between the ramparts, there is the passage of the Lices. It is a space between the 2 ramparts that run around the city. In the XII century, the Lices was a poor neighborhood of the city.
But what to see in Carcassonne?
Carcassonne has many historical monuments and museums to explore.
The Castle Comtal: Very well known. I write in detail below.
The Porte d'Aude: Is the other gateway to the city.
The school museum: Here you can discover reconstructions of the classrooms of ancient times.
The Museum of the Inquisition: Located in a 17th-century building, it exhibits the torture instruments of the Inquisition period.
The House of Chivalry: This museum displays weapons and items associated with knightly life during the Middle Ages.
The Great Well is located on the square of the same name. According to legend, the well contains a treasure.
And, I strongly advise you to stop in the central square of the city, right next to the castle, Place Carnot. Early in the morning, the inhabitants of the city come to have coffee on the terrace.
On Tuesdays, Thursdays, and Saturday mornings a very nice market is held with flowers, fruits, and vegetables.
The square is also close to the shopping streets. And, finally, in the evening, it is the time dedicated to bars and restaurants—one of the most lively places in the city.
2. The Comtal castle to visit in Carcassonne/Le château Comtal à visiter à Carcassonne
In the heart of the medieval city, the castle of Carcassonne has its ramparts. It's like a city in the heart of the city. The Castle Comtal dates from the twelfth century.
It was for a long time the royal home of the Trencavel family,

 viscounts of the city. Troubadours, poets, and scholars from all over the Mediterranean animated the castle. 
It is a gigantic building. From the castle, you have a beautiful panorama of the Pyrenees and the Bastide Saint-Louis.
3. Things To See in Carcassonne: The Medieval Museum: Museum of the Inquisition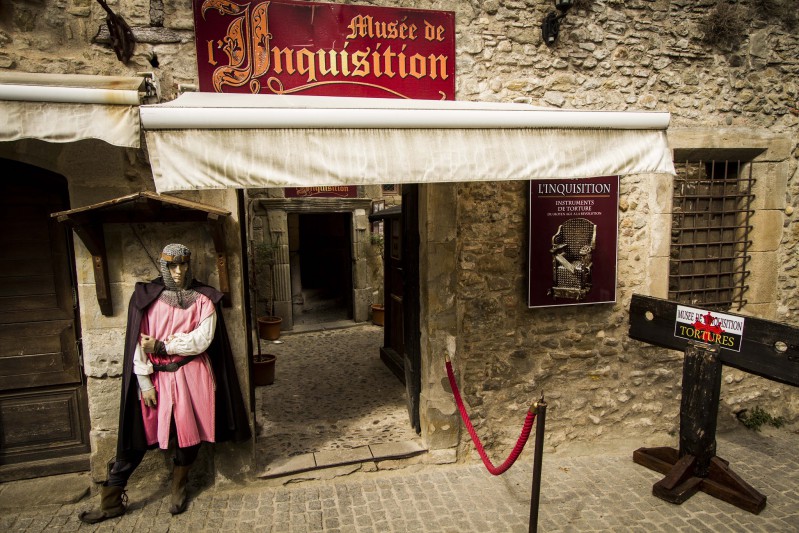 Photo

It is also called the Center for Medieval Living History. This museum is dedicated to the Middle Ages and the City of Carcassonne. It offers a lot of educational and cultural activities.
This is also where you can book guided tours of the city with a knight! It is a good idea to visit the city since I am modern and graduated in medieval history.
This medieval museum focuses on the inquisition when the Catholic Church hunted people for heresy at the slightest hint of originality or belonging to the Cathars.
This is one of the darkest periods of the city of Carcassonne. You will be able to see several instruments of torture from the XII century to the French Revolution.
There are also dungeons and several stagings that present torture. It is interesting but not very pleasing. The entrance to the museum will cost you 10,50 € (12.38$). If you're just on your budget, dedicate it to another activity.
Interesting Fact: Settlement in this region dates back to about 3500 BC, but the hill site of Carsac is the oldest.
4. Visit Carcassonne and the Basilica of St-Nazaire/la Basilique St-Nazaire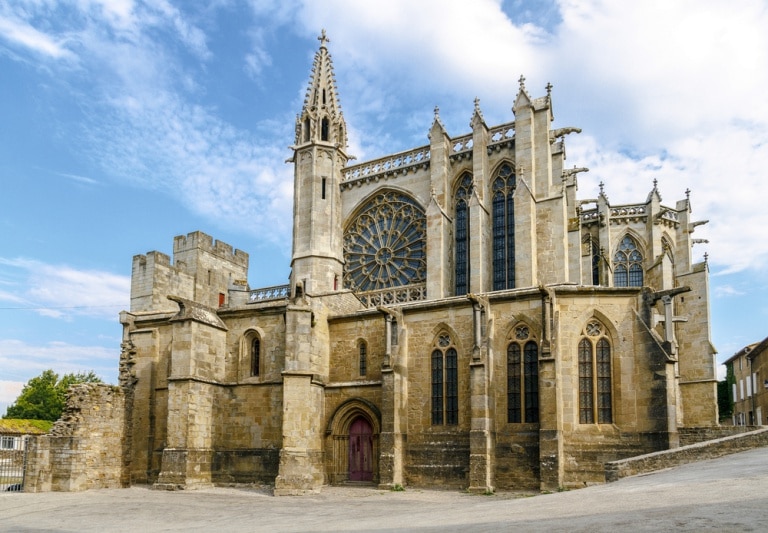 This Catholic building, whose origin dates back to 1100 (Pope Urban II)

, is another point of interest in the fortified city. Before obtaining the rank of minor basilica in 1898, it was a cathedral.
The Basilica of St Nazaire is nicknamed the "Jewel of the City." The religious building successfully mixes several architectural currents: Gothic and Romanesque.
Indeed, initially, it was of Roman style, but part was destroyed when Carcassonne was annexed to the kingdom and rebuilt in Gothic style.
The basilica is very well known for its stained glass windows, considered the most beautiful in the South. Good to know, the basilica can be visited every day except Sunday morning because there is an office.
5. The Pont-Vieux and the Bastide Saint-Louis/Le pont-Vieux et la Bastide Saint-Louis
Located in the lower town, the Old Bridge is the main bridge of the fortress from which you will have a very beautiful view of the city. The lower town is a somewhat more recent part of Carcassonne because it dates from 1257.
It was used to house the inhabitants at a distance from the Trencavel royal family who had taken possession of the city. Wool sheets will help develop the lower town thanks to its production and later export.
Today, this part of Carcassonne is called the Bastide Saint-Louis. You will easily recognize it with its narrow streets all around Place Carnot and the Fountain of Neptune.
There are many things to discover on this lower side of Carcassonne, such as:
The Chapel of Our Lady of Health is the start of the way to Compostela.
Bastions are fortresses built during the Wars of Religion. There are the bastions of Saint-Martial, the garden of Calvary, and that of Montmorency.
The Museum of Fine Arts, which has a nice collection of paintings and ceramics
The Town Hall was built in the XVIII century.
St. Michael's Cathedral, in the Gothic style which was the old church of Paris.
Les Halles, where you can stock up on good regional products
The Hotel Roux d'Alzonne where Louis XIV stayed and which is now a college.
The Church of St. Vincent, where you can climb to the top of the bell tower and thus have a unique and panoramic view of Carcassonne.
The Chapel of the Carmelites belonged to the convent of the same name. Gothico Languedoc style is quite sober. It has a single nave but still ten chapels.
6. Visit Carcassonne and the village of Montolieu/Carcassonne et le village Montolieu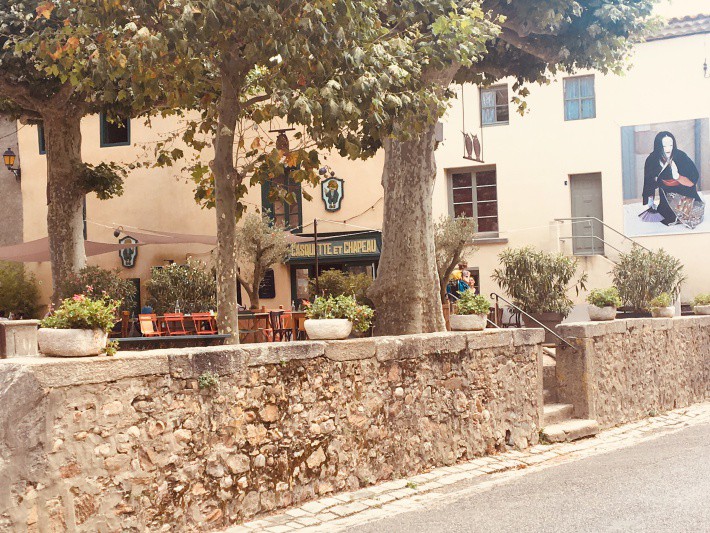 Photo

Located in the urban area of Carcassonne, about 20 minutes from the city, Montolieu is a charming village. It is at the top of a hill called the Black Mountain.
Montolieu is considered the village of Books and Arts. There are about twenty booksellers and craftsmen. Montolieu has many museums, including one dedicated to the book trades. 
It is a village where you have to walk. And, if you're in love with books, you're going to enjoy them. You can even eat there, and the village has good sites to witness too.
Interesting Fact: The city of Carcassonne is twinned with Eggenfelden, Germany; Baeza, Spain; and Tallinn, Estonia.
7. The Canal du Midi/Le canal du Midi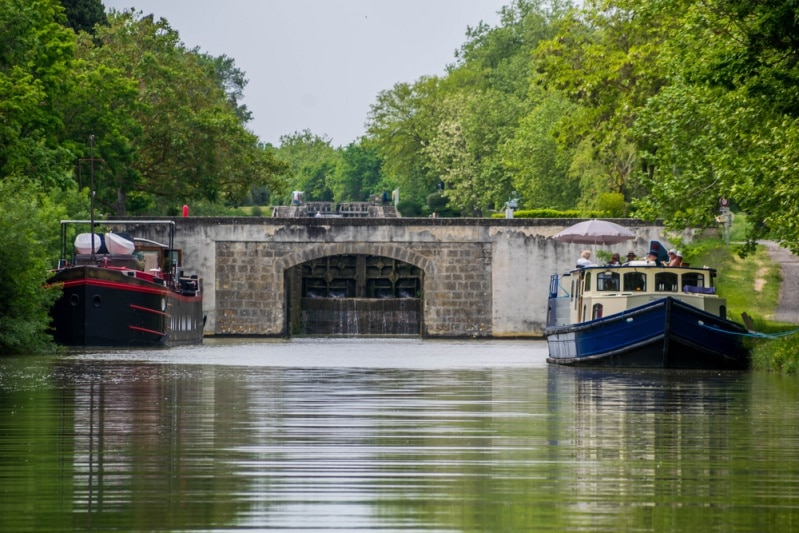 Carcassonne. The city has a port and a lock. But what is the Canal du Midi? It is a navigation channel that connects Toulouse to the Mediterranean Sea.
You can walk along the canal and watch the lock. However, the best way to visit the Canal du Midi is to board a barge or rent a boat.
Your time is yours, cruising in the sun. If you opt for the barge cruise with a guide, you will learn about the canal's history and its construction until today.
8. Things to see in Carcassonne: Cabrespine's chasm/Le gouffre de Cabrespine
Photo

A gigantic underground cavity to discover about 25 km from Carcassonne. The chasm is arranged with glass bridges and light games. You will be able to discover quantities of crystals.
However, what is most impressive is the site itself; it's 220 meters deep. It's gigantic. Imagine, all you can bring in? An Eiffel Tower? A stadium? The Gouffre de Cabrespine is one of the most beautiful in Europe and worth a visit.
Do not forget to take a sweater, and it is cold in any season.
Interesting Fact: Carcassonne is twinned with: Eggenfelden, Germany; Baeza, Spain & Hargesheim, Germany.
9. Visit Carcassonne and the Cave of Limousis/la grotte de Limousis
Photo

A natural treasure! The way to go from Carcassonne is perfect, with a very nice road between vineyards and scrublands. The cave of Limousis is all in length.
It has seven rooms and two lakes with a suspension bridge! It's fabulous! You'll have a lot to discover—the most impressive is the "chandelier" of Aragonite just towards the exit.
It is 10 meters wide and 4 meters high. Aragonite is a calcium carbonate mineral. Coming out of the cave, you will have the opportunity to taste wine—the cuvée of Amethyst kept in oak barrels within the cave.
10. The City Festival
Every summer since 2009, in the heart of the city of Carcassonne, is held the Festival In. Shows are scheduled in historic buildings such as the Château de Comtal.
Opera, music, ballet … the shows are very varied with international headliners. On the offside, there are hundreds of animations planned throughout the city.
The majority of off festival shows are free. Feel free to walk around the city and do not hesitate to enjoy the shows!
Interesting Fact: French was not the native language of Carcassonne and Languedoc-Roussillon back then. The language was Occitan.
What Outdoor Activities to do around Carcassonne?
Cathar sites
The site is full of legends, history, and beauty. There are so many good reasons to linger around Carcassonne. And beyond that, the natural landscapes are fabulous. Here are some sites not to be missed:
The castle of Saissac: at 450 m above sea level, it is the oldest site of the Montagne Noire, which dominates the Pyrenees above the city of Carcassonne.
The castle of Puilauren: It is located on Mount Ardu, almost 700 meters above sea level. It is a strategic military site—a fine example of ancient military architecture.
The royal fortress of Peyrepertuse: Also called the "citadel of vertigo," is gigantic and extends for about 300 m, just above Duilhac, a charming village.
The castles of Lastours: It is composed of four royal fortresses. It is an amazing sight at the top of the village of Lastours.
Lagrasse: A medieval city that is one of the most beautiful villages in France. You can also visit a beautiful abbey; even the monks' dormitories are accessible, as well as the bakery, the cellars, and the Chapel of Saint Barthélémy.
The Château de Saissac: This small museum is dedicated to the monetary treasure of the city.
Lake Cavayère/Le lac de la Cavayère
In summer, it is often very hot in Carcassonne. Almost two hours from the sea, you will be delighted to discover Lake Cavayère. From Carcassonne, it will take you about twenty minutes to reach the lake.
It is a nautical base in the middle of nature with a sandy beach. If you're one of the active kind, you should like it. You have a 5km circuit to go around the lake.
There is also the possibility to rent water sports equipment. Water skiing, paddle are fun things to do there. If you travel as a family, the children will also be delighted.
The nautical base has inflatable structures, pedal boats, and water slides. The beaches are supervised. And finally, there is a shaded terrace with your feet in the water. It is ideal for having a drink in a nice setting.
What are the best villages near Carcassonne?
All around the city of Carcassonne, there are lots of typical and picturesque villages, such as:
Homps: a small village, located between Corbières and Minervois. A stop is necessary to taste wine and take the time to walk around.
Caunes-Minervois: a village with Italian airs that is famous for its red marble. It is the same one that is used at the Palace of Versailles;
Trèbes: It is located just on the edge of the Canal du Midi. There is a nice marina nearby. Carcassonne can be reached by a fluvial shuttle. There is a church in Trebes as well as small charming alleyways.
How much does it cost to visit Carcassonne?
We have collected all these average travel costs from the tourists who have already visited Carcassonne. It may help you plan your budget trip and get a cost overview of Carcassonne.
Based on the expense of other visitors, visit Carcassonne average daily price is 85 Euro (101$). Try not to spend more than this a day while you are there.

Previous tourists who have visited Carcassonne have spent around 31 Euro (37$) on meals for one whole day and 5.71 Euro (6.78$) on local transportation.
The hotel price in Carcassonne is 97 Euro (114.40$) on average for couples. For two people, one week of the cost will be 1192 Euro (1405.84$) on average.
| | | | |
| --- | --- | --- | --- |
| Average Cost | Budget (Cheap) | Mid-Range | Luxury |
| One Week Per Person | 44 $ | 101 $ | 193 $ |
| One Month Per Person | 310 $ | 707 $ | 1351 $ |
| Two Weeks Per Person | 619 $ | 1414 $ | 2703 $ |
| One Month Per Person | 1326 $ | 3030 $ | 5791 $ |
| One Week For A Couple | 619 $ | 1414 $ | 2703 $ |
| Two Weeks For A Couple | 1237 $ | 2828 $ | 5405 $ |
| One Month For A Couple | 2652 $ | 6061 $ | 11582 $ |
Carcassonne Travel Costs

So, Is Carcassonne Expensive? Well, not exactly. It really depends on your lifestyle and cost while roaming there.
Interesting Fact: The town's area is about 65 km2.
What are the best beaches near Carcassonne? 7 best beaches to relax in Carcassonne
Beach lovers are fortunate to visit Carcassonne because it offers several beaches to complete their trip to Carcassone.
First, the roman style fantastic architecture after that relaxing on the beach. Isn't it awesome? It sure is.
here are some best beaches that you should visit in Carcassonne:
1. Saint-Cyprien

Saint-Cyprien is the ideal spot if you're visiting Perpignan near Carcassonne. This sandy stretch of beach is popular among tourists and locals alike due to its proximity to the city and its facilities.
The Pyrenees are once again an enchanting backdrop.

2. Plage de da Franqui

One of my favorite beaches in the Narbonnaise en Mediterranee Natural Regional Park is La Franqui. It's an ideal getaway where you can enjoy a nice wilderness feel and have access to various amenities.
3. Espiguette

Espiguette is surrounded by lagoons, flamingos, and the crystal clear waters of the Mediterranean across from it. Although there are not many activities on the beach, it makes up for that with fun.

4. Vias

If you are in the Beziers area and wish to visit a beach near the town center, you should check out Vias beach. The sands of this beach run uninterrupted for miles, a characteristic of Languedoc beaches.
During the summer, when there are more people, you won't need to worry about space.

5. Portiragnes

The Portiragnes beach near Beziers is world-famous. Even during peak periods, it remains spacious, like many beaches in the area.
Portiragnes is known for its adjacent parking that leads to the beach along smooth sandy tracks through the coastal vegetation.
The beach is home to many large campsites, so the village itself is well-equipped with facilities.

6. Collioure

Located more in a cove-like environment, Collioure's beaches are more reminiscent of Provence than Languedoc beaches. There are three beaches in Collioure.
They are more inviting than others on this list, but with their views of the Pyrenees and proximity to Catalan coastal towns, they are on the list of the region's best spots.

7. Argeles-sur-Mer

Argeles-sur-Mer has been awarded the Blue Flag for its clean beaches. The beach here is one of the best in the region and one of the most popular beach resorts along the coast; it has outstanding facilities and eateries.
Interesting Fact: The inhabitants of Carcassonne are known as Carcassonnais.
What are the best Campsites near Carcassonne? Best Campsites Local's Recommended
1.Camping La Porte D Autan
Rue Boris Vian
Saissac
Languedoc Roussillon 11310
Tel: 0033 04 68 76 36 08
This place is only 20km from Carcassonne and Castelnaudary, and it is the perfect place to rest, have a fun time, relax, and do some outdoor activities.
On foot, by bicycle, or on the water, in Cathar Country, you can enjoy a wonderful vacation!
The Black Mountains offer hiking in their paths, horseback riding, climbing, archery, canoeing, canyoning, rafting, trout fishing, karting, and exploring the forest.
2.Camping La Figurotta
Route De Narbonne
Bizanet
Languedoc Roussillon 11200
Tel: +33 4 68 45 16 26
The campsite is surrounded by hiking and mountain biking paths and by vineyards on the wine route. Also, you can discover old villages like Minerve, the wine capital.
You can stroll along the Canal du Midi, meet at the Sigean wilderness park, tour Carcassonne's ramparts, see Catherine's Castles, or sunbathe at Narbonne's beaches.
3.Domaine d'Arnauteille
Natural surroundings, open spaces, and truly fresh air characterize Domaine d'Arnauteille.
Enjoy panoramic views of the Massif des Corbières, the Black Mountains, and the Pyrenees from the water park in its Greco-Roman setting or on the 115 ha of lush gardens.
Discover the local area on foot, by horseback, or on a mountain bike, step into the footsteps of the Cathars, visit the historic fortress city of Carcassonne or try some of the local delicacies.
You can do so much during your camping holiday in the Aude!
Camping Domaine d'Arnauteille offers everything you need for an unforgettable family holiday: premium cottages, on-site entertainment, activities, an extraordinary natural setting, and a pool complex with water slides!
4. Le Bout du Monde

You can spend a relaxing holiday in the Black Mountains of the Haut Languedoc regional natural park… On a 20-hectare site, Yelloh! Village Le Bout du Monde is the perfect setting for an authentic, natural vacation.
Camping Le Bout du Monde is the ideal place to recharge your batteries, savor the fresh air, or discover the magic of farm life with your children.
There are Mongolian yurts, cottages with all the mod cons, two pools with natural bathing areas, and even a lake!
The campsite's farmhouse restaurant attracts food lovers with its delicious dishes made with local ingredients, and your children will be delighted by the farm animals.
Camping in the Aude will have something for everyone.
5. Le Bout Du Monde

With leisure facilities such as an outdoor pool (including a shallow children's pool), a snack bar with an outdoor terrace, and tennis courts (in high season), this resort provides a range of fun activities for the whole family.
If you are planning to take lots of walks in the nearby Sidobre countryside, you can bring your dog along too.
Interesting Fact: During sieges, Carcassonne was the first fortress to use hoardings.
What are the best family hotels near Carcassone? Best 5 Family Friendly Hotels
1.Best Western Le Donjon Les Remparts
Hotel Facilities:
Walled-city views and a backyard
Hotel inside the old city
rooms with two beds (fit 2, sleep 2)
suites (fit 4, sleep 4)
Cribs and rollaway available upon request
on-site restaurant serving breakfast
restaurants down the block; fee car parking.
2.Hôtel de la Cité – Carcassonne
Hotel Facilities:
Get a stay at the Hotel de la Cite in the medieval city.
Swimming pool
rooms (up to 2 people)
Villa sleeps, 6 people
restaurants indoors and outdoors with seasonal menus
childcare
fee parking
3.Le Balcons de la Cite
Hotel Facilities:
A two-bedroom apartment with two doubles and a sofa bed (sleep, six people)
living area with dining table and chairs for six people
fully equipped kitchen
dishwasher
washer
Off-street parking
outdoor balcony overlooking the Aude River.
4.Residence La Barbacane
Hotel Facilities:
One-bedroom apartment (sleep 4)
with fully-equipped kitchenette
living and dining area
crib available upon request
breakfast is included in the room rate
car parking (fee)
Next to the old city walls.
5.Logis Hotel Montsegur
Hotel Facilities:
Two double beds in a quad room (sleep 4)
Triple rooms including a double bed and twin bed (sleep 3)
rooms with two twin beds (sleep 2)
connecting rooms are available
with complimentary continental breakfast
free car parking
Interesting Fact: The walls of the city are 1.9 miles long, and the city walls have 52 massive towers.
What are the best wine bars in Carcassone, France? 4 Great Bars For Wine
1.La Cantine du Curé – Caunes-Minervois

The charming and fun wine bar is located in medieval Caunes-Minervois. Open all day, and every evening in summer, this tapas-style eatery offers a constantly changing selection of small plates in a shaded outdoor area.
A comprehensive list of wines offers many organic, biodynamic, and minimal intervention producers from locally and farther afield at extremely reasonable prices.
+33 7 67 54 94 67
lacantineducure@gmail.com
www.lacantineducure.wixsite.com/caunesminervois
2.La Cambuse du Saunier – Gruissan

Within an hour of Carcassonne, this outdoor restaurant is situated on the edge of the pink-tinged salt pans. Seagulls whirl across the bay, and the kitchen is buzzing with excitement.
Giant seafood platters whistle out of the kitchen.
The restaurant is famous for its oysters from Isle de St. Martin. Don't miss its salt-encrusted turbot that goes best with a glass of house white. Discover Gruissan's salt harvest and buy bags of Fleur de Sel at the shop next door.
+33 4 84 25 13 24
www.lesalindegruissan.fr/restaurant_14.html
3. Carcassonne Market

There is no trip to Carcassonne without a visit to the Saturday market. The best time to go is in the morning when the crowds are light, and you can buy the freshest fruit and vegetables.
Asparagus, strawberries, cherries, and asparagus are all available at the market during April and May, when the strawberries are out, or when the cherries are abundant.
4. Lache Pas La Grappe – Carcassonne

On the Rue du Pont Vieux, Carcassonne's cave à vin lies between the medieval walled city and the charismatic lower town.
Discover interesting wines that are often organic, made without added sulfites, or sustainably produced with Arnaud Pévère's passion for small, artisanal, and local producers.
A wonderful place for a pre-dinner snack and a glass of wine, or for lingering over local charcuterie and cheese plates during the summer.
+33 4 68 26 39 63
cavelachepaslagrappe@yahoo.fr
Interesting Fact: The City of Carcassonne was almost destroyed in 1849
What are the best restaurants in Carcassonne? – 5 best places to eat in Carcassonne, France
1.Restaurant Le Passage

The restaurant specializes in tapas and is pleasantly busy with a bustling atmosphere. With its excellent local wines and delicious Spanish-inspired cuisine, Le Passage attracts tourists and locals alike.
Make sure you book your table in the lovely courtyard, a true hidden gem that is beautifully shaded by olive trees.
Useful Information
Address: 15 rue Trivalle, Carcassonne
Email: lepassage15@orange.fr
Phone: +33 4 68 10 64 90
Website: www.gites-cite-carcassonne.com
2.Restaurant L'Arganier

The L'Arganier tucked away in an alley on the main road is a good option if you want to break from the French cuisine.
They serve Moroccan food with a lot of flavors without being too spicy. Lamb tagine with perfectly cooked couscous is a must-try!
Useful Information
Address: 1 rue du 11 Novembre, Trèbes
Phone: +33 4 68 78 46 82
3.La Maison de La Blanquette

A restaurant that serves French food at an affordable price and is staffed by friendly waiters and servers.
Maison de la Blanquette is located on a popular square and offers a garden area where you can enjoy delicious meals while watching the world go by.
Useful Information
Address: 2, Place Marcou, Carcassonne
Email: contact@maisondelablanquette.fr
Phone: +33 468 716 609
Website: www.restaurant-maisondelablanquette.fr
4.Au Four St. Louis

Au Four St. Louis, located in the city's heart, serves fresh and authentic French cuisine straight from the heart. Tourists and locals alike enjoy the attentive and prompt service, the cozy ambiance, and the delicious food.
Useful Information
Address: 4, rue St. Louis, Carcassonne
Email: contact@aufoursaintlouis.com
Phone: +33 4 68 25 85 72
Website: www.aufoursaintlouis.com
5.La Jonque

La Jonque is a great choice if you're craving Asian food. It is definitely worth a visit to this little hidden gem that serves top-notch Chinese food. Book a table ahead of time since this is a small, busy restaurant.
Useful Information
Address: 37 rue de la Liberté, Carcassonne
Email: la.jonque88@gmail.com
Phone: +33 4 68 25 28 59
Interesting Fact: Carcassonne became famous due to the French poet Gustave Nadaud.
What are some best shopping malls in Carcassonne, France?
It's always good to buy some local things from where you travel. Carcassonne is an ideal place too to buy some local souvenirs.

Carcassone is famous for antiques, books, and wines. Visitors mainly buy this stuff from here. You can also buy toys for your kids.

There are a lot of tiny shops, boutiques, and craftsmen in the area. Souvenirs can be bought of all kinds, such as woolen clothes, old maps, antiques, and local arts and crafts.

Specialty shops sell medieval weapons such as knives, swords, and other weapons.
some best shops in Carcassonne are:

1. Rue Clemenceau: It is a major street for shopping in the lower city, specifically clothing. You can find many types of gents and ladies' clothes there as well as kids.

2. Rue De Verdun: It's also in Lower City, like Rue Clemenceau, and good for buying clothes.
3. Comptoir des Vins: Comptoir des Vins has lots of wine collection that any wine lover will love. The wine has Carcassonne's authentic touch. So, don't miss having regional wine while you are there.
4. Le Panier Gourmand: To taste to local food you can go to Le panier Gourmand. Hopefully you will like it.
5. Antiquites Safi: Carcassone is famous for its uniqueness. You will see lots of wonderful crafts that will make you keep all of them to showcase in your room. Must visit this shop even if you don't buy anything.
6. Carnot Market: The colorful Place Carnot market is a must-see, featuring a mouth-watering selection of local delicacies.

It is more authentic to shop in the Cité, which is predominantly tourist-oriented.
Interesting Fact: It was Pope Leo XIII who upgraded Carcassonne's Gothic Church to a basilica in 1898
What are the best hikes near Carcassonne?
1. Tour of Lake Cavayère near Carcassonne: Carcassonne's Lake Cavayère is the place to visit when the sun is out. The lake trail is marked and easily followed by children (over ten years old).
This setting is charming due to the presence of the lake.
2. Following the footsteps of the Visigoths in Villarzel-Cabardès: There were many Visigothic tombs found along the way, and they were very well preserved.
There are fifteen or so graves in a cemetery at the corner of a path in the middle of shrubland.
3. La Montagne Noire via Cubserviès: I took a hike of the Black Mountain and went to one of the highest waterfalls in Europe.
4.The Chemin des Amoureux : The Chemin des Amoureux (Lover's Path) leads you up the Laudot valley towards Cammazes.
5. The Megaliths of Minerve: This hike will take you above Minerva and will allow you to discover the megaliths scattered along the way.
As you wander, you'll see vines, scrubland made up of gorse, thyme, brush, oaks, evergreens, and the occasional tree.
6. The Pla de Brézou: This is a very nice circuit that will take you over grazing areas still in use. The circuit ends at the Galamus Gorges.
7. Sentier des 1000 Marches – Saut et Lac: It is a marvelous trail exploring the Saut de Vezoles and its lake with extraordinary amenities.
What are the best-guided tours in Carcassonne? 3 Best Guided Tours You Can Try
Here is a selection of guided tours that you can take in the city.
1. Private guided tour of the city of Carcassonne
Ideal for visiting the medieval walled city. It is the ideal solution to learn as much as possible about the architectural but also human history of Carcassonne. 
Do not forget that the city is classified as a UNESCO World Heritage Site. The tour does not include the entrance fee to the castle. It is necessary to provide 20 € (23.59$) for a visit.
2. Private Walking Tour of the City and City of Carcassonne
It is an ultra-private and rich tour of the city. You will be able to travel all over the city and discover all these romantic points of interest with an avid guide with countless anecdotes.
Exciting! It is necessary to provide 99 € (116.76$) per person.
3. Guided group tour of the city
Perfect for discovering the city by being numerous! The guide adapts the visit to his audience, and it is frankly very interesting. Young and old alike will be delighted.
With its rich heritage and intense history, the City of Carcassonne lends itself ideally to guided tours. It is necessary to provide 135 € (159.22$) per group.
Interesting Fact: There is even a competition between Carcassonne and Mont St Michel for the title of the most visited monument in France.
What is the best way to get from Toulouse airport to Carcassonne?

You can come from Toulouse airport to Carcassonne is two way.

Taxi: You can directly take a taxi from Toulouse Airport to Carcassonne. It will cost around 175 Euro (207.03$). About 1 hour 15 minutes will need to reach Carcassonne.
You will find many taxis waiting at the taxi rank. If you are in a hurry and budget isn't a problem, then it's the best option to choose.

Bus/Train: Taking a bus or train to go to Carcassone from Toulouse Airport is an affordable option.

But there isn't any public transportation that goes directly to Carcassonne from Toulouse Airport.

First, you have to reach Toulouse Matabiau Train Station on a shuttle bus. It will take around 25 minutes to reach there from Toulouse Airport.

Now you can go via both bus and train to your desired location, Carcassonne.
Take the direct train service costs 11-16 euros (13.01-18.93$) for a one-way ticket when booked in advance. This will take 1 hour depending on the train service.
Or, go to the bus station near Matabiau train station and take a bus. Usually, buses go to Carcassone two times a day, morning and night.
The journey takes about 1 hour 20 minutes and costs about 9 Euro (10.65$) for the morning service. The night service costs way more, about 22 Euro (26.03$).
How long do you need to visit Carcassonne?

The area of Carcassonne is about 25.13 mi². It's not quite a big place to explore. To visit this amazing medieval city in France and explore its beauty for 1-2 days is enough.
Plan what attractions you want to visit beforehand and make the route direction. This will save you plenty of time and money.
What is special about Carcassonne France?

Carcassonne is famous for its medieval fortress, roman wall, doubled walled city, and rich history.
Besides, Carcassonne has fantastic restaurants and bars and many tourist attractions that keep attracting people. In 1997 La Cite was named a UNESCO World Heritage Site.
So, this place has many things to offer to its tourists.
How far is Barcelona from Carcassonne?

Carcassonne is about 305.2 Kilometer far from Barcelona. If you take the A9 and AP-7 route, it will take almost 3 hours 26 minutes to reach Carcassonne from Barcelona.
And via C-16, the distance between Barcelona and Carcassonne is about 324.7 kilometers which will take 4 hours 26 min to reach.
What is the best way to get to Carcassonne from the UK?

The best way to reach Carcassonne from London is by train. The train fare will take around 210-500 euro (249-592.85$).
It will take about 9 hours 40 minutes to reach Carcassonne from London.

You can also go by bus. But it's not the preferred option as it will take about 23 hours to reach Carcassone from London.
But if you are short on budget and also have time, then you can choose this option. Going by bus will cost around 75-90 euros (88.93-106.71$).
How do I get from Paris to Carcassonne by train?

Carcassonne is located about 883 km away from Paris and takes approximately 6h 54m to reach. Normally, the fastest train takes 5h 43m.
The Paris to Carcassonne train service is operated by TGV inOUI and SNCF, departing from Paris Montparnasse 1 Et 2 and arriving in Carcassonne.
Although 39 trains run weekly, weekend and holiday schedules can vary, so check ahead.
Conclusion on visiting Carcassonne
Carcassonne is one of the most beautiful medieval cities in France. A real jewel of architecture and beauty with an exciting heritage. There are plenty of points of interest to discover. 
You will be delighted if you are a history lover because Carcassonne is a city loaded with Cathar history, the inquisition, and royal quarrels. A visit to Carcassonne, between small picturesque villages and vineyards, is also a must thing to do!