Jaflong is known as the daughter of nature. Jaflong is one of the most visited places in the Sylhet district. Jaflong is decorated with silver posra sanctors on the Meghalaya border of India in Goainghat Upazila of Sylhet. Jaflong is totally a hilly area of real natural beauty where the hills are greenish with the forests.
This lovely piece of heaven is situated just below the mountain range where hills are greenish with the forests and blue sky melt in the river's water.
The clear stream of water from the Piyin river flowing over the rocks, the hanging Dauki Bridge, and the white cloud game in the high mountains have made Jaflong unique.
It is an amazing natural place on the earth combined with hills, forests, rivers, blue sky, endless green tea garden, and lots of waterfalls.
In each season, Sylhet, and Jaflong reveal a similar form that keeps tourists interested in traveling throughout the year. Jaflong is a really natural beauty of Bangladesh. Visit Jaglong with your family and friends to spend a quality vacation.
Visit Jaflong: Best Things To Do In Jaflong
Go To Zero Point
You can see the Meghalaya hills standing on Bangladeshi land from this no-man's-land on the India-Bangladesh border. Nothing is more stunning than the direction from which the river Piain enters Bangladesh. There is a bridge between two hills on the Indian side, which is the most iconic photo of Jaflong.
You can walk to this place when the water level is low. It is necessary to take a boat from Bolla Ghat to access this place during monsoon when the water level is high. There will be dozens of tourist boats at your disposal during monsoon season.
Enjoy the scenic beauty in Sengram Punji Waterfalls
This waterfall is located about 700 meters west of Zero Point in Meghalaya. In the dry season, you can cross the river on a boat and walk to the waterfall. Bangladeshi tourists can climb it. During the monsoon, this waterfall will be full of water.
Witness the natural beauty of Piain River
Located in the hills of Meghalaya, this river is created by its numerous waterfalls and flows straight to Bangladesh, carrying stones along with it. From this river, you can see the hills of Meghalaya in all their beauty.
Meet new cultural people at Sengram Punji Khasia Village
This is a beautiful village home to only Khasia tribal people. Their main occupation is growing betel leaves and betel nuts. Their houses are also unique in design. On the opposite side of the waterfall, it is accessible on foot during the dry season and by boat during the monsoon season.
See the largest Stone collection activities
Jaflong's stone collection business is massive. Most of the residents of Jaflong are involved with stone collection.
Some people collect stones from the river, some people buy from them and sell them to crushing companies, which crush them into small pieces, suitable for use in construction works. They send these stones all over Bangladesh by trucks.
As you enter Jaflong, you'll see these stone-crushing yards spread over several miles. People carry stones on their heads and put them into crushing machines. There are piles of rocks outside every yard. Machines continuously crush these stones. Loading and unloading of trucks. There are lots of activities going on in all the yards.
Go further toward the river. You'll find the stone collecting activities.
Take amazing photos at Jaflong Bridge
Undoubtedly, the newly constructed bridge on the river Piain is the most solid infrastructure in Jaflong. This bridge has a stunning view of the river Piain and the hills of Meghalaya. It's a great place to spend an evening in Jaflong.
How to go to Jaflong
First, You have to come to Sylhet, the land of tea, to go to Jaflong. Sylhet can be visited in various ways from different parts of the country. You can go to Sylhet by bus, train, and air from Dhaka.
Read more: Amazing!! The Top 34 Best Travel Destinations In Bangladesh
How to go from Dhaka to Sylhet, Jaflong
The best way is to board a bus which will take you to Sylhet, after reaching Sylhet, if you want to enjoy the natural beauty. Buses from Fakirapul, Gabatli, Saidabad, and Mahakhali bus terminals in Dhaka to Sylhet leave. These include Green Line, Saudia, Unique, S Alam, Shyamoli, Ena, and London Express buses.
The seat fare per person of AC bus is between Rs 1000 (11.77$) and Rs 1200 (14.12$) per bus, and non-AC bus fare is Rs 470 (5.53$) to Rs 600 (7.06$).
The distance from Dhaka to Sylhet is about 240 km, and it takes about 6 to 8 hours to reach Sylhet by bus.
If you want to travel from Dhaka to Sylhet by train, you can choose Upoban, Jayantika, Parbat, or Kalni express train from Kamalapur or airport railway station.
Train tickets are priced at Rs 265 (3.12$) to Rs 750 (8.83$) per category. It takes about 7-8 hours to reach Sylhet by train.
And you can choose the sky route from Dhaka to Sylhet in the fastest time. Flights from Shahjalal International Airport to Sylhet on flights to Bangladesh, NovoAir, and US Bangla Air cost between Rs 2700 (31.77$) and Rs 10,000 (117.68$) as per class.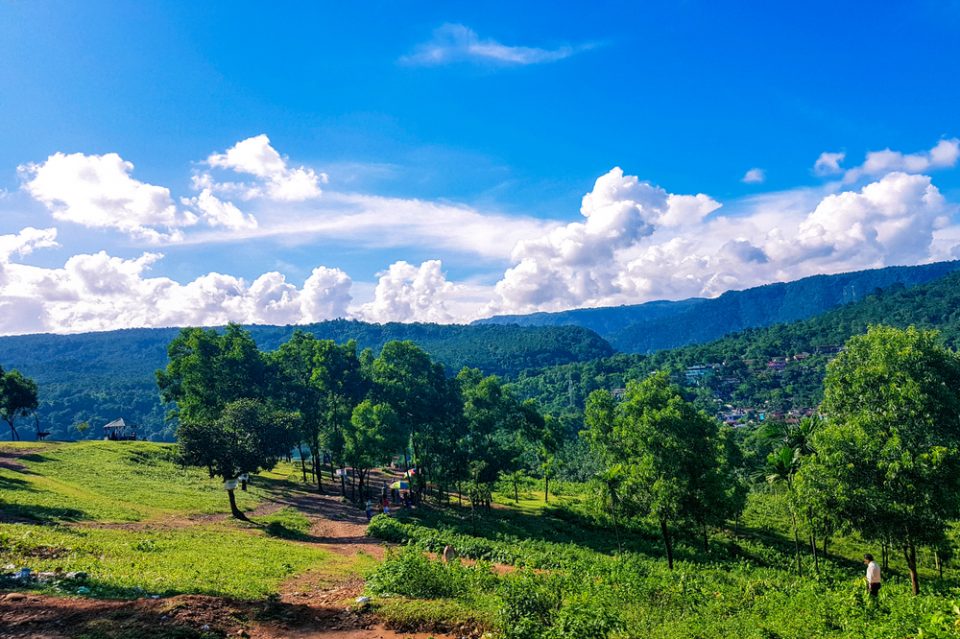 How to go from Chittagong to Sylhet to reach Jaflong
Several buses from Chittagong to Sylhet on other transport including Greenline, Ana, Saudia, and London Express.
Ac bus fare is Tk. 1100-1200 (12.95$-14.12$), and non-AC bus fare is Rs 600 (7.06$) to Rs 700 (8.24$). Paharika and Udayan Express trains from Chittagong to Sylhet run.
Train tickets are priced from Rs 375 (4.41$) to Rs 1100 (12.95$) as per class. There is also an opportunity to fly from Chittagong to Sylhet by air.
Read more: Best Tourist Places To Visit In Chittagong You Shouldn't Miss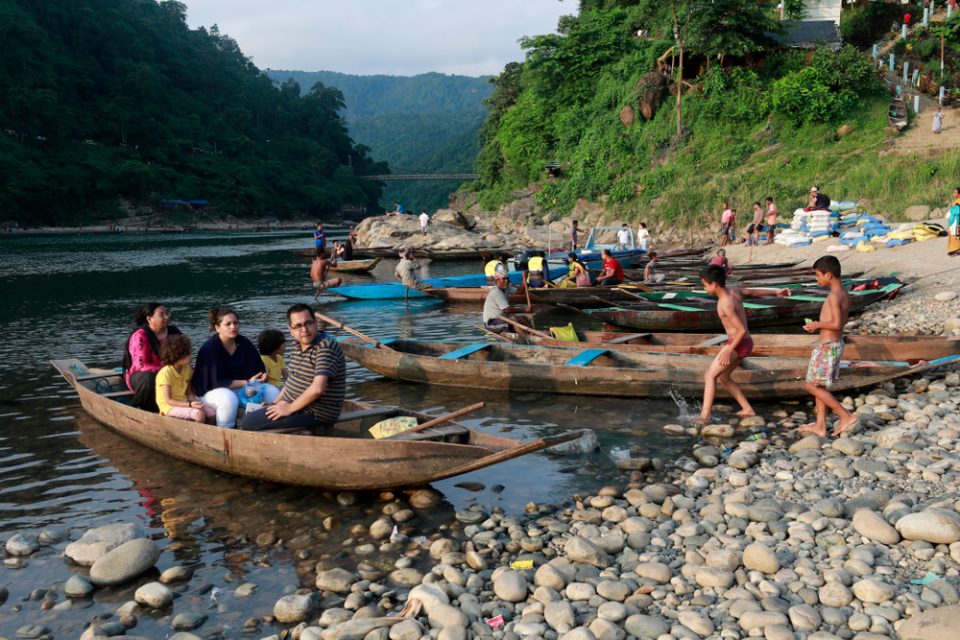 How to go from Sylhet to Jaflong
The distance from Sylhet to Jaflong is about 60 km. It will take back an hour and a half to 2 hours to go directly from Sylhet to Jaflong

. You can go to Jaflong by bus, CNG, Leguna or microbuses.
The bus to Jaflong leaves Kadamatli. The local bus fare is Rs 70 (0.82$) per person, and the gate lock non-stop bus fare is Rs 100 (1.18$).
If you want to get to your convenience, you can also board a bus from Sobanighat in Sylhet city. Apart from buses, there is a local leguna service to Jaflong.
If you want to go by reserve car, you will get CNG, Leguna, or Microbus from the front of Bandarbazar Children's Park. You will also get reserved vehicles from almost all parts of Sylhet.
According to seats, CNG can sit according to a maximum of 5 people, leguna ten, and microbuses 12.
CNG fare will be Rs 1200 (14.12$) to Tk. 1500 (17.65$), Leguna Tk. 2000-2500 (23.54$-29.42$) and microbus reserve will cost Tk. 3000 (35.30$) to Rs. 5000 (58.84$) for the day inside Jaflong.
It would be better to reserve a car if some people go for a walk together and easily visit other sights on the way. Bargain with what you want to see before you fix the car.
And if you want to go for a picnic or a family trip, you can take a bus or a private car directly to Jaflong. At present, the road to Jaflong is perfect.
The road to Jaflong Zero Point is more popular through The Gothgram BGB Camp in place of Mama's Market.
Read more: The 13 Best Khulna Tourist Spot To Visit, Bangladesh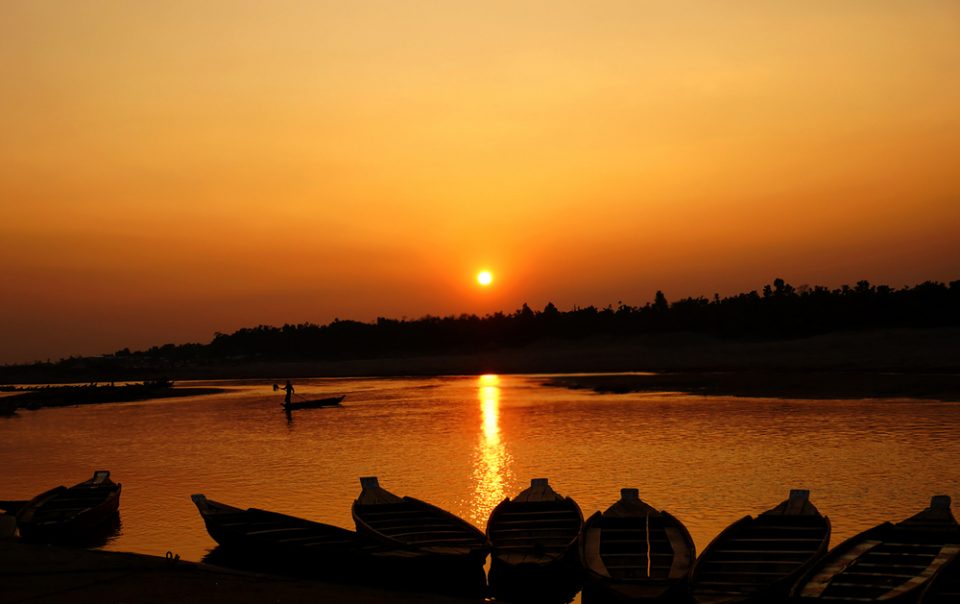 Where to stay in Jaflong
Tourists who usually visit Jaflong return to Sylhet city for a night out. It is also convenient to travel from Sylhet to other places. Most of the hotels in Sylhet are located around Shahjalal Mazar.
There are various quality residential hotels from Dargah Gate to Amberkhana, Taltala, Lamabazar, Kadamatli. If you want to stay at a low cost, you will get many hotels with Rs' value. 500-1000 (5.88$-11.77$) in the Dargah Gate area.
The residential hotels in Bhallman include Hotel Hally Gate, Hally Inn, La Vista Hotel, Pansi Inn, Hotel Metro International, Britannia Hotel, etc.
These hotels will cost from Rs 2,000 (23.54$) to Rs 10,000 (117.68$). Luxury hotels and resorts include Nivarana Inn, Hotel Noorjahan Grand, Rose View Hotel, Nazimgar Resort, Grand Palace, and some other hotels.
The cost per night will be Rs 8,000 (94.15$) to Rs 30,000 (353.05$).
And if Jaflong is to stay, there are other rest houses in mama's market area, including the Jaflong Inn Hotel and Hotel Paris.
You can also contact Jaintia Hill Resort, with a beautiful landscape view near Jaflong. And it requires pre-permission to stay in the government rest house.
What to eat in Jaflong
Jaflong View restaurant, Border View restaurant, and Jaflong tourist restaurant are among the restaurants located in Jaflong.
If you want to eat in Sylhet city, you can eat the food you like at the affordable price of Pansi, Five brothers, or Palki restaurants in the Zindabazar area.
These restaurants are well-known for their variety of mash (potatoes etc.), khichdi and meat dishes. Breakfast will cost Rs 50-100 (0.59$-1.18$) per person and Rs 150-300 (1.77$-3.53$) for lunch or dinner.
Read more: Sajek Valley – The Ultimate Traveler's Guide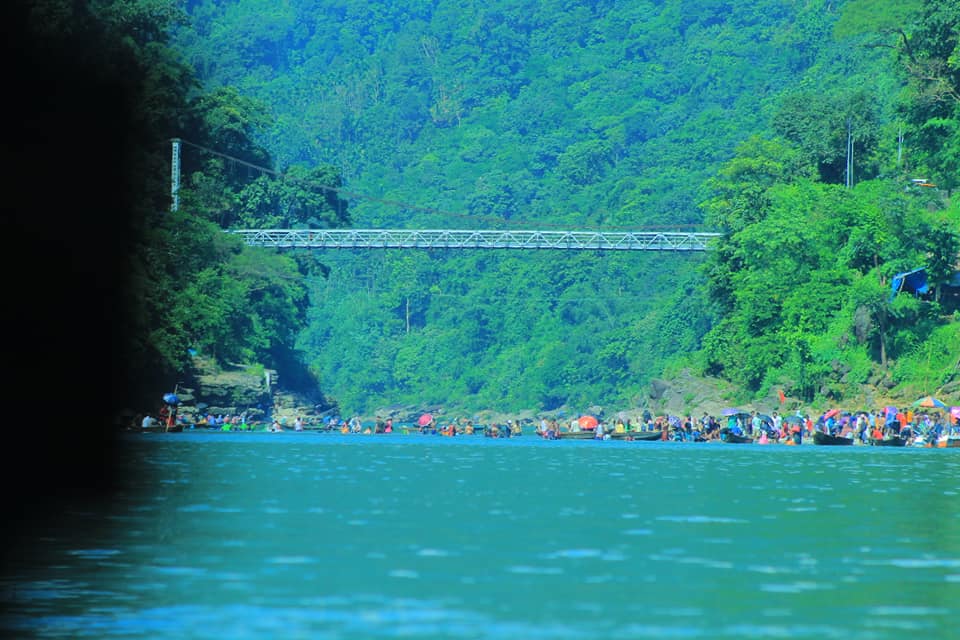 Sightseeing near Sylhet, Jaflong
Lalkhal
Tamabil
Jaintapur
Sangrampunji Waterfall / Magical Fountain
Sangrampunji Tea Garden
DB's Haor – Shapala Bill
Jaflong Travel Tips
Grouping will reduce costs.
Bargain when you want to buy something.
Since Jaflong is a border area, follow the instructions of the border area.
Bargain while you fix the car.
Be careful when entering the water; many of the places are deep erased by lifting stones.
Be friendly to the locals.
Refrain from doing something harmful to nature and the environment.
Jaflong has a rich collection of natural resources. There is also a tea garden and it contributes to our country's economy.