The most sublime beaches are not always found where you think. Follow our recommendations and discover the 15 most amazing beaches in Europe for a guaranteed wonder!
With its historical monuments, lively cities, natural landscapes, sports sites, and cultural venues, Europe is full of excursions and experiences that are all as interesting and unmissable. 
But if you're looking for a place to relax and rejuvenate, nothing beats the beach. And if for you, it automatically rhymes with the sun, fine sand, and a sea of oil, you will quickly find that the splendor of the coastline of the most beautiful beaches in Europe can take many other forms.
Landscaped or wild, very busy or secret, southern or nordic, European beaches detonate. 
Whether you are looking for a beach to spend the day with your family, to observe the fauna and flora, to swim and relax in the sun, to practice water sports, to have a party, or to walk, you will inevitably find your happiness in our ranking of the 15 most amazing beaches in Europe.
The 15 Most Amazing Beaches In Europe
1. Cala Goloritzé Beach, Sardinia (Italy)
Located in the center-east of Sardinia, the small cove of Cala Goloritzé is a place as secret as it is scenic. 
Framed by huge rocky cliffs and verdant forests, this polished white pebble beach with transparent waters is one of the least frequented on the island. 
You can reach it by boat or on foot, but we recommend the local option: reach Cala Goloritzé on the back of a mule from the high plateau of Golgo.
2. Courland Isthmus Beach, Nida (Lithuania)
A UNESCO World Heritage Site, the C Courland isthmus is a long wilderness stretching 100 kilometers from the Baltic Sea to the C Courland lagoon.
Surrounded by green flora in the heart of a national park, this beach with fine dunes will delight birdwatchers, lovers of authentic landscapes, and sunsets whose golden colors are reflected on the sea. 
An escape and change of scenery are guaranteed on one of Europe's most beautiful beaches.
3. Fig Tree Bay Beach, Protaras (Cyprus)
Family-friendly amenities and infrastructure make Fig Tree Bay Protaras' their most famous beach. It is very lively from nightfall; its gold-colored sand and clear waters are suitable for swimming and snorkeling.
Named after the solitary fig tree that sits at the very end of the beach, it is one of Cyprus's cleanest and most unspoiled beaches, thanks to the environmental programs implemented in the country.
4. Cala Macarella Beach, Menorca (Spain)
Located in the southwest of Menorca, in the Balearic Islands, the secret and secluded beach of Cala Macarella offers you fine sand of sparkling whiteness and calm azure blue waters over a small expanse of 105 meters. 
Shaped like a horseshoe, it is lined with cliffs and green oak forests, making it one of the most beautiful beaches in Europe. To snorkel in this place that is the pride of Menorca, you will need a mask and snorkel.
5. Sandwood Bay Beach, Kinlochbervie (Scotland)
Located at the northern tip of Scotland, Sandwood Bay Beach is a deserted and sumptuous place where land and sea meet in perfect harmony.
Surrounded by cliffs, these 2 kilometers of sand with relatively cool waters offer you a breathtaking view of the large limestone needle of Am Buachaille and typical Scottish maritime landscapes. 
You can access the beach via a long path between grassy dunes and colorful heather bushes.
6. Rondinara Beach, Bonifacio (France)
Rocked by deep waters and lined with red rocks, La Rondinara is one of the most charming beaches in Europe. 
Despite the high influx of travelers throughout the year, it is very well preserved and particularly appeals to families because of the small waves that make it an ideal place for swimming. 
An arc of a circle, it is almost entirely closed by its two lost points in the Mediterranean.
7. Norte Beach, Nazaré (Portugal)
Norte Beach is located north of Sitio, a picturesque peninsula of Nazaré. The beach boasts charm and a sense of authenticity. With its lighthouse, striped tents, and small fort, the beach is surrounded by fine dunes protecting the vegetation.
Very quiet, the beach is mainly frequented by surfers, who try to tame the spectacular waves that break throughout the year. 
If you're lucky, you'll spot the groups of dolphins that sometimes swim offshore.
8. Zlatni Rat Beach, Bol (Croatia)
Both beautiful and singular, Zlatni Rat is one of the most picturesque beaches in Europe and welcomes you in a real postcard setting. 
Its unique pointed silhouette stretches on either side of a magnificent forest of century-old pines.
Covered with fine white gravel, it changes shape according to winds and currents. It is easily accessible, and you can see many kitesurfing and windsurfing enthusiasts.
9. Kleopatra Beach, Alanya (Turkey)
Emblematic of the city of Alanya, Kleopatra Beach is a long stretch of 2 kilometers of soft golden sand and is one of the busiest places in the region. 
Very close to the city center, it is bordered by many hotels, restaurants, and colorful shops.
Enjoy the sunbathing and umbrellas that dot the beach to relax and let yourself be charmed by the calm and friendly atmosphere.
10. Vik Beach, Vik I Myrdal (Iceland)
At the antipodes of the paradisiacal beaches where the blue of the water meets the golden of the sand, the coast of Vik is a place as fascinating as it is exotic. 
Located 190 kilometers from Reykjavik, this black sand volcanic beach offers misty, almost supernatural seascapes at the southern tip of Iceland.
In the distance, you can see the basalt peaks formed by the Reynisdrangur. Walking around this charcoal-colored expanse, you can explore a few lava caves and observe puffins (sea parrots) on the surrounding cliffs.
11. Voutoumi Beach, Antipaxos (Greece)
Located on the island of Antipaxos, Voutoumi Beach is covered with fine sand and small pebbles of a sparkling ivory color. Its turquoise and indigo waters are an actual invitation to swim and relax.
In this half-moon-shaped bay, the somewhat wild environment gives Voutoumi beach a singular authenticity specific to the Greek islands. 
Therefore, its place among the most scenic beaches in Europe is more than justified. To avoid the crowds, prefer a visit very early in the morning or late afternoon.
12. Cala Violina Beach, Scarlino (Italy)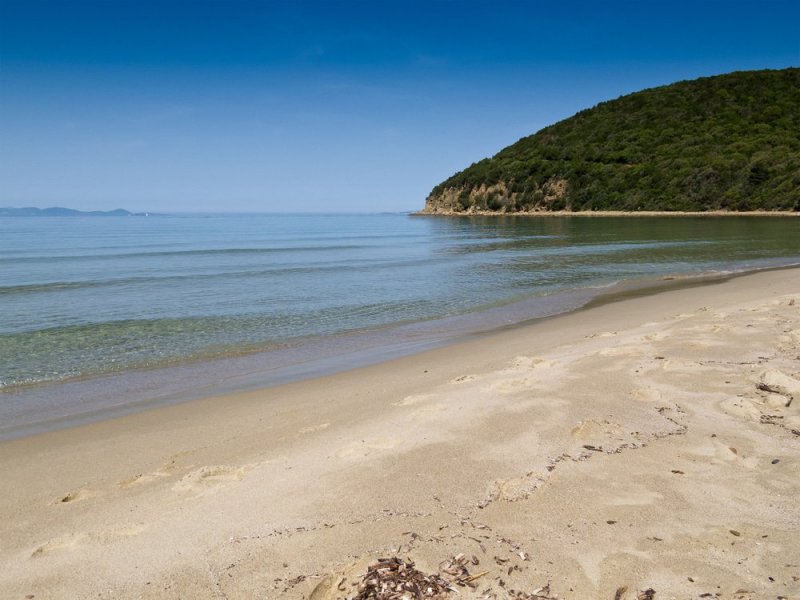 On arriving at Cala Violina, you will see a blue-green sea and untouched nature. 
Located on the sublime Tuscan coast, a hundred kilometers southwest of Florence, it belongs to the Bannissez Scarlino Nature Reserve.
Easily accessible by a stony path descending through the woods, it takes its name from the screech, similar to the sound of a violin, produced when your feet tread the sand containing tiny grains of quartz. 
For this reason alone, this cove nestled in the heart of a typical Mediterranean environment is worth a visit.
13. Bantham Beach (England)
Among the most beautiful beaches in Europe, Bantham is undoubtedly one of the most eclectic. 
Located near Plymouth, on the southeast coast of England, this wild and picturesque place is very popular with families during the summer.
Its waves attract many surfers, and the curious swim in its natural pools dug into the rock. You can also walk along the long coastal path that borders the beach and hike in the surrounding area. 
Let yourself be seduced by its colorful landscapes and picturesque English atmosphere.
14. Sao Jacinto Beach (Portugal)
Located in a nature reserve near the Barra Canal, Sao Jacinto Beach is surrounded by huge dunes and stretches like a long wildcat strike by the sea. 
You can admire a unique and perfectly preserved fauna and flora in an enchanting silence disturbed only by the soft sound of the waves. 
Little known to tourists, you only have to cross the pine forest and the dunes to reach this beautiful natural setting.
15. Jaz Beach, Budva (Montenegro)
A modern beach typical of Montenegro's seaside resorts, Jaz is a long stretch of pebbles enclosed in the cliffs and lively. 
You can practice many water sports, admire its colorful underwater fauna while snorkeling, or relax on a sun lounger in the sun.
Surrounded by lush Mediterranean vegetation, it often hosts festivals, concerts, and outdoor performances and therefore deserves its place among the most beautiful beaches in Europe.