Here are the 15 most amazing roads you can walk around the world.
"In a trip, it is not the destination that counts but always the path traveled, and the detours especially."
Philippe Pollet-Villard's quote has never been fully understood until the discovery of this article, which reveals the most beautiful roads in the world.
We have selected mythical, enchanting roads for you, which will become the main element of your next trip. 
From the classic "Route 66" in the United States to the lesser-known "Hai Van Pass" in Vietnam, take the time to "live your ways" through these roads of oblivion.
The 15 Most Amazing Roads In The World
1. Tianmen Road – China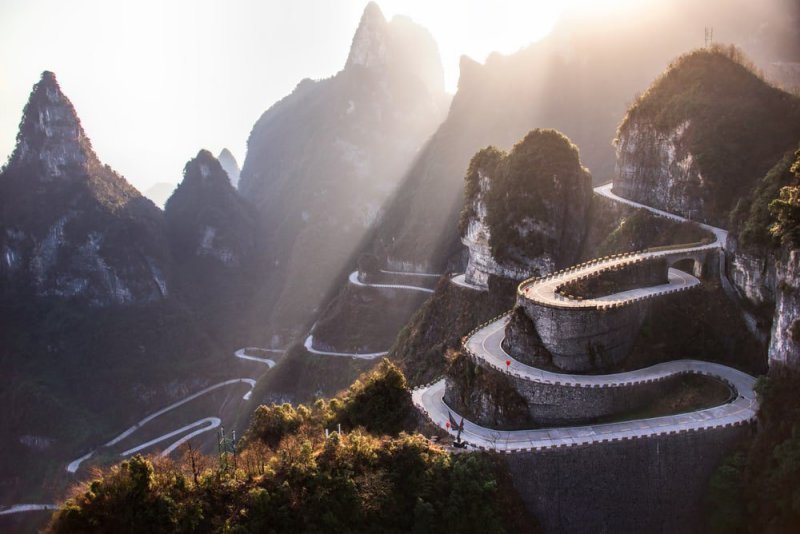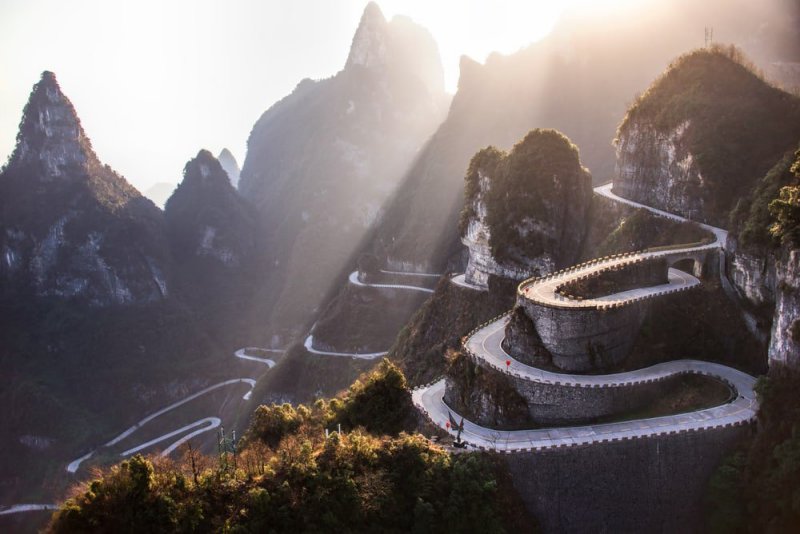 Tianmen Road, present in the north of Hunan province, is also called the "Sky Road." If she holds this nickname, it is not so much because her uphill turns seem to lead straight to paradise, but for a completely different reason.
After 11 kilometers and no less than 99 bends revealing impressive views of the natural landscapes of this Chinese country, Tianmen Road reveals, at its highest point, a unique natural arch 131 meters high and 30 meters wide opening onto the sky.
If Tianmen Road is part of our ranking of the most scenic roads globally, it is also dangerous. 
Its tight turns, often 180 °, and its altitude difference of more than 1,000 meters are sometimes difficult to negotiate and deserve your greatest attention.
If you do not feel like walking this winding road, you can always take the cable car that will allow you to admire it and get directly to the top.
2. Atlantic Road – Norway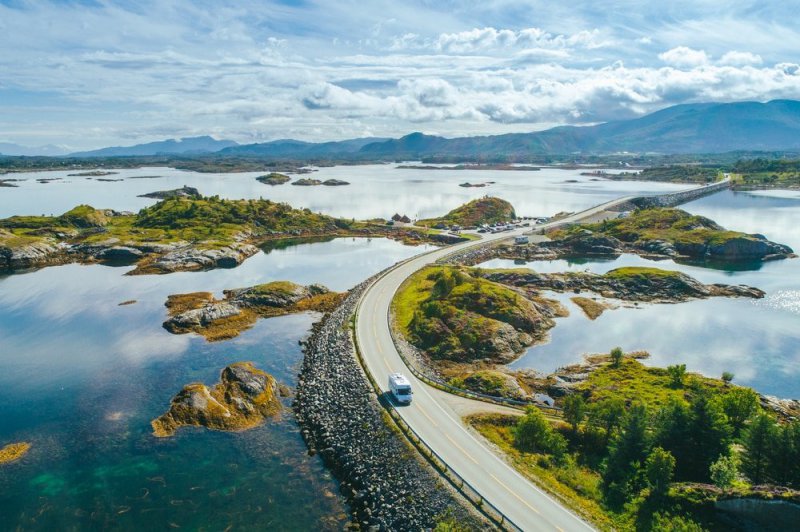 The "Atlantic Route" is one of the most scenic wonders. Indeed, each of the 8 bridges that compose it seems to come out of a different universe.
It took no less than 6 years for the workers to build this 8.3 km road, primarily because of the difficult climatic conditions. Indeed, during these six years, the construction site will have had to face… 12 hurricanes!
Yet, thanks to hard work, these same workers finally succeeded in their bet to build one of the most beautiful roads in the world. 
Located in the northern part of the hustadvika coastal area in Norway, it should be an absolute must-see on your next Nordic trip.
3. Great Ocean Road – Australia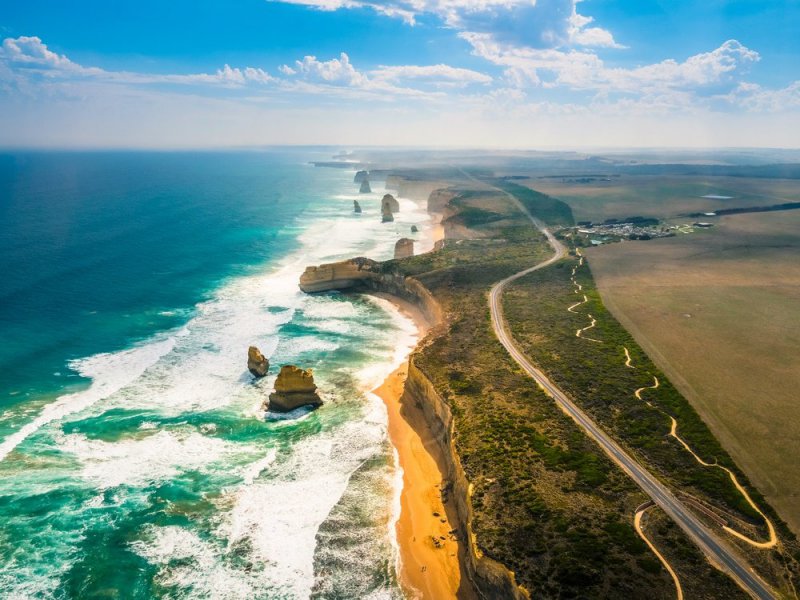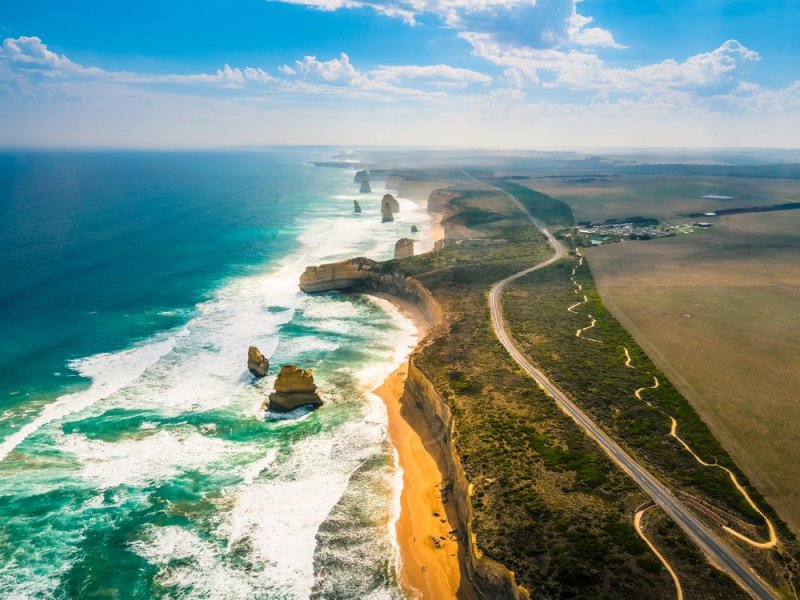 The Great Ocean Road is particularly aptly named. For nearly 243 kilometers, it runs along the ocean from Torquay (south of Geelong) to Allansford (east of Warrnambool). 
But think again, and get ready to take your time because it will take you much more than a day to appreciate all the surprises this Australian wonder offers.
In addition to the world-famous surfing competitions and the spot of the Twelve Apostles, there are also national parks, private beaches, and surprise visits by kangaroos and koalas that will enliven your trip.
4. Hai Van Pass – Vietnam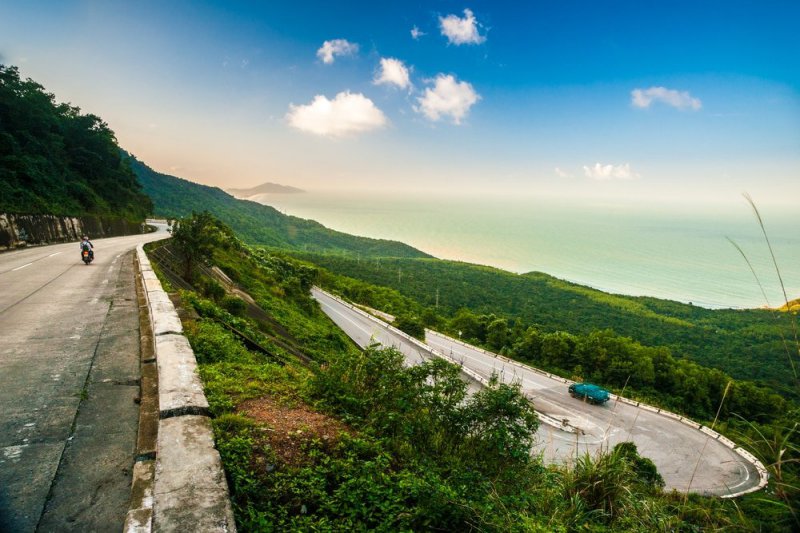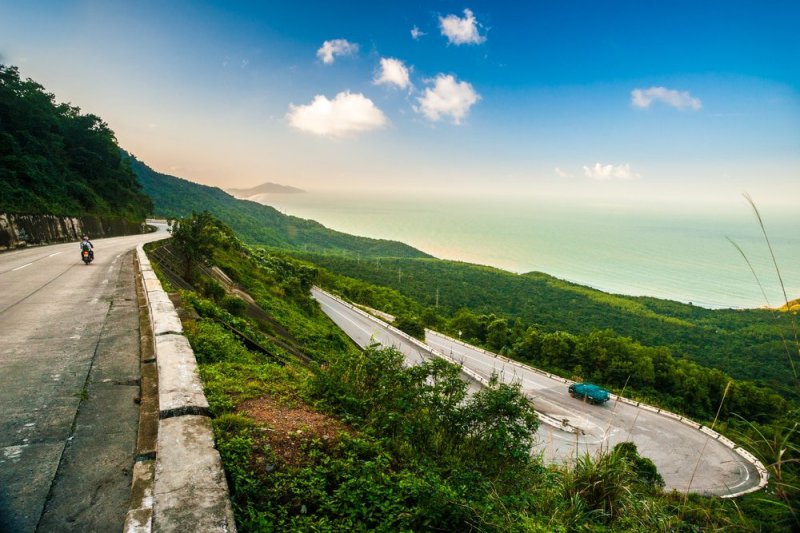 This beautiful Vietnamese road is accessible by scooter (or motorcycle), but we recommend walking! 
The Hai Van Pass stretches for about twenty kilometers between Danang and Hue in central Vietnam.
Until a short time ago, one of the most beautiful roads in the world was crowded, but not anymore. Since the opening of the Hai Van tunnel in 2005, trucks, buses, and other cars no longer take the time (or the risk) to walk along the coast and its 496 meters above sea level.
Therefore, you will be able to enjoy a road that provides landscapes of which only Vietnam is capable, and you will do so in almost absolute calm, surrounded by almosts and experienced cyclists.
5. Icefields Parkway – Canada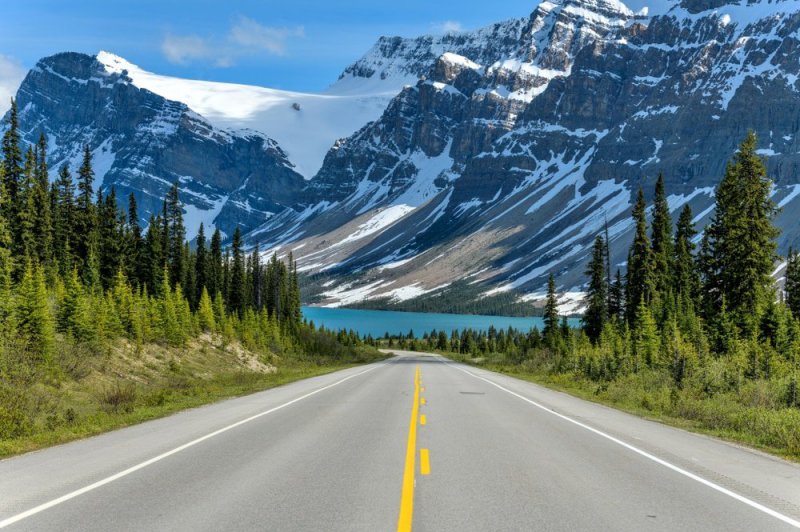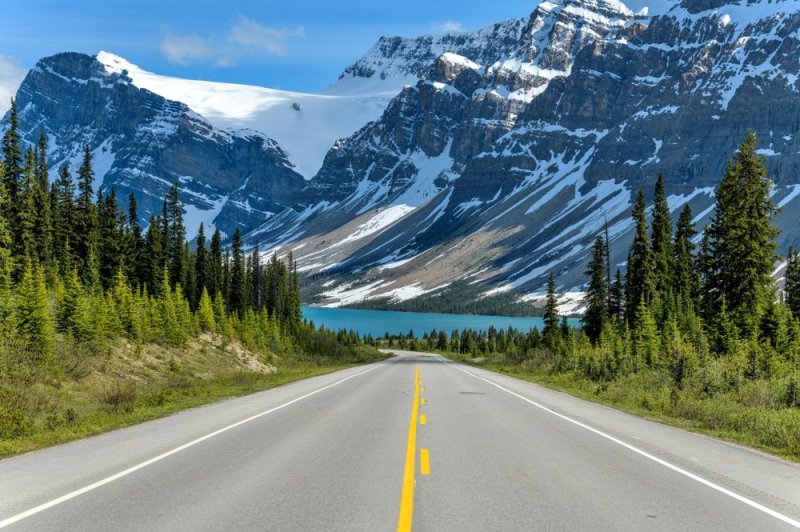 The Icefields Parkway is one of Canada's most tremendous splendors (also known as Highway 93). It is 229 kilometers long and connects the eastern cities of Jasper and Lake Louise.
Unlike the Great Ocean Road (seen above), the Icefields Parkway is quite doable in one day. The motorway areas located not far from all the great spots on this road let you take many breaks.
From Crowfoot Glacier to the impressive Mistaya Canyon (above), let the most striking landscapes of Western Canada pass before your eyes.
6. Col Sani – South Africa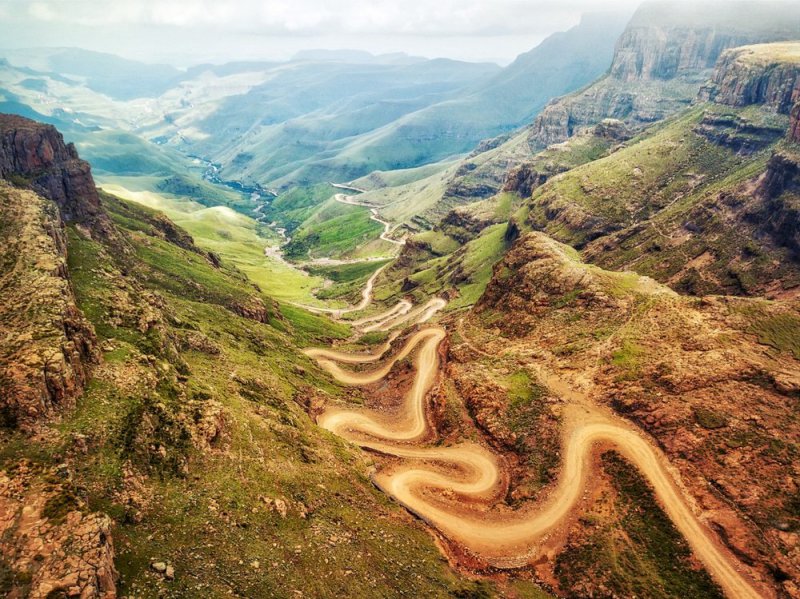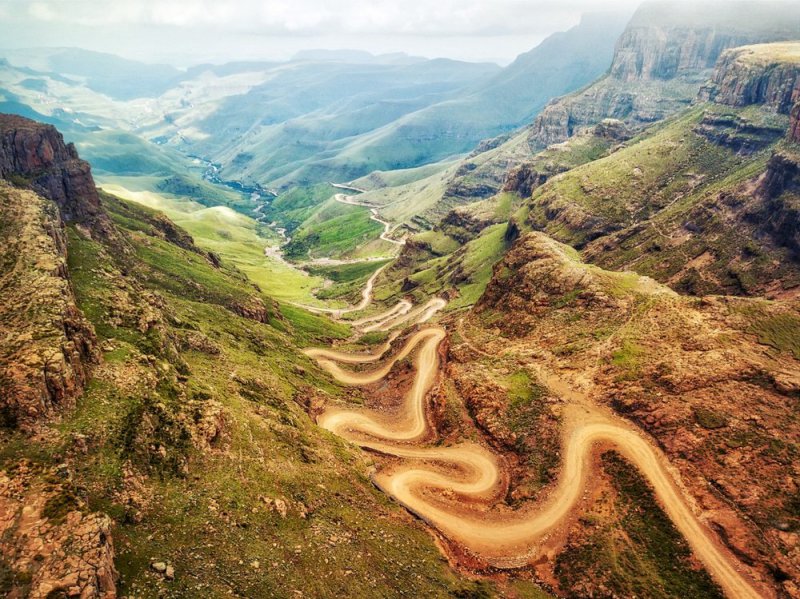 The Sani Pass (Sani Pass), located more than 2,800 meters above sea level, marks South Africa and Lesotho. Discover a road mountain pass in the Drakensberg massif, the only way to cross between the two countries.
Its crossing is the slowest and most complex, and you will have to be patient if you want to take this road. 
Many tour operators offer you a ride through the road, considered one of the most beautiful in the world.
7. Leh Manali Highway – India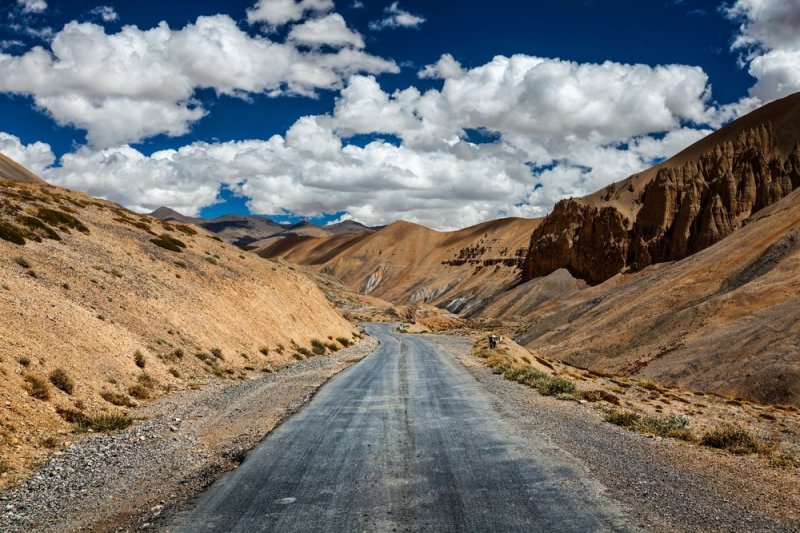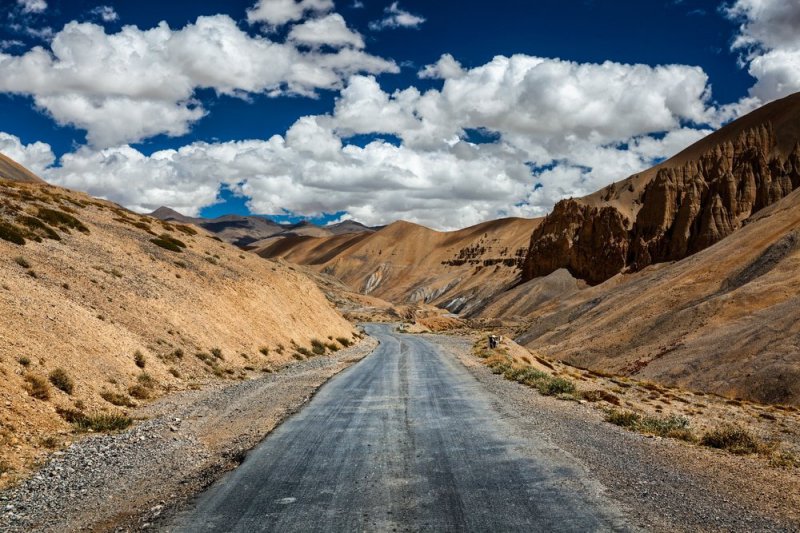 As dangerous as it is unique, as long as it is intoxicating, the Manali-Leh is the most spectacular road in our selection.
Manali-Leh is 480 kilometers long, with the highest point at 5,328 meters high. It is also 4 passes (Rohtang La, Baralacha La, Lachulung La, and Tanglang La), plateaus, and many surprises on the edge of its often winding roads.
In particular, you can find a plethora of camps scattered along the way, similar to small Indian villages lost in this wilderness. 
These will also allow you to refuel your motorcycle, or enjoy a moment of sharing, suspended in time, over a cup of tea.
Manali Leh is challenging but unforgettable between rocks, snow, cliffs, and coasts. You can explore it solo, only if you are used to extreme roads. In the opposite case, we strongly advise you to discover it via a tour operator.
8. California State Route 1 – United States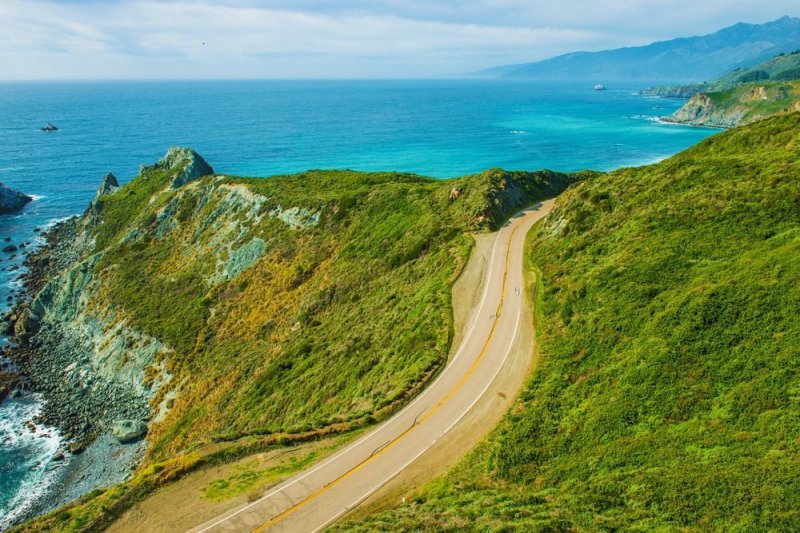 With much less "roots" than the previous one, California State Route 1 is also more touristy, less dangerous, and easier to access. Also called "Highway 1", it is the route of the State of California that follows the Pacific coast.
The "California Dream Road" is almost 900 kilometers long and passes through the two world-famous metropolises: Los Angeles and San Francisco.
9. Dades Gorges – Morocco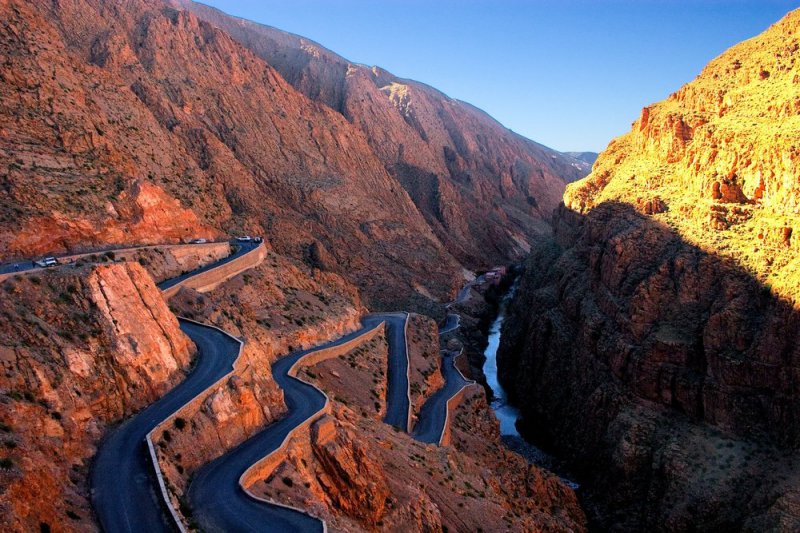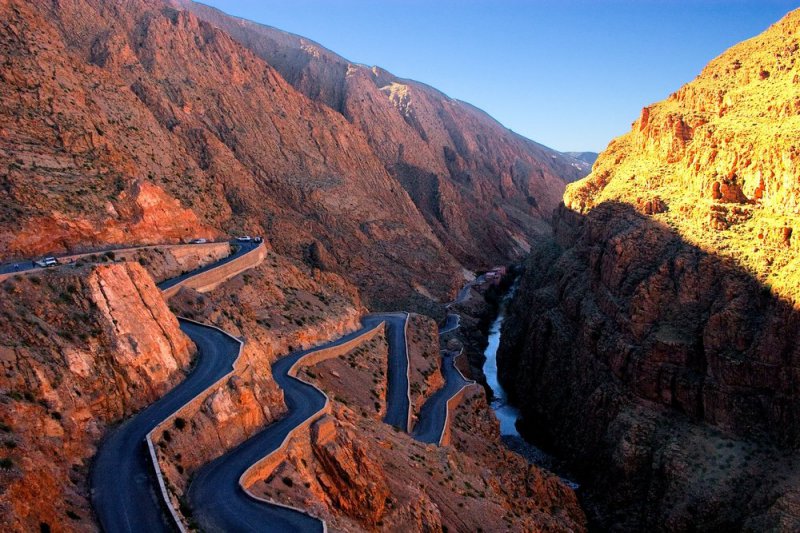 In the heart of the Dades Gorges, here we are in Morocco to discover one of the most charming roads in our selection. Charming by its landscape and the population living along these gorges: the Berbers.
During your crossing, stop at Tamlalt to discover the "Fingers of the monkey" before leaving for a long excursion of 4 hours towards Aït Oudinar, a sublime village. 
This route will offer you a mix of landscapes, discoveries, and encounters that you will never forget.
10. Karakoram Highway – Pakistan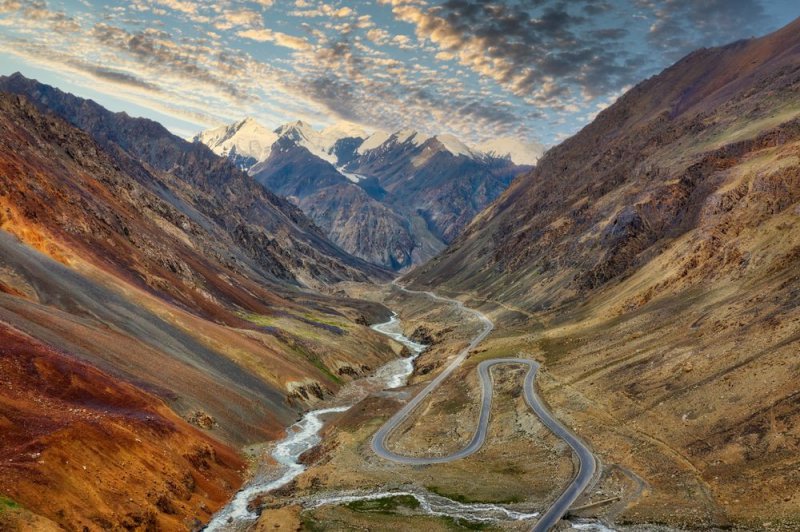 The Karakoram Highway is a road located in the heart of Asia, representing the only link between China and Pakistan. As beautiful as it is impressive, this road has a rich history.
Nicknamed the "Friendship Road" by the Chinese, it was built from 1966 to 1978, jointly by the two countries. Its 1,300 kilometers in length saw the death of 810 Pakistanis and 82 Chinese during its construction, as the efforts required in the middle of this wilderness were significant.
Rising to 4,693 meters, it will offer you diverse landscapes, such as Lake Karakul, a wonder located at more than 3,000 meters above sea level. It will provide a magnificent view of the Muztagh Ata, 7,500 meters high.
11. Route 40 – Argentina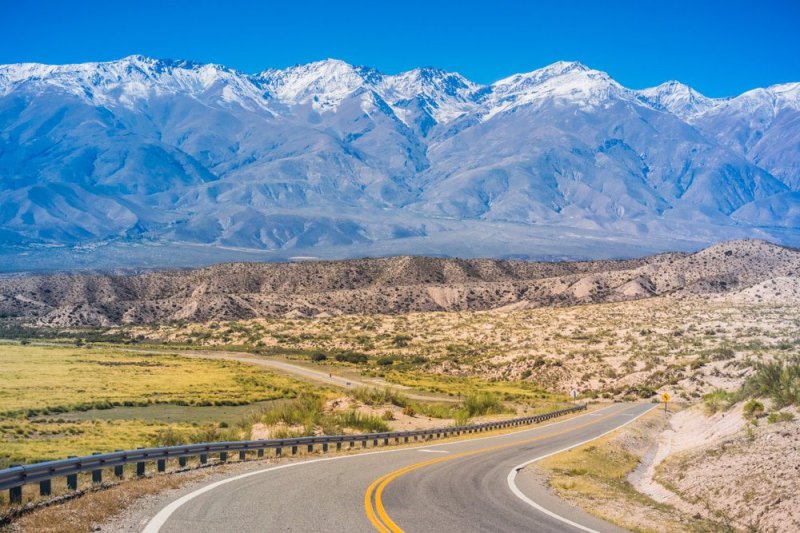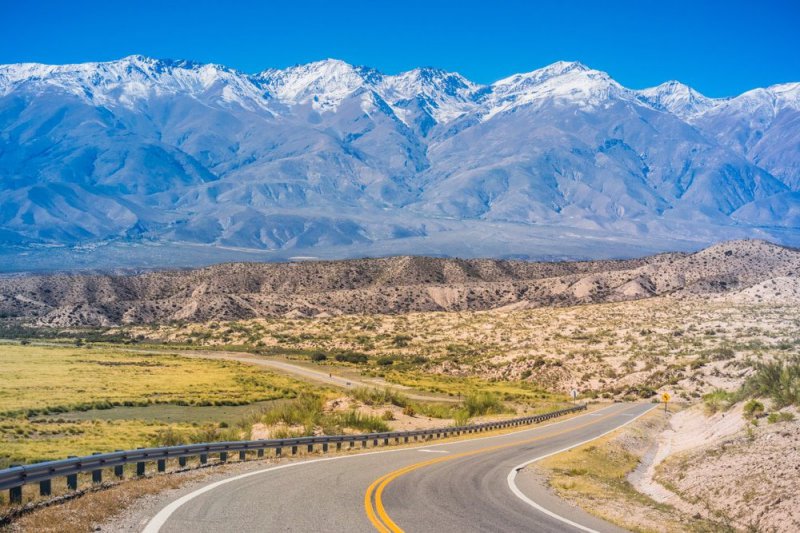 "Route 40" is to Argentina what "Route 66" is to the United States. Crossing the country from north to south, over more than 5,000 kilometers, is the mythical road to take if you want to discover the country as a whole.
But be warned: you will need to plan a good month to make the crossing in its entirety! You will face 11 provinces located in 3 different regions: the North, Cuyo, and above all, beautiful Patagonia.
As challenging as it is magical, this route strongly advises you to do it by car rather than a motorcycle. 
Temperatures can drop quickly and make your motorcycle ride unpleasant.
12. Col Stelvio – Italy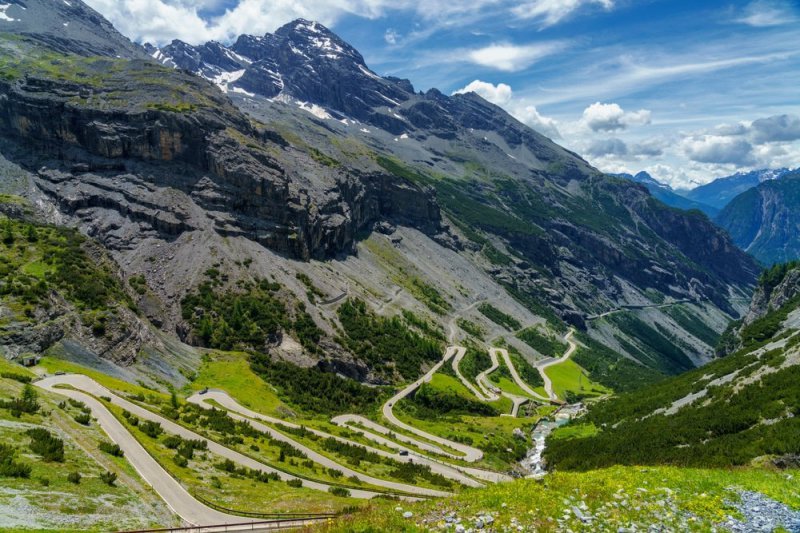 Located in Italy and representing the second highest road pass in the Alps with 2,758 meters, the Stelvio Pass is a real place of pilgrimage for European bikers. 
They all consider it one of the most beautiful roads globally, and we understand why.
This mythical road between 1820 and 1825 by the engineer Carlo Donegani connected the Austrian Empire to Lombardy. It now welcomes an incalculable number of bikers who come to offer themselves its legendary route every year.
13. Denali Highway – Alaska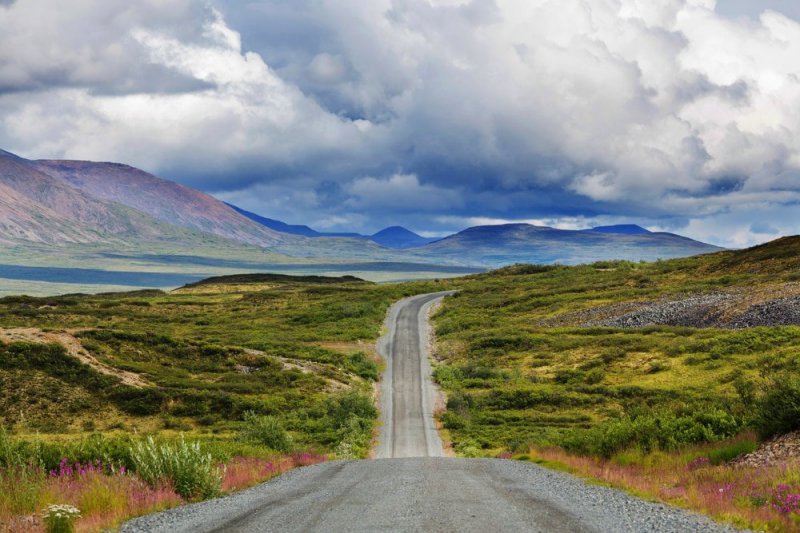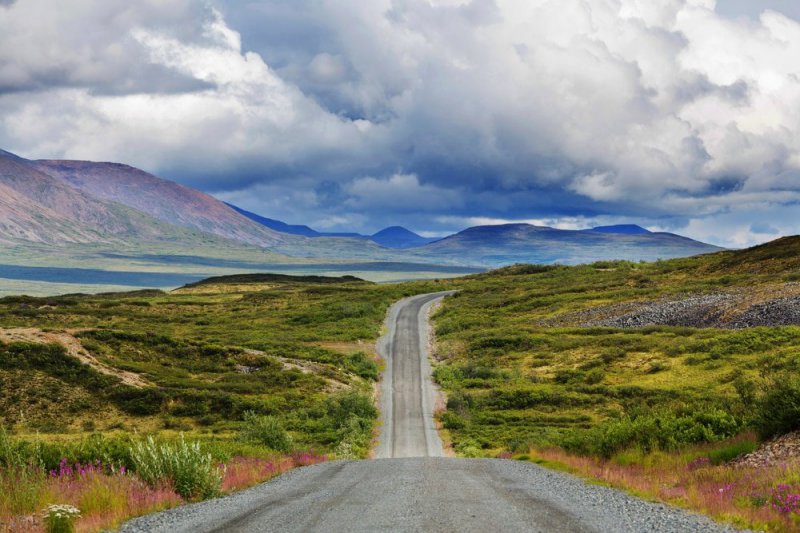 The 218-kilometer-long Denali Highway, or Alaska Route 8, was the first access road to Denali National Park and Preserve.
Crossing it, you will discover the sumptuous landscapes that Alaska can offer, including its mountain range. 
However, if you want to discover it, you should hurry up… Global warming is making the opening time of this road more restricted every year, and it may close its doors permanently in a few years.
14. Lavender Route – France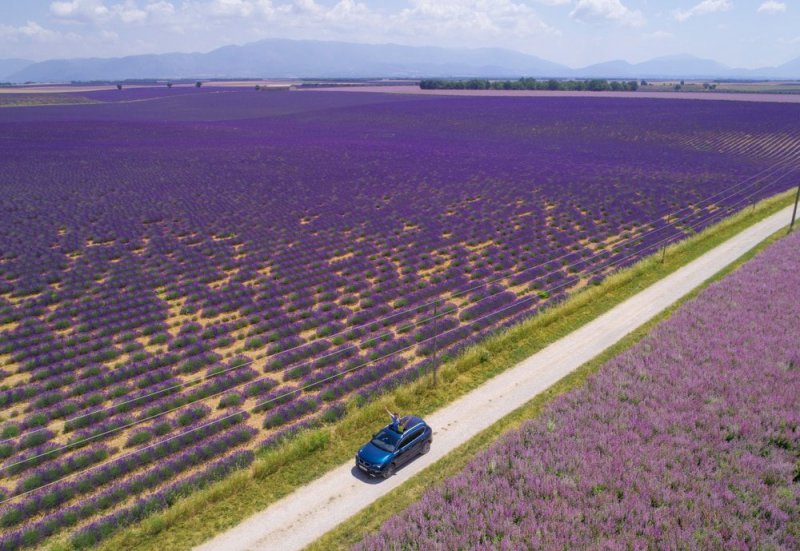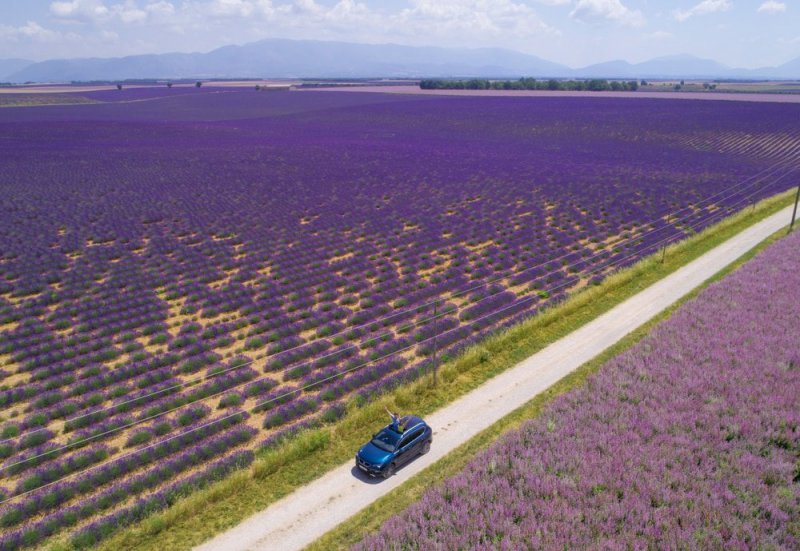 Lavender blossoms in Provence between June and August perfume the landscape's air and fragrance. Wouldn't it be great to explore the lavender roads? No less than six circuits are waiting for you.
In addition to the gentle Provencal landscapes, you will come across many surprises on the way: distilleries, workshops, museums, restaurants, etc. Ideal for a romantic getaway on one of the most scenic roads in France!
15. Route 66 – United States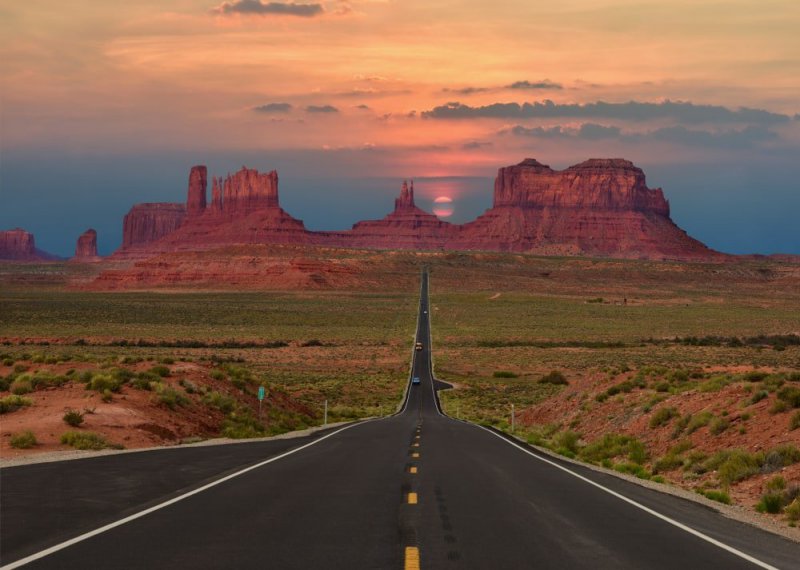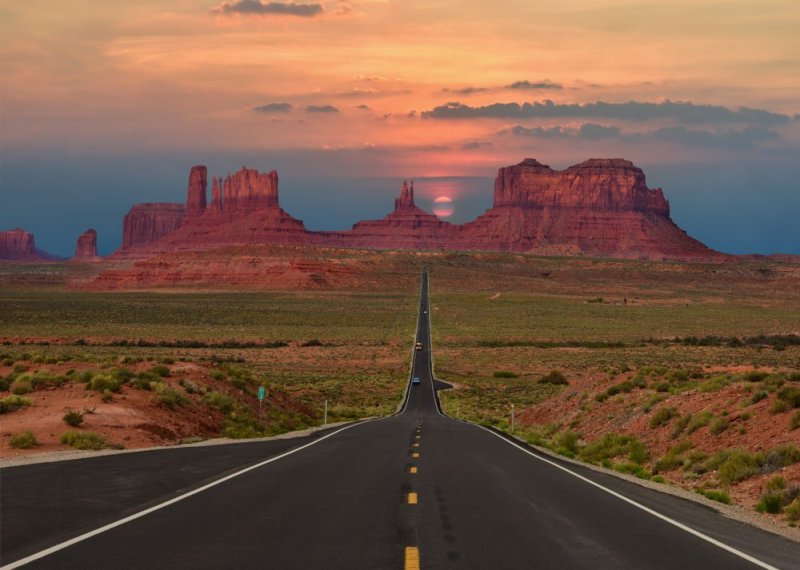 When we talk about Route 66, we are attacking a myth. The most famous road in the world, the one that all bikers dream of and all travel enthusiasts in general. 
Crossing the country from East to West, it stretches over 3,945 kilometers, 8 states, and 3 different time zones, from Chicago to Santa Monica.
On Route 66, you will find legendary gas stations, diverse and varied landscapes, travelers from all walks of life, ghost towns, mythical dining places (Diners, Cadillac Ranch…), and the famous motels on the roadsides.
To tackle Route 66 is to tackle a legend. To cross it from end to end is to become one.