Experience the best of the great outdoors in Gerardmer! So you should discover the top outdoor activities in this picturesque French town, including hiking, biking, skiing, and more. Get ready for an unforgettable adventure in the heart of the Vosges Mountains. Read our guide to the best things to do in Gerardmer now.
Fancy a breath of Vosges air? Summer and winter, discover the profusion of the best things to do in Gerardmer!
Gérardmer welcomes you to the heart of the Vosges for a nature getaway. So go halfway between Épinal and Colmar. The pretty resort is labeled as "Famille Plus" and "Villes et villages fleuris." You can enjoy it there in all seasons.
Winter is an opportunity to reconnect with classics, such as skiing and snowshoeing. At the same time, summer offers a wide choice of excursions around and on the lake. Will you have a preference for its snowy forest or the beach of its lake?
During your stay, enjoy the outdoor activities to do in Gérardmer. Solo, as a couple, with friends or family, everyone will find the leisure to take his foot!
Here is the list of 15 best outdoor activities to do in Gerardmer:
People Also Read: 

The 7 Best Hiking Trails in Gerardmer (Beautiful Hikes and Walks in Gerardmer)

The 13 Unique and Best Things to do in the Grand Est

The 9 Best Places to go Paragliding in Alsace [Adventure]
The 15 Best Things To Do in Gerardmer
Best Things to do in Gerardmer in Summer
Your summer stay is an opportunity to test a range of outdoor activities in Gérardmer. We've got equestrian, aerial, and aquatic walks that will spin your head. Don't wait for a second to explore the area actively.
Hiking
A walk is a must in the resort. In summer, it is possible to walk the heights, but other paths are available to you. We advise you, for example, to go around the lake. For this, you just have to follow the shore.
Allow 2 hours for this outing to do alone or with others. And no need to be trained! Many trails crisscross the surroundings and connect Gérardmer to nuggets. Pass by the Saut de la Bourrique waterfall and the Haut de la Côte and Sapois passes.
Gyropod and bike tour
You can take many circuits to cross the forests if you prefer cycling. Book a trip by mountain bike or electric bike with an accompanying person to venture in total safety.
In the same spirit, the gyropod is an excellent choice to visit Gérardmer. Standing in your vehicle, you drive around the city and the lake. On the way to an original exploration!
The horseback ride
What other outdoor activities to do in Gérardmer could seduce you? Reconnect with nature with a horseback ride. Meet your mount, take care of her, and she will guide you through the most sumptuous landscapes of the resort.
Whatever your level, you will enjoy this little tour in the forest. Adults can go with children on foot. Riding a horse is one of the best things to do in Gerardmer.
Sailing and windsurfing
A host of outdoor activities to do in Gérardmer will meet you on the lake. Start with a sailing session! By catamaran or dinghy, you will sail on calm waters. There is like sea air blowing over the resort. Introductory course and half-day tour formulas are on the menu of the clubs. Take off in the middle of the Vosges!
Canoeing and paddle boarding
Water sports are a real success with families and groups of friends. Tempted yourself with an hour or a day of canoeing. You will go around the lake sitting in your boat. You can also rent a paddle to work on your balance.
The must? A mega paddle session! Climb together on this giant board and agree to head to the lake. Canoeing is one of the great activities to try in Gerardmer.
The boat and the pedal boat
Our last outdoor activities to do in Gérardmer should enchant you. A boat or pedal boat escape entertains adults and children. They allow you to enjoy the lake differently and escape the lively bank.
On the boat side, you can take any of the two ride. Featured ride with comments or an electric boat ride for more autonomy.
Paragliding
There is no shortage of outdoor activities to do in Gérardmer. Take off from land on a tandem paragliding flight. Installed in front of the driver, you have only one thing to do: admire the panorama.
The ridges reveal a very different landscape from above. Gérardmer, "Pearl of the Vosges, " and the natural park will be seen. At your request, the monitor will perform a peaceful or sensational flight.
Tree climbing
In ranking the best outdoor activities to do in Gérardmer, let's mention tree climbing. Let's go down a few meters to cling to the trees. Gérardmer is full of fun adventure courses and tree climbing.
Have fun taking on the challenges with your harness! Ziplines, suspension bridges, and many other obstacles need agility and courage. Take the circuit corresponding to your ease for maximum pleasure.
Bungee jumping
Let's finish our selection of outdoor activities in Gérardmer with bungee jumping. You will need to have a well-attached stomach. Dare to let go! You will jump into the void over a pretty river from the bridge. Surrounded by a team of professionals, you will feel chills all over the body. Just enjoy this extreme experience, eyes open or closed.
Best Things to do in Gerardmer in Winter
A winter break is conducive to the practice of many hobbies. But what are the outdoor activities to do in Gérardmer? Skiing, snowshoeing, or biathlon will appeal to many people. Do not deprive yourself, and these sports are suitable for all levels.
Skiing and snowboarding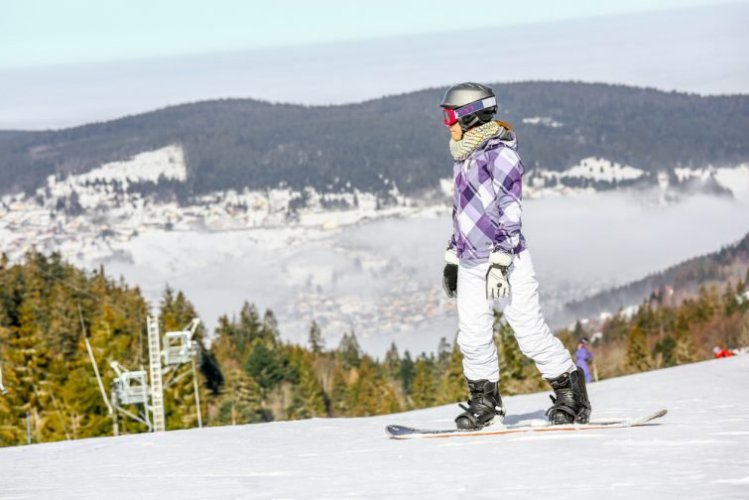 With its 40 km of slopes, the resort is a beautiful playground for snow lovers. Put on skis or snowboards, then descend the twenty-one green, blue, red, and black slopes. These run through the Ballons des Vosges Natural Park. The little ones will take their first steps, and the most experienced will feast on the powder.
A snowpark is also at your disposal to practice the most spectacular figures. And if you want to prolong the fun, you can participate in night ski sessions.
Snowkiting
Have you ever heard of kitesurfing, kite-pulled surfing? Snowkiting uses the same principle. Thus, instead of placing yourself on a surf, they will equip you with skis or a snowboard. The kite pulls you thanks to the wind. The most skilled will try some acrobatics.
Rest assured, no ski slope crosses the area reserved for snowkiting. You will be able to evolve with confidence.
Cross-country skiing and snowshoeing
Think of cross-country skiing and snowshoeing with the family. It is one of the best outdoor activities to do in Gérardmer. The resort has marked trails. You can enjoy the refreshing panoramas by oxygenating yourself at the top of your lungs.
These two practices are particularly appreciated to alternate with skiing. They combine the joys of snow and the tranquility of walks.
Hiking and Nordic walking
Walking is within everyone's reach. Share a beautiful hike between the white fir trees. To bring a tonic touch to this trip, opt for Nordic walking. Do not forget to equip yourself with good shoes and sticks to climb the Vosges peaks. Vigilance is the priority of any walker and always stays on the paths mapped out.
Besides, we recommend hiring a guide. He will share anecdotes about the region or show you the unknown corners of tourists.
Biathlon
We have what you need if you are looking for an original occupation during your weekend or vacation. Among the outdoor activities to do in Gérardmer, the biathlon will surprise you! In 1 hour 30 minutes, alternate ski racing and rifle shooting.
This experience is accessible to advanced skiers but also beginners. The circuit and the pace will be set to your level. And, it's up to you to see if you prefer an individual race or compete against your competitors. Be aware that you can also indulge in biathlon in the summer.
Orienteering games
Want to have fun somewhere other than on the slopes? Cross-country skiing or snowshoeing, take part in electronic orienteering games. You can choose any route you wish from there. Will you do it alone or as a team?
Rest assured, these challenges are for both adults and children! You can take part in orienteering games in summer in the green nature. Orienteering is one of the best things to do in Gerardmer in winter.
Conclusion
Gerardmer is a beautiful town in northeastern France known for its stunning natural beauty and abundant outdoor activities. Visitors to Gerardmer can enjoy various activities, from skiing and snowboarding in the winter to hiking and mountain biking in the summer.
The town is also known to all for its beautiful lake, where visitors can go swimming, boating, and fishing. Other popular activities in Gerardmer include paragliding, zip-lining, and tree-top adventures. With so much to see and do, Gerardmer is the perfect destination for anyone who loves the great outdoors. I hope you find the article "Best Things To Do in Gerardmer [Outdoor Activities]" helpful.