Embark on dolphin and whale watching in the open sea off the coast of France!
Are you in a hurry to see fins emerge from the water's surface? Do you dream of attending a dolphin show in the open sea? Seeing a whale rise to the surface with your own eyes and spit out air (because no, it's not water; it expels) fills you with joy? If so, this article is for you.
Far from dolphinariums and other water parks, it is quite possible to observe dolphins and whales in their natural environment without flying and leaving France.
Travelvibe has selected 6 places to see dolphins and whales in France. Your childhood dream is at your fingertips!
The 5 Places To See Dolphins and Whales on The French Coast
In the Bay of Biscay
Maritime space is located between Brittany and the Cantabrian coast (the coasts of northern Spain). The Bay of Biscay is one of the best places for observing marine mammals worldwide. It is indeed known to be home to all kinds of marine species, including many cetaceans.
1. Off the coast of Brittany
Brittany is quite conducive to observing cetaceans such as dolphins and whales (minke whales). Day trips are organized aboard small boats to discover these marine mammals in the heart of the Iroise Marine Natural Park, off the coast of Finistère.
Seals and birds are also in the game. Take the opportunity to enjoy the beautiful landscape offered by cliffs, lighthouses, and small Breton islands.
2. Along the Basco-Landes coast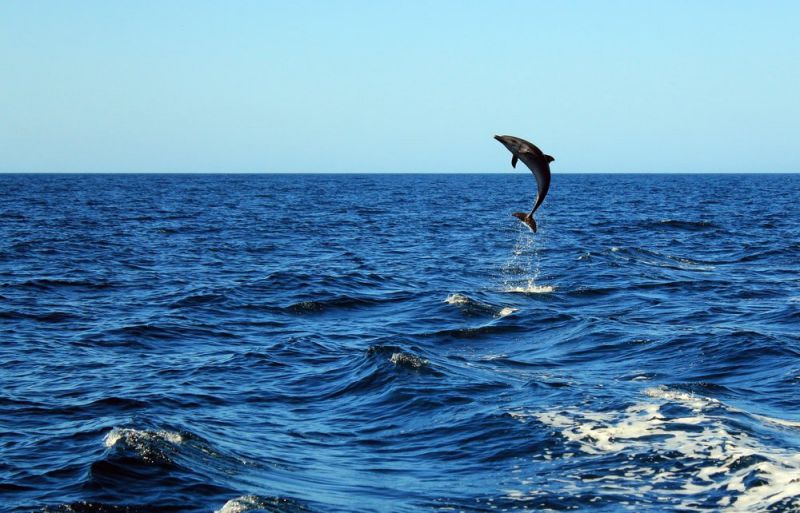 The Basco-Landes coasts offer many excursions to discover these magnificent marine mammals. With more than 15 species referenced, the Basque Country is an exceptional region for the observation of cetaceans.
We recommend that you join an association for this excursion. A sailboat will carry you in order not to disturb the giants of the seas, and you will be accompanied by biologists who will share their passion and knowledge with you! This is perfect for an emotional day full of memories!
In the Mediterranean
Mediterranean coast is a favorite place for cetaceans. There are about ten species of marine mammals. Whales, blue, white dolphins, Risso, and many others, the Mediterranean is full of them. 
Whether you stay on the Côte d'Azur or the Island of Beauty, you will not lack choice.
3. On the French Riviera
From Cannes, Nice, or Sanary-sur-Mer, cruises to discover the marine world will amaze you for half a day, a day, or even several days. 
Instructive and educational, these excursions are punctuated by scientific animations, allowing you to understand better the environment in which the dolphins and whales you will have to observe evolve.
In addition to dolphins and whales, you will have the chance to see many other animal species, such as sperm whales, fish, birds, and turtles. Wonder guaranteed!
People Also Read: The Complete France Travel Guide: All You Need To Know Visiting France (travelvibe.net)
4. In Corsica
Corsica is also a great place to see dolphins and whales. An excursion off Porto-Vecchio or to the Scandola Nature Reserve will allow you to observe these majestic cetaceans. 
Blue, white dolphins, bottlenose dolphins, and whales will be spoilt for choice! Cetaceans are not the only animals you will have the opportunity to see. You will undoubtedly cross the path of blue-skinned sharks, rays, and fish.
In addition to the traditional excursions, it is also possible to rent a modern catamaran equipped for shipping. It is ideal for spending several days at sea and thus maximizing your chances of dolphin and whale watching. 
You can also punctuate your days with snorkeling sessions, do not forget your masks and snorkels!
People Also Read: The 10 Best Diving Spots In France
In the English Channel
After visiting the Bay of Biscay and the Mediterranean, head north of France to the English Channel, a natural paradise for cetaceans; you can see many dolphins in the Bay of Mont-Saint-Michel.
5. In the bay of Mont-Saint-Michel
An excursion to the Bay of Mont-Saint-Michel is an opportunity to live a magical moment. Several hundred dolphins (of the bottlenose dolphin species) evolve freely. 
Here you will find Europe's largest concentration of bottlenose dolphins. Take the opportunity to admire Mont-Saint-Michel other than from the mainland!
People Also Read: 6 Unusual Marine Animals To Discover In France
Overseas
There are plenty of places to see dolphins and whales in their natural environment in the overseas departments and regions of overseas countries and overseas colonies (New Caledonia, Reunion Island…), which are present in the Atlantic, Pacific, or Indian Oceans.
But these are other species that you will have the opportunity to meet, such as Fraser's dolphin, Electra's dolphin, the pilot whale, the pantropical spotted dolphin, the beaked whale, and the humpback whale.
Again, do not hesitate to opt for a catamaran trip accompanied by a specialist to learn more about these fascinating specimens and their environment.
Travelvibe advises you to plan your excursion between spring and autumn, especially in summer, to maximize your chances of seeing dolphins and whales and having starred in your eyes!