Bichanakandi is located in the Rustompur Union of Goainghat Upazila of Sylhet. Bichanakandi is a stone quarry like Jaflong and Bholaganj. Many steps of Khasia hill on the Bangladesh-India border have come from both sides and met in Bichanakandi.
Simultaneously, the high waterfalls in the creek of Meghalaya hills have given a different dimension to the nature of Bichanakandi.
The main attraction of Bichanakandi to tourists is the clear stream of water flowing over the rocks and the white clouds blowing in the mountains.
At first glance, you will feel like a stone bed, and the peace of mind that you will find when you put your body in clear water will drag you to the bed of nature again and again. It's like a bed with mountains, rivers, waterfalls, and stones.
The Ultimate Bichanakandi Travel Guide of 2022
Perfect time to visit Bichanakandi
Bichanakandi is fit to travel at any time. But the rainy season is the ideal time to travel to Bichanakandi

. Due to the flow of water all around, the real beauty of Bichanakandi can be seen at this time. Other times a year, there is temporary difficulty in traveling due to the lifting of stones here.
Way to go to Bichanakandi
Wherever you live in the country, you first have to come to Sylhet district city to go to Bichanakandi. Then you need to get to Bichanakandi from Sylhet.
Ways to go from Dhaka to Sylhet
You can get to Sylhet from Dhaka by bus, train, or plane. Ac buses of Green Line, Shyamoli, Saudia, S Alam, and Ana transport travel from Fakirapul, Saidabad, and Mahakhali bus stations.
The bus per person's price is Rs 1000 (11.79$) to Rs 1200 (14.15$) per person. The cost of non-AC buses per person is Rs 470 (5.54$) to Rs 600 (7.07$).
You can choose Upobon, Jayantika, Parbat, or Kalni express train from Kamalapur or Airport Railway Station to Sylhet by train from Dhaka as your travel companion. It will take 6.5 to 7 hours to get by train.
You can choose the sky path from Dhaka to the fastest time with ease. Flights from Shahjalal International Airport left Bangladesh, Regent air, United air, Novo air, and US Bangla air flights to Sylhet. Tickets from Dhaka to Sylhet range from Rs 2700 (31.83$) to Rs 10,000 (117.90$).
Read more: The 23 Best Places In Sylhet – Top Tourist Places
Ways to go from Chittagong to Sylhet
You can get to Sylhet by bus or train from Chittagong. Paharika and Udayan Express run six days a week if they want to travel by train from Chittagong.
Sylhet to Bichanakandi
To go to Bichkanandi, one has to board local CNG from CNG station in Amberkhana, Sylhet, at Rs 140 (1.65$) to Rs 160 (1.89$) per person.
CNG reserves for the day will usually cost as much as Rs 1000-1500 (11.79$-17.68$). You can come to Hadarpar and rent the boat from the boat ghat and go to the main point of Bichanakandi.
If you travel to Bichanakandi during the rainy season, you can hire boats together for Bichanakandi and Panthumai and talk to the boatman accordingly.
The boat fare will be Tk. 800-1500 (9.43$-17.68$) to go to Bichanakandi. And the boat fare, including Panthumai, will be Rs 1500 (17.68$) to Rs 2000 (23.58$).
And of course, you'll fix the boat fare. It may take up to Rs 2500 (29.48$) in some cases to hire a large trawler. When the river is low in the water in winter and before the monsoon, you can go to Bichanakandi on a hat or bike from Hadarpar. The motorbike fare per person is Rs 50 (0.59$) to Rs 60 (0.71$).
Bargain well for any fare. And the fare may be more or less if the season and tourist attendance are high. If you're in trouble, you can call Upazila Executive Officer (01730-331036) or Upazila Parishad (01919-515960).
Read more: Amazing!! The Top 34 Best Travel Destinations In Bangladesh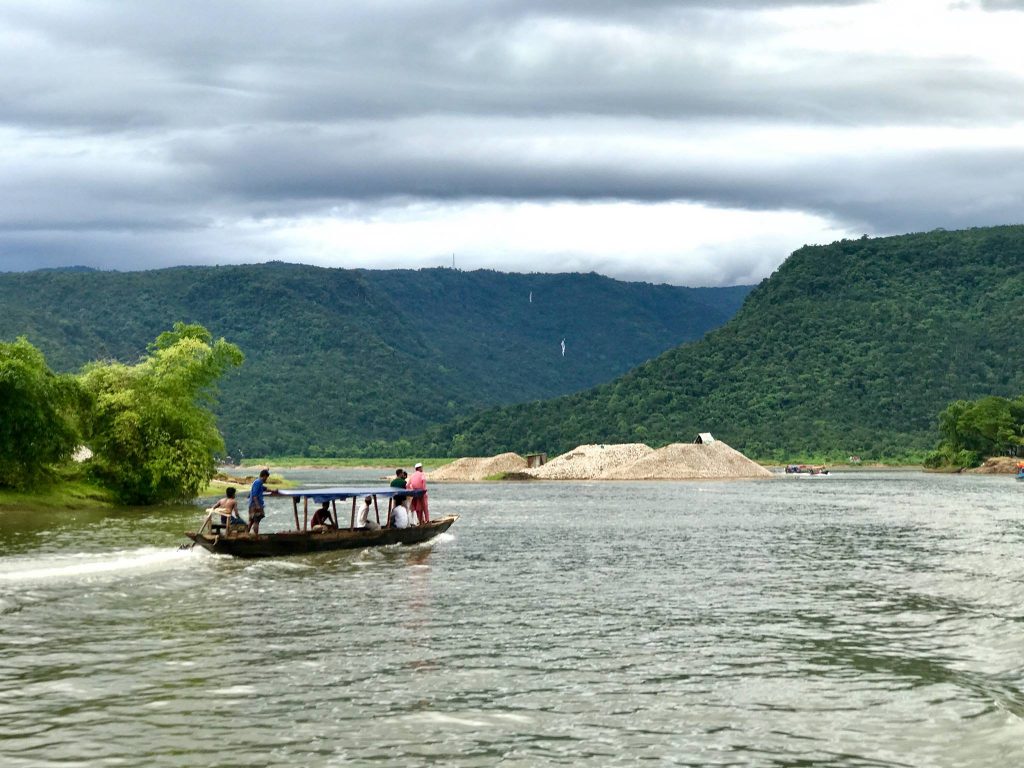 Where to stay in Bichanakandi?
You can choose Sylhet city to stay in due to less time of going Bichanakandi from there. Hotels like Hotel Hill Town, Gulshan, Dargah Gate, Surma, Kaikobad, etc., can stay in hotels as per your needs.
A couple of traditional rest houses in the Lala Bazar area and Dargah Road offer multiple rooms at low prices.
Good quality residential hotels include Hotel Hally Gate, Hally Inn, La Vista Hotel, Pansi Inn, Hotel Metro International, Britannia Hotel, etc.
These hotels will cost from Rs 2,000 (23.58$) to Rs 10,000 (117.90$). Luxury hotels and resorts include Nivarana Inn, Hotel Noorjahan Grand, Rose View Hotel, Nazimgar Resort, Grand Palace, and some other hotels.
The cost per night will be Rs 8,000 (94.32$) to Rs 30,000 (353.70$).
What to eat in Bichanakandi?
There are temporary food hotels at Bichanakandi. These hotels will cost you Rs 120 (1.41$) to 150 (1.77$) for unlimited rice and dal in various packages.
You can buy dry food, water, and other necessities from the Hadarpar market right after arriving.
There are also restaurants of different quality in Sylhet city, and you will get everything you want. Pansi, Five brothers, or Palki restaurants in the Jindabazar area of Sylhet can eat the best desi food at affordable prices, which are very popular for many bhorta-bhaji, khichdi, and meat dishes.
Read more: Saint Martin – The Ultimate Traveler's Guide
Bicanakandi Travel Tips & Alerts
Travel in groups to reduce costs.
If you want, you can visit Bichanakandi by seeing Ratargul in a day.
Bargain to hire boats and CNG.
Be careful when you're in the water in Bichanakandi.
Ensure that the speed of a small stream of water is also very high during the rainy season.
Bichanakandi is a stone quarry, saplings, stones underwater, so be extra careful while walking.
Please don't do anything that harms the environment and nature.
Be polite with the locals.
Return to Sylhet city before dusk.