Are you looking for how to explore the day trips from Seville without a car? Or are you planning a tour to the most serene and super walkable Seville, but you don't want to spend on expensive car hiring expenditures or don't have a car along the way?
In that case, let me just tell you that you can get the best of the Seville day trips and make the most of your itinerary, even if you show up without cars since you've just reached the right article! 
Day Trips From Seville Without a Car
So yeah, shake off all those no-car sorrows and worries, and let's dive into our today's post as we'll suggest the ultimate beauties that you're looking for on your unique Seville excursion! 
1. Game of Thrones Filming Site: Italica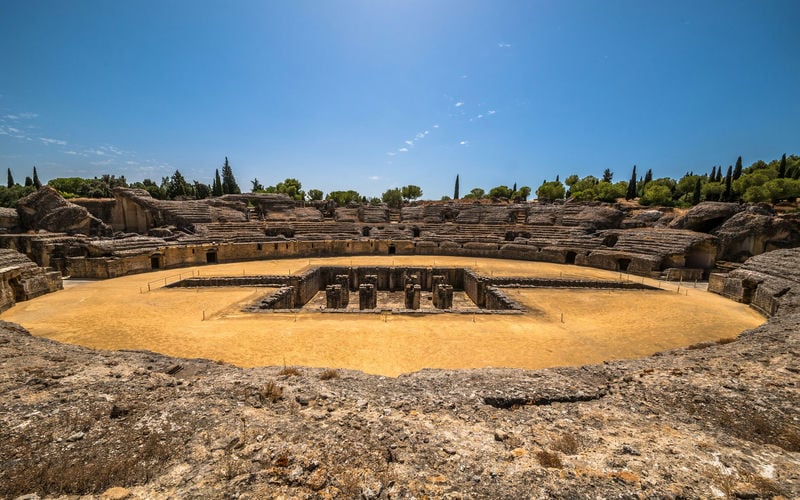 OMG, wait, before I introduce you to this no-car beauty, I should let you know about some of the car alternatives in Seville (trust me, there's a lot!), so here it is!
1. By foot
2. Trams
3. Light Metro
4. Taxi
5. Uber/ Lime/ Cabify app
6. Public Bikes
7. Scooters
8. Seville's Subway
9. Bicycles
10. Hop-on, hop-off Bus
11. Train
12. City Bus
13. Kayaks
14. Horse and carriage ride (yes, you read this right, it is even one of the best ways to wander around Seville)
Out of the above, the cheapest way to traverse Seville is by walking ( bonus is, you can take a stroll around and admire the supreme Seville's scenic ambiance!) as the amenities are only a minute's walk away if you stay in the city's center. 
As for your comfort stay, Trivago

is there to help you out with the finest hotels in Seville. Since now you've got a subtle idea about where to stay in Seville and ways to get around Seville, let's talk about this car-free site, Italica! 
Game of Thrones, the name of the world-famous television series itself, is enough to create great hype, but let me tell you that you don't need a bathtub of money to hire car rentals to visit the sites of this series because you can easily reach there even if you've no car just by taking a 20 minutes bus ride while only spending €2. 
And that makes it one of the easy day trips from Seville without a car. 
The "Dragon Pit" filming location of the award-winning show is the Italica's giant amphitheater (where the gladiators battled); you'll find many archeological gems like the interesting Aqueduct, ancient Roman ruins, tunnels, and the eminent Trajan Temple. 
There's also a San Isidoro del Campo monastery, the vistas of it will take you back to the Baroque and Mujedar periods. Italica isn't only about the history of 206 BC emperors and settlements; it also offers incredible wine tours, so make sure to grab yours!
2. Cordoba
So, the day trips from Seville to Cordoba are on my top list because this UNESCO World Heritage-privileged site has a lot to offer you! There are many unique things you can do in Cordoba.
Cordoba facilitates the most Instagram-worthy and most photographed Mesquita (Mosque-Cathedral). It is within 25 minutes of walking distance from Cordoba Train Station (if you aren't into walking, you can take a bus by only spending €5). 
Wander about the Mesquita and soak in the dazzling views of the maroon and beige color striped rows and rows of arches; the Gothic-themed ceilings are also equally picturesque. Packed with vibrant flowers, Cordoba also hosts a stunning site called the Viana Palace, where you'll find 12 beautiful patios. 
Remember to stroll in the charming Jewish Quarter's cobblestone streets, and admire the alleys, historic Monarchs, and the royal Arab castles; trust me, you'll have a lifetime of memories here. 
Also, check out the nearby restaurants and shops because you'll surely get some good deals (ensure you get some leather goodies as Cordoba is famous for it). 
My take was the Restaurante Damasco, where I had the finger-licking Mediterranean dip, Muhammara. If you fancy having Andalucian cuisine, opt for the Noor (Mitchelin-starred) for some crazy delights. 
And yeah, you absolutely don't need a car for this; just hop on a high-speed train from Seville Santa Justa Station; travel time is only about 45 minutes (charges vary from €13-40, depending on the season).
3. Carmona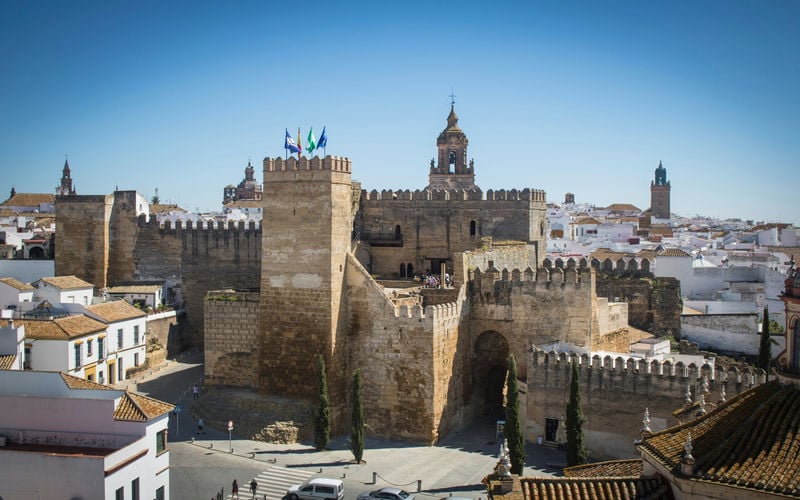 With only a 40-minute M-124 bus ride from Plaza de Armas, Carmona is surely one of the top half-day trips from Seville when you're on a no-car trip. Carmona preserves an enormous 5000 years of history of Spain! 
From the stunning courtyards to the breathtaking vistas from Parador de Carmona, freshies from the famous Farmer's Market, plethora of artistic sculptures, ancient Roman bath sites, Gothic Santa Maria church, serene Guadalquivir River, the Moorish fortress, the Alcazar de la Puerta de Sevilla (royal palace) or just the panoramic narrow streets, Carmona makes sure that there's something for every traveler of every age group. 
It is famous for its finest olives, archaeological sites, and a vast range of wines. You can also drop by the nearby cafes, but for an authentic Spanish treat, remember to visit the Meson Pepe Rico, which is at the city center, and I'm sure you are gonna thank me later for this! 
Carmona is also super walkable, and just at a distance of a few miles, there's the popular Donana National Park; if you're coming up with kids, this park is your place, for it is home to many birds and wildlife. 
The typical M-124 bus fare to reach Carmona is only €2.21 (one-way ticket), so yeah, this place is also a great deal if you're on a tight budget!
4. Cadiz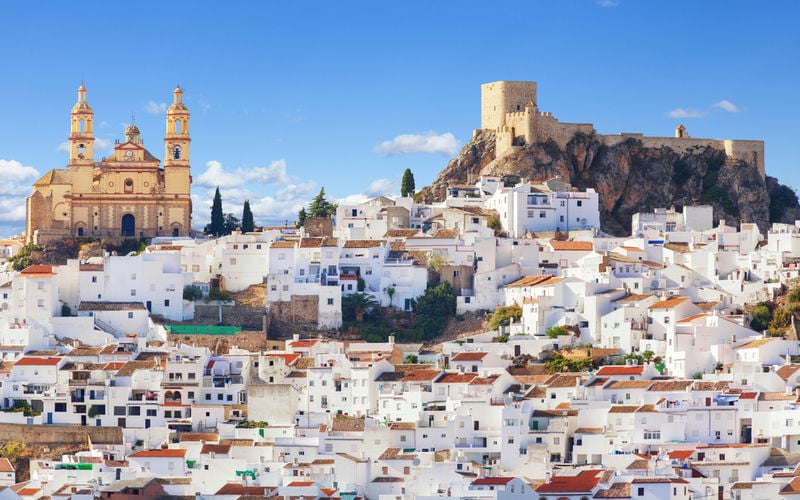 If you're looking to have a relaxing time with your family during your car-free excursion, day trips from Seville to Cadiz are what you need! 
From sunbathing at the glowing La Caleta beach to exploring San Sebastian and Santa Catalina castles, unparalleled Cadiz Cathedral, vibrant nightlife, savories, seafood, ancient sites, or the quaint cafes, this colorful town of Cadiz ensures you an escape from the hyped and busy tourist areas. 
And if you're a shopping freak like me, head to the Mercado de Abastos for authentic goodies and fresh food deals. In fact, there are a whopping 50 seafood stores, so you're in luck if you're a seafood admirer. 
But what makes it the best? It's the urban Genoves Park! It features a lovely oasis and cave, which enhances the park's beauty even more, making Cadiz the perfect destination if you're heading with family. 
And when you're in Cadiz, remember to visit the iconic Roman Theatre since entry is free here. Finally, the town's most popular attraction, Tavira Tower (needs online reservation), should be on your day trip, as this watchtower offers unforgettable views of Cadiz. 
There's also an ancient optical system so that your eyes can witness the beauty of nature with every detail. 
You can catch a train from Santa Justa Station; travel time from Seville to Cadiz is about 1.5 hours(round trip costs around €24).
5. Jerez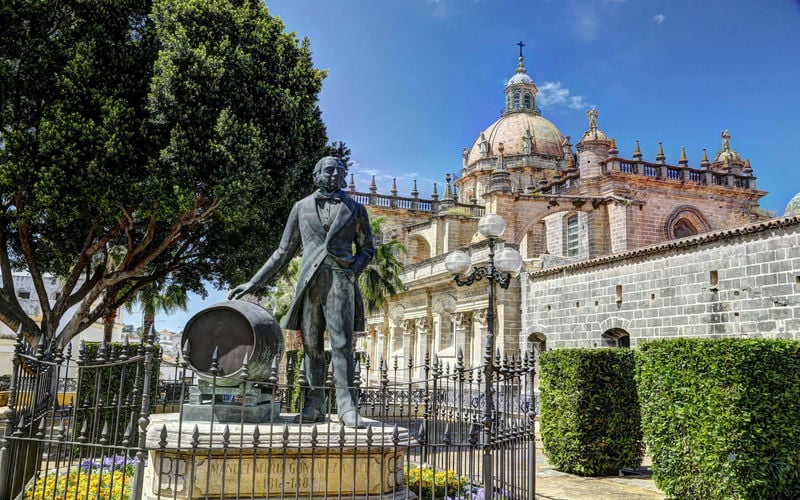 Wait, how can you miss Seville's famous flamenco dance and sherry (white grape wine) just for a damn car? 
No worries, peers, because you don't have to go much far; since this place is only an hour's distance from Seville if you're catching a train ride(charges about €10-15). 
Sample sherry from the several options of Bodegas (some even host flamenco dance for real); my pick is the Bodegas Tradition, as here you can get the best Andalucian sherry (the must-try one is the Nutty Amontillado) while admiring beautiful art collections. 
Also, remember to wander about the prominent attraction, the Dark Chamber, or opt for the plenty of palaces; the must-visit one is the Viceroy Lasena Palace, the posh Sherry Wine Museum, the eye-catching Alcaraz of Jerez, lovely gardens around, the cultural fusion masterpiece, Jerez Cathedral or just taking a leisure walk in the twisting old streets, every activity in Jerez will give you the hint of the rich Spanish heritage, and that makes it one of the best day trips from Seville without a car. 
What makes Jerez even more interesting is the horse rides! So yeah, don't forget riding the horses at the Royal Andalusian School of Equestrian Art.
6. Ronda
Are you someone who loves history and heritage but is worried about exploring such a trip because you don't have a car? 
Then without any second thought, just add Ronda to your bucket list, my friend! Perched on a picturesque mountaintop, Ronda is home to cute white-washed houses and historic medieval walls such as the La Ciudad. 
Admire the soul-soothing blue waters of the Guadalevin River as you wander around El Tajo Gorge. The astounding streets of Ronda will give you the essence of the climactic history of ancient guerrilla warriors and bandits. 
Apart from it, remember to check out the famous Arab baths of Ronda, the historic Puente Viejo (the bridge built in 1616, you can easily reach it via a stunning trail walk), clifftop views, the most-hyped bull ring arena, Plaza de Toros, the scenic Moorish Palace, La Casa del Rey Moro, and the local museums and gardens. 
And the gem of this place is the Puente Nuevo, a bridge made of stone that also features a dramatic waterfall and a small museum. 
Don't forget to devour Tapas from El Lechuguita and also some wine because Ronda is internationally known for its amazing wine collections. 
You can reach Ronda by taking a Los Amarillos Bus from El Prado de San Sebastian station; journey time is about 2-3 hours, so ensure you get your essentials (power bank, water bottles, snacks) for this long day trip in Seville.
7. Rio Tinto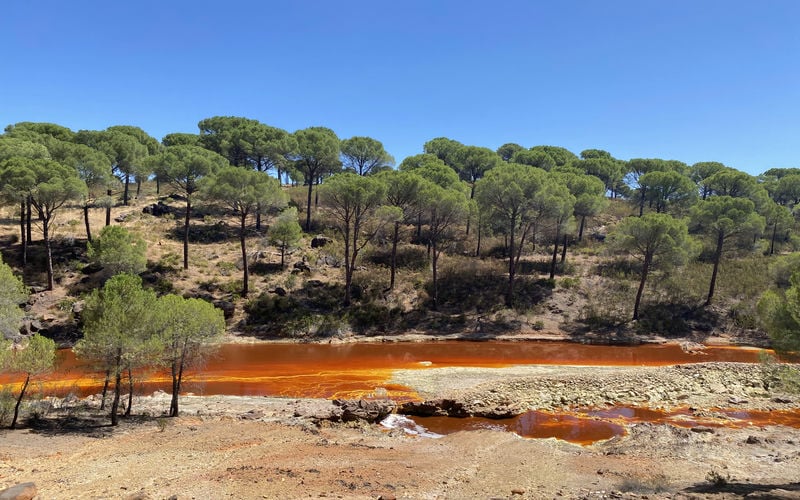 Okay, the blue waters of any sea or river are always a treat to the eyes of hardcore travelers, no arguments on it, but have you ever imagined a sea with orange-red-shaded colored waters or how serene such a unique river would look? 
Well, just to let you know that this Seville to Ronda day trip gives life to your imagination because it actually owns these stunning and rare-colored waters. 
As per the locals, the magical color comes from the presence of heavy metals and iron in the water since Rio Tinto is the greatest global group of mining and metals. 
The wine-shaded river with the heavenly blue sky itself looks so enthralling that you might run out of your phone's storage as you'll surely want to click and capture more and more pictures of this beauty! 
Don't forget to ride on the hidden gem, the old steam train, to experience some nostalgia. You can find the train near the Rio Tinto River, inside a charming mining village Minas de Riotinto. 
There's also an exciting mining museum, so if you have a history-fanatic friend in your group, remember to take them here. 
And don't worry about the food supremacy, as there's a stunning bar and restaurant called the Rio Tinto Food & Drinks. 
You can enjoy all these by taking a bus ride from Seville; it'll take about 2 hours to reach Rio Tinto. So yeah, you don't have to depend on a mere car to get this surreal itinerary experience.
8. Madrid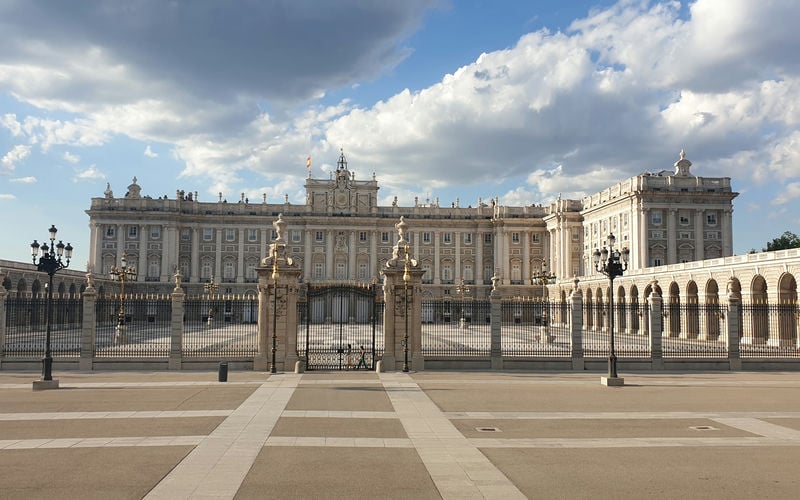 Your unique excursion of day trips from Seville without a car would be incomplete if you didn't make it to this place! 
And when you're in Madrid, you can't afford to miss a visit to the eclectic Santiago Bernabeu Stadium!
Yes, football freaks, even if you don't have a car, you can still visit this iconic place, the home of Real Madrid CF and many popular football clubs, where you can easily reach just by taking a 2.5-hour train ride that too within a minimal train charge of € 7 (since it's a bit long day trip, remember to get some snacks along with you)! 
Wander about the stadium, dressing rooms of your favorite players, and the exquisite interior of it, and take snaps where famous stars like Cristiano Ronaldo and Luka Modric showcased their top-class football. 
You can also go for a guided tour of the stadium if you want to go for an even deep and enriched trip!
And it doesn't end here! Madrid has a lot more for you! Packed with lush greeneries, Madrid boasts its El Retiro Park, the greatest property of the city filled with greenery, and a UNESCO World Heritage Site as well, so a visit to this place is a must! 
To make your day trip even more rocking, add the grand Royal Palace of Madrid to your list, witness the aristocratic beauty of the vast gardens of the palace that fosters majestic views of the skyline or the 3000 rooms of the castle, brimming with glamour, glittering chandeliers and striking decor (general ticket costs €10 only)! 
If you tire of exploring the beauty, drop by the nearby restaurant, Zuccaru, to get some hot mocha or Sicilian cuisine. Madrid has an enormous range of shopping options, too, don't forget to check out the vibrant souvenir stores, as they're truly worth visiting! 
You can end your Madrid day trip on a historical note by visiting the famous Prado Museum, which houses 20,000 sculptures, relics, crafts, and arts by greatly admired Spanish artists like El Greco.
Conclusion
So I hope that my picks of unique yet fun day trips from Seville without a car will be your helper for your next no-car Seville venture since I tried my best to help you out. 
From the nearby Donana National Park day trip to even the distant Morocco excursion, Seville offers you a lot of diversity when it comes to exploring day trips. 
But remember to get your essentials along (passport, documents) and to avoid crowds and traffic, spring and fall can be the best time for traveling to Seville. 
Also, Seville Center only has two public transport stations, and some buses for distant day trips aren't frequent, so remember to check the bus and train schedule beforehand. 
Apart from it, Cadiz, Jerez, and Cordoba do not facilitate Uber, so local taxis(charges reasonable) can be your savior if you wish to avoid taking walks. But yes, if you want to visit further beyond Seville city center, it'll be better to rent a car to get better accessibility.