Are you thinking of going on a vacation in the USA? And finding the best place that is worth visiting for you?
Is California worth visiting? Of course, California is worth visiting, without any doubt. California has many things to surprise you. Like wonderful nature, outstanding beauty, and attractive beaches! The mountains and the wildlife. Beautiful people! The pretty climate! These features make California worth visiting place.
If you have any doubt, is California safe or not, you should read the article attached here.
In the article below, you'll learn why you should visit California and what California is known for. Also, whether visiting California during summer, winter, or Spring is worth visiting or not.
So, let's dive in.
Is California worth visiting in the summer?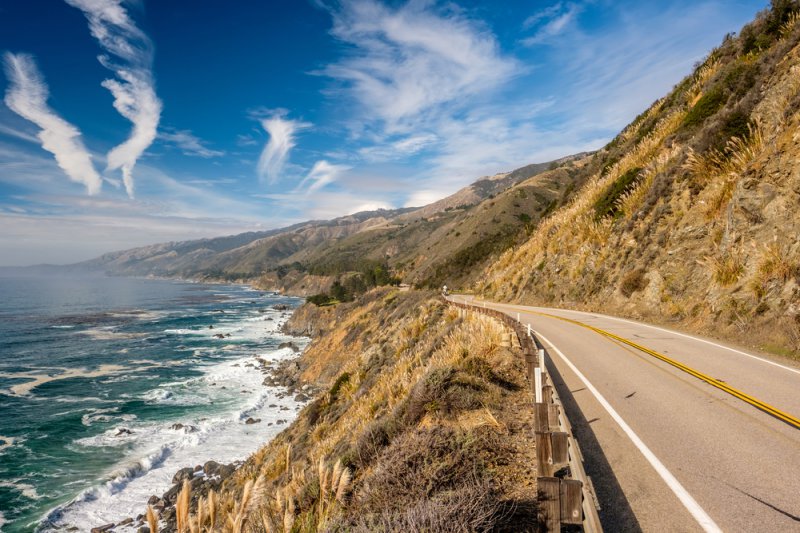 California has always been a top summer holiday destination due to its beautiful beaches, famous parks, stunning mountains, and calming landscape.
The summertime in California is a time to think of famous scenes from popular culture. It is also the perfect time to indulge in local fruits and vegetables.
Particularly delicious are the strawberries grown close to Watsonville and Oxnard and stone fruit (peaches, plums, Apricots, apricots, and others) produced in the central valley.
If you're searching for an idea for your next trip in summer, California is definitely worth visiting.
What are the best things to do in California in summer?
Swim at Lake Tahoe
Enjoy amazing coastal scenery in Mendocino
Relax at Pismo Beach
Explore Desert Art Work In The Anza Borego Desert
Do fun activities on Catalina Island
Visit "Lassen Volcanic National Park" an unusual place in California
Take a road trip with your family or friends
Hike the Hollywood Sign
Visit the lowest point in the USA at Badwater Basin
Visit Glass Beach to see trash has turned into treasure
What are the best things to do in California in the Summer with kids?
Visit San Diego Zoo
Go to Disneyland
Enjoy summer vacation at Santa Monica Pier
Explore the tide pools in Crystal Cove State Park
Do fun activities in Raging Waters
Camp at Joshua Tree National Park
See exotic sea creatures in Monterey Bay Aquarium
Photoshoot at Calico Ghost Town
Witness the living desert
Know about the nature in Turtle Bay Exploration Park
Is California worth visiting in winter? 
Some people imagine California as a place to visit during summer. But you know what? Many of the best experiences in California are available in the winter, especially during the colder winter. 
With such a variety of landscapes and attractions, there are endless opportunities for winter adventure. Winter is also an excellent season to go to the Golden State because there are fewer crowds and lower prices.
The California coast is also a great winter getaway perfect for relaxing on the beach, basking in the sun, hiking and camping.
So if you don't go to the mountains or the deserts during winter, you're missing out on lots of unique experiences!
What are the best things to do in California in winter?
Explore the amazing beauty of Yosemite National Park
Take a drive on Big Sur (Highway 1)
Enjoy Scenic views at Death Valley National Park
Enjoy beautiful oasis visiting Joshua Tree National Park
Do ski, snowboard, and snowshoe at Lake Tahoe
Catch a glimpse of Gray whales at Bodega Bay
Attend the "Festival of Lights" in Mendocino Coast Botanical Gardens
Amaze at Napa Valley
Escape at June Lake
Enjoy a holiday-themed parade and special fireworks at Disney
Is California worth visiting in Spring? 
The Spring is among the best to travel to California. The weather is pleasant as well as sunny. The hills of California turn bright green in Spring.
There will also be wildflowers blooming in the deserts and falling down the Pacific coastal cliffs. Those wildflower displays vary from amazing to stunning.
There are mostly fog-free days on the coastline until May. This is the only time of year when the main color of the California Border differs from its title. 
Several locations along the coast could be perfect spring break destinations for couples or families. Additionally, many desert areas in California are ideal spots to visit in Spring.
Are California beaches worth visiting?
To be honest, the Beaches of California are really worth visiting. The Golden State of America is blessed with some of the most breathtaking beaches on the planet.
When new tourists think about California, One of the primary images that come to their mind is likely to be the beach. There are several beaches to select from in California.
California has a fantastic diversity of beaches greater than the beaches of many other countries. Beautiful scenery abounds along the rough Pacific coastline. California's beaches are a great place to relax and enjoy outdoor recreation.
So, obviously, it is worth going to California for the fantastic beaches.
Is California worth a road trip?
California is difficult to beat when it comes to road excursions. A road trip in California must be the most enjoyable way to explore the state. It has amazing national parks, world-class cities, and everything else. California offers everything anyone who loves to travel could need!
The place of good weather always provides an unhurried, top-down road journey experience. Because of its size, there are plenty of lands to explore. It's possible to start with the ocean and then head to mountain ranges or take an all-day exploring California deserts. 
This California road route itinerary takes you on the renowned Pacific Coast Highway, through deserts, and around mountains and lakes.
Is California worth camping?
It's no surprise that camping in California is among the most popular in the United States. 
The weather and landscape make it easy. There's simply too much beauty to choose from, with always warm beaches, green forests, charming farms, and majestic mountains.
If you are a fan of camping near the sea and awake to waves breaking against the shore, it's worth camping in California.
Is California a good place to visit?
There is no doubt that California is a fantastic place to visit. California is among the top destinations for a vacation across the United States. It's a great place for Americans as well as foreign visitors. 
Gorgeous beaches, lively urban areas, theme parks, and natural wonders unlike any other place on earth make California an attractive place to visit. There's lots of natural beauty to be discovered throughout California. There are massive redwoods to be seen as well as rocks and deserts.
If you're thinking of going on a road trip or a family trip, you can go to  California. 
What is California known for?
California is the third-largest state in the US in terms of area. It is also the most populous state in the United States. Many wonderful things about California make it an ideal location to live in and make it a very popular tourist destination.
Silicon Valley and Hollywood are probably the two aspects that California is known for, but many other things must be noted.
You'll notice that many of these events became well-known since California is the location of so many notable films and stories. It's a unique and famous place.
Here are some things that California is known for:
Silicon Valley
Silicon Valley quickly became one of California's most important economic generators and later the United States.
It is home to many of the most important software, technology, and internet-related businesses. This is considered the most southern part of the San Francisco Bay Area, located within San Jose and Palo Alto. Since there aren't any official boundaries, the area is considered one of the world's wealthiest regions.
You'll find everything you're searching for, whether nature, technology, food, wine, art, beer, or counter-culture.
The world's most famous companies situated in the silicon valley are Facebook, Google, Apple, Microsoft, Netflix, Tesla, and others. So visitors can see those amazing companies out there, their offices.
Hollywood
They'll usually imagine the bustling Hollywood region if you mention California to anyone. It is regarded as California's most prominent and popular location.
Hollywood and the entire cinema industry across the US are among the most well-known things in California. This huge industry was situated inside the Hollywood district, and the name was synonymous with the film industry in the US. 
For those who are first-timers, it's undoubtedly one of the destinations which shouldn't be ignored in California. Visitors can also enjoy the natural and historical attractions, a myriad of performances, and some of the most coveted dining establishments.
Hollywood studios create hundreds of films per year and make America US among the top filmmakers in the world. 
Hollywood is also well-known for its fantastic nightlife, which includes a variety of bars or clubs and music venues that are popular with visitors from all over the US. Hollywood is certainly worth a trip if you plan to travel to California.
Surfing culture
Surfing is extremely popular globally, but it is trendy in California due to the multitude of beaches with excellent waves that provide perfect surfing places. It is a fantastic leisure activity for many local Californians.
Surfing was first introduced to California through Hawaiian students during the 1880s. By the 1900s, it was already forming the well-known Californian surfing culture. But it was only in the 1950s and 60s did it indeed explode into the cult mode of living and sport it is today.
Music, movies, and tv shows have added to its appeal and helped the sport become more popular. Its growing scene has produced innovative surfing styles, music, and even jargon. Surfing has grown to be so significant that it's even been declared the official sport in California, and September 20 is now California Surfing Day. 
Beaches
California is famous for its beaches. They are fantastic for surfing, sunbathing and for people-watching. 
These beaches are ideal for those who like to be in the natural world. But perfect for those who love a bit of swimming and sunbathing. There are more than 880 miles of golden sand in California.
The beaches are awe-inspiring, with stunning views and clear blue waters. It features a spectacular rock formation rising out of the water, beautiful and distinctive. The water is perfect for those who like to swim and surf. 
Yosemite National Park
Yosemite is among the most well-known National Parks in the United States, attracting millions of tourists from all over the globe.
California is home to a variety of state and national parks. Yosemite National Park in the Sierra Nevada is the most visited park. The park is the home of some of California's most well-known nature iconic landmarks in the US, such as El Capitan, Half Dome, and Yosemite Falls.
The park's most famous attraction is Yosemite Valley. However, the park's size is enormous, covering 3 081 square kilometers, so there are plenty of attractions outside the valley.
There are numerous ways to get around Yosemite, from camping to cycling and horseback riding, hiking, stargazing, rock climbing, fishing, winter sports, and volunteering.
Why Should I Visit California? 10 Reasons to visit California 
Fantastic weather
The gorgeous weather is one of the best reasons to visit California. In most areas in California, it is possible to wear shorts anytime. Visit California, and you can showcase your summer wardrobe as the entire world is sporting its winter outfits.
But that does not mean that the winters in California are hot. The temperature in California is so different that you can ski in the morning and then go for a swim in the afternoon in the winter. According to a huge number of tourists, they experience the most frigid winters ever in California.
Weather in California can change according to your preferences instead of adjusting to it. That's the appeal of the weather in California.
Thanks to the climate, exploring some of the most interesting spots is even more exciting.
Interesting background
Since becoming the official state of North America in 1848, California has had a long tale to tell over the past couple of centuries. The state grew an impressive story over the next 170 years. 
Learn details about what happened during the Gold Rush period. It brought thousands of new settlers to visit the Gold Rush Museum. You can also discover the story of how Hollywood was transformed into the world's film capital within the Hollywood Museum.
The story of California is so diverse that everyone will be entertained while they learn about the state's history.
Cuisine
When most individuals think about California, it is a picture of stunning beaches, surfers riding in the waves, and beautiful sunshine. But did you not know that California is also famous for some of the finest cuisines anywhere globally?
If you're seeking to discover innovative restaurants or tasty food trucks, California offers some incredible dining experiences that will please your palate.
Weird locations
If your beliefs are in the ghost sphere or not, be guaranteed to enjoy a fascinating experience visiting California's haunted sites. 
There are many haunted houses and trails and prisons and corn mazes; many provide tours. It's exciting and frightening to visit numerous haunted sites in this beautiful state of ghostly eerie.
Alcatraz Island, The Queen Mary, Ranchos Los Amigos Hospital, and The Winchester Mystery House are the most well-known haunted places. The majority of these haunted places provide tours, and you might be convinced after a visit to one of the many haunted locations.
Out of the house
California is home to more than 300 national and state-owned parks to display. If you're a fan of driving, you can explore California's beautiful landscape, breathtaking desserts, and rugged mountains. 
Parklands comprise UNESCO World Heritage sites and obviously the famous redwoods, which are among the largest trees in the world.
Families who love spending the day outdoors enjoying rides and other attractions are sure to enjoy the theme parks in California! Universal Studios Hollywood, Discovery Kingdom, Knott's Berry Farm, and Disneyland have various rides, games, and activities.
In-N-Out Burger
One of America's most popular burger chains was also established in California. Don't miss your chance to find out why these burgers have gained such acclaim.
The secret menu item consists of a beef patty that has been cooked in mustard and sandwiched and topped with tomato, lettuce and pickle, grilled onions, and a little sauce. A single taste, and you'll become addicted!
Environment
The country's most beautiful National Parks call the Golden State their home. Yosemite National Park is approximately 1,200 miles of pure beauty. Also, it includes Redwood National Park, which is home to the largest ever redwood to be found. 
Within the outskirts of San Francisco are the Marin Headlands which aren't just the location in which a part of the movie Star Wars was filmed but also one of the most stunning nature reserves and wildlife areas in the USA.
California can be described as a destination directly reflected in an image on a postcard. It is a destination with a lot to offer to everyone, from the ocean to historical landmarks. The state has it all. California can leave everyone in total amazement.
Hiking is among the most well-known activities you could do while in California. All kinds of hikers are welcome because they have 10 trails for hikers, from beginner hikers and experienced hikers.
Theme Parks
Here's one of our most fun California travel tips: do you know California has more amusement parks and theme parks than every other in the USA? If you're looking to experience an adrenaline rush at an amusement park, enjoy a thrilling live show, or cool off on splash pads, the Golden State has a theme park for everyone.
California is among the most famous hubs for celebrities. Numerous celebs reside there, and multiple visit California to have fun. Therefore, celebrities are free to roam throughout California, and it is very easy for you to meet them.
California is also the home of smaller theme parks in the state, like Adventure City in Anaheim or Castle Park in Riverside. Make sure to research the theme or amusement park before your visit for the most recent updates and rules. 
Iconic Landmarks
A visit to your backyard in California won't be enough without seeing Los Angeles – home to numerous famous landmarks, such as the Hollywood Walk of Fame. It allows you to walk among the stars, take an excursion to the top of the Hollywood Sign and snap an iconic photo. 
Also, keep your eyes open for stars as you drive down the Sunset Strip to Beverly Hills. A trip to California is not complete without a visit to San Francisco to witness the famous landmark known as the Golden Gate Bridge, which spans over 1.7 miles (2.7 kilometers).
Camping and road vacations
There are 880 kilometers of California coastline that are waiting to be explored. This Pacific Coast Highway runs across Northern through Southern California and is one of the most breathtaking routes you can enjoy around the globe.
You can find stunning places to camp and stay for an evening or two along the entire coastline. It's so beautiful that even those who aren't outdoorsy will likely be enthralled by it! So, pack your backpack, rent a car and spend some time in California. Explore some of the most stunning and diverse scenery on the planet.
Is California worth visiting?
Are you excited to visit California? There are so many pretty things like history, culture, foods and desserts, beaches, etc., we ensure they give you the best enjoyment ever. 
California is regarded as a top travel destination in which you can imagine Big and have endless adventures. Enjoy everything from beaches to mountains and Redwoods through deserts and world-class cities to tiny towns. Considering all of the features, we think California is worth visiting.
Finally, what do you think? Is California worth visiting for you?