Is Costa Rica worth visiting? Definitely, Costa Rica is worth a visit! With beautiful natural parks, volcanos, and wildlife Costa Rica has created a magical kingdom of wonderland. Costa Rica has to offer many popular tourist places to visit. Also, you can do many unique things to do in Costa Rica.
The relatively small country of Costa Rica (51,100 km2) is a country carved out of forest and volcanoes, nestled between the Atlantic and Pacific oceans, where the aquatic ecosystem is a jewel.
The surfers will also appreciate it. The tiny country is home to 6% of the world's biodiversity. There are many endemic species in the country. 
Costa Rica is a treat for adventurers who love nature and travelers who prefer to relax on a beach among the most beautiful on earth (according to the rankings…).
Is Costa Rica Worth Visiting? Most Popular Places to visit and unique things to do in Costa Rica
Things To Know About Costa Rica Tourism
Why visit Costa Rica?
Located on the Central American isthmus between Nicaragua and Panama, Costa Rica is a green and natural paradise. Nicknamed the "Switzerland of Central America," Costa Rica is a neutral country. 
The country abolished its army for health, education, and environmental protection (long before green fashion became popular). 
Since it is difficult to reach (there is no flight from Paris to San Jose yet), Costa Rica is a victim of its success and sees more tourists arrive each year. The welcome of the Ticos is no less friendly, and a stay of 10 to 12 days will fill you up.
Fun Activities in Costa Rica
Unique Things To Do in Costa Rica:
San José: The capital of Costa Rica is not old. It was only founded in 1738. It will undoubtedly be your drop-down point after a long flight from Europe. 
San Jose has a unique endangered charm mixing large avenues and small alleys, with buildings in a modern style. You will enjoy your stay here especially thanks to the warm welcome of the locals. 
Go for a stroll at the Central Market, in the squares of the historic center (Cultura, Democracia), and visit the museums (including that of the Oro Precolombino). 
Take advantage of the restaurants to taste exotic fruits (Costa Rican gastronomy is not excellent, though).
Tortuguero: On the coast of the Caribbean Sea, Tortuguero National Park was created to promote the laying of sea turtles (although Tortuguero means turtle hunter).
From July to October, you can watch the turtles lay their eggs. On the other hand, the park itself is exceptionally diverse: take a moment to look around you as you walk or take a small boat ride in the jungle. 
You will not know all the species found there. The park can be visited in 2-3 days, so take only the bare necessities. You can get there from San José by small plane or via the road and then boat. 
Tamarindo: The seaside resort of Tamarindo, still a fishing village until recently, is now in vogue with its beaches, water sports, bars, and trendy clubs.
Every evening you can enjoy a superb view of the sunset. 
Volcanoes: Costa Rica is a land of active volcanoes. Ten volcanoes culminate in the heights of the country, and hikers will enjoy the trails through the parks that surround them between geysers and smoke. 
The ones you should not miss are the Arenal (the most active, with the lava flows visible), the Rincon of Vieja, the Poas, and that of Irazu (the highest, with four craters). 
Other nature reserves and parks: As explained earlier, Costa Rica is covered by nature and can be found in many national parks all over the country.
Such as the Cahuita National Park on the Caribbean side, with its monkeys and diving spots, or the Equally rich Manzanillo Reserve. 
On the other side (Pacific), the Carara reserve finds animals and plant species endangered in South America.
The Osa Peninsula, which has the Corcovado National Park, will appeal to adventurers looking to discover abundant fauna and flora. Nicoya is another peninsula where you can enjoy relaxing activities like idleness, water sports, etc.
Apart from volcanoes, the Central Valley and the highlands also offer tropical forests, such as Monteverde and La Fortuna.
Guayabo: Guayabo is an ancient indigenous city that has been restored and is worth a look.
Other cities: Puntaneras and Jacó, are not necessarily exceptional, but a stop can be considered.
Coco Island: Listed as a World Heritage Site, Coco Island is indeed an incredible treasure (moreover, it is here that pirates hid the treasures looted from the Spanish in the past).
In particular, the beauty of the island is masked underwater. There are so many fish, molluscs, and different colors that divers think they are in paradise. 
Rio Sarapiqui: Flowing to the border with Nicaragua, the Rio Sarapiqui and its valley are ideal for rafting or kayaking.
People Also Read: 8 Unusual Things To Do In San Jose, Costa Rica
The 20 Most Popular Places To Visit In Costa Rica
Nature, nature, and nothing but nature! Visiting Costa Rica is a real homecoming!
Costa Rica is often presented as the natural destination par excellence. It's not just a myth! If you are a lover of fauna and flora, forest and volcanoes, sea and mountains, you have chosen the right destination. 
Costa Rica will keep its promises. Those who like old stones, however, will not find their account. You can't have it all!
Located in the south of Central America, west of Panama, and south of Nicaragua, Costa Rica is a true Eden. It concentrates, on a small area, a wide variety of animal species and plants. 
The country has two maritime facades, one opening onto the beautiful Caribbean Sea and overlooking the Pacific Ocean. Finally, between valleys, mountains, and volcanoes, Costa Rica will seduce lovers of thrilling activities.
Beyond these natural beauties, you will appreciate Costa Rica for the principles it defends. 
A resolute pacifist country and fervent defender of animal and environmental causes, Costa Rica, has been able to protect its natural heritage and focus on pro-sustainable development issues. How nice it is, as a traveler, to stay in a country like this!
Welcome to Wonderland Again!
1. Manuel Antonio National Park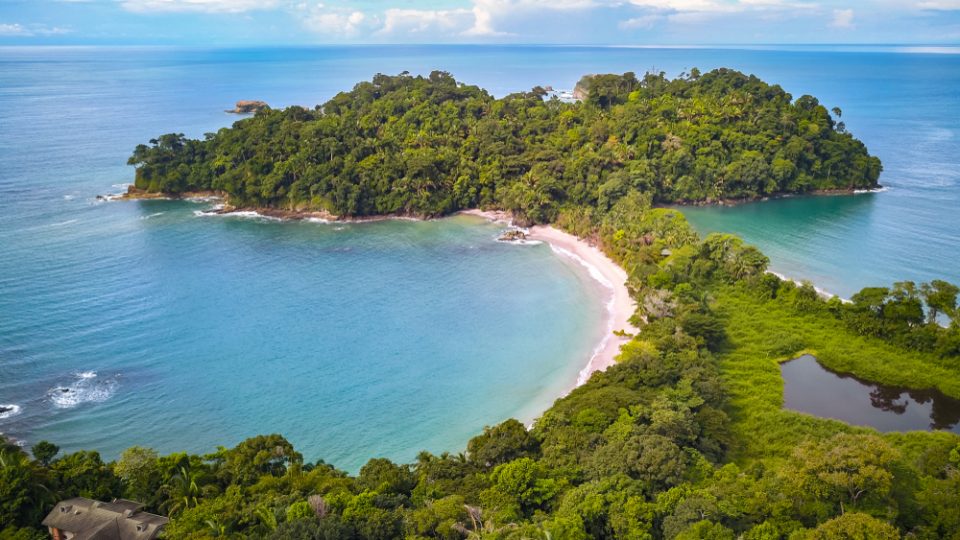 Located on the edge of the Pacific Ocean, Manuel Antonio National Park amazes with its tasty mix of superb beaches – lined with dense vegetation – where swimming enthusiasts can relax in warm and calm water. 
You can take a dip in the refreshing waters of the public beaches such as Playa Espadilla and La Playita in the evenings.
One of Costa Rica's most beautiful villages, Manuel Antonio, is most famous for its national park, which spans several natural habitats and is home to many endangered species, including the squirrel monkey, which calls this park home.
The bustling town provides a great place to kick back after hiking through the lush undergrowth of the jungle. You won't have to go far for an immersive experience into Costa Rican culture – opt for a condo along the white sand beach or a boutique hotel in town.
Besides, there are forest trails where howler monkeys, sloths, iguanas, and parrots hide and show themselves. Watch your bags; it is not uncommon for a raccoon to come and strip you of your belongings, edible or not!
2. Irazù Volcano
What to do in Costa Rica? Discover its many volcanoes! A volcanic country par excellence, Costa Rica has several specimens, each with its characteristics and attractions. 
The Irazù volcano, from the top of its 3,432 meters, is fascinating to see for its lunar landscapes that surround it and its beautiful lagoons with blue-green tones that fill its craters.
The Irazu Volcano is the highest active volcano in Costa Rica. There are some 1000 meters wide and 300 meters deep craters on the summit of Irazu volcano.
A pyroclastic cone, a remnant of volcanic rock, can also be seen from the summit. On clear days, one can see the Pacific and Caribbean. We prefer a visit in the morning.
3. Monteverde Cloud Forest Biological Reserve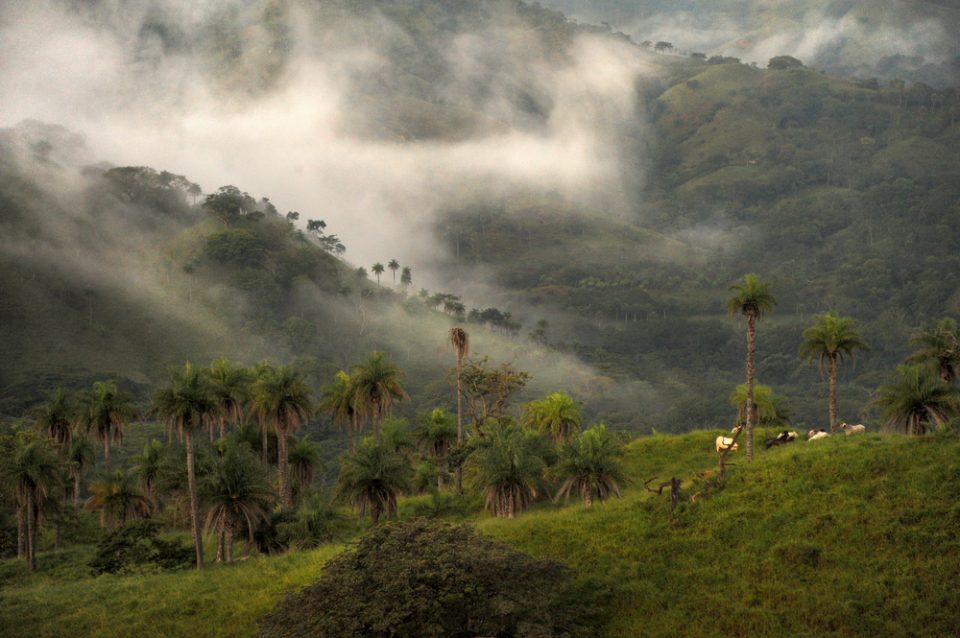 Monteverde Biological Reserve is unique since it is an altitude forest that engulfs its visitors in a thick and constant mist. The atmosphere is extraordinary but quite seductive. 
Lush green mountains and a tropical jungle shrouded in clouds echo with exotic bird calls, animal sounds, reptile calls, and insect cells. This is the beautiful setting of the Monteverde Cloud Forest Reserve.
Its breathtaking natural beauty, incredible biodiversity, and abundance of activities have made it one of CostaRica'ss most coveted tourist destinations.
There is a small lodge, restaurant, gift shop, and the reserve is easily accessible by bus from Monteverde.
Hiking the numerous trails is one of the best things to do here. There are beautiful waterfalls, exotic plants, and flowers that are even the rare resplendent quetzel once considered sacred by the Mayans.
Some ways to experience the cloud forest and its abundance of wildlife include horseback riding, canopy tours, skywalks, and zip-lines through the trees.
On the reserve, there is a dairy farm established by Quakers in the 1950s where visitors can buy cheese and ice cream and take a tour so they can watch cheese being made.
Monteverde Cloud Forest Reserve visitors can also avoid the heat and humidity of the high mountains by taking a walk through the butterfly gardens and learning about their serve ' biodiversity.
4. Mount Chirripo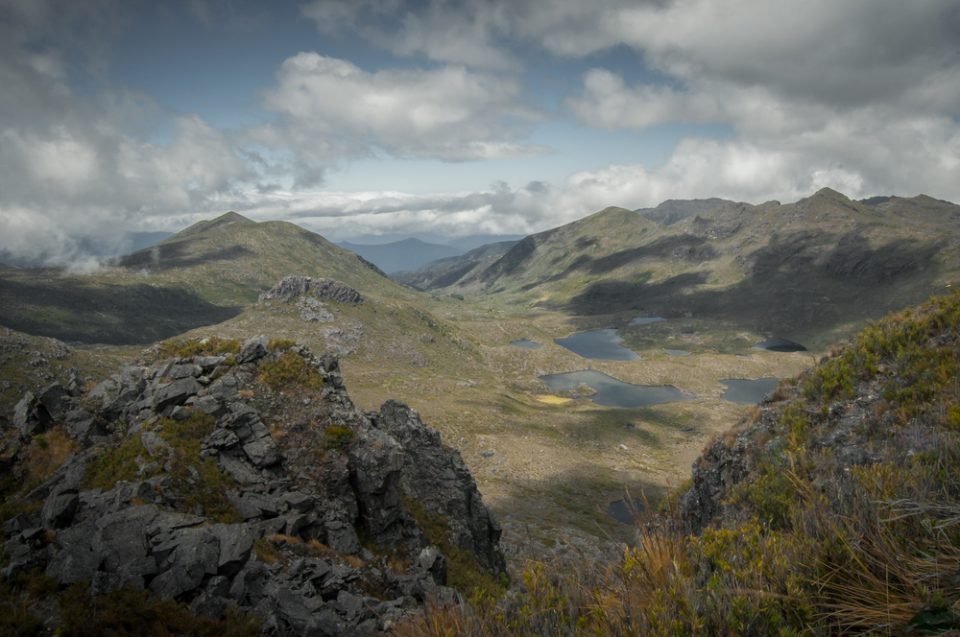 Are you passionate about mountaineering? Embark on a two-day hike that will take you to the top of Cerro Chiripo, the roof of Central America that rises to 3,820 m. 
The Chirripo National Park in southern Costa Rica is home to a diversity of habitats and wildlife species. As such, it has long been considered a treasure trove for environmentalists and nature lovers.
Cerro Chirripó, the country's highest mountain, is the national park's name that includes treeless mountain plateaus, fern groves, marshes, lush rainforests, and glacial lakes that are all home to diverse flora and fauna.
Cloudforest, Rabbit Valley, Monte Sin Fe, and Cerro Terbi are some of the most notable attractions in the national park. Natural wonders provide these breathtaking views.
Trails offer the chance to admire the diverse scenery and spot wildlife like monkeys, iguanas, and rare birds like the brightly colored quetzal. Chilly temperatures and a three-day roundtrip should be expected for tourists who want to climb the mountain summit.
In addition to being a good place for rock climbing, the national park provides camping and wilderness lodging and information for visitors. It is easily reached from the nearby town of San Isidro de El General.
5. Tortuguero National Park
If you want to feel privileged, take a flight or bus from Limon, then a boat, to the Tortuguero National Park, located in the country's north-east. 
The effort is well worth it as it maintains eleven different habitats, including rainforests, mangroves, swamps, beaches, and lagoons.
One of the main interests of this park is to witness the laying of turtles on the beach at sunset. As a former archipelago of volcanic islands, the national park is now a nesting area for the Green Marine Turtle, the Leatherback Turtle, and the Hawksbill Turtle. This is only possible in July and August.
Outside this period, nothing prevents you from going there to admire other inhabitants of the place: sloths, caimans, howler monkeys, parrots, etc.
Tortuguero has no roads leading to it, so consider going with an organized tour to ensure you have an enjoyable time. One of the seven species of river turtles that reside here or the endangered West Indian Manatee may also be spotted.
6. The beaches of the Guanacaste Peninsula
Located in Costa Rica, the Guanacaste Beaches offer one of the best tropical playgrounds for fishing, swimming, diving, surfing, and boasting of amazing scenery, pristine beaches, and clear waters that are just perfect for fishing, swimming, diving, and surfing.
Playa Hermosa, Playa Samara, and Playa Santa Theresa are all great options for relaxing! Playa Penca is probably the most secluded, while Playa del Coco is more lively.
With a northwestern peninsula spanning the country, there are many places to choose from — nevertheless, when in doubt, Tamarindo is worth seeing and one of the most important turtle nesting areas.
From November to April, the endangered creatures take over the beach, digging their nests as deep as one meter, laying their eggs, and then returning to the sea.
7. Rincon de la Vieja National Park
Located in the northeast of Liberia, the Rincon de la Vieja National Park is interesting for its geothermal activity and the fauna it shelters. You can see an armadillo or a monkey while letting yourself be surprised by a geyser!
8. Poas Volcano National Park
There's no question why Poás Volcano National Park is one of the most amazing venues in Costa Rica. One of the most active volcanos in the world is an enclosure within 14,000 acres of parkland and sits along an active volcanic crater on the edge of the former land that it once covered.
The most recent major eruption on the volcano took place in 1910 when thousands of ash were spewed into the atmosphere.
The national park nowadays serves as a tourist destination — with a myriad of hiking trails and spectacular viewpoints over an area dense with vegetation and wildlife. The best day trip from San Joe is the Poás, a place that is one and half hours away.
9. Nosara
Located on the Guanacaste Peninsula, the Nosara region is like Costa Rica, a space between sea and jungle. Whether you are a fan of surfing, kayaking, or idleness, whether you want to hike or visit an animal shelter, Nosara and its surroundings can satisfy you with everything!
10. Turrialba Volcano
Not far from the Irazù volcano, the Turrialba volcano is not as impressive as its neighbor but deserves to be ventured on the trails that wind along its flanks. 
Don't forget to set your alarm clock, because the clouds don't wait to cover the tops of these craters!
11. The village of Montezuma – Best sightseeing in Costa Rica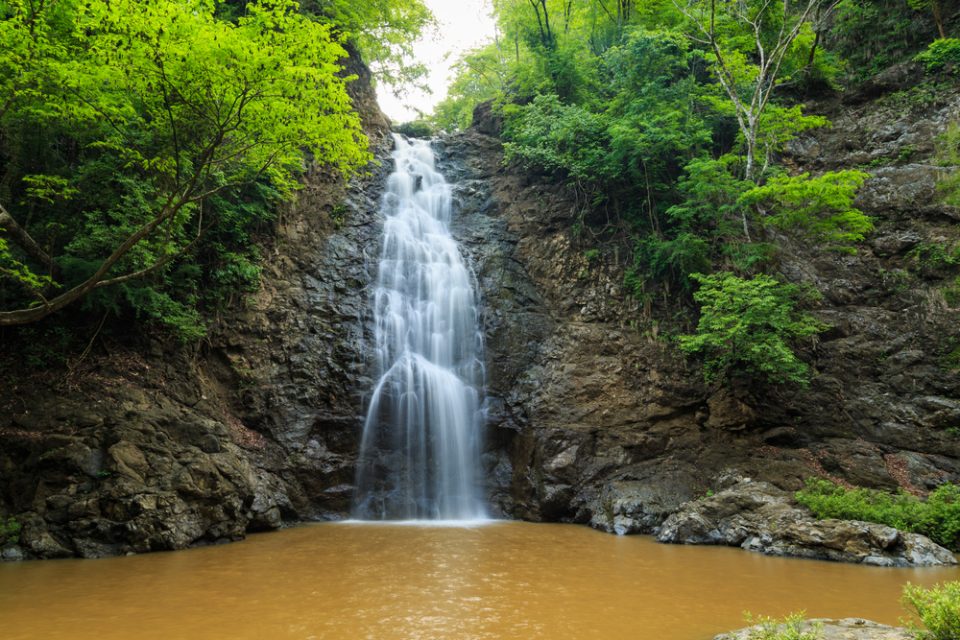 Someone who wants to cut off from the stress and worries of today's world comes to Montezuma. Visiting Costa Rica allows one to experience this unique atmosphere and this relaxed, positive mentality.
Montezuma, a mix of the wild and the elegant, has gradually grown as a tourist attraction in Costa Rica. It started life as a sleepy fishing town issuing bobbing timber boats onto the Puntarenas Pacific to catch white fish.
Nowadays, yoga retreats, small eco-lodges, and surf shacks show up in the hills, surf schools cling tight to the rocks around Sunset Reef and Montezuma Bay, cocktail bars pose as beach shacks, and refined eateries turn up as street stalls.
The small town keeps its rustic vibe thanks to a lack of cars and infrastructure. It's the perfect place to unwind on the west coast!
"¡Pura Vida!" will often come from the mouths of the inhabitants. The village of Montezuma, located on the Guanacaste peninsula, has this nice hippie side, which will make you forget everything! Wondering what to do in Costa Rica? Listen to reggae and watch the time pass!
12. Corcovado National Park – Costa Rica Major Tourist Attraction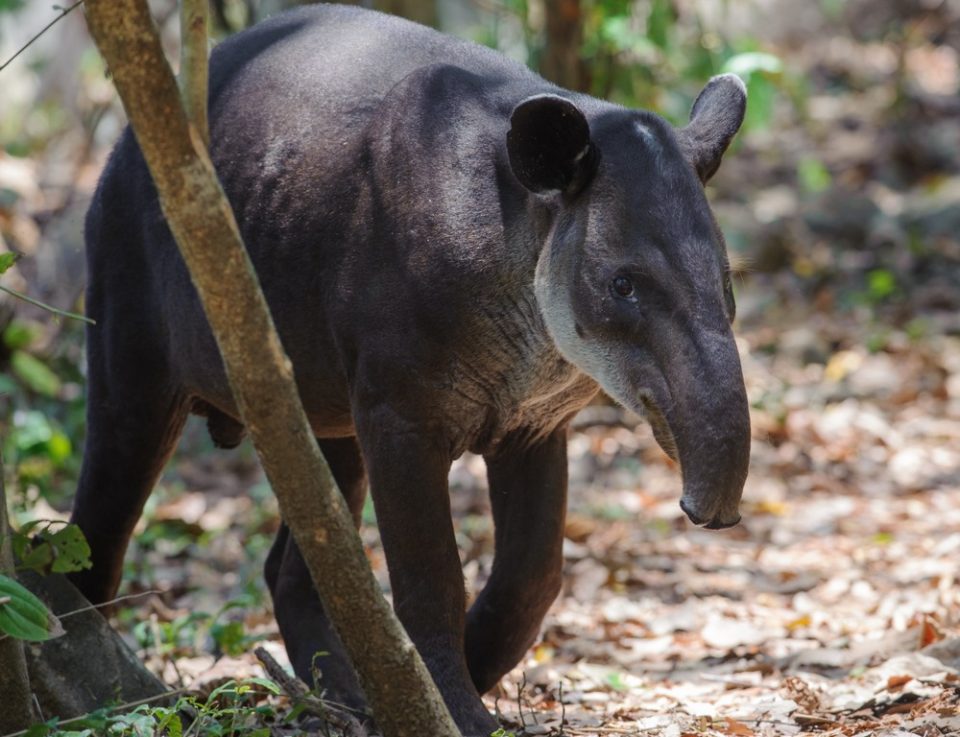 Preserved from the tourist influx, the Osa Peninsula is home to the Corcovado National Park. This park-like area is located on the Pacific Ocean's edge, with dense vegetation, abundant biodiversity, and turquoise waters.
Corcovado National Park is incomparably one of the most beloved natural landscapes for adventure-seekers making their way through the backcountry of Costa Rica. It's nestled amidst the cloud forest on CostaRica'ss Osa Peninsula.
This wild camping reserve in the country's southernmost region, away from the oppressive waves, beaches, and resorts, has tapirs, anteaters, sloths, squirrel monkeys, colored macaws, and massive margay cats.
The popular El Tigre trail and waters surrounding rugged Isla del Cao promise sightings of killer whales and dolphins, while the shoreline offers some of the top wildlife spottings in the country.
Be careful; this park is only accessible by 4×4, from Puerto Jimenez.
13. Isla del Cano – A Costa Rica Tourist Spot
Pure Costa Rican jewel, a pearl of the Pacific, Isla del Cano is a paradise for snorkeling and diving enthusiasts. Everything is there: white sand, turquoise waters, rays, turtles, fish, and even whales!
14. Cahuita National Park – Costa Rica's Major Tourist Attraction
Is Costa Rica worth visiting for its national parks? Without any hesitation: visit the Cahuita National Park! While it is less frequented and less expensive than Manuel Antonio Park, it is one of the must-sees in the country.
You can stroll on a nice flat path, between forest and Caribbean, in search of monkeys, raccoons, and sloths. 
A little advice: there is no point in sinking into the park, because our friends the beasts stay close to the entrances, hoping to steal some small sweets from the visitors!
15. Coffee plantations in the Central Valley – Top Costa Rica Tourist Spot
Costa Rican gastronomy is not stunning, but the same cannot be said of its coffee. Costa Rica's Central Valley produces one of the finest coffees in the world. 
Without being a big coffee drinker, it is interesting to learn how coffee is grown, harvested, and processed.
16. The Gardens of the Fall of La Paz – Costa Rica's Famous Tourist Attraction
A must-see attraction in Costa Rica, this privately owned nature park is spread out over 70 acres and is home to a wide array of wildlife, including monkeys, butterflies, hummingbirds, and more.
There is only one waterfall in the park, and it is La Paz waterfall. Water from the cloud forests tumbles down 37 meters a day from an abutment into a pool below.
You can leave the Costa Rican beaches to marvel at the gardens of the Fall of La Paz and enjoy one of the 5 waterfalls at the site. 
Because in Costa Rica, you are never far from an insect or an animal, you can contemplate the flight of the Morpho Bleu, a superb butterfly of the region.
17. La Fortuna – Popular Tourist Destinations In Costa Rica
Located northwest of San José, the Fortuna region is a good starting point for many activities, such as climbing Mount Cerro Chato. 
If you do not feel like tackling this very physical expedition, you can come and relax in the natural hot springs, located not far from the Arenal volcano.
18. The Arenal Volcano – The Ultimate Costa Rica Tourism Attraction
The Arenal Volcano, towering over 1,600 meters out of San Jose in the north, is one of Costa Rica's most popular attractions.
Many attractions in the area around the giant volcanic cone, such as roaring waterfalls, footpaths, river rapids, swinging wire bridges, and the amazing La Fortuna falls. Keep an eye on Arenal, though –it's still one of Central America's most active calderas.
19. Sarapiqui Valley – An Renowned Attraction In Costa Rica
Located in the north of the country, the Sarapiqui Valley is popular with rafting and kayaking enthusiasts on the waters of the Rio Sarapiqui. 
A land where the Amerindian tradition is still strong, you can also go deep into the jungle and go in search of local birds, reptiles, or mammals.
20. San Jose and its surroundings – Tourist Attractions Near San Jose, Costa Rica
Costa Rica is not just about lingering in the cities. However, since you will probably arrive and/or leave San Jose, you might as well take the opportunity to spend a few hours there. This capital is impressive precisely because it does not look like a capital!
Quite small and very green, you will feel quite comfortable. You can stroll through the streets and admire some neoclassical and colonial buildings.
Visit one of the many museums (Museo del Oro Precolombino, Museo Nacional de Costa Rica, Museo del Jade Marco Fidel Tristan) and stroll through the Mercado Central.
People Also Read: 8 Unusual Things To Do In San Jose, Costa Rica
The 9 Best Day Hikes To Do In Costa Rica
Is Costa Rica on your list of the next countries to visit? Here are the best day hikes to do in Costa Rica!
With its still active volcanoes, thousands of hectares of rainforest, and beaches as far as the eye can see, Costa Rica is a true wild paradise for hikers. 
It is said that the country is home to 6% of the world's biodiversity! Hiking in Costa Rica means immersing yourself in lush and unspoiled nature but also going to meet an extraordinary fauna. 
Are you planning to explore the land of sustainable happiness shortly? Do you like to roam in the middle of nature? We deliver our selection of the 9 best day hikes to do in Costa Rica.
Please note: access to national parks and nature reserves is generally subject to a fee.
1. Rincón de la Vieja Park – Catarata La Cangreja
Rincon de la Vieja, composed of two volcanoes and more than 30 rivers, is full of hiking trails for walkers of all levels. This national park, mainly known for its geothermal activity, is divided into two sectors which are Las Pailas and Santa Maria.
One of the most scenic hikes will take you to the La Cangreja waterfall, a fall of almost 40 meters that flows into a turquoise blue lake (Pailas sector). Ideal for cooling off before turning back!
This trail gives you a glimpse of the country's diverse ecosystems, from rainforest to arid savannah. Open your eyes, and maybe you will have the chance to see monkeys, many colorful birds, iguanas, or even armadillos.
2. Monteverde Nature Reserve Cloud Forest – Bosque Nuboso
The Monteverde Nature Reserve is one of the most precious and well-known cloud forests in Costa Rica, if not the world. It is home to a dozen trails, including the picturesque Sendero Bosque Nuboso (Cloud Forest Trail), the Sendero Camino, the Sendero Bosque Eterno, and the Sendero Rio.
You will advance in the heart of a misty and lush jungle, walk along a waterfall, cross marshes, pine forests and access different viewpoints (La Ventana). 
It is possible to lengthen or shorten the route by taking the Wilford Guindon Suspension Bridge or turning off onto other trails. 
This is one of the best hikes in Costa Rica suitable for bird watching, including the famous quetzal, but also howler monkeys and capuchins, sloths, or agoutis!
3. The suspension bridges of Mistico Arenal
One of the world's most active volcanoes, Arenal National Park, offers miles of hiking trails you can take with or without a guide. If you're looking to hike in Costa Rica, the Arenal Suspension Bridge Trail is a must-see. 
This loop of only 3 km will take you across 16 bridges, 6 of which are suspended above the canopy!
Traveling with your family? This hike is accessible to all and allows you to observe nature from a completely different point of view. Monkeys, birds, sloths, butterflies, and many other species coexist in this spectacular rainforest.
4. Ascent of Cerro Chirripo
Culminating at 3820 meters, Cerro Chirripo is the highest peak in Costa Rica. Adventure lovers, this high-altitude hike of about 2 days is for you! 
The entrance to the park is in San Gerardo. It is recommended that you spend the night before your ascent to base camp, at the trailhead, and sleep at the park refuge before descending.
This hike, which includes steep portions, requires excellent physical condition. Passing through the first kilometer, renamed the Thermometer, you'll see landscapes reminiscent of a cloud forest before arriving at the paramo (km 10). 
Crestones Refuge is 14.5 km from the park entrance. After another five kilometers, you will be rewarded at the top with stunning views of the surrounding countryside before descending. 
On a clear day, you can even contemplate both the Caribbean Sea and the Pacific Ocean!
Attention: the number of visitors admitted per day is limited. It is essential to book your permit 6 months in advance.
5. Corcovado National Park – From Leona to Sirena
Did you know that there are many beautiful hikes in Costa Rica that allow you to admire its exceptional fauna? Head to the wild and remote Corcovado National Park on the Osa Peninsula. 
This park is considered one of the most biologically intense and diverse places on the planet. It contains more than 12 different ecosystems, and its rainforest is home to jaguars!
Departing from Carate, this hike connects the station's La Leona, the official entrance to the park, and La Sirena along the Pacific coast. It will seduce the most adventurous of you! 
After reaching La Leona (3.5 km in the sand), you will alternate between forests and deserted beaches. A few kilometers from the base of La Sirena, you will have to cross the Rio Sirena at low tide. It is ideal for spending the night there afterward.
Please note: only visitors accompanied by a professional guide are allowed to access the park.
6. Tenorio Volcano National Park – Rio Celeste
The bluest waterfall in the world near the Tenorio volcano The waterfall of the Rio Celeste, a river that flows in the Tenorio Volcano National Park in Costa Rica, is darker than blue. 
This dazzling azure blue color originates from the volcanic minerals (sulfur in particular) present below the surface. Even though you may think the opposite, the photos are not retouched.
Throughout the trek, you will be able to admire the Tenorio volcano and observe the local fauna, namely white-faced monkeys, poisonous frogs, and blue butterflies. 
You can also soak in hot springs or dive into pots of boiling mud. But the final reward is diving into this "milky blue" pool.
Besides, there is a good chance that you have the "pool" to yourself!
How do I get to Rio Celeste? – Information
It's pretty complicated to reach the waterfall, but it's worth it. Here are the details to get there:
To get to Tenorio Volcano National Park, a 5-hour long journey by bus is necessary from San José to get to the city of Guatuso located to the east of the reserve, or that of Bijagua, to the north.
From Bijagua, where you can stay, take a taxi or a 4×4 from the lodge to the national park entrance (see with your hotel on-site). From the entrance of the park, the trek to the waterfall takes about 3 to 4 hours.
Alternative solution: From Guatuso, you need to take another local bus for 45 minutes. The bus leaves at 11 am for $2. 
Tell the driver "por favor, cerca de parque nacional". You will then arrive at the tiny village of Rio Celeste. Take a taxi to Rio Celeste Lodge. 
Recharge your batteries at this hotel and grab something to eat and drink. From here, the waterfall is only a 45-minute walk away.
Entrance to the park is possible every day from 8 am to 2 pm. Admission costs $10. 
Also, check the weather because if it rains too much, the blue color of the water will not form.
Note: the trail closes at 2 pm.
7. Manuel Antonio – Main Trail
Although short, it is undoubtedly one of the most popular and beautiful hikes in Costa Rica. In fact, there is a good reason why Manuel Antonio National Park has become so popular: it has a dense tropical forest inhabited by many animals (monkeys, sloths, raccoons…), rocky plains, and white-sand beaches.
This hike is pleasant, well signposted, and accessible to all. For those who would like to see more, it is possible to continue further by taking the 1.4 km Cathedral Point Trail. The reward? Breathtaking views!
8. Punta Cahuita
Costa Rica offers majestic and varied scenery to passing hikers, including paradisiacal beaches such as Cahuita. This beach, south of the Caribbean coast, is the perfect mix of forest, sand, and ocean. You will undoubtedly enjoy refreshing yourself in the ocean at the end of your hike.
This trail is relatively easy to walk, although walking in the sand can be tiring. During this hike, you will encounter some of Costa Rica's emblematic animals, such as sloths, toucans, or monkeys. 
You can start with the entrance to Puerto Vargas or the village of Cahuita, depending on the direction chosen.
Good to know: admission to Cahuita Park is free, but a donation is highly appreciated.
9. Barva Volcano
Let's end our tour of the best day hikes in Costa Rica with a destination that is still little frequented: the Barva volcano, in the Braulio Carillo National Park, aka the kingdom of birds. This hike should please you if you're trying to escape the crowds!
You will first follow the Cacho de Venado trail, sometimes muddy. To continue, you will have to take the Path of the Barva Lagoon, at the end of which the lake of the same name will be revealed to you. 
You will cross pastures and an impressive tropical forest. To finish this hike in style, you can admire the magnificent view from the Vara Blanca lookout at the time of your descent.
It is good to know that it is best to hike during the dry season (January to April).
Best White Water Rafting In Costa Rica: Rafting On Costa Rica's Wild Rivers
A sports activity in the heart of nature from San José
Costa Rica is known for its picturesque landscapes, rivers, and reliefs largely nourished by tropical rains and white waters. What could be better for rafting, right?
Discover rafting
Contrary to popular belief, rafting can be practiced all year round without any restrictions, whatever your level. By deciding to embark on a singular adventure like rafting in Costa Rica, you are guaranteed to have to deal with the best professionals in this field.
The various reliefs of Costa Rica allow you to practice rafting at different levels so that everyone can have real sensations. 
Levels 1 and 3 do not require prior experience, so the proposed descents are distilled between 5 levels.
To combine sport, adventure, sensations, and nature observation come and discover Costa Rica's wild rivers: the Sarapiqui, Chirripo, Pacuare, Pejibaye, and Savegre rivers! 
You will be surprised at the ease with which you can practice this activity and captivated by the views and landscapes that are simply breathtaking. Professionals supervise you safely, and all equipment is provided.
Best Rivers To Do Rafting In Costa Rica
To get you an adrenaline rush and experience intense emotions, rafting is undoubtedly a complete activity. You will be transported in unique vegetation and on mighty waters. Here is a brief description:
The Rio Pacuare: It is one of the most popular sites for rafting in the world. You'll descend long gorges in incredible currents that will give you powerful sensations. 
The waterfalls on the Rio Pacuare sometimes descend for several hundred meters. This river is considered the most beautiful in Costa Rica, and its rafting descent will last about 3 h 30 min (the longest proposed).
The Pejibaye River: This river, located about 1h 30 min from San José, offers clear waters. The rafting descent will last about 2 hours.
The Reventazon River: Its waters are pretty rough, and you already know that you are in a region where the elements cannot be tamed. 
A sublime landscape awaits you as you navigate between calm and fast waters.
The Rio Savegre: Here, you set off with your raft in the heart of the tropical forest. Perfect for discovering the local fauna but also birds such as cormorants, kingfishers, or toucans. 
Between two rafting sessions, in the natural pools at the foot of some waterfalls.
The Sarapiqui River: This river crosses protected areas where you can observe various tropical birds.
There are various day formulas to choose from for rafting in Costa Rica, including early morning departure from your hotel in San José, breakfast at the rafting center, the descent itself with lunch at noon, and return to your hotel in the afternoon. An unforgettable day is to be expected!
The 11 Best Costa Rica Tourist Attractions You Should Admire
1.Cocos Island – A Tourist Site In Costa Rica
"Coco Island" by Stephane Enten

is licensed under CC BY-ND 2.0


Coconut Island is the only island in the eastern Pacific with tropical rainforest and is located 550 kilometers off the coast of Costa Rica.
There is no question that it had a large influence on the Jurassic Park film franchise, especially in some of its most evocative scenes.
This region surrounds deep waters and countercurrents. Therefore, scuba divers worldwide visit its twenty dive sites to see its fish population, which includes scalloped hammerhead sharks, rays, moray eels, and dolphins.
2. Wildlife – Best Things To See In Costa Rica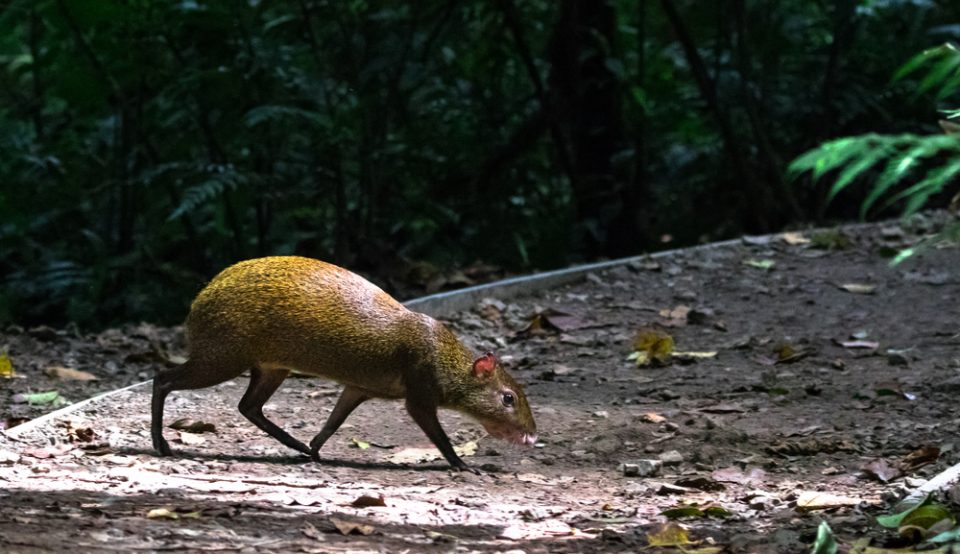 One of the few countries where the wildlife alone can be a major reason to visit is Costa Rica. The presence of intriguing wildlife experiences more than compensates for the lack of culture.
It is not necessary to search for animals. Monkeys are frequently seen in the towns, scarlet macaws soar over the skies, and toucans rustle in the trees around.
There are many different places where wildlife can be observed, and visiting the parks or taking guided tours offer a better chance of seeing some of the more difficult-to-spot species.
3. Santa Teresa – Costa Rica's Main Tourist Attraction
One of Costa Rica's most beautiful fishing villages is Santa Teresa. It is located on the Nicoya Peninsula.
It is a booming area for thrill-seekers but still maintains its tranquil charm. Today the town is not only known as a haven for surfers of all levels, but it also offers hiking, horseback riding, and even canopy tours.
Cabo Blanco Nature Reserve is only five kilometers from San Jose; it was Costa Rica's first protected area and remains crucial to Costa Rica's wildlife conservation programs and an important seabird sanctuary in Central America.
4. PLAYA JACO – A Costa Rican Tourist Attraction
Jaco is the perfect mix of beachside town and modern city and a perfect getaway for those who don't want to live in the crowds of San Jose. 
Most travelers to Costa Rica will find themselves at one point in Jaco, in one of its many modern apartments or hotels, along with various international-standard bars and restaurants!
5. Tamarindo – Costa Rica Tourist Attraction
These pristine beaches and clear water are paired perfectly with a developed town offering world-class hotels and a lively nightlife scene. Flaunting a fun, youthful vibe, Tamarindo beach is one of Costa Rica's most popular destinations.
6. Braulio Carrillo National Park – Top Costa Rica Attraction
Located just 30 minutes from San Jose, the rugged mountains, waterfalls, canyons, dormant volcanoes, and virgin rainforests in the Braulio Carrillo National Park are an ideal place to view some of Costa Rica's unique plants and animals.
Due to the high elevation in the park, which ranges from the summit of the Barva Volcano (2,906 meters) to less than 50 meters in the Caribbean lowlands, many different habitats exist.
It is inhabited by mammals such as jaguars, pumas, sloths, and monkeys, but there are many species of birds to observe and hear, including Quetzals (the national bird), toucans, and eagles.
7.Puerto Viejo de Talamanca – A Famous Tourist Attraction In Costa Rica
A completely transformed fishing village that now plays Bob Marley and the Wailers to a backbeat, Puerto Viejo de Talamanca is a destination that will appeal to winter snowbirds and summer surfers alike.
Nearby, Salsa Brava waves are some of the most gnarly barrels on the east coast of Costa Rica, drawing professional wave riders and massive crowds to the cliffs.
As Ticos brew up steaming jambalaya on the street sides and the scents of coffee and cocoa drift down from the nearby jungles, there's a charming Carib-Creole character to the town as well.
8. Alajuela – Best Tourist Attraction In Costa Rica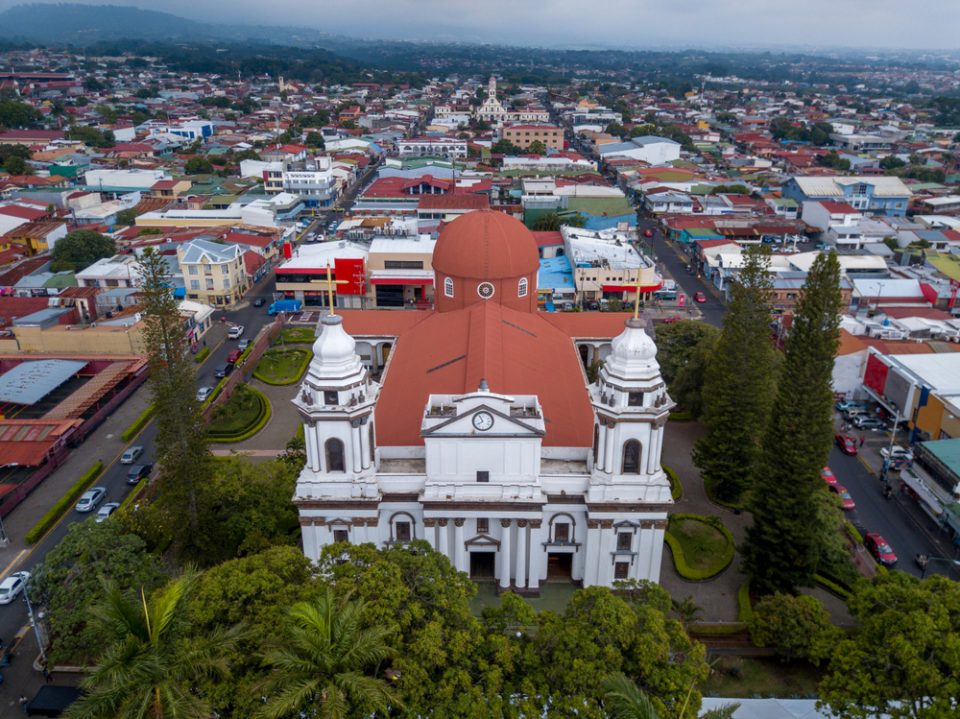 It is a fascinating colonial city (the second largest in Costa Rica based on population) nestled in the lush Central Valley, so Alajuela remains undiscovered by travelers who land near San Jose airport.
The center, steeped in history and with a proud political past, rose to fame as a radical and patriotic hot spot (look at the much-loved local hero Juan Santamara, who helped force Walker to retreat from Congress in 1856).
A sleepy middle of the city blends elegant Baroque facades (check out La Agona church) while the mighty Poas Volcano dominates the horizon – one of the best spots in the world for crater viewing!
9. The National Theater in San Jose – Costa Rica top Tourist Attraction
Costa Ricans are proud of the National Theater, one of the most admirable buildings in San José. The building was constructed in the 1890s thanks to a tax on coffee exports enacted by the ruling coffee barons. 
Built in 1897, the building features a classical Renaissance façade topped with statues representing Movement, Music, and Fame. The European artisans designed the building. 
Inside, the pink marble lobby displays allegorical figures representing Comedy and Tragedy and painted murals depicting Costa Rican life. 
The most famous of these paintings depict Italian coffee harvesters and exporters painted in Milan by Arturo Fontana in 1897.
10. Cartago – Tourist Site In Costa Rica
Cartago used to be dominated by the magnificent facades of the Spanish crown, but now the serrated tips of the mighty Cordillera Central tower over it.
Based high on the volcanic ridges in the heart of Costa Rica, the city was the country's first settlement and even served as the capital until San Jose took it over in 1824.
A few relics of the period of glory can still be seen throughout downtown (which was rebuilt following the earthquake that caused such significant destruction in 1906).
Don't let the past deter you from exploring the geological wonders that await you in these parts – see the impressive caldera at Iraz, and taste the robust coffee of the Orosi Valley also!
11. Dominical – Tourist attraction in Costa Rica
Dominical is one of Costa Rica's best places for surfing. Surfers who come here wish they could stay longer since the beaches are so beautiful. 
Open-air restaurants, cheap rooms, and a good vibe make Dominical a great backpacker's haven.
Luxury boutique hotels are also available in Dominical. One can find small, secluded places nestled in the hills overlooking the town. With howler monkeys waking guests up early in the morning and toucans following in their wakes, these places offer close wildlife viewing.
Under shady trees, a vendor sets up tables and sells crafts and other items. Outside of town, there are quieter beaches, where one can find one's special spot.
Because the Dominican remains humid and moist, even when the northern part of Costa Rica is dusty during the dry season, the trees have shed their leaves.
Is Costa Rica Worth Visiting?
Undoubtedly, Costa Rica is worth a visit. Don't think much, get ready, book your trip to Costa Rica and do each of the above-listed top things in Costa Rica! If you enjoyed this list, please share it with your friends! Good luck with your trip!