Are you in Florida and looking for the best slingshot rentals Panama City Beach? Riding on a slingshot is the craziest way to explore the hidden treasure of this white sugar-sand-like beach city. If so, the Panama City Beach slingshot rentals are the one way for you! 
No matter what rental company you will pick, it will be an easy-to-rent experience for you through which you can ensure your enjoyment to the fullest. You can fully trust us, as we've highly focused on the best rental services with quick delivery and pick-up options, costing, servicing quality, safety concerns, and several more queries that would come to your mind. You can also learn about Scooter rentals in Panama City beach from our other guide.
So, let's dive in! 
Table of Contents
Slingshot Rentals Panama City Beach
Slingshot Rentals in Panama City Beach Key Takeaways: 

#The renters must be 21 or older than that with clean driving records. You won't find any renters in Panama City Beach that provide rental services for those under 21. 

#You must present physically while picking up your rental slingshot from the renters. The rental company doesn't allow third parties to pick up vehicles.

#The renter's name requires a valid Credit/Debit card and a driver's license.
4 Panama City Beach Best Slingshot Rentals You Should Choose From
Before heading to the details, let's start with a quick table highlighting all the best Slingshot rental services in Panama City Beach with needed information: 
Rental Service 
Customer Rating 
Highlights 
Visit Website 
Outlaw Rentals
4.0/5
#Rent by the hour, day, or week

#Pick-up & delivery service

#Offers a good range of premium Slingshots in one row. 

#Ensures a great Slingshot driving experience.

#Available VIP packages.

#All their rental vehicles are street-legal. 
https://outlawrentals.com/
California Cycles
4.0/5
#Get the largest selection of 30a slingshots in one place. 

#Have a good rating and well feedback from the customers.

#Offers rent by the hour, day, or weekly basis as well.

#Operated as a family-run business.
https://calicycles.com/
Destin Slingshot Rentals
5.0/5.0
#Pick-up & delivery options.

#Offers exciting add-ons

#As per their requirements, all the renters must be 30 years or older with a valid driver's license.

#Make all fun arrangements, from under the sunshine to bad weather. 
http://destinslingshots.com/
Classic Rentals
4.4/5
#Undoubtedly the cheapest and best place to rent a Slingshot in PCB. 

#They have amazing Slingshots options to choose from.

#The staff is super friendly

#Fast & easier services.

#No proof of insurance is required.

#You may need to deposit an amount in advance. 
http://www.classicrntlsinc.com/
1. Outlaw Rentals 
Outlaw Rentals is just the one-stop for you if you want to deal with the best slingshot rental service in Panama City Beach, Florida. They provide all the best Polaris Slingshot Rentals in  2-seater, 4-seater, 6-seater, and even 8-seater models at your budget.
Don't consider it in the range of conventional convertible rentals. You are getting all the exciting facilities starting from transmission options, seating arrangements, and so on. 
Throughout the PCB, you will get up to 5 outlets. Of them, any of which you are choosing as your preference, you will be ensured with top quality services. Even the behavior of the staff is truly amazing. All of them are always ready for you to ensure fast and easier service.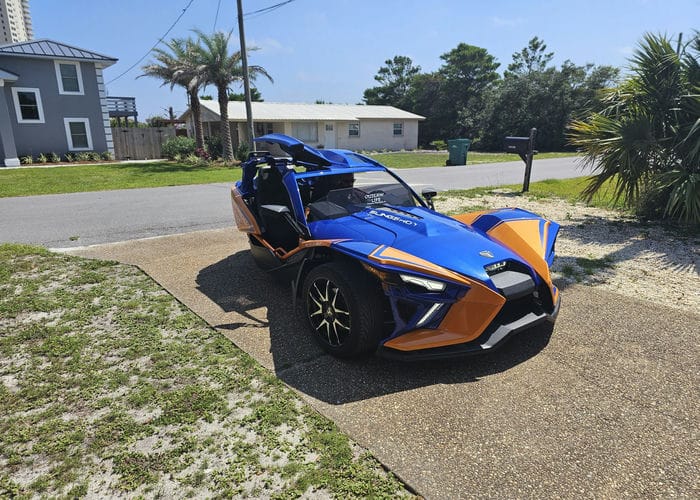 Anyway, here are all the details for your convenience about their locations, business hours & contact information: 
Headquarters 
#- 12526 Front Beach Rd. Panama City Beach, FL 32407
#- 8500 Thomas Dr, Panama City, FL 32408 
#- Pier Park, 292 Powell Adams Rd, Panama City Beach, FL 32413
#- Edgewater Plaza, 557 Richard Jackson Blvd
#- West PCB, 20204 Panama City Beach Pkwy, Panama City Beach, FL 32413,
Business Hour
9:00 am – 07:00 pm
Phone Number
(850) 270-8278
2. California Cycles
If you want to have a great experience in Panama City Beach with quick transportation, then leave your car at the hotel now and head to the most popular rental company California Cycles.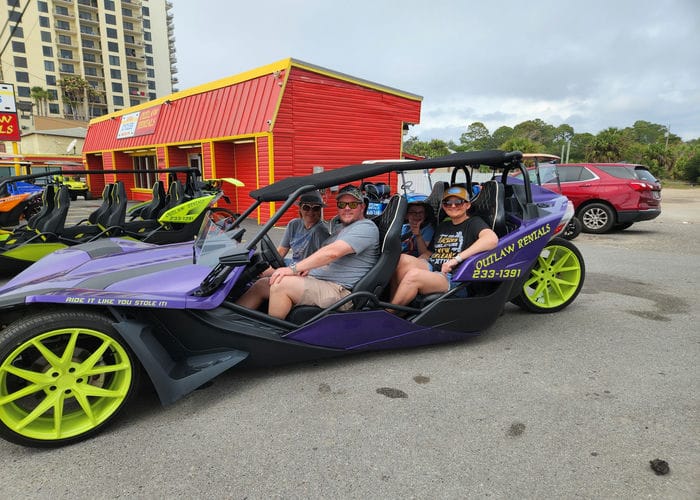 Throughout Panama beach city, they have in total three outlets- Front Beach, middle beach, and Edgewater Plaza. Go through the below table to track down the location in detail: 
Headquarters
#- 14932 Front Beach Rd, Panama City Beach, FL 32413
#- 553 N Richard Jackson BlvdPanama City Beach, FL 32407
Business Hour
9:00 AM – 07:00 PM
Phone Number
(850) 866-8414
No matter which outlet you are heading to, you will get a perfect representation of what a top-quality rental company should have. 
Above all, previous customers have fewer complaints about the defect of the provided vehicles so that you can relax about it. Rent the Slingshot per hour, for the whole day or weekly, and have fun!
3. Destin Slingshot Rentals
Destin Slingshot Rentals is one of the most popular destinations in Panama City Beach for Slingshot lovers. Needless to say, they have all good reviews for ensuring outstanding and helpful rental services throughout the beach city. 
Here is some quick information about their outlets and working hours:
| | |
| --- | --- |
| Headquarter | 161 Goldsby Rd Unit A, Santa Rosa Beach, FL 32459 |
| Business Hour | 9 AM-9 PM |
| Phone Number | N/A |
Destin Slingshot is offering you the pick-up and delivery options at the same time as your preference. You will get Slingshot in all ranges at the best price. 
The most amazing part is about their exciting add-ons on each rental, by which you can add light effects to the tires, backlights, ground effects, and many more facilities! Also, you'll get convertible tops as well that can be removed to cope with the foul weather. 
So, what are you thinking about? Book Slingshot and start driving to get a thrilling experience on the road to all PCB attractions like Gulf World Marine Park and Pier Park, or simply cruise down Front Beach Road in your own style! 
4. Classic Rentals
Classic Rentals is proud to be one of the most popular rental companies in Panama City Beach, providing the luxurious Polaris Slingshot for rent at a good budget. The rental will be enough to bring a lot of fun to you in this beach city through a quick and painless rental process.
Moreover, nothing will be better than exploring the beach city with Slingshot at the cheapest price. For instance, Classic Rentals can be a reliable rental destination for you. The staff is quite friendly, which is appreciable.
They will clearly present what you want to do and don't. Whether you want to rent the slingshot for one hour, a whole day, or a weekly basis, they have all the options for you.
So we'll highly recommend this rental company that will be worth your price. Learn about their outlet information and working hours through the table below:
| | |
| --- | --- |
| Headquarters | 13226 Front Beach Rd, Panama City Beach, FL 32407 |
| Business Hour | 8:00 am – 10:00 pm |
| Phone Number | (850) 235-1519  |
Essential Tips To Know For Renting A Slingshot In Panama City Beach?
Slingshot will be a distinct mode of transportation on your trip to Panama city beach. But to make the fact successful, you need to know all the essential factors and tips before finalizing your slingshot from the rental. 
For instance, you can consider the following:
1. Compare Slingshot Rental Prices Online
Before confirming your slingshot from one rental, you need to compare slingshot prices from other rentals. Check popular travel sites online and compare their rates to find a good deal. When done, you can easily narrow down the options depending on your choice and budget.
2. Ask About Additional Charges 
It'll always be advisable to ask the hiring company about any hidden and additional fees for renting their slingshot. Also, go through the charges cancellation fees and their terms and conditions. 
It will save you from further troubles. In case they are ensuring you about hidden fees, I'll recommend skipping that company as it can significantly increase the cost of your rental.
3. Book In Advance 
Most slingshot rentals have limited vehicles, especially during the travel seasons. So consider renting your slingshot in advance. 
It will be far helpful for you to estimate the fees and to get enough time to explore the slingshot rental companies to meet your requirements.
4. Take Photos Before Use
When renting a slingshot, especially as you are renting it in areas with lots of tourists, it is always wise to take a picture of your chosen vehicle. Note down the visible damage or lack of the car. This is crucial that will save you from being a victim of a scam. 
Most of the scammer rentals try to apply tricks to the stressed and hurried tourists to charge them for damages later that were already on the car. Also, take a picture of all the rental documents before you leave the rental office.
5. Inspect The Slingshot Before Driving It
Before taking the slingshot on the road, make sure you have checked out the following:
Go for a short test drive in front of the rental provider. It will let you know the car's existing damage, flaws, scratches, or dents. 
Look for loose parts and scuffs before driving away. Pull the seat belt completely out and check for any cuts, wear, fraying, dirt, debris, or stiffness. 
Also, test the buckle and latch to ensure they are in perfect working order.
If possible, sit in the vehicle and verify the steering wheel condition. 
Most importantly, inspect the engine oil level and ask them to refill it.
Check out the clutch, brake, and pedal movement operation. For more information, you may take the help of another who already has much experience with this fact. 
How Much Does The Slingshot Rental Cost In Panama City Beach?
The price for renting a slingshot from Panama city beach will depend on your desired type. On average, you will expect to pay up to $200-$400 for one renting day. If you want to reserve for 7 days, it will cost you $1400-$1800. Even in most of them, the rental company will charge an amount per hour as a late fee.
Whenever you are heading to rent a slingshot in PCB, costing is the factor that will come to your mind. 
Though there are various ranges in renting prices from the different rental companies, here we are providing a short idea of the average cost to rent a slingshot in PCB, fl. 
Have a glimpse below:
| | | | | | | | |
| --- | --- | --- | --- | --- | --- | --- | --- |
| Product  | 2-Day | 3-Day | 4-Day | 5-Day | 6-Day | 7-Day | Additional Days  |
| Slingshot | $800 | $1200 | $1600 | $2000 | $2400 | $2800 | $200 |
| 4 passenger Seater slingshot | $1000 | $1500 | $2000 | $2500 | $3000 | $3500 | $300 |
| 2 Seater trike | $700 | $1050 | $1250 | $1500 | $1750 | $2000 | $250 |
How To Rent A Slingshot In Panama City Beach?
In most cases, a rental company only requires you to have a valid driver's license to rent a slingshot. Also, you have to meet their height and age requirements as well. Despite that, many rental companies will ask for a few more documents. Such as:
1. Acceptable driving record
First up, you need to show a recent and authorized driving record at the time of pickup.  It is their one type of safety term to avoid renting to risky drivers. 
For instance, you may be subject to asking many questions if you have any past bad record on the checks. But that's not the case for all. Many companies will not bother you for running driver checks if you have a valid license.
2. Valid Credit/Debit card
You may need to show a valid credit or debit card for initial deposits and final payments., registered in your name. Through this, they become more confident they can take the money. Though many renters will not ask you for this, it'll make your things easier.  
3. Need To Meet Age, Height & Weight Requirements
Along with other documents, it's one of the major steps you must pass out to pick a slingshot from the Panama City Beach rentals. For instance, all the slingshot drivers must be 21 or older than that. 
Also, they will check whether the weight of the driver, passenger, and cargo exceeds 450 lbs. Finally, in terms of height, it is about 50 inches per their requirements.
4. Need to Maintain Distance Limit
Most renters may ask renters to take their slingshot 250 miles from the Rental Office or outside of the Panama City Beach. So before picking your slingshot from the rentals, ask them whether they have such terms or requirements.
5. Auto Liability Insurance
Though you may not need your auto insurance policy, many rental agencies will ask you to complete personal auto coverage for picking a slingshot. It will be a liability to you that you are responsible for vehicle damage if anything happens to the car. 
How Old Do You Have To Be To Rent A Slingshot In Panama City Beach?
All the renters must be 21 and older to rent the slingshot in Panama city beach. You will find a comprehensive list of slingshot rentals in PCB. On which all of them require you to be 1 or 25 to rent the vehicle. Also, the renters should demonstrate adequate riding skills before heading to rent or driving a slingshot on the road. 
How Tall Do You Have To Be To Ride The Slingshot In Panama City?
Along with age, you must also meet the height requirement for renting a slingshot in Panama City Beach. As per their requirement of most rentals, the minimum height for the renters is 50 inches with an adult of at least 21 years old.
When you head to rent a slingshot from rentals in FL, you will find slingshots in various ranges, it would be 2-seaters, and even 4-seaters are also available on the row.
Now most of the renters will wonder about driving by their toddlers. But no! Slingshot driving is only allowed for teenagers with a minimum height of 4.16 ft. in different scenarios. Many PCB rentals will require at least 44 inches tall to ride the slingshot in the beach area. 
Can Foreigners Rent Slingshots On Panama City Beach?
Yes! As per the rentals requirements, insurance & license policy, anybody with a valid U.S. State or international driver's license can rent a slingshot in Panama City Beach. Only then can you avoid any hassles and rent a car without difficulties. Sometimes, you may need to show a valid license from your country of residence and a valid passport. To rectify all your queries, you may check out the rental company's policies and other requirements in advance.
Can I Drive A Slingshot In Panama City Beach, Florida, Without A License?
No, but there are mixed thoughts about these factors! But according to the state license requirement

, you're not strictly bound to have a motorcycle license to drive a Slingshot in Florida. It still falls under the legal definition. Sometimes, a slingshot refers to an "autocycle, though there is no separate state law in the USA for this definition. Anyway, under an 'autocycle' classification, you must show a state driver's license for riding a slingshot on the PCB beach and roads.
How Safe is Riding A Slingshot In Panama City Beach? [Get The Safety Tips!]
Yes, without a doubt! Riding or driving a slingshot in Panama city beach is impeccably safe if you maintain all the safety precautions. But along with the safety measure, it may prove dangerous enough due to some negligence and if you are properly ensuring the instructions are properly. So, it's all up to you how you will make your ride safe. 
Slingshot is certainly in the range of the craziest vehicle that always comes to the attention of adventure freaks people. But as with the popularity, safety questions and concerns are also worth addressing. 
Always remember that the slingshot is not as safe as a car. But compared to a motorcycle, it's distinctly safer. Yet, you must maintain enough safety precautions while riding or driving, whether in PCB or any other part of the world.
For your convenience, here we are highlighting some of the pro tips that always keep you in the safe zone while riding a slingshot:
First off, as there is no roof and no windshield, it is recommended to wear a full-face helmet for safety reasons. Especially when driving in the rain, it will dry your head and hair and let you be safe. Also, bad things can happen anytime, so wearing a helmet will minimize the chances of head injuries. 
Before heading to drive, read through all the instructions from the owner's manual or the instructions provided by your rental company.
While driving, keep your eyes on the road front as it will clearly anticipate the traffic and any road issues. Be aware of your surroundings. Also, make a safe distance from the slingshot on the road.
Try to reduce your speed on wet or slippery surfaces.
While driving, keep both hands on the steering wheel. Also, wear your seat belt. 
The Pros & Cons Of Renting A Slingshot In Panama City Beach
Before renting a slingshot from a rental company in Panama City Beach, it's worth learning the advantages and disadvantages of doing so. Here is a glimpse of the positives and negatives of renting a slingshot in PCB in the quick table below:
Pros
Cons 
Amazing driving experience
Comfortable, Impressive sound system 
Need a good amount of attention
Limited storage space 
Parking issue 
Reliant on nice weather 
#Pros:
1. Amazing driving experience
Through driving a slingshot, certainly, it will be an unforgettable driving experience that you have ever had. It's always fun to drive this craziest car. So if you are in PCB or on a trip to this beach city, renting a Slingshot here and enjoying driving under the sunshine will be worth it.
2. Comfortable
Slingshots are comfortable enough to drive. After accelerating to expressway speeds, it takes a few moments to reach the speed limit. The car's super advanced features and configuration will let you stay stable throughout your driving.
3. Enjoy Driving With An Impressive Sound System
The slingshot features an amazing sound system you can enjoy wearing a helmet. Even if you are traveling at a highway speed in heavy traffic, provide crystal clear audio that is enough to bring your PCB city enjoyment to the next level.
#Cons: 
1. Need A Good Amount Of Attention
One of the notable cons of driving a slingshot is you need too much awareness. Otherwise, a severe injury from an accident will not be far from you. It will be only reliable in short stints as the rigid suspension isn't good.
2. Limited Storage Space
Driving a slingshot undoubtedly brings a different vibe to explore the beach city. But it is limited to adequate storage space and only has a cargo bin behind each seat. Thus you can't put enough things with you. Yet, I don't think it will affect your overall amusement and fun.
3. Parking Issue
Though Slingshot is stable enough like other car models, you may face hassles while parking it. This is because you can't park it in a small space like you do with your motorcycle. But it's not a big deal; contact your rental company to get all the parking instructions before starting to drive.  
4. Reliant On Nice Weather
Slingshot only relies on nice weather. Thus, it will be troublesome for you to bring in foul weather. It's always recommended to take out the slingshot in the clear weather to ensure your fun to the fullest (Though it has waterproof seats and forged aluminum roll hoops)
FAQs
How many people can ride in a Slingshot?
In general, if it is a two-seater slingshot, only 2 riders can sit there. Besides this, a larger slingshot can hold up to 4 people at a time. 
Is there a weight limit for the Slingshot renting In PCB?
No, we've found no definite weight limit yet for renting a Slingshot in Panama City Beach. However, many of the rental companies will require you to a weight limit based on the load capacity of the Slingshot model.  
What is the most reliable slingshot in Panama City Beach? 
All the rental company options we've picked in our list are reliable enough, and you can fully trust them. Yet, Outlaws Rental and Classic Rental stand out among them for their long years of experience and outstanding services.  
Is it easy to drive a slingshot in the PCB?
Yes! No doubt! Panama City's roads and traffic systems are safe and secure. So, you can easily move on with your slingshot here without any safety concerns.  But ensure you maintain all the traffic rules and instructions provided by the rental company. 
In Closing! Slingshot Rentals Panama City Beach
Undoubtedly, a slingshot is a unique on-road sensation that is enough to lead your enjoyment to the sky level. It is most important if you're exploring a new city and hunting for a unique way! Well! I think you are crazier than me, and for why we've found here! 
Expect that we've successfully reached out to you with the needed information about the reliable slingshot rental in Panama City Beach! So, don't delay more; pick your next Slingshot and make your PCB, FL trip stand out!