You can visit Mount Pancar Sentul in Bogor if you are looking for natural and historical attractions in Bogor. You will feel the natural beauty of nature that is second to none in one of the mountain tours in West Java.
This is still a travel experience that you will never forget. Nature remains very beautiful with a cool atmosphere to make you feel at home in Mount Pancar Sentul. Along the way, you will be spoilt with nature.
When traveling to Mount Pancar Sentul for natural tourism, don't forget to bring a camera or at least a phone with good camera quality to take pictures and capture all the moments you experience. Let's see the best things to do in Mount Pancar Sentul.
The 8 Best Things To Do In Mount Pancar Sentul/Gunung Pancar Sentul
Review of Mount Pancar Sentul (Gunung Pancar Sentul) – The Best Nature In Bogor
Photo Credit – MasWil

Mount Pancar – Peak, Bogor
Address: Karang Tengah, Babakan Madang District, Bogor, West
Java Map : Click here
Opening hours : 24 hours non stop
| | | |
| --- | --- | --- |
| Cost | Weekdays | Weekends/Public Holidays |
| Per Person | 5,000 rupiah (0.35$) | 7,500 rupiah (0.52$) |
| Car | 10,000 rupiah (0.70$) | 15,000 rupiah (1.05$) |
| Motorcycle | 5,000 rupiah (0.35$) | 7,500 rupiah (0.52$) |
| Foreign Nationalities | 1,00,000 rupiah (7.00$) | 1,50,000 rupiah (10.50$) |
Mount Pancar Sentul (Gunung Pancar) Admission Price
The mountain located in the Sentul area, Bogor, is indeed one of the natural attractions in demand by the public. This is proven by the number of visitors who always come crowded one of the tours in Sentul.
Not only on weekends, but Mount Pancar Sentul is also always crowded with tourists on weekdays. Outbound activities are often done. Many people also decide to go camping in Gunung Pancar Sentul.
Maybe you are also interested in camping? If you intend to camp in Gunung Pancar Sentul, make sure you have to bring various camping equipment. Camping in this tourist spot does not come free. 
You will be charged 80 thousand rupiahs (5.60$) to 200 thousand rupiahs (14.00$) for camping there. Take it easy, though, because you are sure to receive complete benefits with your cost. 
So you do not have to be afraid of any shortcomings during camping on this mountain tour.
Read more: Dusun Bambu Lembang – The Best Nature Tourism In Bandung
Best Things To Do In Mount Pancar Sentul (Gunung Pancar Sentul) – Natural Exploration in Bogor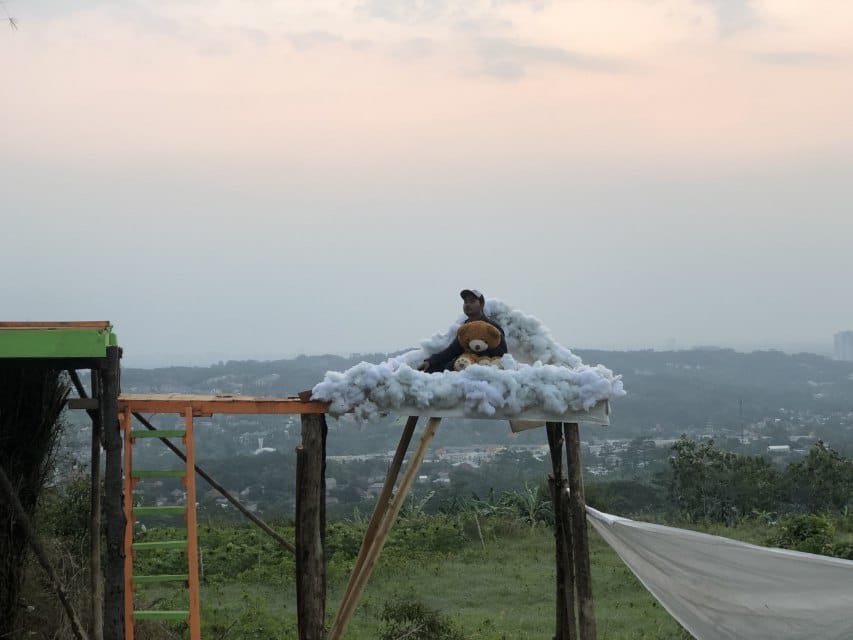 Photo Credit – djell achmad

Mount Pancar Sentul is also a very interesting area. Surrounded by beautiful pine forests makes the air very cool. This tourist spot is perfect for those who enjoy traveling in places with cool bees swarming.
Until now, Mount Pancar Sentul has become one of the tourist attractions in Sentul that is often used as a destination for people who want to do a photoshoot or prewedding session. This is because of the natural beauty presented.
If you travel to Mount Pancar Sentul, there are certainly many tourist activities that you can do in this tourist spot. Besides, you can relax – and enjoy the natural scenery presented with a cool atmosphere created. Other tourist activities that you can do when traveling in one of the mountain tours in West Java include:
1.Relax in Hammock
Photo Credit – Bakti Setyadi

The first thing that will come to your head when you first come to Gunung Pancar Sentul is to relax in the hammock. While enjoying the beautiful nature under the lush pine trees, relaxing in hammocks will be a very interesting tourist activity for you to do.
2.Take Pictures at The Interesting Spots of Mount Pancar Sentul
Photo Credit – amronrod

There are many interesting spots that you can use to capture exciting moments when traveling on one of the tours of Mount West Java. For example, you can take pictures in the rows of pine trees, take pictures in hammocks, and various other spots.
The advantage of this mountain tour is the sunlight that can not enter because the pine trees are very dense. But this is what makes this tour very epic. 
Especially for those who like to take pictures with a calm and cool nuance, then this is the best place to produce epic photos you can get.
Actually in West Java also has many tourist sites that can be visited. For example, in addition to the Bogor area, the Tangerang area also has many tourist attractions. 
3.Roads in Mount Pancar Pine Forest
Photo Credit – Z Q

Perhaps until now, many people think that a vacation to the forest is very boring. But, unfortunately, not all forests are boring.
Those who visit one of Bogor's tourist attractions have the option to walk – a joyous walk through a lush pine forest accompanied by the sound of birds tweeting and the buzz of beetles.
When visiting Bogor, you will always experience the refreshing mountain air when you come to one of its tourist attractions.
Read more: Omnia Bali Day Club – An Exclusive Club In Bali
4.Doing outbound activities
Photo Credit – Jaki Nur Alif

You can also do a super exciting outbound activity with all your group members if you happen to visit one of the tourist attractions in Bogor that is not too busy but crowded.
Various games you can find ranging from the name paint ball, flying fox, and many others. All available rides have a very guaranteed level of safety and fun.
5.Soak in Mount Pancar Hot Spring "Giritirta"
Photo Credit – Kusuma Jaya
Well, in Mount Pancar, with the lush pine forest, you will also find hot spring rides that you can take advantage of. If you are tired of outbound, cycling, or are satisfied with the roads, you can immediately soak in the water baths in the area of Mount Pancar named Giritirta.
Giritirta bath itself is a very interesting hot spring pool. Giri Tirta bath has two pools that you can choose to soak in at your leisure.
There is a private pool and a public pool. So you can soak in crowds or alone. You should also know that the water in the hot spring in the pool Giri Tirta Mount Pancar has a high level of relaxation.
Aches and fatigues will also disappear if you bath here. So to enjoy this Hot Spring of Mount Pancar, you need to spend only 25 thousand rupiahs (1.75$).
6.Mountain sports with cool air
Photo Credit – Miruan syach

If you are planning on visiting this tourist area, never forget to exercise. You can rent a bike to ride around the mountains and forests; however, you can also enjoy jogging here if you are reluctant to do so. It's so safe.
With the cool air, your sports activities will also be more enjoyable. It must be different from the sports atmosphere that you usually do in a city with a lot of air pollution.
7.Pilgrimage to the tomb and enjoy the art performance
Photo Credit – ZamZam Jamiel

In this mountain tour, there are many tombs of religious figures whose names have been famous such as the tomb of Raden Laluwung, Ki Mas Bungsu, H. Dalem Putih up to Kalijaga.
Well, you can make a pilgrimage to the tomb while traveling religiously. You can send prayers to their spirits and make sure you follow the norms of politeness while on the pilgrimage.
At some time, this place also displayed various art performances. Therefore, if you are lucky, you can also enjoy the art performances held by the artists in Mount Pancar.
8.Enjoy delicious food in instagramable café
Photo Credit – Ahmadi Alfauzy H

Besides having many tourist activities that you can do, in Mount Pancar you can also feel like eating super delicious food. This super delicious food is perfect for you to enjoy when your stomach is hungry.
If you feel cold, you can order a chocolate bar or a cup of hot tea. The next thing you will notice is the natural and very instagrammable atmosphere in the café.
You can take a selfie or take a wefie and stylish photo in the instagramable café on tour. Guaranteed, many cool photos that you will get during the tour. 
If you feel not satisfied be in this café, you can also come to other places to eat delicious food scattered in Jakarta. 
Read more: The 7 Wonderful Attractions In Bima Lambu (NTB)
How to go Mount Pancar Sentul (Gunung Pancar Mountain)?
For those of you who will travel in one of the mountain tours in West Java, the distance you have to travel from Jakarta is approximately 45 km. However, you can drive your vehicle to the Cawang area to Jagorawi Toll Road, then directly enter the toll road towards Bogor.
From Jagorawi toll road, you can take the right lane into Sentul Raya road, km 8. From there, you will meet the roundabout, which is just half of it, and farther you can travel towards Babakan Madang.
Later you will soon find a sign that says "Mount Pancar area." If you happen to be from out of town, you can book transportation to take you to this tourist location. Many Jakarta travel services will serve you.
So those who wish to travel to West Java and don't know where to go can visit Mount Pancar. Surely an interesting tourist experience you will get there. Happy Holiday!