Last Updated on 07/11/2021 by Alfred
If you want to enjoy the nature of Bandung without interruption, you can drive to the Lembang area. There are a variety of interesting natural attractions that you can find. One of them is Dusun Bambu Lembang.
Nature tourism is very powerful in rejuvenating the brain and releasing fatigue in Dusun Bambu Lembang. This hamlet encompasses a variety of interesting spots wherein visitors can do a variety of different tourist activities.
Dusun Bambu Lembang – The Best Nature Tourism in Bandung
Address: Jl Colonel Masturi KM 11, Cisarua, West Bandung 
Map : Click here
Opening hours: Dusun Bambu Lembang open on weekdays open at 09.00 – 21.00 WIB, while holidays open early and close longer at 08.00 – 23.00 WIB 
The price of admission: Rp 20.000,00 per person on weekdays and Rp 25.000,00 per person on public holidays
One of Bandung's inexpensive tourist destinations is Dusun Bambu Lembang. This place began to be known as a family-friendly destination late in 2014.
Animo tourists visit the place frequently because of its fresh nature, nice air, and certainly a large yard suitable for doing various activities. But the operation has drawn the attention of visitors since the beginning of the tour.
Dusun Bambu is also very interesting for its diversification of rides available. It is a natural tourist attraction in Bandung that comes with the concept of eco-friendliness. 
So if you are looking for eco-tourism recommendations in West Java, then Dusun Bambu Lembang can be the best choice.
It is understood that Dusun Bambu itself is a large area. It houses various restaurants, a variety of playgrounds, a hotel. Therefore, the environment in Dusun Bambu is extremely well organized. 
Compared to other tourist attractions, Dusun Bambu is a very well-planned tourist attraction.
There are some alternative tourist routes you can take to reach Dusun Bambu Lembang. Some of these are as follows:
The main route that can be passed to reach Dusun Bambu is through Ledeng to Lembang, passing through the Parongpong line, and you will arrive at the tourist site. You just follow the main road to Lembang. Then you turn to the left of Parongpong from the T-junction before the city of Lembang.
In addition to that route, there is also an alternative route through Ledeng to Jalan Sersan Bajuri. From Sergeant Bajuri Street to Parongpong. This route can also be passed to Kampung Daun, Kampung Gajah, and various cafes near the area.
The next route is cimahi. From Cimahi, you access the Cihanjuang Road line then to Parongpong, and you will soon arrive at the location.
Still with the cimahi route. You can take Colonel Masturi Street and get to the location. This alternative route can be taken if your starting point is from the Cimahi area.
Then there is also an alternative route from Bandung city. You drive towards the Gegerkalong Girang road to Cihanjuang Street. Then go towards Parongpong, and then you will arrive at the location.
Those are some alternative routes that you can pass to reach the tourist sites Dusun Bambu Lembang. Depending on your current location, you can adjust which route you want to take.
Choose the nearest route so that your journey is not too long to reach Dusun Bambu. After Dusun Bambu, you can also continue your journey to Dago area. You can visit Dago Dream Park.
Read more: Omnia Bali Day Club – An Exclusive Club In Bali
Facts About Lembang Bamboo Hamlet
There are a few facts about Dusun Bambu that you should know if you have never been there and do not have an idea of this Bamboo Hamlet-like place. What are they?
One-stop holiday concept
Photo Credit – Dwi Afrillah
Dusun Bambu is one of the tourism that goes into the one-stop holiday. This is because Dusun Bambu provides various supporting facilities that will support various tourist activities for the holidays.
In addition, Dusun Bambu also presents the charm of natural beauty that is very stunning with the charm of traditional Sundanese culture that is very typical.
There is also a bamboo conservation area devoted to tourists, with a unique impression of the village atmosphere and a classy vintage feel. This tourist attraction place combines a traditional Sundanese concept with a contemporary modern theme.
Interesting Facilities and Accommodation
There is a website called Dusun Bambu. Id, which is now the official site for Dusun Bambu tourism. Furthermore, Dusun Bambu tourism provides many facilities and activities. These include restaurants and lodgings, as well as guides.
Kampung Layung and Camping Ground in Dusun Bambu offer a different feeling of staying from one to another. 
Photo Credit – Desy Suriyoto
As for the culinary tour, you can try various facilities such as Equator Market, Café Burangrang, Resto Pohon Lutung Kasarung, and Gazebo named Gazebo or Resto Purbasari.
You can also do activities in Dusun Bambu with your family in the kampung Ulin area, like the flying fox, hammock, paintball, hammock tower, knife throwing, and many other rides.
Dusun Bambu also offers you cool photo spots. You can also capture all the moments during your trip to Dusun Bambu and make sure you get various tourist activities. 
Make sure your camera memory is not full, and bring a spare memory so you can still safely take pictures of anything in Dusun Bambu.
Read more: 12 Interesting Tourist Spots To Visit In Bangka And Things To Do
Family-friendly and child-friendly tour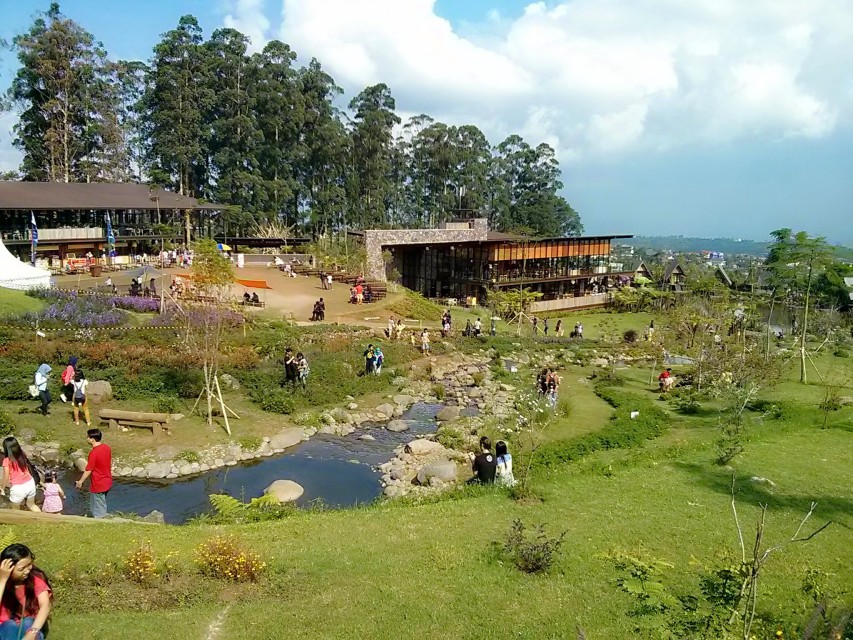 Photo Credit – Awly F R.
Dusun Bambu Lembang can be your best choice among Bandung's family-friendly and child-friendly natural attractions. Many rides are provided, and you will surely find this to be very pleasant as a tourist spot.
Those who bring their children can introduce nature to them and let them play in the wild, cool, and beautiful air in this Bamboo Hamlet. After walking and playing in Dusun Bambu, the child will surely be happy and not even want to return home.
Best Activities for Tourists in Dusun Bambu Lembang
1.Cycling in the wild
Photo Credit – Dusun Bambu
In the Dusun Bambu area, you can use the bicycle rental facilities to get around at the foot of Mount Burangrang. Cycling is fun but challenging, and you can also enjoy the very cool atmosphere of nature in Dusun Bambu.
You can cycle around the beautiful green tea garden and feel the cool air, experience the charm of greenery along the way, cross some steep sections that are challenging and discover all the exciting sensations.
2.Enjoying the beauty of Arimbi Flower Park
Photo Credit – Karse Karsum
There is also a tourist area called Arimbi Flower Park in Dusun Bambu. Arimbi Flower Park is a flower garden with various colors that complement the eyes of anyone who goes there.
Arimbi Flower Park is located at the base of the mountain with colorful flowers and, of course, very soothing to the eyes and mind as well. Not to mention the sensation of cool air you can experience here. 
At the sight of the arimbi flower garden area, stress is guaranteed to dissipate immediately.
3.Play at Balad Lodaya
Balad Lodaya isn't just a play area. It's an area to hone the talents and strengths of children. You and your children can play traditional games outdoors.
As well as being able to interact with nature, children can play with friends around Balad Lodaya. Moreover, the playground is safe, so parents need not worry about their children playing with each other while in Balad Lodaya.
4.Rice planting activities in Paddy Field
Photo Credit – ninil haritz
In Dusun Bambu Lembang, there is an area called Paddy Field. 
Visiting a paddy field is an enjoyable and educational experience. At Paddy Field, visitors will learn things about agricultural products and see a great variety.
You can also wash your eyes at Paddy Field, of course, by looking at the beautiful expanse of green rice fields. When you visit here during harvest season, you can also harvest the rice with the farmers.
5.Eat and Drink tea at Café Burangrang
Photo Credit – Dusun Bambu
Café Burangrang is one of the restaurants in Bandung that is famous for its extraordinary natural, however, l beauty. However, Café Burangrang doesn't just have superb natural beauty, and it also has delicious, unique food and refreshing drinks.
There is a variety of food offered at Café Burangrang, such as bamboo betutu grilled chicken, roasted duck with bamboo betutu, squid ala Dusun Bambu, young coconut grilled rice that has a distinct taste.
6.Resto Tree Lutung Kasarung
More unique than Burangrang café, Resto Pohon Lutung Kasarung is a super unique dining place difficult to find in Indonesia. Resto Pohon Lutung Kasarung is a unique place to eat that is suitable for those who want to eat on the tree.
You will feel the sensation of eating differently at Resto Pohon Lutung Kasarung. Hanging in the middle of the tree in the shape of a cage, you can feel the romanticism of Restonya. 
You will certainly feel things that are second to none during your meal at Resto Pohon Lutung Kasarung.
Resto Pohon Lutung Kasarung has an architecture that is unique. It is designed to hang like a capsule and has walls that resemble the shape of a birdcage.
7.Lesehan at Bamboo Gazebo Saung Purbasari
Photo Credit – Dusun Bambu
If you do not wish to eat at Lutung Kasarung tree house because it is too high, you can eat at Bamboo Gazebo Saung Purbasari. There you can enjoy a dish with a concept of lesehan. So relax, definitely, man!
At Bamboo Gazebo Saung Purbasari, you can enjoy typical Bandung food or other traditional Indonesian food while sitting back and relaxing. You can also take in the exoticism of a very beautiful lake.
Some of the menus presented in Bamboo Gazebo Saung Purbasari include fried chicken, karedok, tofu and tempe bacem, mushroom pepes, pepes peda, a pinch of green chili, and many others.
8.Vegetable shopping at Equator Market
Lembang area has been known as a popular place for sellers of fresh vegetables and fruits. Well, one of the best places to shop for fresh vegetables and fruit in Lembang is the Equator Market. You can take home a variety of agricultural products.
It is also possible to purchase various Sundanese specialties in addition to agricultural products from Equator Market. The comfort of shopping at Equator Market is apparent. 
Oh yes, if you are still not satisfied shopping at Katulistiwa Market, you can shop at one of Bandung's biggest malls. 
9.Feel the fun of camping in Dusun Bambu Family Leisure Park
Photo Credit – Hendra Aqew Aditya
In Bandung, if you want to get a fresh perspective on vacationing, go camping for a couple of days. You can feel the exciting camping at Dusun Bambu Lembang. 
Bandung's cool air with natural scenery combined with the sky full of stars will be your sleeping companion during camping.
Dusun Bambu also teaches a lot because this tourist spot is an eco-tourism spot with the concept of 7E, which stands for education, economics, ethics, ethnology, aesthetics, and entertainment. 
Dusun Bambu Lembang is not only an entertaining place to relax but is also an excellent place to learn many things with your family.
If you want to book a camping spot in Dusun Bambu, you can book a place for 2 million rupiahs (139.94$) and be used in crowded areas.
But if you need a cheaper place to stay, you can find a place to stay outside Dusun Bambu. 
Read more: Best Things To Do In Silancur Highland And Top Attractions
Where to stay in Dusun Bambu Lembang?
Dusun Bambu has several budget hotels with very affordable rates. Some examples of these budget hotels are:
1.Lembang Asri Resort
Photo Credit – Joseph Seim
Lembang Asri Resort is a hotel that can be an alternative to your stay around Lembang. So if you are lazy camping or glamping fun in Lembang Hamlet, you can stay overnight at Lembang Asri Resort.
The location of Lembang Asri Resort is on Colonel Masturi Street, Kilometer 4, Lembang. Lembang Asri Resort is located on the cold side of Lembang and has a temperature of 18-20 degrees Celsius, which causes the contours of the air tends to be cold but cool.
Lembang Asri Resort is located 1300 meters above sea level. This resort is a very comfortable hotel for an overnight stay and is ideal as a family stay destination.
Lembang Asri Resort has 79 units of space divided into 77 bedroom units and 2 villas that can be rented. There is also a restaurant serving a variety of traditional Indonesian food called Cempaka Restaurant.
2.Holiday Inn Bandung
Photo Credit – Holiday Inn Bandung Pasteur
Next, there is a hotel called Holiday Inn Bandung. It is located at Jalan Ir. H. Juanda number 31 – 33, Bandung. Unfortunately, this hotel is not located in Lembang but dago area.
Holiday Inn Bandung is approximately 2,150 feet from shopping at Kartika Sari Dago and Riau Street. Holiday Inn Bandung is surrounded by lush coconut trees and offers a swimming pool and well-equipped spa facilities.
3.Horison Green Forest Resort
Photo Credit – Horison Green Forest Resort
A hotel near Bandung nature tourism that is also suitable to be your place to stay is The Green Forest Resort. It is located at Jalan Sersan Bajuri number 102 Cihideung, Lembang. At The Green Forest Resort, you will find a 24-hour front desk with a garden and a terrace.
Other facilities, including meeting and laundry facilities, are also offered. A variety of activities can also be done at The Green Forest Resort. In addition, you can rent a very comfortable hotel room at a very low nightly rental price at The Green Forest Resort.
4.Tea Garden Resort
Photo Credit – Agung Maulana
The location of Tea Garden Resort is in Cigeureung Cicadas village, Sagalaherang district, Lembang. It is approximately 1-hour drive from Husein Sastranegara Airport. Tea Garden Resort stands on 20 hectares of tea plantation land.
Those who want to stay overnight at Tea Garden Resort can also enjoy the cool sensation of the tea garden, and as far as the eye can see, the charm of the spacious tea garden will spoil your eyes. 
Tea Garden Resort offers spacious accommodation with excellent mountain views with a comfortable balcony as a seating area.
5.De Villa I Flower Palace
Lastly, there is De Villa I Istana Bunga, which is also suitable for staying overnight in Bandung. The location of De Villa I Istana Bunga is on Jl Vila Istana Bunga block VI-3, Bandung. 
This hotel presents a variety of facilities for visitors with a truly stunning natural scenery of the surroundings.
You can stay in one of the above budget hotels if you prefer to travel around Dusun Bambu Lembang. So, make your holiday in Bandung fun and unforgettable. Happy holidays!